Transform plain feta cheese into a mouthwatering dip by blending it with olive oil, lemon juice, and Greek yogurt. It's tangy and light — delicious on its own or as a base for personalized mix-ins!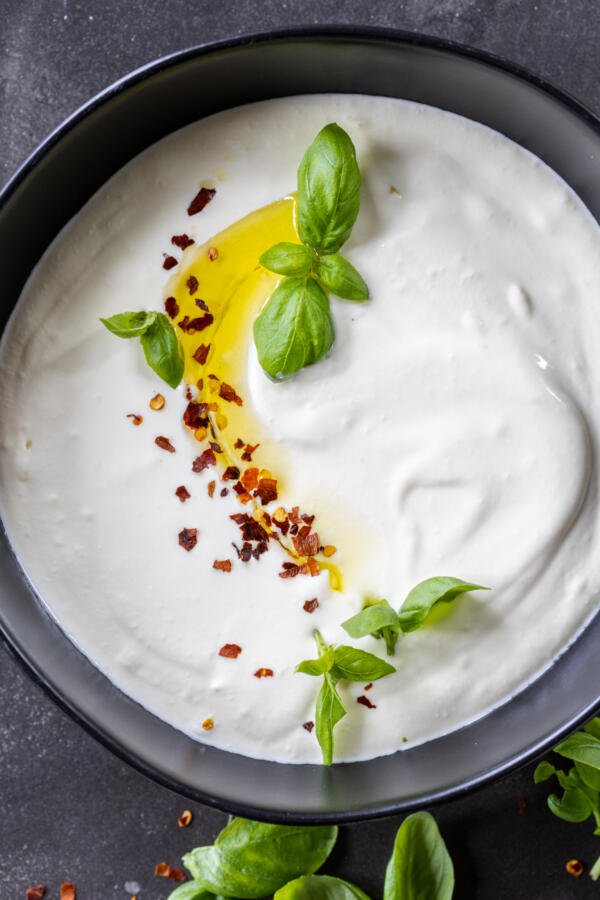 What Is Whipped Feta Dip?
Whipped feta dip is a thick and creamy mixture made from feta cheese. This is a popular dip because of its customizability and pleasant texture. In order to create aeration and fluffiness, the ingredients are all whipped together in a food processor. Feta cheese has quite a salty, sharp taste, so it is paired with lemon juice and olive oil in this recipe for balance. Greek yogurt completes the dip, giving it the perfect creamy texture.
How To Make Whipped Feta Dip
Four ingredients, 10 minutes, and a food processor — that's all it takes to make this easy whipped feta dip. Blend the ingredients together until smooth, then serve the dip however you please!
Combine the ingredients: Place the feta cheese, olive oil, lemon juice, and Greek yogurt in the bowl of a food processor or a mixing bowl.
Blend the ingredients: Turn the food processor on and blend until the dip is smooth. Vigorously mix the ingredients together with a hand whisk if you're not using a food processor.
Serve the dip: Pour the dip into a serving bowl and serve with your choice of toppings or mix-ins. Enjoy!
Flavor Variations
Customize this whipped feta dip with any mix-ins or toppings you desire. Whether you're craving spice, sweetness, or a burst of flavor, here are a few ideas to get you started.
Spicy: Grind black pepper and sprinkle red pepper flakes on top of the dip, or mix the spices straight in for more heat.
Smoky: Mix in a dash of smoked paprika to the dip for a deep smoky flavor. Garnish with a drizzle of extra virgin olive oil and additional smoked paprika.
Citrusy: Add lemon zest and extra lemon juice for a citrusy burst. Top with olive oil and lemon slices.
Garlicky: Stir in freshly minced or roasted garlic for a garlicky punch. Garnish with fresh herbs and chopped garlic.
Herby: Blend in green onions and fresh parsley, basil, or dill for herbaceous undertones. Add a drizzle of olive oil and freshly chopped herbs on top to serve.
Nutty: Top the dip with pine nuts, pistachios, or chopped almonds and walnuts for a nutty crunch.
Sweet: Mix in your favorite honey to the dip for a floral, sweet flavor. Add a teaspoon at a time to control the sweetness, and drizzle additional honey on top to serve.
Troubleshooting Whipped Feta Dip
Are you wondering what went wrong with your dip? Let's look at some common problems and their solutions when making whipped feta dip.
Salty: Feta cheese has a tendency to be quite salty. Balance the flavor with extra lemon juice or Greek yogurt.
Grainy: The starches in crumbled feta may contribute to a grainy dip. Use a block of fresh feta and make sure to blend until the dip is smooth.
Runny: Over-processed Greek yogurt may become runny. Allow the dip to rest in the fridge to thicken it back up, or mix more Greek yogurt into the dip after blending.
Thick: A thick dip is usually due to an improper ratio of ingredients. Add more lemon juice to thin out the dip.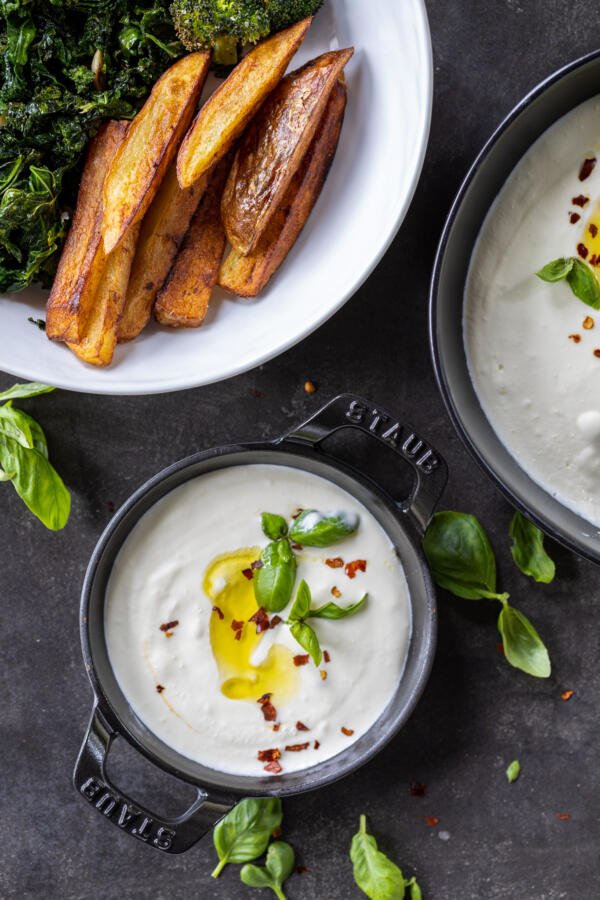 Tips From the Kitchen
Although whipped feta requires minimal prep time and simple preparation, we have a few secrets to ensure this recipe's success. Make the best feta dip every time with these tips!
Use high quality feta. A good feta cheese is the key to an amazing whipped feta dip. Opt for a block of feta cheese instead of crumbled feta, which is drier and more difficult to blend.
Eliminate extra moisture. Too much liquid creates a runny dip. Use thick Greek yogurt and drain the block of feta cheese well before blending.
Experiment with the consistency. If you like a thick dip, use cold ingredients and allow the dip to thicken up in the fridge after blending. If you prefer a thinner consistency, use room temperature feta and yogurt.
Avoid over-mixing. Overmixing breaks down the structure of yogurt, producing a runny dip. Keep an eye on the dip while blending gradually — especially if you're using a food processor.
Ways To Serve
Whipped feta dip is the perfect accompaniment to flat bread, veggies, or meat. Serve this creamy dip as an appetizer with crackers, pita chips, or a fresh baguette on the side. For a refreshing veggie charcuterie board, arrange sliced bell peppers, carrots, and cucumbers around the whipped feta. Are you longing for a Mediterranean vibe? Grill up some lamb kabobs or beef kafta kabobs to pair with the feta dip, and add a Mediterranean chickpea salad for healthy balance.
Making Ahead and Storing
Do you have upcoming plans to host dinner? Make this whipped feta dip in advance as a delicious appetizer option — it comes together quickly, stores well, and is sure to please your guests!
Refrigerator: To store for up to five days, transfer the dip to an airtight container and refrigerate.
Freezer: To store for up to three months, transfer the dip to a freezer-safe container and place a piece of plastic wrap directly on top to preserve the flavor and texture. Thaw the dip in the fridge before serving.
FAQ
How can I fix a feta dip that's too salty?
To fix an overly salty feta dip, add more lemon juice or Greek yogurt. These ingredients help to balance the flavor.
Why is my whipped feta dip grainy?
Whipped feta dip may be grainy due to the anti-caking agents in crumbled feta or under-mixing the dip. Use a block of fresh feta cheese and whisk the ingredients together vigorously for a smooth texture.
Is whipped feta dip good for you?
Whipped feta dip can be considered a healthier dip option, as it contains a large amount of protein from the Greek yogurt and healthy fats from the olive oil. However, this dip may not be suitable for those on a low-sodium diet because of the high sodium content in feta cheese.
How do I know if whipped feta has gone bad?
Signs of a spoiled whipped feta dip include mold, color changes, sour smell or taste, and slimy texture. Use your best judgement and throw the dip away if it exhibits any of these signs.
More Dip Recipes
Recipe
Transform plain feta cheese into a mouthwatering dip by blending it with olive oil, lemon juice, and Greek yogurt. It's tangy and light — delicious on its own or as a base for personalized mix-ins!
Instructions
Nutrition Facts
Whipped Feta Dip (With Variations)
Amount Per Serving
Calories 112
Calories from Fat 90
% Daily Value*
Fat 10g15%
Cholesterol 26mg9%
Sodium 326mg14%
Potassium 31mg1%
Carbohydrates 2g1%
Protein 5g10%
Vitamin A 120IU2%
Vitamin C 1mg1%
Calcium 149mg15%
Iron 0.2mg1%
* Percent Daily Values are based on a 2000 calorie diet.