Ricotta cheese adds a unique flair to the standard flour, milk, and egg pancake batter. They're tangy and moist — making a perfect breakfast staple!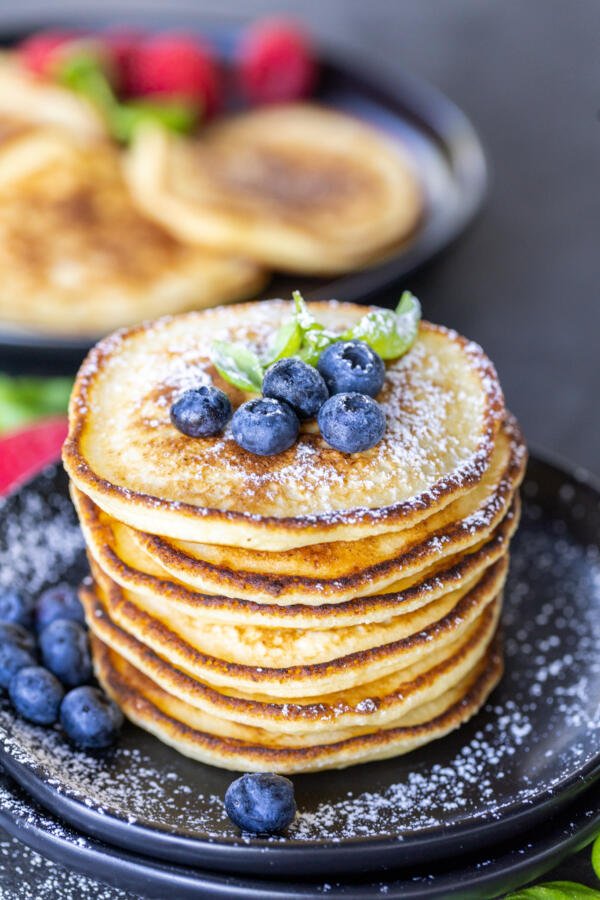 What are Ricotta Pancakes?
Ricotta pancakes are lusciously soft and flavorful pancakes made with the addition of ricotta cheese. The batter is a simple combination of wet and dry ingredients cooked on a griddle or stovetop. Ricotta lends a fluffy and moist texture, slight tang, and rich flavor to what is normally a basic pancake. They are so quick and easy to prepare, get ready to make them often!
How to Make Ricotta Pancakes
A smooth batter and a hot pan are the key components of this recipe. Mix up the batter, fry the pancakes, and enjoy!
Preheat the pan: Lightly coat a skillet with oil or butter, and preheat over medium heat.
Make the batter: Mix the wet ingredients together until smooth. Then, gently stir in the dry ingredients until just combined.
Fry the pancakes: Pour 1/4 cup portions of batter into the skillet. Fry on both sides until golden, flipping once.
Serve: Enjoy the pancakes while hot with your choice of toppings.
The Secret to Fluffy Pancakes
There are three factors that make fantastically fluffy pancakes: fresh ingredients, a thick batter, and gentle mixing.
Fresh ingredients: Fresh leavening agents are crucial to achieving height in a pancake. Whether it be baking powder, baking soda, or yeast, check the expiration dates on your ingredients and make sure they are fresh.
Thick batter: The consistency of the batter is also a huge determining factor in fluffy pancakes. A batter that is too thin will not have the structure it needs to puff up, resulting in flat pancakes. Measure all your ingredients correctly, and add flour to thicken the batter as needed.
Gentle mixing: Combine the dry and wet ingredients gently to prevent extra gluten formation. Overmixing leads to tough and dense pancakes, whereas gentle folding produces airy and light pancakes.
Mix-ins
Feeling creative? Ricotta pancakes are the perfect canvas to experiment with delicious mix-ins. Mixing extra ingredients into the batter is a great way to infuse more flavor into the pancakes. The batter is tasty on its own, but these additions make it even better.
Citrus: Add lemon zest to the batter, along with a splash of freshly squeezed lemon juice for a citrusy punch. Or, try orange zest and orange juice for a unique flavor.
Berries: Fold in blueberries, strawberries, or any other fresh berries you like for a juicy, fruity burst with each bite.
Chocolate chips: Mix a handful of chocolate chips into the batter for an extra sweet experience.
Toppings
Who doesn't love a picturesque stack of pancakes? Take your pancakes to the next level with these toppings.
Jam: Feeling fruity? Fresh jam is the perfect complement to these ricotta pancakes. Try our easy raspberry jam, apricot jam, strawberry jam, or plum jam spread on top. For a lemon flavor, top with lemon curd.
Syrup: One of the best ways to add extra sweetness to pancakes is pouring syrup on top of them. Go classic with a drizzle of warm maple syrup, or spice it up with blueberry syrup or buttermilk syrup.
Berries and cream: A dollop of whipped cream with fresh mixed berries is a lovely garnish for pancakes, especially in the summertime.
Hot Tip: Serve these pancakes as a base for the savory breakfast of your dreams by simply omiting the sugar. Load up savory ricotta pancakes with sour cream, eggs, kielbasa, or any other toppings you love!
Tips From the Kitchen
Ricotta pancakes are so easy to make, but a few special instructions make this recipe foolproof. Keep these tips in mind to produce the fluffiest and tastiest pancakes!
Avoid over-mixing the batter. Over-mixing causes gluten formation, leading to dense and tough pancakes. Whisk the wet ingredients together well, but take care to mix the dry ingredients in gently.
Make the batter ahead of time. Ricotta pancake batter develops a deeper flavor when allowed to rest. Combine all of the ingredients, except baking powder, the night before cooking. Place the batter in the fridge overnight. Add the baking powder to the batter in the morning, and get to frying!
Serve the pancakes hot and fresh. These pancakes retain the best texture and taste when served right off the pan. Eat them immediately for maximum enjoyment.
Use plenty of oil. The oil or butter used when frying produces crispy edges on the pancakes. Try coconut oil instead if you like the flavor.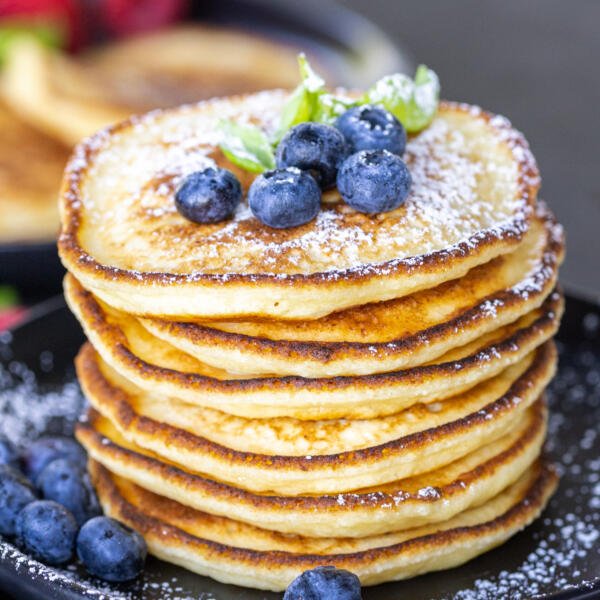 Ways to Serve
Ricotta pancakes are an ideal breakfast/brunch food. They are absolutely wonderful as a stand-alone dish, especially when loaded up with toppings. For a more filling breakfast, serve them bright and early in the morning with a slice of ham and cheese quiche, bratwurst casserole, or the perfect bacon. In the mood for a sweeter brunch? Serve ricotta pancakes with brioche bread pudding or sourdough cinnamon rolls.
Storing and Reheating
This recipe is so delicious you are unlikely to have leftover pancakes. In the rare instance you do, follow these instructions to enjoy them again later.
Refrigerating: For short term storage, wait for the pancakes to cool, transfer them to an airtight container, and refrigerate for up to four days.
Freezing: For long term storage, place the cooled pancakes in a freezer bag and freeze for up to two months. Keep layers of wax paper between each pancake to prevent sticking, or wrap each pancake in plastic wrap.
Reheating: For the best reheating experience, place ricotta pancakes on a cookie sheet, cover with foil, and bake at 375℉ for six to eight minutes. If time is more important to you, you may microwave the pancakes until warmed through.
FAQ
Where can I find ricotta cheese?
Ricotta cheese is sold by most supermarkets, including Walmart, Wegmans, and Aldi. It is usually located in the dairy section, close to the sour cream and cottage cheese.
How do ricotta pancakes taste?
Ricotta pancakes taste rich and slightly sweet with a subtle tang. Contrary to popular belief, they don't actually taste cheesy. The ricotta cheese provides texture more than taste.
Why are my pancakes flat?
Flat pancakes are usually a result of expired leavening agents or too much liquid in the batter. Check if your baking powder is fresh. Also, make sure you are measuring the flour correctly.
Can I make ricotta pancakes gluten-free?
You can absolutely substitute gluten-free flour in this recipe for great results. Use a 1:1 ratio (for every cup of regular flour, use one cup of gluten-free flour).
More Pancake Recipes
Recipe
Ricotta cheese adds a unique flair to the standard flour, milk, and egg pancake batter. They're tangy and moist — making a perfect breakfast staple!
Nutrition Facts
The Best Ricotta Pancakes
Amount Per Serving
Calories 237
Calories from Fat 81
% Daily Value*
Fat 9g14%
Cholesterol 132mg44%
Sodium 86mg4%
Potassium 339mg10%
Carbohydrates 28g9%
Protein 11g22%
Vitamin A 374IU7%
Calcium 216mg22%
Iron 2mg11%
* Percent Daily Values are based on a 2000 calorie diet.