These delicate cucumber sandwiches consist of thinly sliced cucumbers, layered between herbed cream cheese and bread. They are refreshing and light, making the perfect appetizer.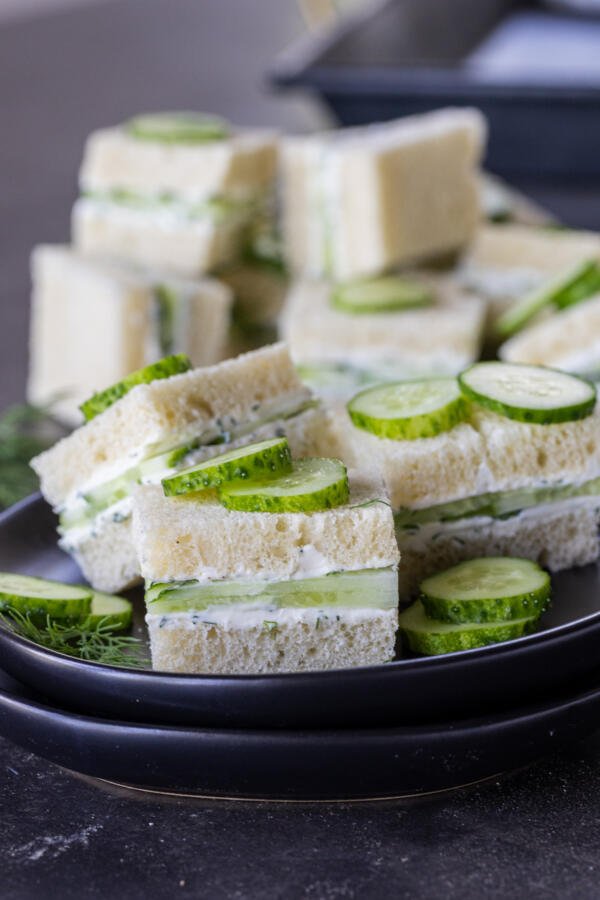 What are Cucumber Sandwiches?
Traditional cucumber sandwiches are made with crustless white bread, cream cheese or butter, and sliced cucumbers. The cream cheese/butter is slathered onto the bread and the cucumbers are then placed in the middle. The combination of soft bread, smooth cream cheese, and crunchy cucumber is crazy satisfying. They are often found served as a classic snack with tea or as an appetizer at casual and elegant gatherings.
Cucumber sandwiches are rich with history, originating in the 1800's in Britain. At that time, cucumbers were a rarity and symbolized wealth. These sophisticated sandwiches were an upper-class treat traditionally served with afternoon tea. However, with time, they became a well-loved staple of British cuisine and enjoyed throughout the world. Over the years, many variations have come about, but this recipe is our favorite version.
How To Make Cucumber Sandwiches
These sandwiches are inexpensive, quick to make, and delicious. A win-win-win! Enjoy fresh and crunchy sandwiches in four easy steps.
Slice the cucumber: Peel the English cucumber (here is the best peeler ever). Next, slice it thinly into 1/8-inch thick pieces.
Prepare the spread: In a medium bowl, combine softened cream cheese with lemon juice, garlic, fresh dill, and chives. Season with salt and black pepper.
Assemble the sandwich: Spread the cream cheese mixture on each of the bread slices. Layer cucumbers on half of the pieces. Finally, cover with the other slice of bread.
Cut and serve: With a sharp knife, cut the sandwiches into quarters (finger-food size) to yield 24 sandwiches. Serve and then enjoy!
Ways To Cut Cucumber Sandwiches
Most often, cucumber sandwiches are served crustless and in small portions. Cut off the crusts and then slice the bread into squares, triangles, or even circles. Use a biscuit cutter or the rim of a glass to get the perfect circle shape. For fun shapes like flowers, stars, hearts, etc. use a decorative cookie cutter. Feel free to run wild with creativity with these sandwiches.
Tips to Prevent Soggy Sandwiches
There's nothing worse than biting into a soggy sandwich. Use the following tips to ensure each bite of the sandwich is crisp and excellent.
Spread the cream cheese evenly on both slices of bread. Prevent the cucumbers from moistening the bread by applying cream cheese to both slices of bread. No more soggy sandwiches!
Remove excess water from the cucumbers. Lay out the sliced cucumbers on a paper towel and sprinkle with salt. Let them sit for a few minutes as the salt extracts extra water. Then, pat away the excess moisture with paper towels for less watery cucumbers.
Use English cucumbers.: Compared to other cucumbers, English cucumbers hold less water — making them ideal for cucumber sandwiches.
Cucumber Sandwich Add-ins
This sandwich features refreshing ingredients that taste great as-is. However, to play up the flavor even more, add in these extra ingredients.
Avocado: Slice avocados on top of the cucumbers to add a creamy, savory touch.
Smoked salmon: Add a thin layer of smoked salmon for delicious protein in the sandwich.
Greens: Pile on leafy greens such as arugula or a spring mix for added texture and nutrients.
Tzatziki sauce: Swap the cream cheese spread for a tangy tzatziki sauce, made with cucumbers and yogurt.
Veggies: Add thinly sliced radishes for a pop of zesty flavor and color.
Bacon: Salty, crunchy air fryer bacon pairs well with this cool and creamy cucumber sandwich.
Serving Cucumber Sandwiches
Cucumber sandwiches are perfect for an afternoon snack or appetizer. Traditionally, they are served with afternoon tea and other light sandwiches and scones. Lay out these cucumber sandwiches alongside easy tea sandwiches, the best blueberry scones, and/or strawberry scones. Additionally, you can serve them with a layered hazelnut crepe cake because what's a party without cake?!
They also are the perfect appetizer for any kind of gathering you can think of — so bring on the parties! Accompany these cucumber tea sandwiches with savory or fruity appetizers such as this fruit charcuterie board or brie and cranberry bites. Cucumber sandwiches also taste delicious with a salad like this flavorful Bayonne ham arugula salad or quinoa kale and avocado salad.
Make-Ahead
For peak enjoyment, assemble and eat the cucumber sandwiches right away. If you want to save time on prepping and assembly, you've got two options — prep the entire sandwich or prep the ingredients.
Prep The Ingredients
For the best make-ahead option, prep all the ingredients ahead of time for easy, quick assembly right before serving.
Cut the bread: Cut the bread into the desired shape and size. Store at room temperature in an airtight container. Use the bread within a few days.
Prepare the cream cheese mixture: Make the mixture up to two days ahead of time. Keep refrigerated in an airtight container until ready to use. Bring the mixture to room temperature for easier spreading.
Slice the cucumber: Slice and store the cucumbers up to one day ahead. Store them in an airtight container in the fridge. When ready to use, dab the cucumbers with a paper towel to remove excess moisture.
Prep The Sandwich
If you must prep the whole sandwich ahead of time, make them no more than a couple hours in advance. Wrap the sandwiches in plastic wrap and store in the fridge until ready to serve.
Storing Leftovers
If you have any leftovers, wrap them in plastic wrap or place in an airtight container. Store the sandwiches in the refrigerator and eat within a day. Avoid storing for longer as the sandwiches become soggy and lose their crispness.
FAQ
Can cucumber sandwiches be made in advance?
You can assemble cucumber sandwiches a few hours in advance. Wrap them in plastic wrap and store in the fridge until ready to serve.
How long can cucumber sandwiches last in the fridge?
Cucumber sandwiches last no more than a day in the fridge before their texture and flavor are compromised.
Can the cream cheese spread be made ahead of time?
Yes, the cheese spread is make-ahead friendly. First, prepare the cream cheese and herb spread. Then, store it in an airtight container in the fridge. Use it within two days.
More Appetizing Finger-Foods
Recipe
These delicate cucumber sandwiches consist of thinly sliced cucumbers, layered between herbed cream cheese and bread. They are refreshing and light, making the perfect appetizer.
Ingredients
12

bread slices

1

English cucumber

8

oz

cream cheese

softened

1

tbsp

lemon juice

2

garlic cloves

pressed

2

tbsp

fresh dill

minced

1

tbsp

chives

minced

1/2

tsp

salt

1/4

tsp

ground black pepper
Nutrition Facts
Cucumber Sandwich Recipe
Amount Per Serving
Calories 74
Calories from Fat 36
% Daily Value*
Fat 4g6%
Cholesterol 10mg3%
Sodium 145mg6%
Potassium 53mg2%
Carbohydrates 8g3%
Protein 2g4%
Vitamin A 149IU3%
Vitamin C 1mg1%
Calcium 29mg3%
Iron 1mg6%
* Percent Daily Values are based on a 2000 calorie diet.