This easy one-pan creamy chicken and broccoli will be the easiest thing you do today. Despite being effortless, the result is so rich in flavor — you'll be coming back for more in no time.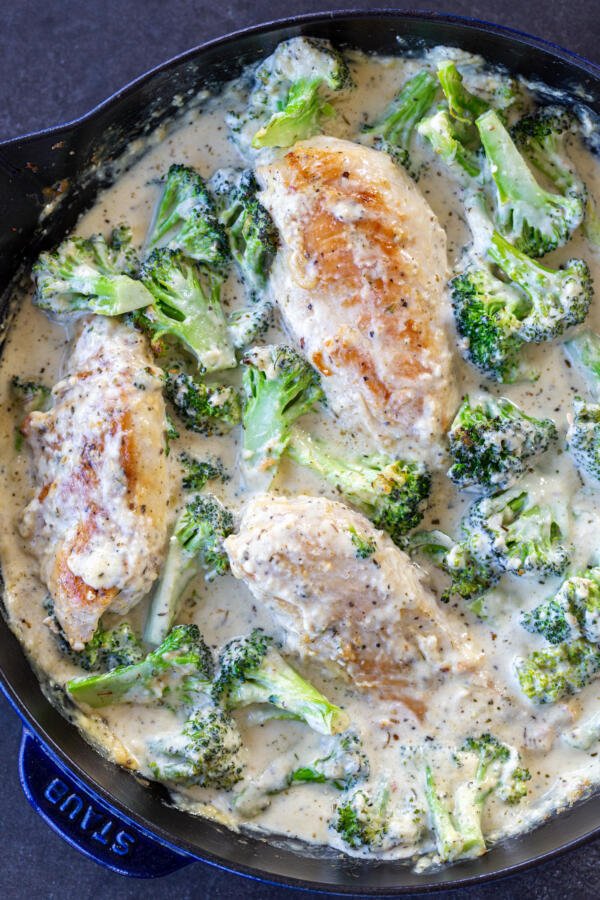 What is Creamy Chicken and Broccoli?
Creamy chicken and broccoli is a one-pan baked dish with a rich parmesan cheese and heavy cream based sauce. The chicken has a golden, slightly crispy exterior from being sauteéd on the stove, but still remains moist after being finished off in the oven with the broccoli and velvety sauce. It's a dish that pairs perfectly over pasta or quinoa.
Chicken and Broccoli Video
Making Chicken and Broccoli
It's a good idea to prepare side dishes ahead of time, and preheat the oven to 400°F before you start cooking.
Cook the chicken: Preheat oil in a large oven-safe skillet on the stovetop. Add chicken and sauté on high heat just until golden brown on all sides. Set chicken aside.
Whisk the cream sauce: Add heavy cream, parmesan cheese, and seasonings to the pan and whisk on medium heat as it simmers. Continue whisking the mixture until a creamy sauce forms.
Add broccoli: Add broccoli florets into the sauce and stir to coat the broccoli. Place chicken back into the pan between the florets.
Bake: Place the skillet into the preheated oven and bake for about 10 minutes or until chicken is 165°F. Serve immediately for best texture and flavor.
How to Personalize Your Dish
Chicken and broccoli is an incredibly easy dish to modify. Add more of your favorite ingredients, or substitute with what you have on hand.
Change the protein: If you're freshly out of chicken breast, substitute it with chicken thighs. Thighs are a fattier meat, but they are also juicier.
Mix in other vegetables: Load up on veggies by using any you have in the fridge. If using mushrooms, fresh garlic, or zucchini, saute first until they are softened and golden-brown. If adding spinach and cauliflower, add alongside the broccoli.
Adjust the seasoning: Season the chicken with extra Italian seasoning or chicken seasoning prior to sautéing. Garlic powder, red pepper flakes, and smoked paprika give a wonderful taste!
Top with a garnish: For extra visual flair, sprinkle the top with crispy bacon, extra cheese, or fresh parsley.
Tips for the Creamiest Chicken and Broccoli
Life may throw you surprises along the way, but this recipe will not! Follow these tips and tricks to eliminate any chance of curveballs coming up when making this dish. Don't you wish life was like this?
Cut chicken and broccoli to similar size: Chicken breasts and broccoli, cut in different sizes, do not cook evenly. Cut everything into similar sizes to ensure uniformity. Limit broccoli to bite-size pieces.
Avoid overbaking: Chicken breast baked for too long becomes dry. Bake just until chicken reaches 165°F when checked with a meat thermometer. Here's a great food thermometer, it's essential to have one!
Use quality cheese: Avoid using low-quality parmesan cheese. The cheese plays a vital role in the taste of the sauce, so a good quality cheese is important! A block of parmesan that is freshly grated is preferable over a bagged variety, but pre-shredded will do in a pinch.
Brown the chicken: For best results, brown the chicken quickly on high heat. Sautéing the chicken on high heat allows the juices to stay inside and retain flavor for the finished result.
Thin out the sauce: For a thinner sauce, pour a couple tablespoons of chicken broth to the pan as you whisk the cream.
How to Serve Chicken and Broccoli
As the dish bakes in the oven, prep a few of your most-loved side dishes to serve on the side. Creamy chicken and broccoli tastes absolutely divine over a bowl of homemade pasta, quinoa, farro, or basmati rice. For you veggie lovers, garden cucumber and tomato salad, and corn tomato avocado salad are perfect. Or, make a bowl of Italian pasta salad for a mix of salad and pasta!
Whichever side you make, the result will be fantastic. To get every last bit of the saucy goodness on your plate, have a batch of sourdough biscuits or dinner rolls ready to go.
Storing & Reheating
There's nothing to worry about when it comes to storing and reheating chicken and broccoli. Make an extra batch and enjoy it for lunch throughout the week! One important tip — avoid freezing. Otherwise, the broccoli results in a mushy consistency.
Refrigerator: To store for up to four days, place leftovers in an airtight container and store in the fridge.
Reheating: For quickest results, microwave a small portion of the chicken and broccoli until warmed. If reheating multiple portions, reheat the chicken and broccoli on the stovetop over medium-high heat in a covered skillet, or in a covered dish in the oven at 350°F until warmed through.
FAQ
Is it okay to use frozen broccoli to make chicken and broccoli?
It is best to use fresh broccoli florets to make chicken and broccoli. Frozen broccoli tends to become mushy when baked.
Can I use cream of chicken soup instead of the cream in chicken and broccoli?
Cream of chicken soup is slightly similar to the cream in this recipe, but it does not taste the same or have the same degree of fresh flavor. It is best to make the sauce per recipe instructions.
Can I make chicken and broccoli ahead of time?
Chicken and broccoli tastes the best right out of the oven. However, since chicken and broccoli stores and reheats well, you can also make it ahead of time if needed.
Similar Savory Entrees
Recipe
This creamy chicken and broccoli is made with simple ingredients like chicken, broccoli, parmesan, and Italian seasoning, but the taste is otherworldly.
Nutrition Facts
Creamy Chicken and Broccoli
Amount Per Serving
Calories 606
Calories from Fat 387
% Daily Value*
Fat 43g66%
Cholesterol 178mg59%
Sodium 1365mg57%
Potassium 715mg20%
Carbohydrates 8g3%
Protein 48g96%
Vitamin A 1715IU34%
Vitamin C 52mg63%
Calcium 753mg75%
Iron 2mg11%
* Percent Daily Values are based on a 2000 calorie diet.