Chicken Mushroom Marsala is the epitome of comfort food. Serve it all on its own or atop pasta, mashed potatoes or rice.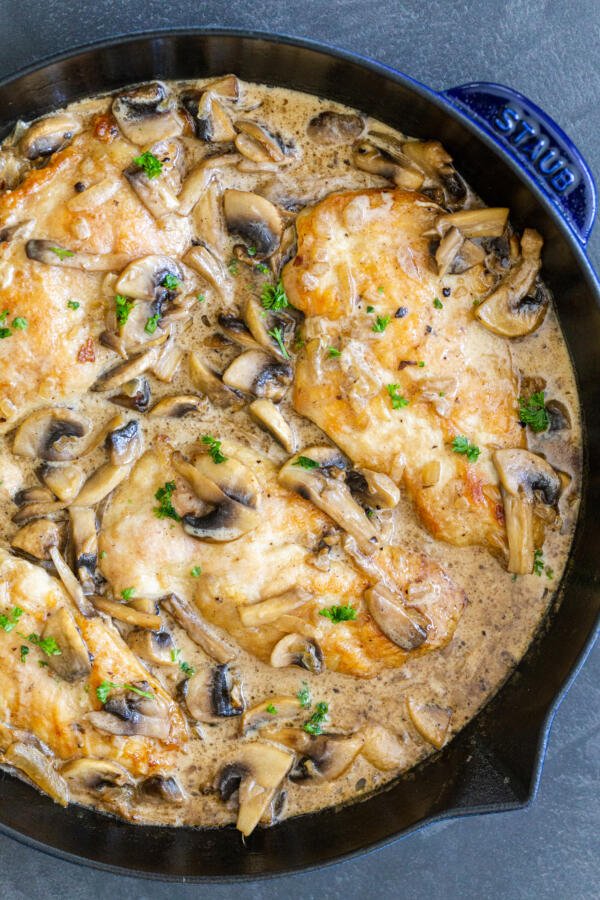 This Chicken Mushroom Marsala recipe is about to join your rotation of weeknight chicken recipes. If you've never tried this dish before, picture this: tender juicy chicken swimming in a rich sauce of cream, Marsala wine and sauteed mushrooms.
So, put down your phone, close your Yelp search for local Italian restaurants and pop on your apron. You're about to make restaurant-worthy Mushroom Chicken Marsala in the comfort of your own kitchen. Did we mention how easy it's going to be?
Tips For the Best Chicken Marsala
Filet and tenderize the chicken. Filet your breasts to ensure that your chicken breasts cook evenly and quickly. Then, wrap each piece in plastic wrap (prevents a big mess) and pound them with a meat tenderizer. This process will make your chicken super juicy — don't skip it!
Brown the chicken. Browning your chicken creates a lovely, golden-brown crust. When you ladle your mushroom Marsala sauce on top, you'll be grateful for how the crispy chicken compliments it.
Chop your mushrooms uniformly. To prevent uneven cooking time and texture, try to chop your mushrooms into the same-sized pieces.
Go out of your way to use Marsala wine. It might be tempting to use whatever red wine you have hanging out at home, but Marsala wine truly makes this dish what it is.
Don't clean that pan. After you brown your chicken, make sure to cook the mushroom Marsala sauce in the drippings. Trust us, this adds so much flavor to your sauce (and saves you a dish to clean).
Experiment with different mushrooms. Typically brown or cremini mushrooms are used for Chicken Mushroom Marsala, but you can swap them out for your favorite 'shroom. Try portabellas or chanterelles if you're feeling fancy.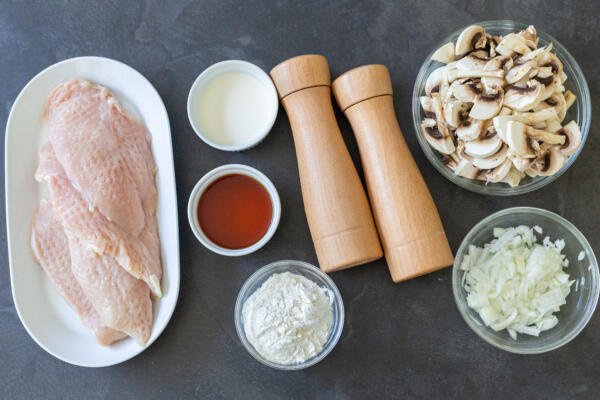 All About Marsala Wine
Marsala wine hails straight from Sicily. It's a fortified wine (a wine that is enhanced with a distilled spirit), similar to port, sherry, vermouth and Madeira.
Marsala is typically fortified with brandy and has nutty notes and hints of brown sugar. It can range from sweet to dry and is used in both savory and sweet cooking. For this recipe, you will want to use a dry Marsala.
If you must substitute the Marsala wine, use dry sherry, dry Madeira or pinot noir.
How To Make Chicken Marsala
Filet and tenderize chicken breasts.
Mix flour with seasonings and preheat a skillet with oil.
Dredge each piece of chicken in flour and fry until golden brown on both sides.
Slice mushrooms and onions.
Cook mushrooms and onions in the same pan and set aside.
Add Marsala wine to the pan and cook until liquid reduces, stir in cream and bring to a boil. Return the onions and mushrooms.
Ladle sauce on top of the chicken and serve hot!
Serving Chicken Marsala
Pair your Chicken Mushroom Marsala with mashed potatoes for your next Sunday family dinner. You can also serve it on top of steamed white rice or homemade pasta noodles. Don't forget a crusty hunk of bread to sop up all that beautiful sauce.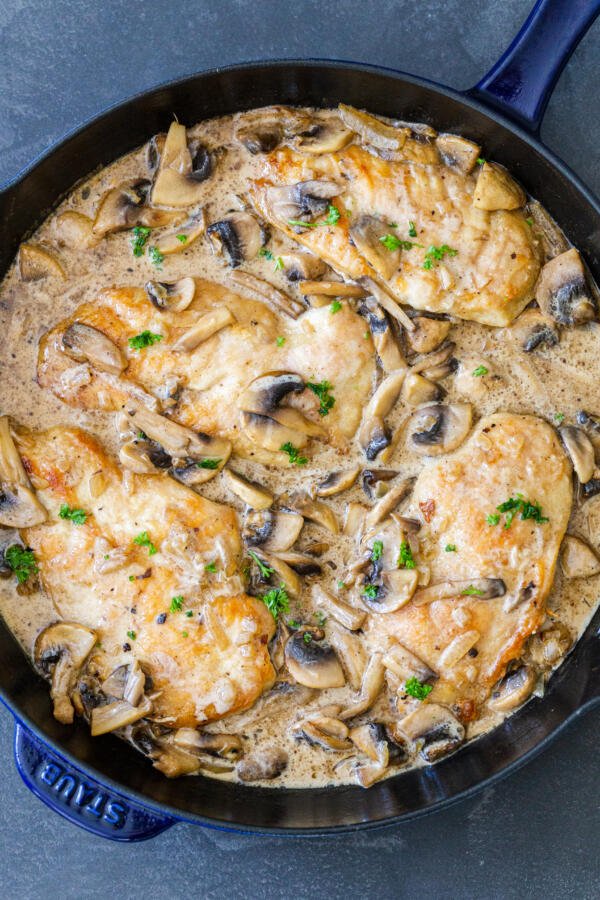 Other Chicken Recipes to Try:
Recipe
Chicken Mushroom Marsala is such a versatile dish. It can be served on its own or with pasta, mashed potatoes or even rice.
Nutrition Facts
Chicken Mushroom Marsala
Amount Per Serving
Calories 475
Calories from Fat 108
% Daily Value*
Fat 12g18%
Cholesterol 166mg55%
Sodium 280mg12%
Potassium 1309mg37%
Carbohydrates 25g8%
Protein 54g108%
Vitamin A 287IU6%
Vitamin C 7mg8%
Calcium 34mg3%
Iron 2mg11%
* Percent Daily Values are based on a 2000 calorie diet.