Mushrooms are the star in this velvety smooth soup, flavored with fresh thyme and rich half-and-half. Try it, and you may never go back to the canned version!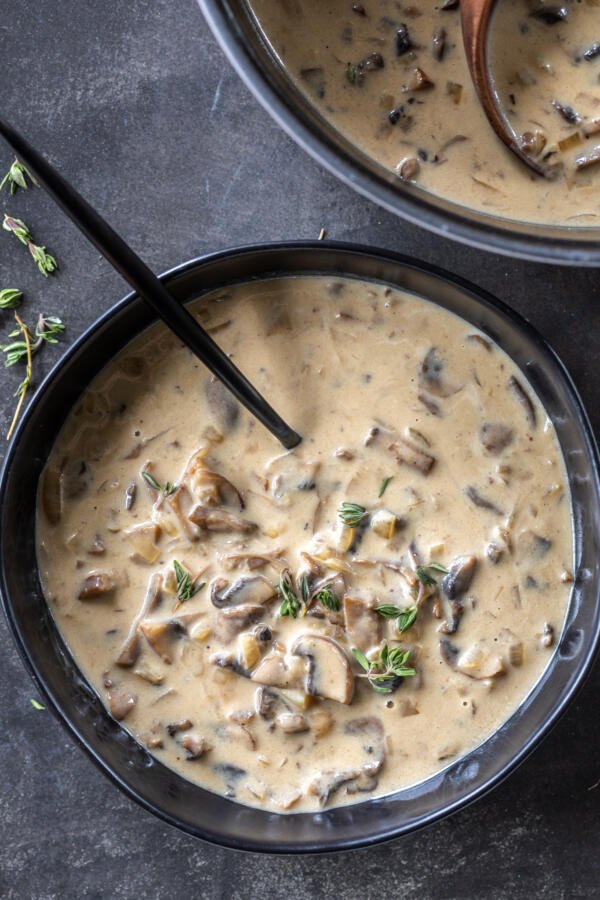 What Is Cream of Mushroom Soup?
Cream of mushroom soup consists of a creamy broth with sautéed mushrooms and other veggies. The mushrooms add deep umami flavor to the soup, while a simple roux sauce made from butter and flour creates a thick consistency. A generous amount of half-and-half delivers a milky flavor and creamy texture to complete the soup.
Cream of mushroom soup earned the nickname "America's Bechamel" from the American commercial introduction of the French classic Bechamel sauce. Campbell Soup Company first marketed canned cream of mushroom soup in 1934. It is believed that Campbell took inspiration for this product from the French "mother sauce" Bechamel, since the condensed soup is made from a similar mixture of butter, flour, and milk.
How to Make Cream of Mushroom Soup
This cream of mushroom soup comes together in 30 short minutes! Start by preparing and cooking the veggies, then add the rest of the ingredients for creamy deliciousness.
Prepare the veggies: Dice the onions and cut the mushrooms into equal slices.
Sauté the veggies: Melt the butter in a pot over medium heat, then cook the onions until they are translucent. Add the mushrooms and sauté until they are tender and golden.
Add the flour and broth: Sprinkle the flour over the mushroom mixture and cook for about two minutes, stirring constantly. Pour in the broth and stir to dissolve any lumps of flour.
Season the soup: Season with salt, pepper, and fresh thyme to taste.
Simmer the soup: Allow the soup to simmer for 10 minutes, stirring occasionally.
Add the half-and-half: Pour in the half-and-half and bring the soup back up to a simmer. Remove from the heat, serve, and enjoy!
Hot Tip: Use 1/2 tsp of dried thyme if you're out of fresh thyme.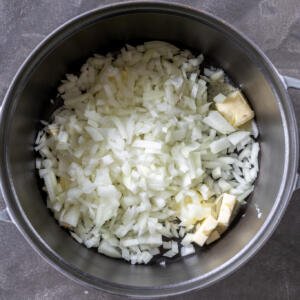 Tips for the Best Cream of Mushroom Soup
Are you ready for an upgrade from canned soup? Follow these tips to be wowed by the best homemade cream of mushroom soup.
Choose your favorite mushrooms. We love baby bella (also known as cremini) mushrooms in this recipe for their firm texture and meaty flavor. Feel free to swap them with white button, portobello, or shiitake mushrooms according to your preference.
Avoid washing your mushrooms. Mushrooms are very absorbent, which makes them susceptible to becoming mushy. Wipe your mushrooms with a dry cloth or paper towel to clean them.
Use a good quality chicken broth. A delicious chicken broth is the foundation to a good soup. We recommend making your own for unrivaled flavor.
Adjust seasoning to taste. The amount of seasoning you need for this soup depends on the chicken broth you use. A heavily seasoned broth may only need a pinch of salt, while an unseasoned broth requires generous seasoning.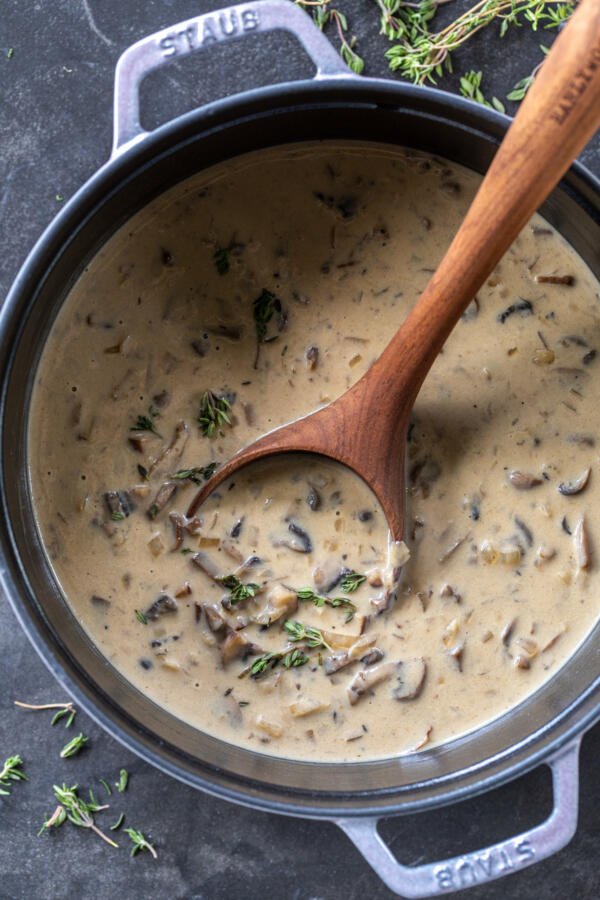 Customize Your Soup
Cream of mushroom soup is far from boring when you make it your own. Switch up the flavors and experiment with the texture until you fall in love with this versatile dish.
Add fresh herbs: Thyme is a wonderful match for mushrooms, but rosemary and parsley are strong competitors. Add your favorite herbs to bring a wave of refreshment to your soup.
Incorporate garlic: Fresh garlic cuts through the richness of this creamy soup, making it a perfect addition. Sauté a few minced cloves of garlic along with the onions and mushrooms.
Deglaze with wine: For a fruity flavor, deglaze the pot with a splash of dry wine (like marsala) after sautéeing the veggies. Let it simmer until the alcohol is evaporated.
Blend it up: If you like your soup extra creamy, pour it into a blender and blend until smooth. Use an immersion blender instead for more control over the texture.
Ways To Serve
Cream of mushroom soup is an ideal lunch dish or appetizer for a heartier dinner. After all, who doesn't love an indulgent broth that warms you through to the bones? For a quick lunch, serve this soup with crusty bread like a baguette or a slice of homemade sourdough. Soup and sandwich is a classic combination, so grilled cheese and steak sandwiches pair wonderfully with this soup. For a memorable dinner, pique the appetite with steaming bowls of cream of mushroom soup as an appetizer. Then, bring out a Caesar salad, lemon chicken pasta, or Parmesan risotto to complete the meal.
Storing & Reheating
Do you have extra cream of mushroom soup you want to enjoy again later? Here are a few tips to properly store and reheat your leftover soup.
Refrigerator: To store for up to four days, allow the soup to cool completely, cover the pot with a lid, and refrigerate.
Reheating: Reheat cream of mushroom soup on the stovetop or in a microwave. Make sure to thaw frozen soup in the fridge before reheating for the best results.
Storage Tip: Avoid freezing this soup as the cream tends to separate when frozen, giving it a grainy texture.
FAQ
Is cream of mushroom soup healthy?
Homemade cream of mushroom soup is certainly a healthier option than the canned version due to a lower sodium content and the use of your own ingredients. Mushrooms are a nutritional powerhouse, rich in vitamins and minerals.
What is the difference between mushroom soup and cream of mushroom soup?
The main difference between mushroom soup and cream of mushroom soup is that the cream version is thicker and made with dairy, whereas regular mushroom soup is broth-based and has a thin consistency.
How can I fix bland cream of mushroom soup?
To add more flavor to bland cream of mushroom soup, add more salt and a splash of vinegar or lemon juice. If the soup is still bland, opt for a more flavorful mushroom variety next time.
More Creamy Soup Recipes
Recipe
Mushrooms are the star in this velvety smooth soup, flavored with fresh thyme and rich half-and-half. Try it, and you may never go back to the canned version!
Nutrition Facts
Cream of Mushroom Soup
Amount Per Serving
Calories 235
Calories from Fat 153
% Daily Value*
Fat 17g26%
Cholesterol 47mg16%
Sodium 1006mg42%
Potassium 833mg24%
Carbohydrates 18g6%
Protein 7g14%
Vitamin A 546IU11%
Vitamin C 5mg6%
Calcium 95mg10%
Iron 1mg6%
* Percent Daily Values are based on a 2000 calorie diet.