Chicken mushroom gravy is a total crowd pleaser. Juicy chunks of chicken are drowned in a rich, mushroom gravy in this quick and easy weeknight dinner.
If you love this recipe, try your hand at making my Instant Pot Chicken With Mushrooms.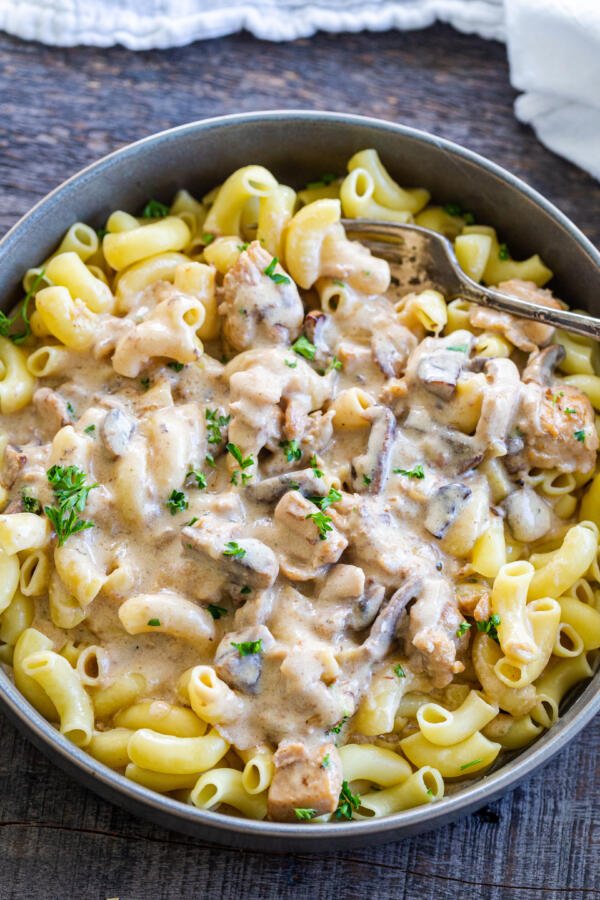 How to Make Chicken Gravy
Prepare all your ingredients.
Cut mushrooms into chunks and brown them on a preheated oiled skillet.
Add diced onions to the mushrooms. Cook until translucent. Set aside in a separate pot.
Cook bite-sized chicken pieces until golden brown. Stir in flour until everything is combined together well. Add chicken mixture into the mushroom and onions.
Bring the pot to medium-heat and add your cream and chicken broth. Let the ingredients simmer until the chicken is completely cooked through.
Homemade Chicken Gravy Without Flour
Don't have any flour hanging around? No worries! Use a bit of cornstarch to thicken up the gravy when you're in a pinch. This is the perfect solution for all my gluten-free friends!
Serving Chicken Gravy
The sky's the limit here, as this dish is so darn versatile. Check out a couple of our favorite dishes to pair with this rich gravy:
Guilty Mashed Potatoes – Loaded with butter and heavy whipping cream, these mashed potatoes make the perfect bed for your gravy.
Egg noodles, Brown Rice, White Rice or Buckwheat.
Cabbage Salad – Trying to keep things light? This cabbage salad is a refreshing contrast to your decadent chicken gravy.
Caesar Salad – Tangy, crisp and chock-full of croutons, few dishes compare to a homemade caesar salad.
Pickled Mushrooms – These mushrooms are always hanging out in my fridge. They add such a wonderful contrast to any meat-based dish.
Marinated Tomatoes – Add several huge hunks of marinated tomatoes to your plate for a delicious serving of veggies.
Making the Gravy in Advance
Feel free to make your gravy a day in advance. I actually recommend this! The time the gravy spends marinating in itself overnight will add an extra layer of flavor.
Keeping Chicken Gravy Fresh
Store your chicken in an airtight container to keep it fresh. When you're ready to chown down, heat a saucepan to medium-heat. Add in your chicken gravy and stir it occasionally until warmed through.
Side note: You could also freeze your chicken gravy for later use. Allow it to cool down completely before placing it in a freezer safe container. Allow it to thaw in the refrigerator overnight. Reheat it in a skillet over medium-heat.
Other Mushroom and Chicken Dishes
Mushrooms and chicken are just so darn perfect for each other. Try your hand at making some of our other dishes that use this winning combination:
Recipe
Chicken mushroom gravy is a total crowd pleaser. Juicy chunks of chicken are drowned in a rich, mushroom gravy in this quick and easy weeknight dinner.
Nutrition Facts
Chicken Mushroom Gravy
Amount Per Serving
Calories 203
Calories from Fat 99
% Daily Value*
Fat 11g17%
Cholesterol 91mg30%
Sodium 116mg5%
Potassium 442mg13%
Carbohydrates 4g1%
Protein 21g42%
Vitamin A 375IU8%
Vitamin C 2.6mg3%
Calcium 23mg2%
Iron 0.6mg3%
* Percent Daily Values are based on a 2000 calorie diet.