Chicken mushroom gravy is a total crowd pleaser. Juicy chunks of chicken are drowned in a rich, mushroom gravy in this quick and easy weeknight dinner.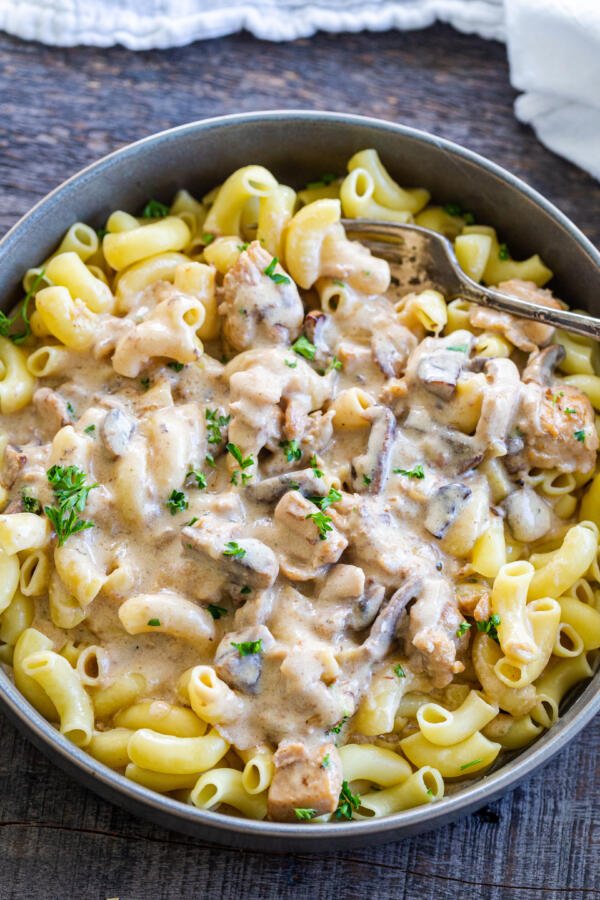 Have an instant pot? If you love this recipe, try your hand at making instant pot chicken with mushrooms. It's so quick and even more hands-off!
What is Chicken Mushroom Gravy?
Chicken mushroom gravy is a quick and saucy one-skillet chicken and veggie meal. The gravy is full of chunks of sauteéd veggies and delicious bites of chicken breast, smothered in a comforting and creamy mushroom sauce.
How To Make Chicken Gravy
In only 10 minutes of prep time and 20 minutes of cooking, you'll have a delicious dinner on the table. Slice, dice, and/or chop the ingredients ahead of time to make it even more simple.
Cut the veggies: Cut the mushrooms and dice the onions. Preheat a skillet with olive oil, then brown the mushrooms followed by the onions. Sauté until the onions are soft and translucent, then remove from the skillet and set aside.
Cook the chicken: In the same skillet, cook the chicken until it's golden brown. Stir in the flour until well combined.
Add in mushroom mixture: Add the mushrooms and onion back into the skillet. Pour in the heavy cream and chicken broth. Simmer on medium high heat until the mixture is creamy and chicken is fully cooked. Add salt and pepper to taste.
Serve: Serve over rice, mashed potatoes, or any other grain,
Hot tip: Don't have any flour hanging around? No worries! Use a bit of cornstarch to thicken up the gravy in a pinch.
Tips from the Kitchen
For a chicken and mushroom gravy with the perfect texture and flavor, follow these tips.
Avoid overcooking the chicken: Overcooked chicken tastes dry, so cook it only until it reaches 165°F when checked with a meat thermometer. Juicy chicken breast is the way to go!
Leave space between chicken when sauteéing: For a crispy, golden crust on the chicken, leave ample space between each piece on the pan as you're frying. Work in batches as needed.
Use a good skillet: We love using a cast iron or stainless steel pan to achieve a good sear and crisp on the chicken. Avoid using a non-stick pan as it will not allow as good of a sear.
Slice the ingredients evenly: Cut the onions, mushrooms, and chicken evenly. This ensures all the ingredients cook at the same rate.
Cook off the flour: Flour is used to thicken the sauce, but it can give a raw floury taste when not cooked enough. Cook it for an extra minute to take the raw taste out.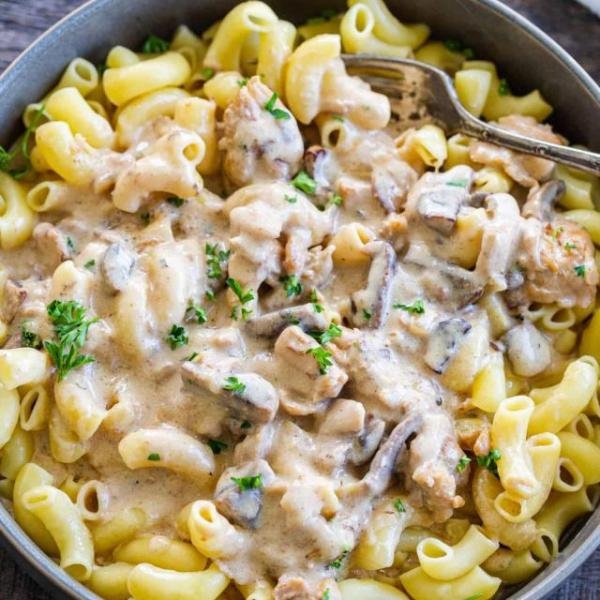 Flavor Substitutions & Additions
If you find yourself wanting more layers of flavor in your gravy, add in an extra ingredient or two to elevate the dish.
Garlic: Add more aromatic flavor with a few minced garlic cloves. Sauteé the garlic as the onions are just turning translucent.
Wine: If you like wine flavor, add a splash of your favorite white wine to the onion, mushroom, and garlic mixture as it cooks. Allow a minute for the alcohol to cook off as the flavor saturates the veggies. Sauvignon Blanc is a popular white wine option.
Chicken thighs: Don't have boneless skinless chicken breasts? Substitute them with chicken thighs instead. Thighs tend to be more tender compared to chicken breast.
Fresh herbs: Add in a tablespoon of fresh herbs such as parsley, dill, or fresh thyme. Mix them into the gravy or sprinkle the minced herbs as a garnish when ready to serve.
Cheese: For a bit of cheesy flavor, add parmesan cheese and let it melt in the warm gravy.
Lemon juice: Brighten up the sauce a bit with a small splash of lemon juice.
Making the Gravy in Advance
This chicken mushroom gravy is great when made in advance. We actually recommend this! The time the gravy spends marinating in itself overnight adds an extra layer of flavor. Simply cook it and store it in the fridge until ready to reheat and serve.
Ways to Serve
The sky's the limit here, as this dish is so versatile. Check out a couple of our favorite dishes to pair with this rich gravy.
Storage Tips + Reheating
If there's any gravy left, keep it fresh by storing in the refrigerator. Or, freeze it if you often find yourself craving a quick gravy dish.
Refrigerator: To store for up to three days, place chicken in an airtight container in the fridge.
Freezer: To store for up to three months, put cooled gravy into a freezer safe container. When ready to use, allow it to thaw in the fridge.
Reheating: To reheat from the fridge, add the chicken gravy to a saucepan or skillet and warm on medium-high heat. Stir occasionally to evenly heat it through.
FAQ
How do I make mushroom cream sauce thicker?
The mushroom cream sauce thickens as a result of the flour and heavy whipping cream used to make it. For a thicker sauce, mix two tablespoons of flour with 1/4 cup of water and whisk until smooth. Slowly add and whisk with the gravy until the desired consistency is reached.
Why did my gravy curdle?
Gravy can curdle when the cream used has too little fat. It is best to use heavy whipping cream to make the creamy gravy. Avoid using half and half or milk to add creaminess to the sauce
More Mushroom Recipes
Recipe
Chicken mushroom gravy is a total crowd pleaser. Juicy chunks of chicken are drowned in a rich, mushroom gravy in this quick and easy weeknight dinner.
Nutrition Facts
Chicken Mushroom Gravy
Amount Per Serving
Calories 203
Calories from Fat 99
% Daily Value*
Fat 11g17%
Cholesterol 91mg30%
Sodium 116mg5%
Potassium 442mg13%
Carbohydrates 4g1%
Protein 21g42%
Vitamin A 375IU8%
Vitamin C 2.6mg3%
Calcium 23mg2%
Iron 0.6mg3%
* Percent Daily Values are based on a 2000 calorie diet.