This easy blueberry coffee cake is packed full of plump, juicy blueberries and topped with a buttery, brown sugar streusel. In just about 60 minutes and using only a handful of wholesome ingredients, you'll have a coffee cake that rivals any bakery.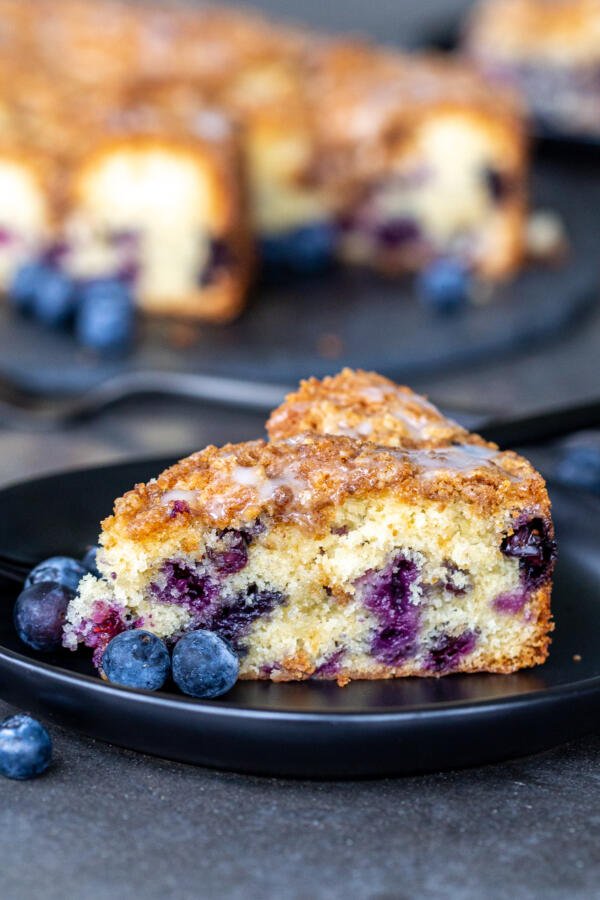 Blueberry coffee cake is the perfect dish to whip up on a lazy weekend. Chockfull of fresh, bursting blueberries and melt in your mouth, buttery streusel, it's delicious in its simplicity and best paired with – you guessed it – a hot cup of coffee.
Unlike more complex baked goods, coffee cakes are super easy to make. This recipe only requires a few, simple ingredients and minimal equipment to whip up. That's right – this isn't one of those "tear your entire kitchen up and cause a big mess" kind of baking ordeals.
Whether you're a self-proclaimed blueberry addict or you just picked up a huge haul from the farmer's market, give our blueberry scones or steamed blueberry pierogi a try as well.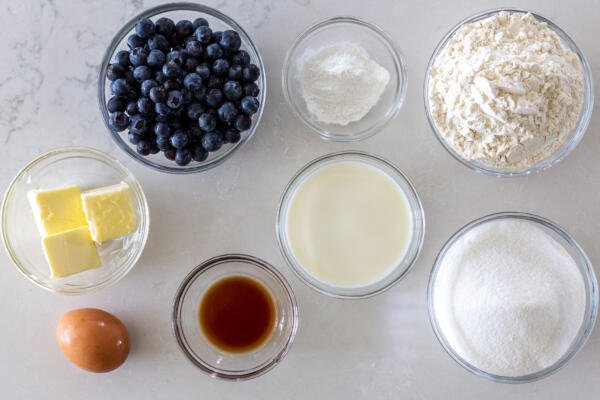 What is Coffee Cake?
Coffee cake is a single-layer breakfast made with loads of butter and topped with a crunchy streusel. Despite the name, American coffee cake is rarely actually made with any coffee at all. Instead, it's simply intended to be eaten alongside a steaming cup of joe.
Below, find a quick overview of our blueberry coffee cake recipe:
Flavor: This blueberry coffee cake is the perfect balance of buttery cake, tart blueberries, and sweet brown sugar.
Texture: When it comes to texture, the cake batter has been perfected for optimal moistness. This is complemented by a crunchy, sweet streusel topping that melts in your mouth and the occasional burst of fresh blueberry.
Time: From prep to table, this recipe only takes 1 hour and 15 minutes to whip up.
How to Make Blueberry Coffee Cake
Making blueberry coffee cake requires a handful of ingredients you likely already have on hand.
Whipping Up the Streusel Topping: Using the largest slots on a cheese grater, shred frozen or very cold butter directly into the flour. Stir in brown sugar, tossing several times to make sure everything is combined.
Making the Coffee Cake Batter: Grab a large bowl. Add in butter and sugar, beating constantly. Add egg and vanilla extract. Beat to combine. Grab a small bowl and combine flour with baking powder. In small portions and with a slow hand, gradually add flour/baking powder mixture into the egg/vanilla extract mixture, alternating with a bit of milk. Continue adding until you run out of both the flour mixture and milk.
Add Blueberries and Streusel: Fold in your blueberries. Pour the batter into an oiled baking dish, ensuring it is well distributed. Add the streusel mixture right on top of the batter.
Bake and Enjoy: Pop the baking dish into the oven for about an hour. To check doneness, do the "toothpick trick". For the vast majority of baked goods, you want to ensure a toothpick inserted into the center of the cake comes out clean. This is a great indicator that it's fully cooked. Once your cake is ready, let it cool for 10 minutes, slice, and enjoy!
Tips for the Best Blueberry Coffee Cake
Below, find the top tips for making the best blueberry coffee cake.
Using the Right Butter. For the cake batter, you'll want to use softened butter. This will help it mix well with the sugar. On the other hand, the streusel requires ultra-cold butter.
Be gentle with your fresh blueberries. When adding your blueberries to the dough, be careful not to smash them. You'll want most of your blueberries to remain whole so you get nice pockets of juice as you bite into your cake.
Make the batter ahead of time. Since this cake doesn't use yeast, feel free to make the batter a day ahead of time. Leave it covered overnight in the refrigerator. Add streusel topping right before baking.
Choosing the right flour. There's no need for fancy cake flour here. All-purpose flour is the best for this recipe, as it creates the densest coffee cake. Bob's Redmill flour tends to be the best quality.
Glaze the cake. This is fully optional but if you'd like to decorate your cake with a glaze, here is how to make a simple powdered sugar glaze.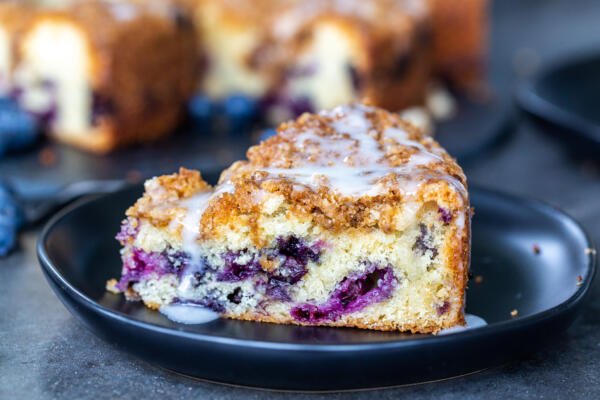 Storing Blueberry Coffee Cake
Room Temperature: Blueberry coffee cake will remain fresh at room temperature for a few days. Just make sure to store it in an airtight container on your counter.
Refrigerating: If you still have leftovers, make sure to pop them in the refrigerator after three days.
Freezing: You can also freeze your blueberry coffee cake by placing it in a freezer-safe plastic bag. Coffee cake will stay fresh for up to 3 months when frozen.
Reheating Tip: Whether your leftover coffee cake is frozen or refrigerated, reheat it in a conventional oven or microwave to warm it through. Just be careful to not overcook it, as it will turn rubbery and the streusel could potentially burn.
FAQ
Does a blueberry cake need to be refrigerated?
Blueberry coffee cake does not need to be refrigerated so long as you eat it within 3 days and store it in an airtight container on the counter.
What is the difference between coffee cake and crumb cake?
The difference between coffee cake and crumb cake lies in the amount of streusel. Coffee cake tends to have less, while crumb cake touts a thick topping of streusel.
Can I add frozen blueberries to cake mix?
Do not add frozen blueberries to cake mix. Frozen blueberries have a high water content that will release during the baking process and thin your batter out. Always use fresh blueberries when baking.
How do you keep a coffee cake moist?
The key to moist coffee cake is not skimping on the butter. Additionally coffee cakes comes out dry when too much flour is added. Avoid this by always using a measuring cup or spoon when portioning out your ingredients for baking. Remember: baking is science. You need to be as exact as possible to get the best results.
Can I make this without the streusel?
You can make this coffee cake without the streusel, but keep in mind that it will be more like a "sweet bread" than a cake.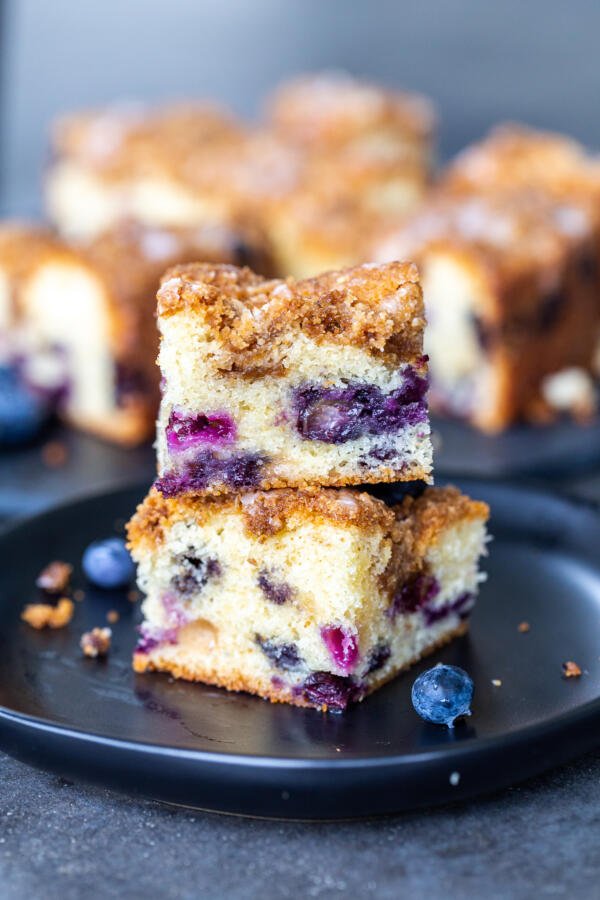 More Tasty Cake Recipes
Recipe
This easy blueberry coffee cake is packed full of plump, juicy blueberries and topped with a buttery, brown sugar streusel. Yum!
Instructions
Streusel Topping
Nutrition Facts
Blueberry Coffee Cake
Amount Per Serving
Calories 526
Calories from Fat 189
% Daily Value*
Fat 21g32%
Cholesterol 79mg26%
Sodium 93mg4%
Potassium 222mg6%
Carbohydrates 80g27%
Protein 6g12%
Vitamin A 669IU13%
Vitamin C 2mg2%
Calcium 92mg9%
Iron 2mg11%
* Percent Daily Values are based on a 2000 calorie diet.