This potato gnocchi recipe is a great substitute for traditional noodles in just about any pasta dish. Made with 4 ingredients, they are super easy to make!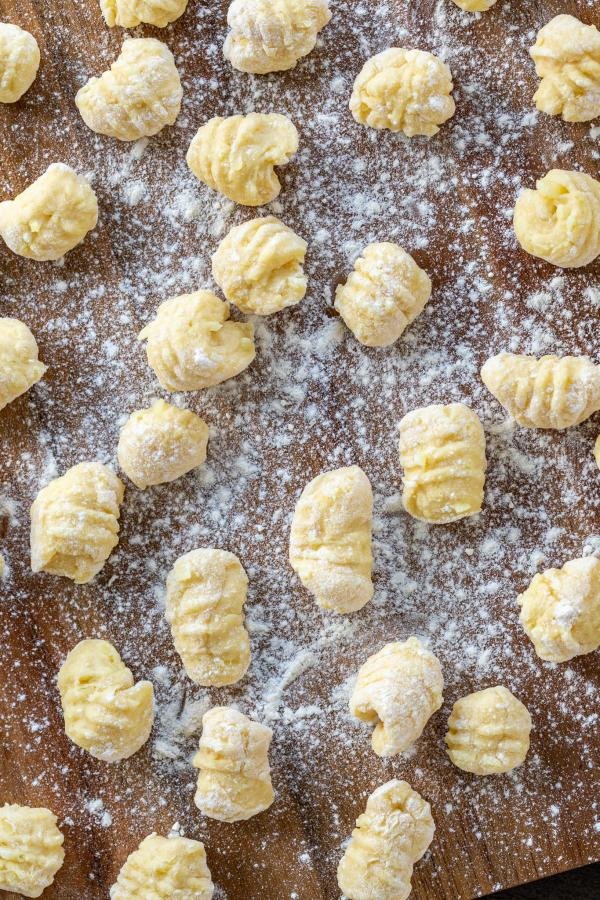 This homemade potato gnocchi recipe is sure to impress. They will elevate your dish and make you look like a seasoned Italian chef. I mean, you are one anyway, right? Surprisingly simple to prepare, this recipe only requires a bag of russet potatoes and a few ingredients you probably already have on hand.
What Exactly is Gnocchi?
There's a big debate amongst foodies about whether or not gnocchi is part of the dumpling or pasta family. Typically, pasta is made from eggs and flour. Because gnocchi is made from eggs, flour, and potatoes, their texture comes out more chewy and gummy than pasta. Gnocchi is a great substitute for pasta in just about any dish, but they have the texture of a dumpling. Therefore, we would argue that gnocchi is a hybrid of the two. See? There's no need for war!
Selecting the Right Potatoes for Gnocchi
Yukon gold potatoes are the basis of any perfect gnocchi. Why? They are most similar to the gold-fleshed potatoes native to Italy — the birthplace of this magnificently simple, yet delicious pasta sauce conduit. We also find that the flesh has a sweeter and nuttier flavor that elevates the gnocchi beyond a simple boiled ball of dough. If you must, you can use russet potatoes as well. Just remember that they are a bit blander than Yukons.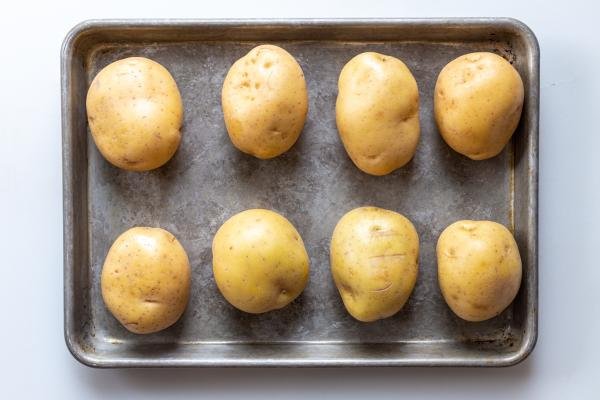 Making this Homemade Potato Gnocchi Recipe
Follow this step-by-step guide and you'll get perfectly chewy and tender gnocchi every time.
Hot Tip: Leave enough flesh on and use the potato skins to make a batch of crispy potato skins stuffed with cheese and bacon. I mean, you shouldn't waste food, right?
5 Tips for Nailing this Potato Gnocchi Recipe
These 5 foolproof tips for making perfect gnocchi will help ensure that you get restaurant-quality potato gnocchi that's got that perfect al dente bite.
Hot tip: Some chefs like to give the gnocchi a little pan fry when they come out of the boil. If this sounds like you, heat a skillet over medium heat with a little olive oil. Crisp up boiled gnocchi to your desire, then toss with your sauce as per usual.
Tips for Cooking Gnocchi
To cook your gnocchi, bring a large pot of salted water to boil. Dump roughly 15-20 gnocchi into the pot at a time. Once they float to the top, give them roughly 10-15 more seconds of cooking time before removing them with a slotted spoon. Place them on a serving platter spread with olive oil (or a little of the pasta sauce you plan to serve them with) to prevent sticking. Continue cooking your batches until you run out of dough.
What to Eat Gnocchi With
The possibilities are endless. Toss gnocchi in a simple marinara or alfredo sauce. For a cozy and cheesy meal, make this creamy cheesy baked gnocchi. Or, be extra authentic and brown some butter and sage, add your gnocchi, and season to taste with salt and pepper. A generous grating of fresh parmesan cheese and olive oil will do the trick for you purists out there. You can also make our favorite chicken gnocchi soup.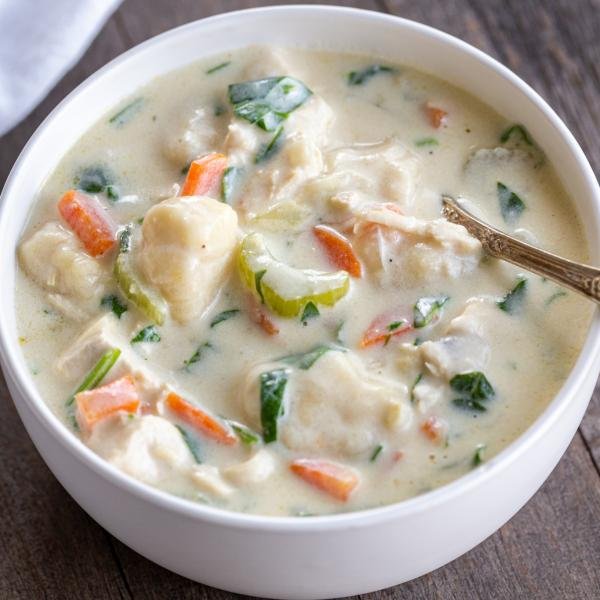 Make Ahead & Storage Tips
Gnocchi is one of the best foods to make ahead of time! Here's how to store them for later use:
Hot Tip: When you are cooking frozen gnocchi, boil them in smaller portions than you would fresh ones. Frozen gnocchi cool down boiling water, so it's best to leave some extra room to prevent sticking.
FAQ
Is it better to bake or boil gnocchi?
It's better to boil the gnocchi instead of baking them. Baking them will dry them out and turn them super dry. That said, it's perfectly acceptable to boil the gnocchi and then pan fry them for additional texture.
Do you have to boil gnocchi before sautéing?
Yes, you must boil the gnocchi before sautéing them. If you don't boil them first, they will not attain that perfectly gummy and chewy texture that you're looking for.
Is gnocchi pasta or a potato dish?
Gnocchi is somewhere in between a pasta, potato dish, and dumpling. The addition of flour makes them somewhat pasta-like, but the texture is much closer to that of a dumpling.
What does potato gnocchi taste like?
Potato gnocchi has a neutral, earthy taste. It's much like pasta and can be considered a blank canvas for you to dress with various sauces, cheeses, veggies, and meats.
Do you have to cook gnocchi in water?
Yes, you have to cook gnocchi in boiling water if you want them to attain an al dente texture. If you don't cook them in water, they will turn out dry and they won't be tender to the bite.
More Tasty Italian Recipes to Try
Recipe
This potato gnocchi recipe only requires 4 simple ingredients to make – potatoes, eggs, flour, & salt. A great substitute for pasta & perfectly tender.
Nutrition Facts
Easy Potato Gnocchi Recipe (4 Ingredients)
Amount Per Serving
Calories 285
Calories from Fat 9
% Daily Value*
Fat 1g2%
Cholesterol 40mg13%
Sodium 324mg14%
Potassium 767mg22%
Carbohydrates 57g19%
Protein 10g20%
Vitamin A 60IU1%
Vitamin C 19.4mg24%
Calcium 64mg6%
Iron 7.9mg44%
* Percent Daily Values are based on a 2000 calorie diet.