Garlic Herb Roasted Salmon is a quick and easy recipe, but can serve as the centerpiece of the most fanciest of meals. In just under 30 minutes and with a few simple steps, this salmon will surely become a part of your weekday meal rotation.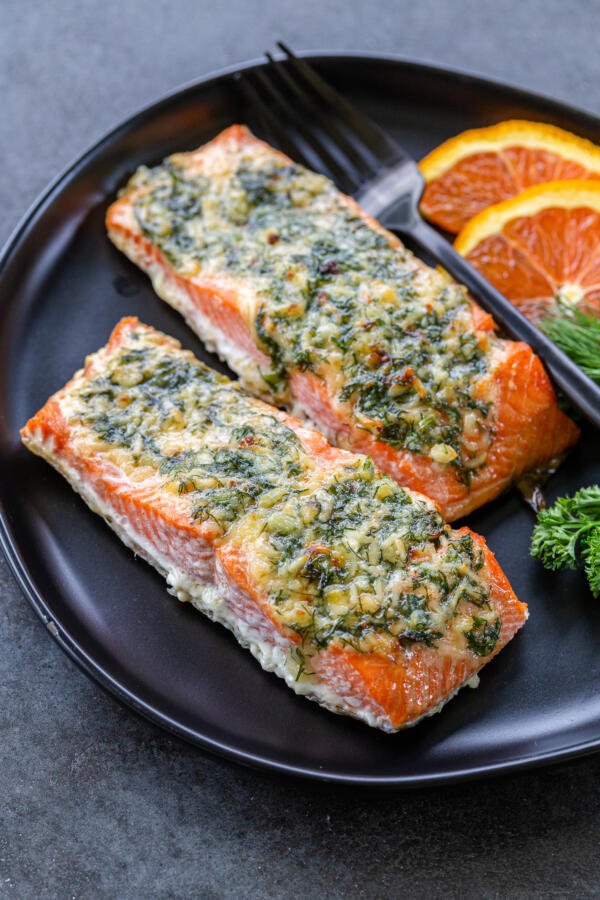 The herb crust on this salmon makes all the difference and then some. Salmon can be a tricky fish to season, but the key here is to lay on the herbs thick and use enough salt to really bring all the flavors out. Bonus: The green herbs look so darn pretty against the pink flesh of the salmon. But don't worry, you won't be fooled into thinking the fillets are too pretty to eat.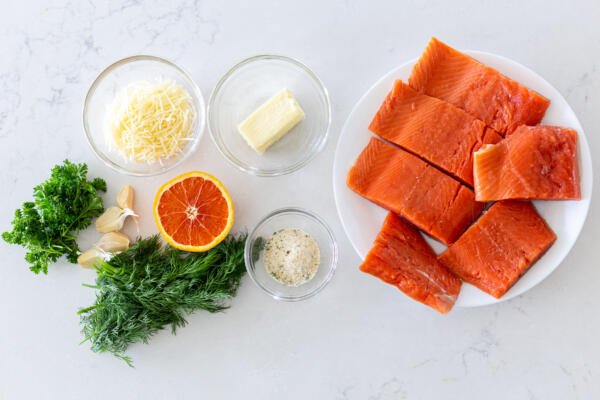 How to Make Herb Roasted Salmon
In a medium-sized bowl, combine parmesan cheese, parsley, dill, butter, garlic, garlic parsley salt, and orange juice.
Place salmon fillets on a lined baking sheet. Top each piece with a hefty spoon of the herb garlic butter.
Bake at 415°F for 15 minutes. Enjoy!
Hot Tip: You can bake an entire large salmon fillet if you prefer that over smaller fillets. Scatter veggies and lemon wedges around the fillet for a beautiful presentation at your next party.
Tips for the Best Herb Roasted Salmon
Cooking salmon doesn't have to involve guess work. Follow the tips below to get perfectly flaked, moist salmon each and every time.
Don't over cook it. If you're unsure of the doneness of your salmon, check it with a thermometer. Salmon is fully cooked when the thickest part of the fillet reads 145°F.
Keep the skin on. Not only is the skin delicious, it serves as a protective layer between the salmon flesh and the heat. Keep it on whether you like to eat it or not.
Use fresh salmon versus frozen. Frozen salmon may be cheaper, but it also has a propensity to dry out quicker after thawing. Use fresh salmon to ensure the best possible texture and taste.
Bring to room temperature and pat dry. Before sticking your salmon in the oven, allow it to come to room temperature and pat it dry of any excess moisture. This will help it to cook evenly.
Serving Herb Roasted Salmon
Herb Roasted Salmon is delicious as a salad topper or served alongside your favorite sides. Place it on top of a Caesar Salad or a Garden Salad for a light meal. You can also pair it with an Air Fryer Baked Potato, Air Fryer Asparagus, Mashed Potatoes, or Grilled Corn on the Cob.
You can also use this salmon recipe for a fun spin on Eggs & Sprats Canapes. If you aren't a fan of sprats, substitute a spoonful of salmon. This fancy appetizer will have your guests coming back for seconds, thirds, and fourths.
FAQ
What is the best temperature to bake salmon?
Baked salmon should read 145°F at the thickest part of the filet. When you pull it out of the oven, it can read around 135°F. Cover it with aluminum foil and allow it to cook the additional 10 degrees right on the counter. This method will prevent you from over cooking and drying your salmon out.
Is it better to bake or pan fry salmon?
Baking salmon is a bit more full proof. Instead of placing the delicate fish directly on the high heat of a pan, cooking it in the oven prevents it from burning or overcooking on the outside before the inside. If you do decide to pan fry it, make sure to cook it with the skin side down and cover it to create a steaming effect for even cooking.
What herbs can you use for roasted salmon?
Truly any herb will do for a roasted salmon. Cilantro, dill, parsley, and basil work best. Use one or a combination of a couple.
What temperature should salmon be cooked at?
415°F is the sweet spot for baked salmon. It should cook salmon perfectly in 15 minutes, preventing it from needing too much oven time and drying out.
Do you eat the skin on salmon?
Some people love the skin, and others can't stand it. That being said, it's perfectly fine and safe to eat. In fact, it's full of vitamins, minerals, and healthy fats.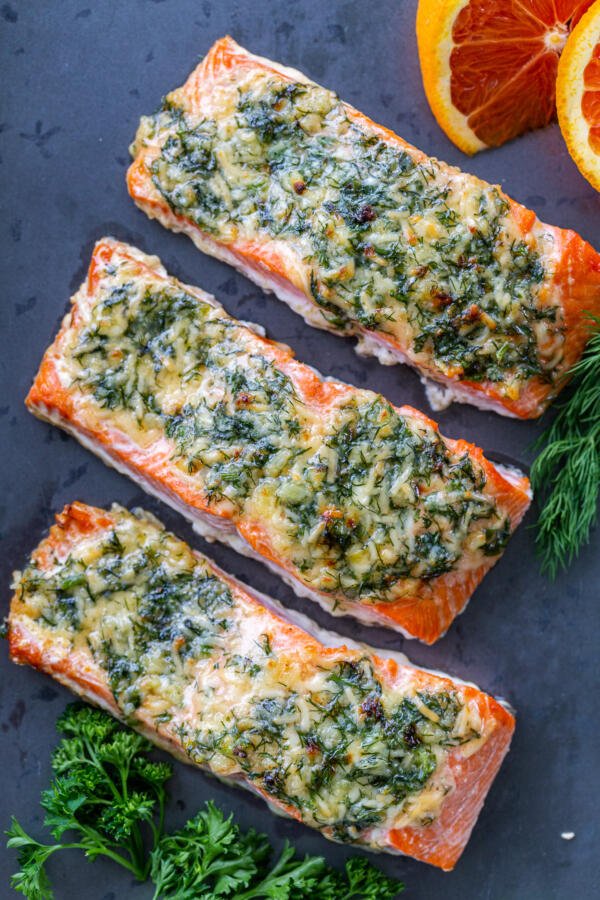 Making Herb Roasted Salmon in Advance
Prep your herb roasted salmon ahead of time by making your herb butter a couple of days in advance. The longer it marinates within itself, the better it will taste. The day before you bake, spread the herb butter on top of your fillet or fillets and refrigerate overnight.
More Salmon Recipes
Love salmon? We do too. Here are a couple more stellar recipes that use this tasty and healthy fish.
Brown Sugar Glazed Salmon – Sweet, salty, and so darn tasty. This salmon goes wonderful with creamy mashed potatoes.
Perfect Air Fryer Salmon – All the deliciousness of crispy salmon, without all the fat. This recipe will surely make your weekly dinner rotation.
Oven Baked Salmon – Another great oven baked salmon recipe that's no-fail.
Canned Salmon Dip – Love lox bagels? This dip is going to be your new obsession.
Recipe
Garlic Herb Roasted Salmon is a quick and easy recipe, but can serve as the centerpiece of the most fanciest of meals. In just under 30 minutes and with a few simple steps, this salmon will surely become a part of your weekday meal rotation.
Ingredients
2

lb

Salmon Fillet

1/4

cup

Parmesan cheese

1

tbsp

fresh parsley

chopped

3

tbsp

fresh dill

4

tbsp

unsalted butter

softened

1/4

cup

orange juice

1

tbsp

garlic parsley salt

adjust to taste

3

garlic cloves
Nutrition Facts
Garlic Herb Roasted Salmon (Quick & Easy)
Amount Per Serving
Calories 306
Calories from Fat 162
% Daily Value*
Fat 18g28%
Cholesterol 106mg35%
Sodium 135mg6%
Potassium 766mg22%
Carbohydrates 1g0%
Protein 31g62%
Vitamin A 425IU9%
Vitamin C 7.3mg9%
Calcium 77mg8%
Iron 1.3mg7%
* Percent Daily Values are based on a 2000 calorie diet.