This recipe for naan bread is our quick and easy rendition of traditional Indian flatbread. Absolutely addicting & will make your kitchen smell irresistible!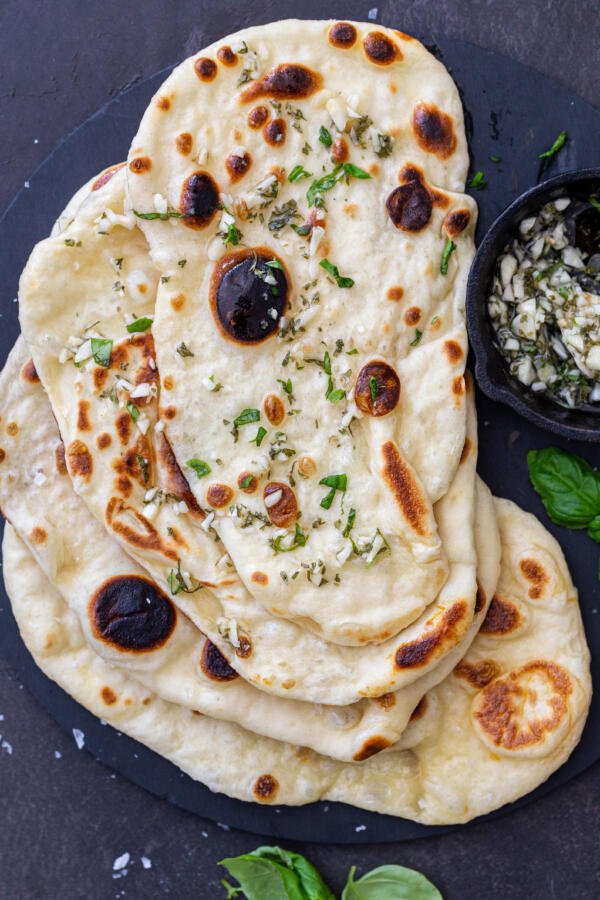 Before we dive in, it's worth noting that this isn't an authentic recipe for naan bread. Instead, it's our simplified, easy take on this absolutely drool-worthy treasure from India. If you've never tried it before, get ready to fall in love with this perfectly textured, fluffy bread.
What is Naan Bread?
Naan bread is chewy, leavened Indian flatbread that's typically made with yogurt, yeast and a little sugar. You'll find it served warm alongside curry, chicken tikka masala, or butter chicken. Traditionally, it's made in a hot clay tandoor oven with a wood or charcoal fire until it bubbles and turns golden brown. To make it more accessible to make at home, our version is made on a cast-iron skillet. Here, find an overview of the flavor, texture, and time it takes to make this recipe.
Flavor: The flavor of this bread is slightly sweet and earthy.
Texture: Because it's made with eggs and milk, it comes out with a gummy and fluffy texture.
Time: From start to finish, this recipe takes just under an hour to make.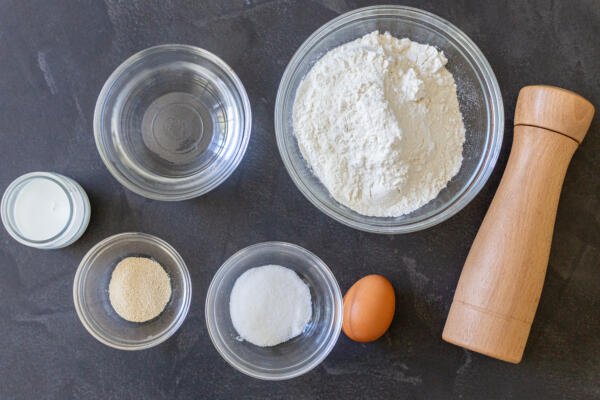 Making Our Homemade Naan Bread from Scratch
To prepare this easy naan recipe, all you need is 7 simple ingredients and a stove top.
Activate the Yeast: In large bowl, whisk together the active dry yeast, warm water, and sugar and let sit until frothy.
Build the Dough: Next, stir in milk, egg and salt to the yeast mixture. Slowly, add in the all-purpose flour. Knead for 6 to 8 minutes by hand on a lightly-floured surface or in a stand mixer with a dough hook.
Allow the Dough to Rest: Pop the dough in a bowl. cover with a plastic wrap, and allow the dough to rise for about an hour.
Shape the Naan: Next, split the dough into equal portions. Roll them into balls and set them aside on a well-floured tray. Cover them with a clean kitchen towel and let rise for at least 15 minutes. On a lightly floured surface, roll out the pieces into ovals.
Cook the Naan: Cook each raw naan on a preheated skillet for about 3 minutes. Flip it over and cook the other side. Top it with fresh herbs and melted butter (hot tip on this further on!) or enjoy as-is. Enjoy!
3 Tips for the Tastiest Homemade Naan
Find a couple key tips from our test kitchen to help you knock this homemade naan out of the park.
Give the yeast about 10 minutes to activate. To ensure your yeast is fully activated to make the naan nice and fluffy, give it at least 10 minutes to activate at room temperature with the warm milk and sugar.
Don't try to be perfect with the shaping. Naan is best when rolled out rustic and irregular. A nice oval shape is all you need – don't break your back trying to be perfect!
Keep the heat over medium. To avoid burning your naan, keep the heat of the skillet over medium. If you experience any sticking, grease the pan with a little butter or ghee in between each naan.
Herb & Garlic Butter Naan Bread
Typically, Indian chefs will fry the naan bread in garlic ghee (clarified butter) to give the outside nice, golden crust. If you love a flavorful naan, here's how to up level your flatbread with a garlic and herb butter.
Chop the Herbs: First, chop up 1/4 bunch of fresh cilantro.
Mince the Garlic: Next, mince 2-3 cloves of garlic.
Melt the Ghee: Then, melt 1/2 cup of ghee in a small bowl in the microwave. Whisk in the chopped herbs and garlic.
Brush the Naan: Once you pull the naan out of the skillet, immediately brush the tops with your garlic-herb ghee or butter. Yum!
Never used ghee before? Grab a jar from the grocery store or Amazon and use it just like you would butter in most recipes.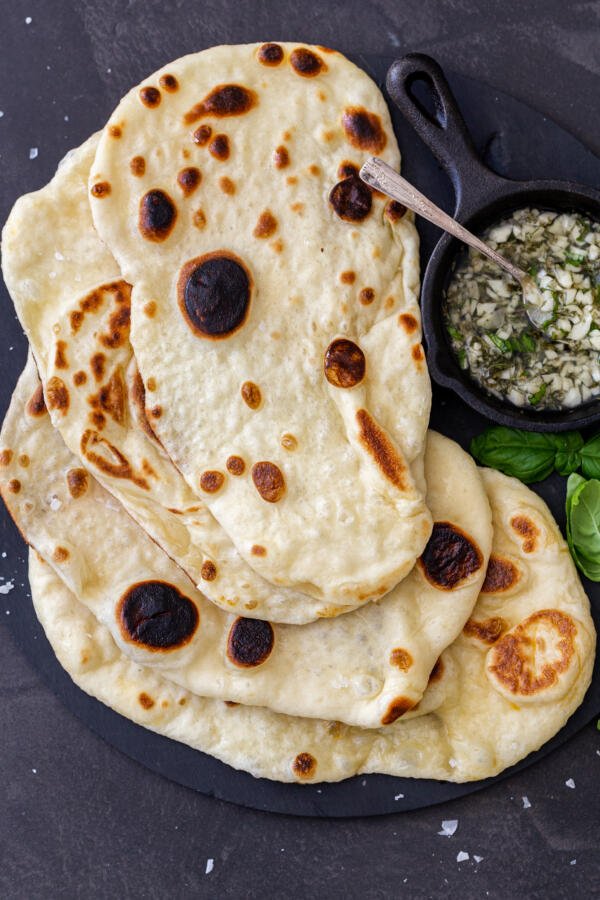 Different Ways to Serve It
Naan is super versatile. Substitute naan for pizza dough and make homemade, personal flatbread pizzas. Or, use it to make a sandwich wrap. It's also wonderful when paired with a piping hot bowl of soup or stew. Try making our cabbage roll soup and sop up your leftover broth with your fresh naan. Hello, perfect fall meal!
FAQ
What makes naan special?
What makes naan special is that it's made with eggs, yeast, and sometimes yogurt. This gives it a denser and more chewy texture than typical breads and makes it perfect for scooping up different curries and stewed meats.
Is naan bread healthier than other bread?
Traditional naan bread that's made with yogurt might be a little healthier than other breads due to the added protein and fiber. At the end of the day, it's still bread and should be eaten in moderation.
Can you make homemade naan bread with whole wheat flour?
Yes, you can make homemade naan bread with whole wheat flour. However, it won't be as light and fluffy as if you used regular white all-purpose flour.
Does naan bread have a pocket on the inside?
Naan bread does not have a pocket on the inside like pita bread does. However, you can make a slit in the bread and attempt to stuff it if you keep the dough thick enough before cooking.
Storing, Freezing, & Reheating Tips
Have some naan to stow away or freeze? Here's all you need to know to keep it fresh in storage.
Refrigerator: To keep the naan fresh for up to three weeks, store it in an airtight container in the fridge. To note, it will need to be warmed up as it tends to get a bit hard in the fridge.
Room Temperature: If you plan to eat your naan within a week, store naan bread in an airtight container on the counter. This will keep it from turning stale too quickly.
Freezer: If you want to have naan on hand for up to 3 months, store it in a zip-top bag in the freezer for up to three months. When you are ready to eat it, allow it to thaw in the fridge overnight.
Reheating Tip: To reheat naan without burning it, stack a couple of pieces in aluminum foil and bake them in the oven for 5-7 minutes at 200°F.
More Easy Bread Recipes to Try
Recipe
This simplified homemade naan bread recipe is light, fluffy, and slightly crispy on the outside. Perfect for everything from curries, sandwiches, and pizzas!
Nutrition Facts
Naan Bread
Amount Per Serving
Calories 147
Calories from Fat 9
% Daily Value*
Fat 1g2%
Cholesterol 13mg4%
Sodium 366mg15%
Potassium 54mg2%
Carbohydrates 30g10%
Protein 4g8%
Vitamin A 24IU0%
Calcium 11mg1%
Iron 2mg11%
* Percent Daily Values are based on a 2000 calorie diet.