Mushroom flatbread pizza is a great option for a weeknight dinner. The mushrooms and three-cheese combination is so full of flavor. You're going to love it!
Love flatbread pizzas? Don't forget to try our parmesan garlic flatbread and margherita flatbread pizza while you're at it!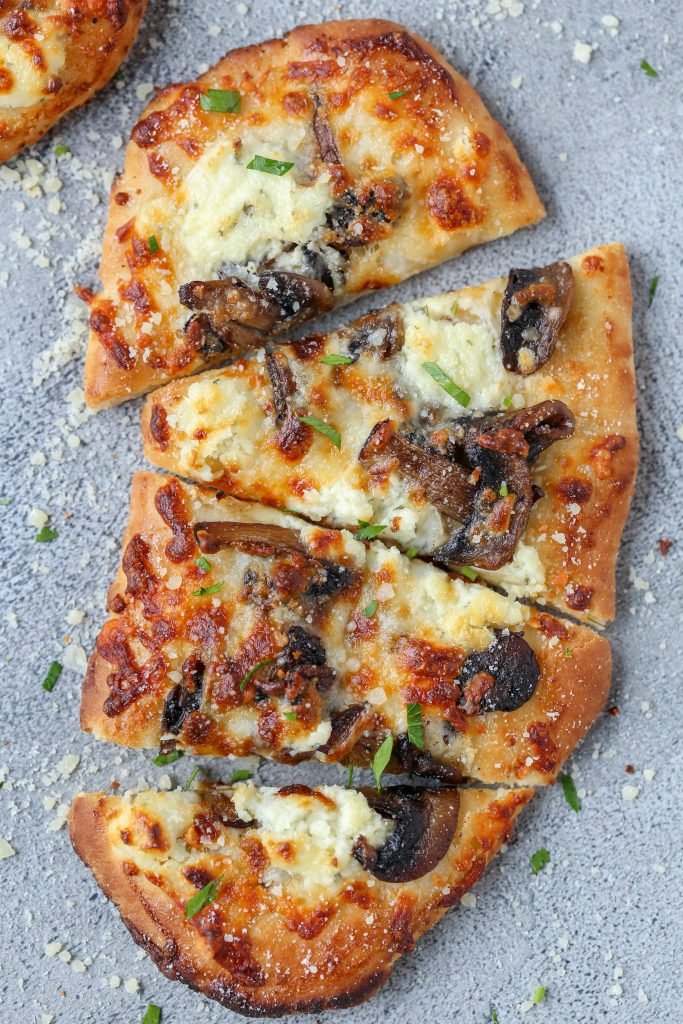 This mushroom flatbread pizza recipe with three kinds of cheese and sautéed mushrooms is my husband and I's favorite grownup combo. While our kids aren't the biggest fans of the herbed goat cheese and mushrooms, it's so easy to whip them up a simple pepperoni and cheese flatbread at the same time. Hello, DIY flatbread pizza night!
Preparing Mushroom Flatbread Pizza
Preparing these mushroom flatbread pizzas requires only 8 ingredients and absolutely no need for any baking (unless you want to make homemade flatbread). Below, find a quick rundown of the recipe before you get started.
Pizza Stone Hack: Want ultra-crispy flatbread crust? Bake the pizzas on a pizza stone in the oven. I've been using this one for a long time and absolutely adore it.
Pro Tips for The Perfect Flatbread Pizza
While making perfect flatbread pizza isn't rocket science, here are a couple of pro tips to ensure you nail it on the first try.
Grill Hack: If you're hosting a BBQ, pop the flatbread pizzas on the grill instead! This will add a nice smokey flavor to your pies.
Different Toppings for Flatbread Pizza
Half the fun of making flatbread pizza is playing around with different toppings and sauces. If you want to try some alternative flavor combinations, check out the suggestions below to keep you inspired.
Ways to Serve Mushroom Flatbread Pizzas
For a well-rounded meal, serve your mushroom flatbread alongside a classic garden salad or caesar salad. If you're serving the flatbread for appetizers, cut them up into handheld pieces and assemble them on a tray alongside your favorite dipping sauces.
Hot Tip: For authentic Italian-style flatbread, finish the pizzas with a drizzle of olive oil right after they come out of the oven. Yum!
How to Freeze Flatbread Pizzas
Freezing flatbreads is a great way to keep quick meals on hand throughout the week. To do so, top the pizzas with all your favorite ingredients and place them on a baking sheet lined with parchment paper uncooked. Pop the entire baking sheet in the freezer. Once completely frozen, wrap the flatbread pizzas tightly in plastic wrap and stow them away for up to 3 months. When you're ready to bake, pop them in the oven according to the recipe instructions. Goodbye packaged frozen pizzas!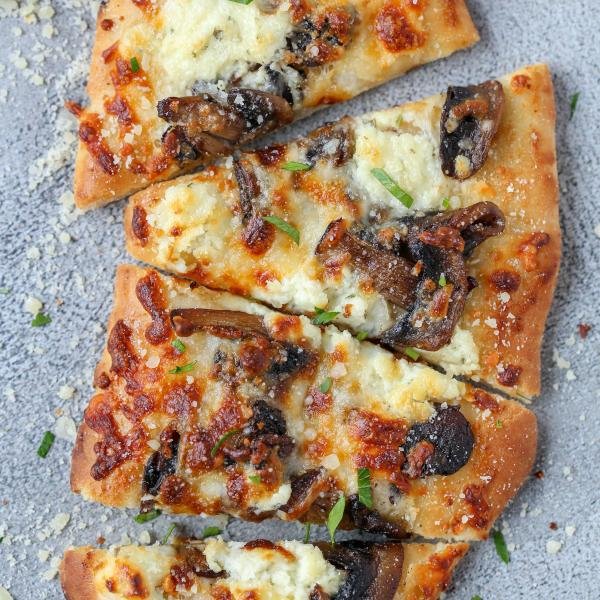 FAQ
Can you use regular goat cheese?
Regular goat cheese is totally acceptable. There are also some sweet varieties of goat cheese out there that are infused with honey or berries if you're in the mood for a sweet and salty flatbread.
What kind of mushrooms should you use?
Cremini mushrooms work great but use any mushrooms you like best. You could even use several different kinds to create a unique mushroom mixture.
Can you use anything else besides flatbread?
If you can't get your hands on flatbread, use naan bread or premade pizza crust instead.
What's a good alternative to the caesar dressing?
A good alternative to the caesar dressing is ranch dressing or alfredo.
Can you cook these flatbreads in an air fryer?
These flatbreads can definitely be prepared in the air fryer. Pop them in at 350°F for about 5-7 minutes, or until the cheese is melted and the crust is golden brown. You will likely have to cook them in batches depending on the size of your air fryer basket, so account for prep time accordingly.
Other Pizza Recipes to Try
Recipe
Mushroom flatbread pizza is perfect for hectic weeknight dinners or as a fancy appetizer. Made with a premade flatbread shortcut!
Ingredients
1

lb

mushrooms

2

tbsp

Unsalted Butter

5

oz

garlic herb goat cheese

2

cups

grated mozzarella cheese

1

cup

parmesan cheese

1/2

cup

caesar dressing

salt

to taste
Nutrition Facts
Mushroom Flatbread Pizza (Crazy Easy)
Amount Per Serving
Calories 699
Calories from Fat 450
% Daily Value*
Fat 50g77%
Cholesterol 104mg35%
Sodium 1412mg59%
Potassium 514mg15%
Carbohydrates 29g10%
Protein 36g72%
Vitamin A 1125IU23%
Vitamin C 2mg2%
Calcium 654mg65%
Iron 3mg17%
* Percent Daily Values are based on a 2000 calorie diet.