Homemade pizza dough is way easier to make than you might think. Give this recipe a go and have the confidence to make any night a pizza night.
The go-to staple for us is this amazing flatbread pizza, so perfect for individual portions!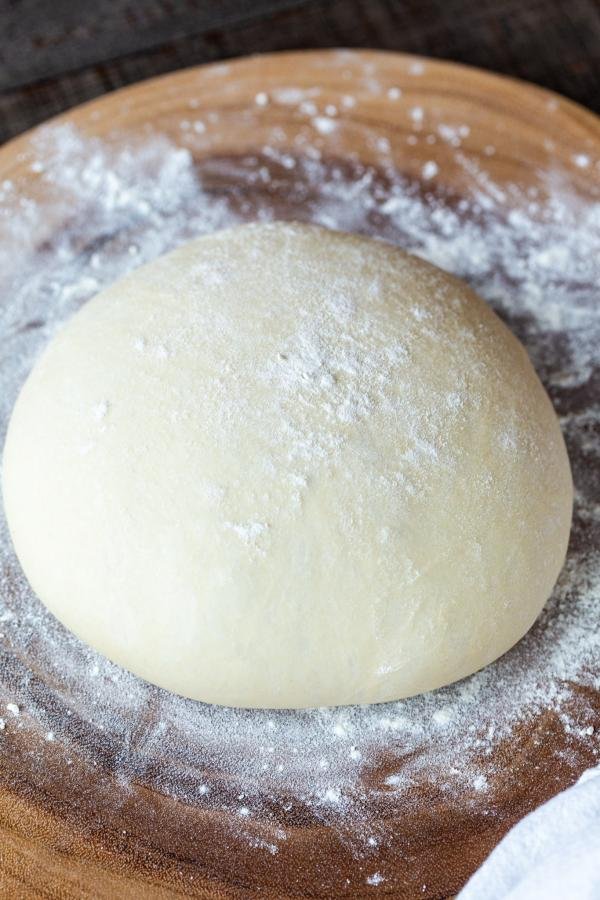 Having a batch of homemade pizza dough on had is one of my superpowers as a mom. My sons love making their own customized pizza and I love skipping any arguments we might have over what to have for dinner!
Sometimes, I even freeze a couple of their favorite pies for a healthier alternative to frozen and packaged pizza. This has been quite a lifesaver on a busy weeknight!
I am listing this as a dough recipe because the toppings are really up to your preference. Once you get the dough down, you can make any combination your heart desires!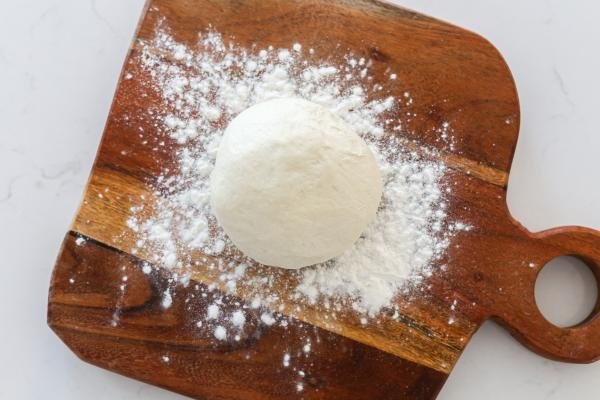 What to Use Pizza Dough For?
Pizza dough can be used in so many different ways! Don't limit yourself to just the perfect pizza. Here are some of my favorites:
Costco Chicken Bake: Maybe you have had this, maybe you haven't. But, this treat served at the Costco food court is so devilish. It's packed with mozzarella, ranch dressing, bacon bits and chicken — YUM!
Easy Garlic Knots: These garlicky bread twists are the perfect companion to a caesar salad or big bowl of Russian borscht!
Pizza Rolls: My kids always try to get me into buy them frozen Totino's Pizza Rolls. I get it, they are delicious. But, homemade is always the best!
Ingredients for Homemade Pizza Dough
Flour
Dry Yeast
Lukewarm Water
Salt
Sugar
Olive oil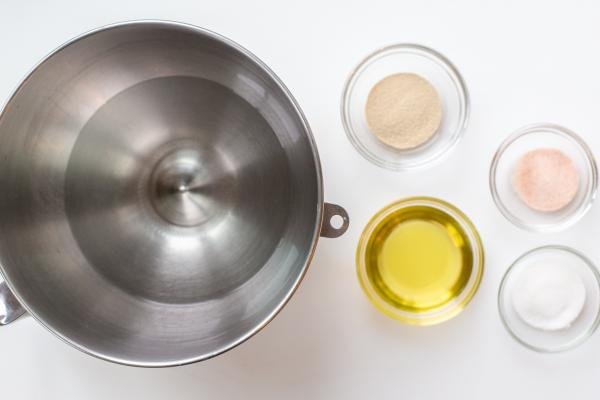 What Is The Best Flour to Use in Pizza Dough?
You can use all-purpose flour for pizza dough and it will turn out great. However, most pizza chefs tend to use bread flour for pie making. Why? Bread flour has a higher gluten content, meaning it is more springy and easier to work with. It also gives the pizza a nice, crispy crust.
How to Make Homemade Pizza Dough
First, pre-measure and prepare your ingredients for easy access. Use a standing mixer to make the dough if possible — this will make your life much easier. Once your dough is mixed, you can skip the kneading! This recipe doesn't require it! Instead, cover your dough in a bowl with plastic wrap and let it rise for 2 hours.
Building Your Pizza
Once it has risen, remove it from the bowl and roll it out to your desired thickness. Add your toppings and bake! I love using my marinara or alfredo sauce for my pie sauce. Bonus: Both of these sauces only take 5 minutes to make!
If you can't think of a pie to whip up my favorite is chicken, alfredo sauce, mozzarella and bacon bits. I also love a classic pepperoni pizza with red sauce and mushrooms. Sometimes, I crack an egg on top for a breakfast style pizza (YUM!). Dipping pizza in egg yolk should be illegal…
How to Store Pizza Dough
Depending on your meal prepping plans, you might want to refrigerate raw dough or freeze it for later use. Here's how to do it:
Refrigerate: Wrap your dough in plastic wrap tightly (or store in an airtight container) and store in the fridge. Use the dough within a week.
Freeze: If you are going to freeze your dough, first allow it to adequately rise. Then, wrap it in plastic wrap and pop it in the freezer. When you are ready to use it, allow it to completely thaw in the fridge. Cook as directed.
More Dough-y Recipes to Try:
Recipe
Homemade pizza dough is way easier to make than you might think. Give this recipe a go and have the confidence to make any night a pizza night.
Ingredients
Nutrition Facts
Pizza Dough Recipe
Amount Per Serving
Calories 884
Calories from Fat 135
% Daily Value*
Fat 15g23%
Sodium 1750mg73%
Potassium 260mg7%
Carbohydrates 159g53%
Protein 22g44%
Calcium 30mg3%
Iron 9.6mg53%
* Percent Daily Values are based on a 2000 calorie diet.