Homemade pizza dough is way easier than you think. Combine the flour with dry yeast and olive oil and see the dough rise! Any night can be pizza night!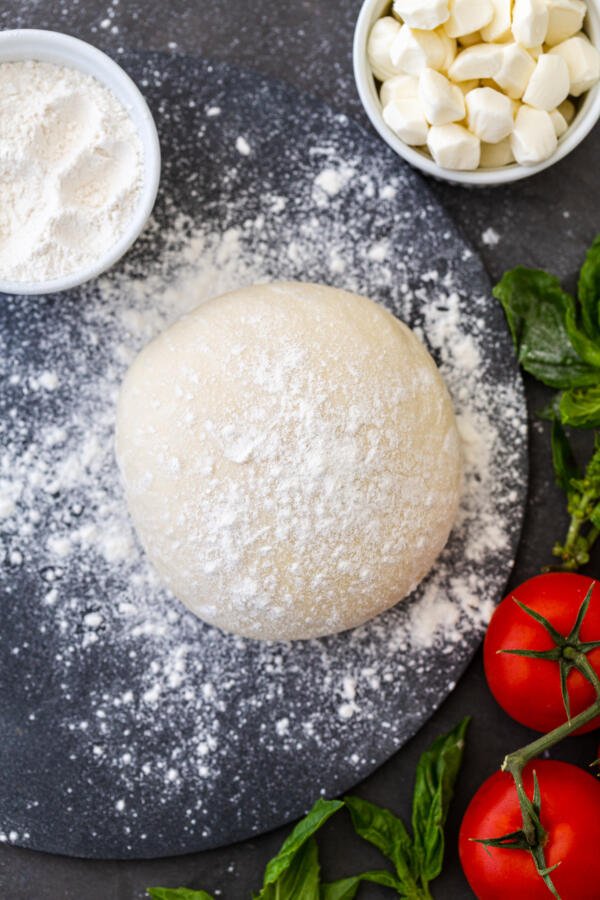 Having a batch of homemade pizza dough on hand is one of my superpowers as a mom. My sons love making their own customized pizza and I love skipping any arguments we might have over what to have for dinner and toppings!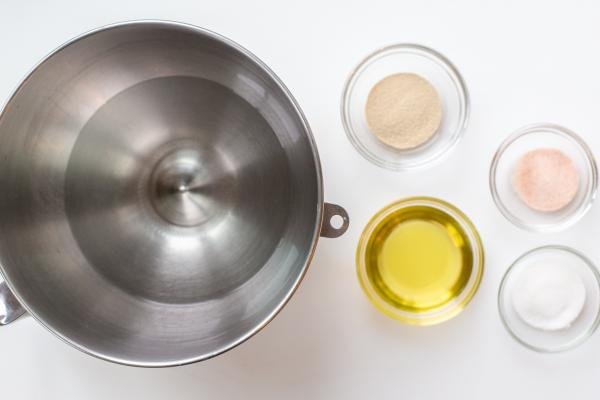 How To Make Pizza Dough
First, pre-measure and prep your ingredients for easy access. Use a stand mixer with the dough hook attachment to make the dough — this makes life so much easier! Then, use the dough right away or store it for future use.
Make the Dough
This quick pizza dough recipe only takes a couple of hours to rise. Plus, there is enough dough to make four pizzas — perfect for a pizza-making party!
Combine the ingredients: In a large bowl or stand up mixer, mix the yeast, salt, sugar, extra virgin olive oil, and warm water.
Add in the flour: Add the flour to the yeast mixture. There's no need to knead the dough — simply mix all the flour in.
Cover the bowl: Cover the bowl with plastic wrap and let the dough rise at room temperature for about two hours.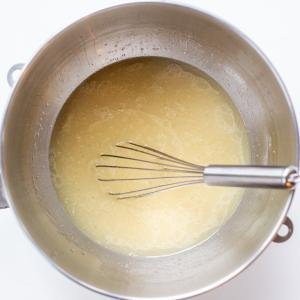 Store the Dough
Once the dough has risen, cut it into four pieces. Use as much dough as needed now, and freeze the rest. Wrap each extra piece tightly in plastic. Place the dough inside a ziploc bag, remove as much air as possible, seal the bag, then freeze.
Pizza Flavor Options
Once the dough has risen, remove it from the bowl, place it on a lightly floured surface, and roll it out to your desired thickness. Add toppings to make your favorite pizza and bake in the oven at 450°F for about 15 minutes or until golden brown. We love marinara or alfredo sauce as the pizza sauce base. Bonus: Both of these sauces only take five minutes to make!
Classic pepperoni: We love a classic pepperoni pizza with red marinara sauce and mushrooms.
Breakfast pizza: Use breakfast sausage pieces and crack an egg on top for a breakfast style pizza (YUM!).
Cheese-stuffed: For an even tastier pizza crust, stuff the outer rim of the dough with mozzarella cheese. Add a sprinkle of garlic powder on top for a hint of savory garlic flavor.
Meaty: Make a "meat-lovers" pizza with all your favorite protein options like chicken, bacon, pepperoni, ham, Italian sausage, and/or ground beef.
BBQ Hawaiian: Top the pizza crust with BBQ sauce, canadian bacon, and pineapple chunks for a unique Hawaiian taste!
More Ways To Use/Serve Pizza Dough
Pizza dough is great to use in so many different ways! Don't limit yourself to only pizzas — use it these ways, too!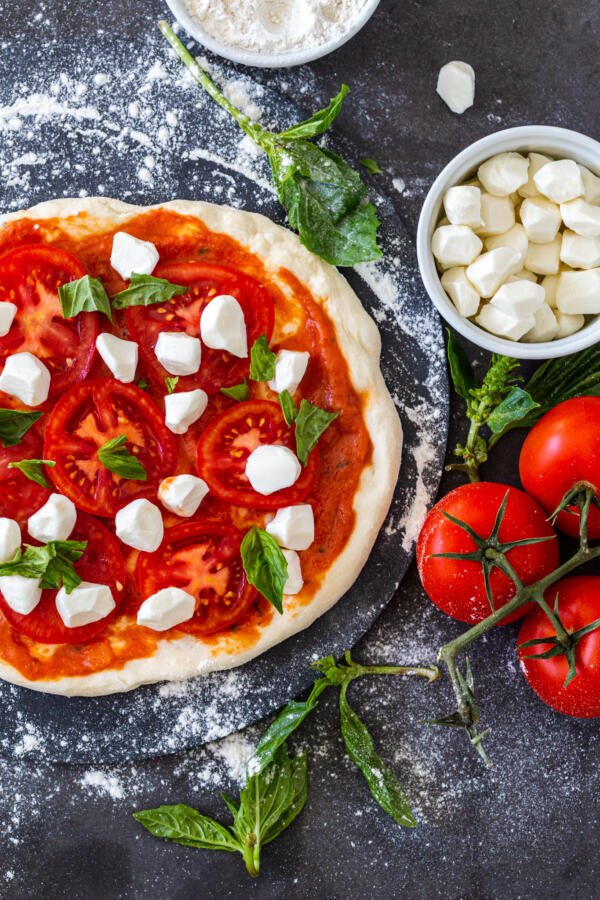 Tips From The Kitchen
On our mission to make the best pizza dough recipe, we came up with a few tips that consistently ensure the tastiest and best-textured dough. With these tricks, we're confident this is the best homemade pizza dough you'll ever make!
Use bread flour: Most pizza chefs tend to use bread flour for pizzas. Why? Bread flour has a higher gluten content, meaning it is more springy and easier to work with. It also gives the pizza a nice, crispy crust. If you're out of bread flour, all purpose flour will also work well! Or, mix the two types together!
Adjust the rising time: Heat and humidity really affect the rising of the dough! If it's a hot and humid environment, the dough rises faster. For a slower rise, refrigerate the dough.
Use active dry yeast: For a great rise, we've had the best success with active dry yeast. In a pinch, rapid rise yeast is suitable, though it will change the rise time.
Ensure water is lukewarm: Make sure the water is lukewarm when mixing it with the yeast. Very warm/hot water kills the yeast, which affects the rising of the dough. Lukewarm temperatures is at about 105°F-115°F. If you were to run the water on the inner part of the wrist, it should be comfortable.
Allow the dough return to room temperature: If the dough has been in the fridge or freezer, let it warm to room temperature before rolling out and baking. This results in a lighter and tastier crust.
Storing the Pizza Dough
This easy pizza dough recipe is an amazing alternative to frozen and packaged pizza. It's healthier and you'll know each ingredient in the dough. Depending on your meal prepping plans, refrigerate the raw dough or freeze it for later use. When ready to use the dough, let it come to room temperature for about an hour before baking.
Refrigerate: To store for up to a week, wrap your dough tightly in plastic wrap and store in the fridge.
Freeze: To store for up to two months, allow the dough to rise completely, then wrap it in plastic wrap and freeze. When ready to use, let it completely thaw in the fridge. Cook as directed.
FAQ
Can pizza dough be used right from the fridge?
Instead of using pizza dough straight from the fridge, it is best to allow it to come to room temperature before rolling out and baking it. This will help it roll out easier without breaking, and results in a lighter and tastier crust.
What's the difference between pizza flour and regular flour?
Pizza flour is a type of flour made from durum wheat used in many speciality pizza restaurants, whereas regular flour is most often made from hard spring wheat. The two flours make a difference in the taste and texture of the pizza dough.
Can different types of flours be mixed to make pizza dough?
Yes, it is okay to mix different types of flours (bread flour, all purpose flour, etc.) to make pizza dough. Each dough creates a slightly different texture, so a mixture of different types of dough will also yield variable dough textures.
More Dough-y Recipes
Recipe
Homemade pizza dough is way easier than you think. Combine the flour with dry yeast and olive oil and see the dough rise! Any night can be pizza night!
Nutrition Facts
Pizza Dough Recipe
Amount Per Serving
Calories 875
Calories from Fat 144
% Daily Value*
Fat 16g25%
Sodium 1757mg73%
Potassium 232mg7%
Carbohydrates 159g53%
Protein 22g44%
Vitamin C 0.01mg0%
Calcium 37mg4%
Iron 10mg56%
* Percent Daily Values are based on a 2000 calorie diet.