This cheesy zucchini casserole is the epitome of healthy comfort food. Teeming with veggies, it's perfect served by all by itself or as a unique side dish.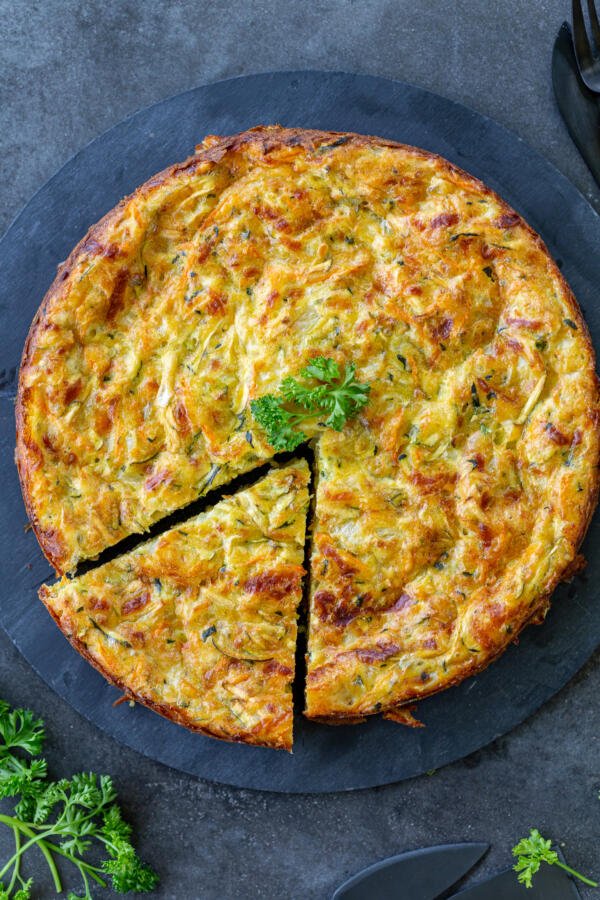 This casserole isn't quite a quiche and isn't quite a cake. It's somewhere in between and absolutely delicious. What's better is its versatility. It can be served as a main course at dinner, breakfast on the go, or an unexpected side dish.
Made with grated zucchini and carrots, diced onions, a little flour, and cheese, it packs a hefty serving of veggies and tastes decadent. It's also super simple to make, requiring only one bowl and a handful of steps. Let's get started!
What is a Savory Zucchini Casserole Bake?
This zucchini casserole bake is made with grated veggies, fluffy eggs, and melty cheese. Below, find an overview of the flavor, texture, and cooking time.
Flavor: Savory zucchini casserole bake is a little sweet from the carrots and zucchini, salty from the mozzarella, and slightly buttery from the eggs.
Texture: The texture of this cake is best described as a quiche that is equal parts egg to veggies. It's full of bite but still soft and moist enough to slice off the perfect bite with a fork.
Time: From start to finish, this recipe takes about an hour and 20 minutes to make.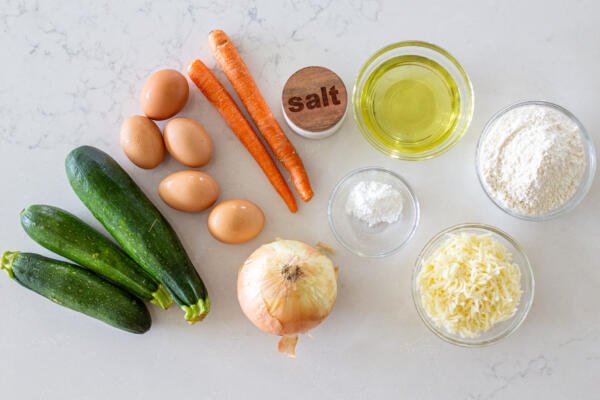 How to Make a Zucchini Casserole Bake
Making this casserole only requires a handful of ingredients you likely already have in your kitchen and a few simple steps to make. Below, find an overview of the recipe before you dive in.
Prepare the Eggs & Veggies: In a small bowl, whisk the eggs and set them aside. Next, grate the zucchini and carrots on the largest side of a standard cheese grater. Dice the onion into small pieces. Place all the veggies into a big mixing bowl.
Add the Dry Ingredients: Add the flour and baking powder into the bowl with the veggies. Stir to combine.
Add Eggs, Oil, & Cheese: Next, add the eggs, oil, and cheese, stirring to combine. Season with salt.
Bake & Serve: Pour the batter into a well-oiled round pan. Bake at 350°F for 60 minutes. Allow the cake to cool for a bit, slice, and enjoy!
Tips for Making the Best Zucchini Casserole
Below, find a collection of tips and tricks to make the best zucchini casserole bake on the planet.
Use the freshest zucchini you can find. The fresher the zucchini the better. Grab a haul from your local farmer's market if you can!
Don't over-salt the batter. Keep in mind that the cheese will add a bit of salt, so resist going overboard.
Grate the carrots and zucchini large. You'll want the casserole bake to have a bit of bite, so grate the zucchini and carrots on the largest slots of the cheese grater. If you go any smaller, they will turn to pulp and alter the texture.
Don't forget to oil the pan. This casserole back is prone to sticking, so make sure to coat the pan with a generous amount of oil or cooking spray.
Serving a Zucchini Casserole Bake
Although this zucchini casserole bake could be eaten like a meal all on its own, you can pair it with a handful of side dishes and entrees. Serve savory zucchini casserole bake for breakfast alongside some classic smashed potatoes and fruit (just like you would a quiche or frittata). Or, you can pair it with air fryer pork chops (or any other protein your craving!) and a classic garden salad for dinner. It's truly a unique side dish that will surprise your dinner guests!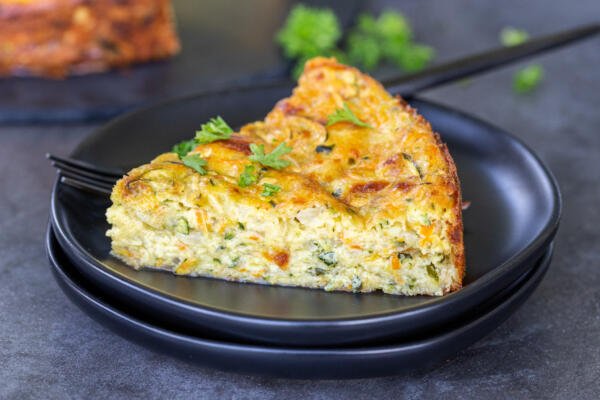 Storing a Zucchini Casserole Bake
Refrigerator: Store your zucchini casserole bake in an airtight container in the refrigerator. It will keep for up to 5 days.
Freezer: Allow the zucchini casserole bake to cool down completely. You can freeze it whole or in slices by placing it uncovered on a baking sheet lined with parchment paper and popping it into the freezer. Once frozen, wrap the entire cake/slices in plastic wrap followed by aluminum foil. It will keep fresh for up to 3 months.
Reheating Tip: Reheat refrigerated or frozen slices of zucchini casserole bake in the microwave for 1-2 minutes, or until warmed through. If you froze the entire casserole bake, pop it into the oven for 15-20 minutes at 350°F.
FAQ
How do I prevent the zucchini from turning mushy?
The zucchini won't get mushy for this recipe because it's put into the batter raw. As it bakes, it will soften, but it won't turn soggy.
Can I use frozen shredded zucchini?
Using frozen shredded zucchini is not recommended in this recipe. It holds too much moisture and will affect the texture of the casserole.
Can I use a different cheese than mozzarella?
You can definitely use a different cheese! Parmesan cheese and sharp cheddar cheese work particularly well.
Can I make this gluten-free?
You can make this recipe gluten-free by swapping out standard all-purpose flour for gluten-free all-purpose flour. Bob's Red Mill has a really great variety. Just remember, if you omit the flour completely the texture will be more like a frittata than a casserole.
Other Zucchini Recipes to Try
Recipe
This cheesy zucchini casserole is the epitome of healthy comfort food. It's perfect served all by itself or as a unique side dish.
Nutrition Facts
Zucchini Bake (Savory Casserole)
Amount Per Serving
Calories 283
Calories from Fat 180
% Daily Value*
Fat 20g31%
Cholesterol 113mg38%
Sodium 436mg18%
Potassium 478mg14%
Carbohydrates 18g6%
Protein 9g18%
Vitamin A 2938IU59%
Vitamin C 15mg18%
Calcium 174mg17%
Iron 2mg11%
* Percent Daily Values are based on a 2000 calorie diet.