Air fryer zucchini fries are super crispy and perfect alongside some ranch dressing for dipping. This recipe will show you how to get that fresh-out-of-the-fryer taste with a fraction of the oil.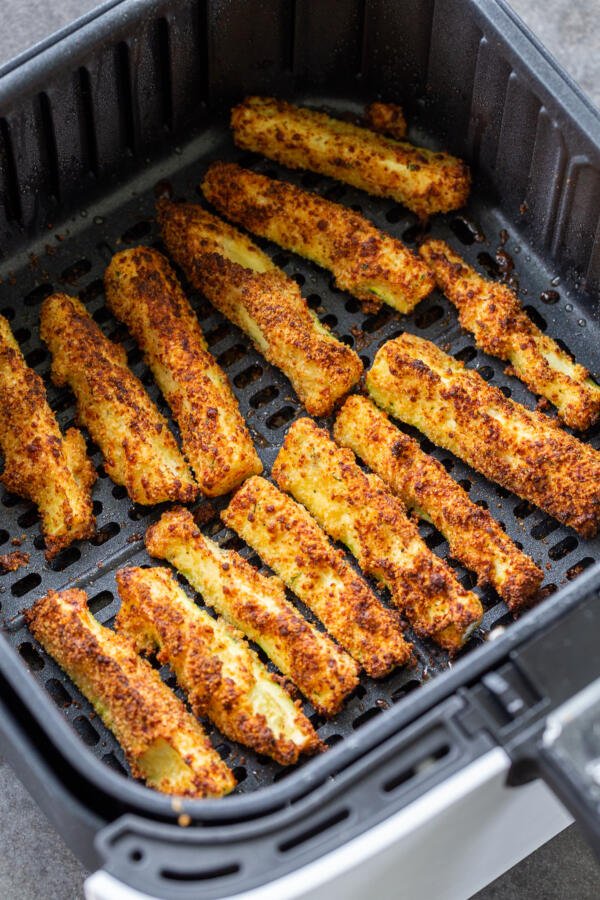 These air fryer zucchini fries rival any version you can find in a restaurant. With no need for messy and popping frying oil, you can enjoy them with little to no guilt and minimal clean-up.
What really takes these fries to the next level is the batter – a combination of flour, bread crumbs, parmesan cheese, and Italian seasoning. The texture is out of this world and compliments the moist, tender zucchini like no other.
Whether you grow zucchini in your garden or have a big haul from the farmer's market, this recipe is an awesome way to utilize it. Who said that vegetables have to be boring, anyway?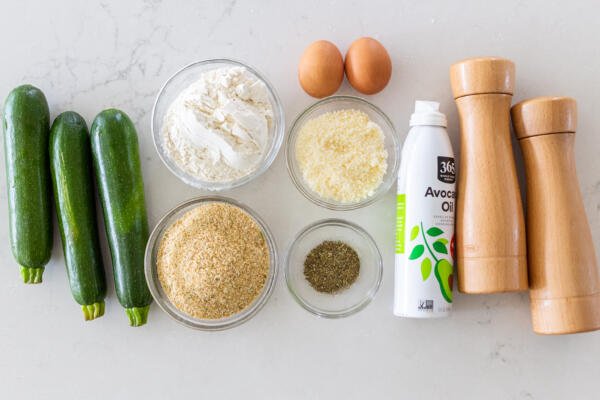 How to Make Air Fryer Zucchini Fries
Making air fryer zucchini fries requires a handful of wholesome ingredients and a few, simple steps. Check out the recipe overview below before diving in.
Whip Up the Batter Coating: Using a fork, whisk together flour and dry seasoning on a large plate. In a small bowl, scramble the eggs with a whisk. In another small bowl, toss the bread crumbs with parmesan cheese.
Prep the Zucchini: Slice zucchini into sticks. In this order, dip each stick in flour seasoning, egg mixture, and parmesan/bread crumb mixture. Repeat until you run out of zucchini.
Air Fry and Enjoy: Grease the air fryer tray with cooking oil. Place zucchini sticks in a single layer in the air fryer tray. Coat with cooking spray. Ary fry and enjoy!
Looking for an air fryer? The COSORI Air Fryer Max XL is my current obsession. It has 13 different settings and a tray big enough to feed 3-5 people.
Tips for the Best Zucchini Fries
Below, find a couple of tips to help you make the best zucchini fries.
Cut zucchini into equal-sized pieces. Slice your zucchini sticks into as equal-sized pieces as possible. This will help promote even cooking in the air fryer.
Use high-quality parmesan. Parmesan is one of the main ingredients in this recipe, so don't skimp on quality. For the best flavor, grab a block and grate it fresh.
Serve right away. Serve your zucchini fries straight out of the air fryer. If you let them sit too long, they will turn rubbery and lose their crispiness.
Air fry in batches. Working in batches, air fry zucchini fries in a single layer. If you stack them, they will not get as crispy.
Pat zucchini dry before breading. To ensure the breading sticks, pat your zucchini sticks with a paper towel to remove any excess moisture.
Gluten-free? Substitute traditional flour for almond flour and omit the breadcrumbs.
Serving Air Fryer Zucchini Fries
Air fryer zucchini fries can be substituted anywhere you would serve traditional french fries. Serve them as a side dish to cheeseburger sliders or a ribeye steak. They can also be included in any kind of appetizer tray (think — air fryer hot wings, chicken tenders, and jalapeno poppers).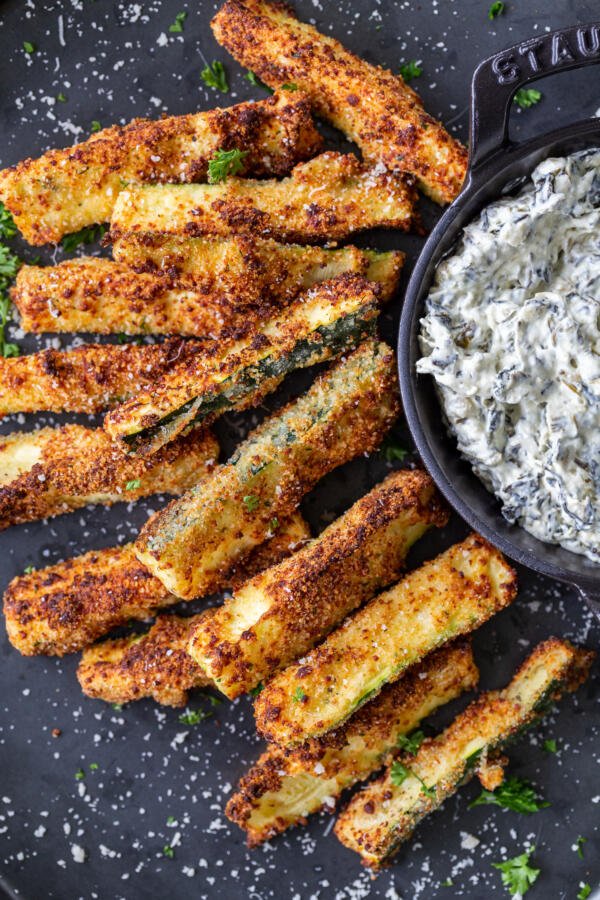 Different Dipping Sauces
Below, find a couple of different no-fuss dipping sauce ideas to pair with your zucchini fries. Make one or a couple.
Light Ranch Dressing: Check out an easy recipe for a healthy ranch.
Creamy Tomatillo Dressing: Made with buttermilk, tomatillos, cilantro and more..this dressing will quickly become your go-to for dipping!
Sriracha Mayo: Mix equal parts of mayo with sriracha.
Chipotle Sauce: Mix canned adobo pepper sauce with mayo, cumin, and lime juice.
Tzatziki Sauce: Go Greek! Find a quick and creamy tzatziki sauce.
Creamy Honey Mustard: Mix equal parts honey mustard and mayo.
Storing Leftover Air Fryer Zucchini Fries
Refrigerating: Place leftovers in an air tight container in the refrigerator. Zucchini fries will stay fresh for up to 3 days.
Freezing: Freezing zucchini isn't a good idea. Once you reheat it, it turns soggy due to the high moisture content in the zucchini. It's highly recommended that you only make what you can eat within a few days.
Reheating Tip: Use the air fryer to reheat your leftover zucchini fries. It will return them to their crispy, fresh-out-of-the-fryer state.
FAQ
How long do you cook zucchini fries in an air fryer?
Zucchini fries take about 9 minutes per batch at 400°F. Keep in mind you may need to increase or decrease cooking time according to the thickness of your fries.
Is fried zucchini better than french fries?
Fried zucchini is healthier for you than french fries. However, fried food is fried food at the end of the day. Using an air fryer to make your favorite fried snacks significantly reduces the cholesterol and fat intake, while giving you all that crispiness you love so much.
How do I avoid soggy zucchini?
Avoid soggy zucchini by eating it fresh out of the air fryer. Additionally, ensure you pat your zucchini dry of any moisture before you dredge it in the breading.
Do I need to peel zucchini?
You do not need to peel zucchini. Keeping the peel intact for this recipe helps the breading stick better.
More Zucchini Recipes
Recipe
These air fryer zucchini fries are super crispy and so delicious! Follow along to get that perfect, fresh taste with a fraction of the oil.
Nutrition Facts
Air Fryer Zucchini Fries
Amount Per Serving
Calories 316
Calories from Fat 108
% Daily Value*
Fat 12g18%
Cholesterol 88mg29%
Sodium 961mg40%
Potassium 514mg15%
Carbohydrates 39g13%
Protein 13g26%
Vitamin A 502IU10%
Vitamin C 26mg32%
Calcium 209mg21%
Iron 4mg22%
* Percent Daily Values are based on a 2000 calorie diet.