Layers of flavorful breakfast sausage, melted cheese, and crispy tater tots make a winning combo in this tater tot casserole. It's a breakfast for champions!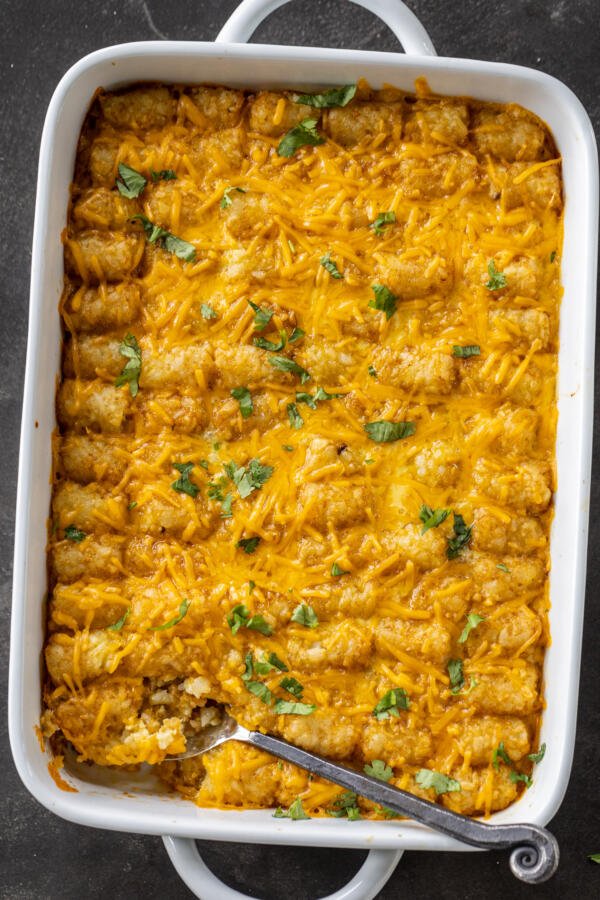 What Is a Tater Tot Breakfast Casserole?
A tater tot breakfast casserole is a savory baked custard comprised of layers of tater tots, cheese, and breakfast sausage. Tater tots are small deep-fried cylinders of potatoes with a crisp outside and soft inside. These delicacies add a unique dimension of flavor and texture to the standard egg casserole. Plus, they're widely accessible in nearly all supermarkets. Kids and adults alike are sure to enjoy this tater tot casserole for breakfast.
How To Make a Tater Tot Breakfast Casserole
Prep the ingredients, layer them into a casserole dish, and bake — that's all it takes to make this crispy and custardy breakfast. Let's get casser-rollin'!
Preheat the oven: Preheat the oven to 350°F.
Brown the sausage: Heat a skillet over medium high heat and brown the sausage, breaking it up and cooking until it is no longer pink. Once the meat is fully cooked, drain extra juices and set it aside.
Mix the custard: In a medium bowl, whisk together the milk, eggs, and salt.
Layer the ingredients: Spread the cooked sausage on the bottom of a baking dish, then sprinkle two cups of shredded cheese on top. Pour the egg mixture evenly over the sausage and cheese. Arrange the frozen tater tots on top to cover the whole dish (you may not need the full 32 ounces).
Bake the casserole: Place the dish uncovered in the oven and bake for 40 minutes. Sprinkle the remaining cup of cheese over the tater tots and bake for another 5-10 minutes until the sides are bubbling and the tater tots are golden brown. Remove the casserole from the oven, and let it rest for about 10 minutes before serving. Enjoy!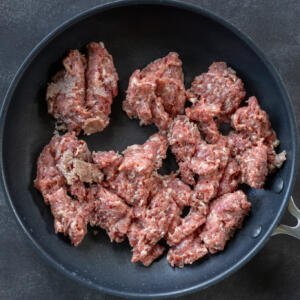 Ingredient Variations
Casseroles are incredibly customizable — one of the many reasons we love them. Make any of these ingredient swaps or additions to suit your personal taste.
Meat: Experiment with mild, sweet, or spicy hot ground sausage. If you're not a fan of sausage, opt for ground beef or turkey (making sure to season it well!). To level up the flavor, top the baked casserole with crumbled bacon bits — cooked using the oven method or air fryer method.
Cheese: Use your favorite combo of cheeses like spicy pepper jack, mild colby jack, or melty mozzarella.
Veggies: To add extra nutrients and flavor, sauté chopped bell peppers, mushrooms, or onions alongside the sausage.
Herbs: Garnish the casserole right out of the oven with fresh chives, parsley, or green onions for a pop of color and herby taste.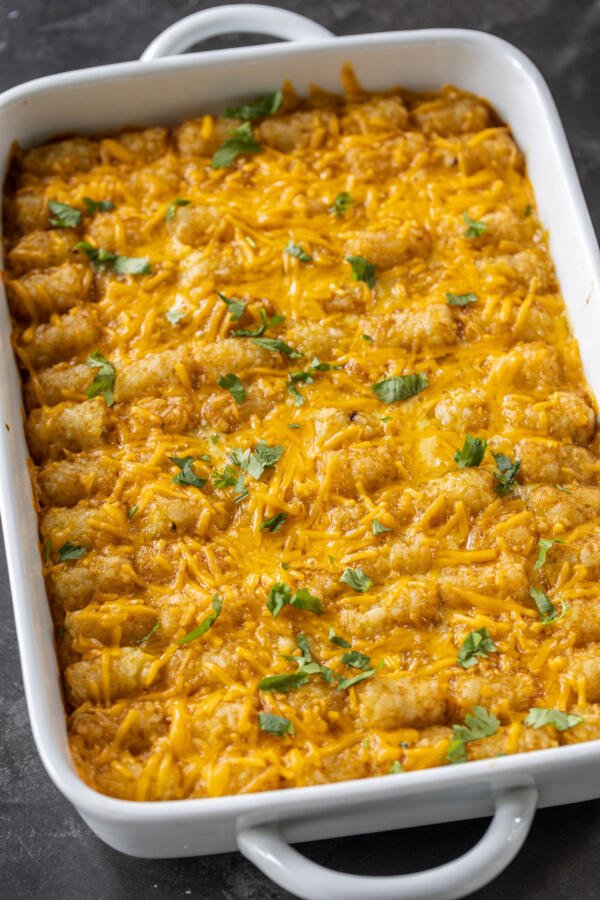 Tips From the Kitchen
This casserole recipe is crazy easy, but who doesn't appreciate a little extra help? Here are our top tips for producing a delicious tater tot casserole.
Shred the cheese yourself. Nothing compares to freshly shredded, perfectly melty cheese. Avoid pre-shredded cheese, which often contains starches that inhibit melting.
Brown the breakfast sausage well. The caramelized crust on browned meat is a huge flavor enhancer. Cook the ground sausage on medium-high heat until it's brown but still juicy.
Make it your own. This is the best hack for creating dishes you love. Personalize your tater tot casserole by adding your favorite veggies, seasonings, or sauces. For ideas, check out our ingredient variations section!
Avoid overcooking. Enjoy the fluffy, moist texture of a perfectly baked egg casserole by pulling it out of the oven as soon as the top is bubbling and golden brown.
Ways To Serve
A tater tot casserole makes a mouthwatering breakfast or brunch dish. Serve it fresh out of the oven with a sprinkle of bacon bits and parsley for garnish and your guests will be wow-ed. For a Mexican flair, add a side of pico de gallo, guacamole, and crema to top the casserole. Don't forget ketchup and hot sauce for the condiment-loving folks! Are you ready to add a few sweets to the table? Bring out a Dutch baby pancake, cheese turnovers, and raspberry scones to complete the presentation.
Make Ahead
This tater tot casserole is the perfect make-ahead dish for brunch parties or breakfasts when you're running late and don't have time to stand by the stove. Assemble the full casserole the night before, or prep the ingredients early and assemble it in the morning.
Night before: Fully prep the casserole the night before, then cover it and keep it in the fridge until you're ready to bake (it's okay if the tater tots aren't fully frozen).
Morning of: If you prefer to prepare the casserole on the day of baking, prep the ingredients and store them separately in the fridge until you're ready to assemble. Brown the sausage and whisk up the egg mixture ahead of time.
Storage & Reheating
Do you have leftovers? Good news for you — this tater tot casserole is just as delicious the next day! Follow these tips for proper storage and reheating.
Refrigerator: To store for up to four days, allow the casserole to cool completely, then cover the baking dish with a lid or foil and refrigerate.
Freezer: To store for up to two months, divide the cooled casserole into smaller pieces, then transfer them to an airtight container and freeze. Thaw the casserole in the fridge overnight before reheating.
Reheating: For the best flavor and texture, reheat the casserole in the oven at 350°F for 20-30 minutes. Cover the baking dish with foil to prevent the casserole from drying out. To save time, reheat smaller pieces of the casserole in the microwave or toaster oven until warmed through.
FAQ
How long can a breakfast casserole sit before cooking?
A breakfast casserole can be refrigerated for up to 24 hours before cooking.
Can you freeze tater tot casserole before you cook it?
Yes, you can absolutely freeze tater tot casserole before you cook it. Double-wrap the baking dish with cling film and aluminum foil, then freeze for up to two months.
Should you thaw frozen tater tots?
There is no need to thaw frozen tater tots before cooking them. Since they are so small and are precooked, they heat quickly in the oven.
More Casserole Recipes
Recipe
Layers of flavorful breakfast sausage, melted cheese, and crispy tater tots make a winning combo in this tater tot casserole. It's a breakfast for champions!
Ingredients
1

lb

mild ground breakfast sausage

3

cups

shredded cheddar cheese

divided

2

cups

milk

6

large eggs

1

tsp

salt

adjust to taste

32

oz

frozen tator tots
Nutrition Facts
Tater Tot Breakfast Casserole
Amount Per Serving
Calories 641
Calories from Fat 405
% Daily Value*
Fat 45g69%
Cholesterol 213mg71%
Sodium 1510mg63%
Potassium 605mg17%
Carbohydrates 34g11%
Protein 27g54%
Vitamin A 749IU15%
Vitamin C 8mg10%
Calcium 414mg41%
Iron 2mg11%
* Percent Daily Values are based on a 2000 calorie diet.