Zucchini fritters are like veggie pancakes. Fried until golden brown, these are best served with a dollop of sour cream and fresh herbs.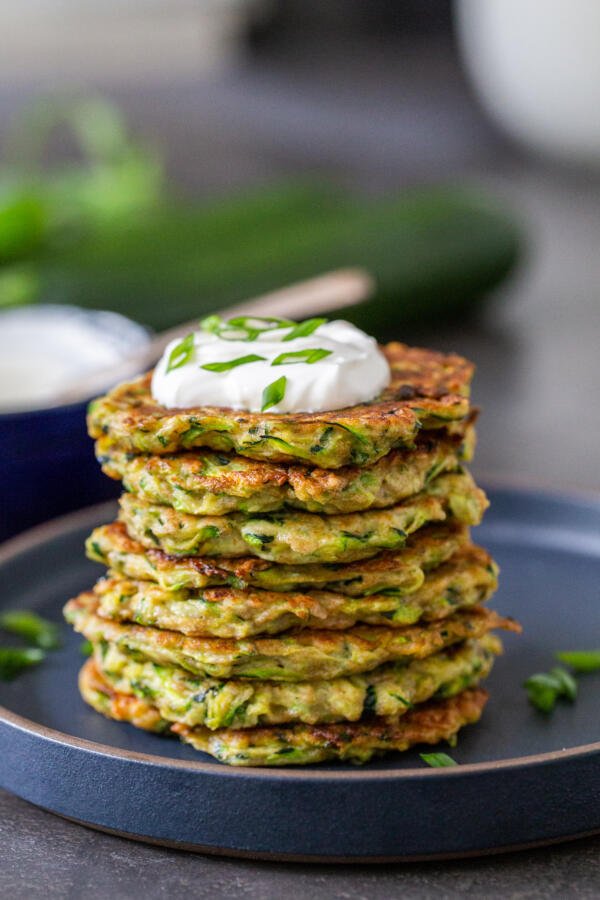 Zucchini fritters are an excellent way to sneak veggies into your kids' diets. Serve them with a fried egg for breakfast or as an appetizer at your next dinner party.
Have a ton of zucchini that you harvested from your home garden? Or, do you simply love zucchini? These fritters are perfect for satiating your zucchini craving. Make a big batch, freeze some for later (see instructions below) and have them on hand for a rainy day.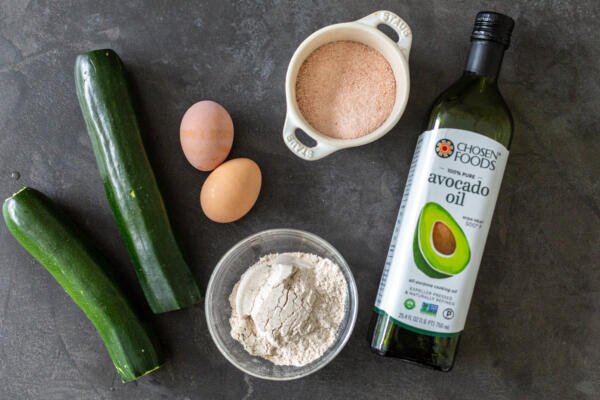 How to Make Zucchini Fritters
Get your frying oil ready and be prepared to fill the whole house with a delightful smell. Here's how to make your fritters and greek yogurt dipping sauce perfect on the first try:
Combine shredded zucchini with eggs, flour (use almond flour for gluten-free/low-carb diets), salt and pepper in a mixing bowl.
Preheat oil in a skillet. Spoon small amounts of the mixture into the pan.
Fry on each side until golden brown (about 2-3 minutes per side).
Hot tip: Place cooked fritters in a single layer on a paper towel to absorb excess grease.
Tips for Non-Soggy Fritters
Fried food is delicious, but it has a tendency to get soggy when left unattended or stored for too long. Here's a couple of tactics to prevent that from happening to your fritters:
Squeeze out as much water as you possibly can from the zucchini. Using a kitchen towel, place your shredded zucchini in the center. Wrap the towel around it tightly, creating a coin purse shape. Using your hands, squeeze the water out from top to bottom over the sink.
Shred the zucchini thinner to avoid a soggy fritter. Shred your zucchini like you would hashbrowns. If the pieces are too big, they will likely hold too much moisture and make your fritters soggy.
Fry on each side until golden brown. Frying each side adequately will help your fritter maintain structure. It's also delicious!
Reheat on a skillet or in a toaster oven to achieve crispiness again. Whatever you do, do not microwave your fritter to reheat it. It will turn soggy so fast! Instead, heat it up in a skillet or toaster oven. You could even use an air fryer if you have one!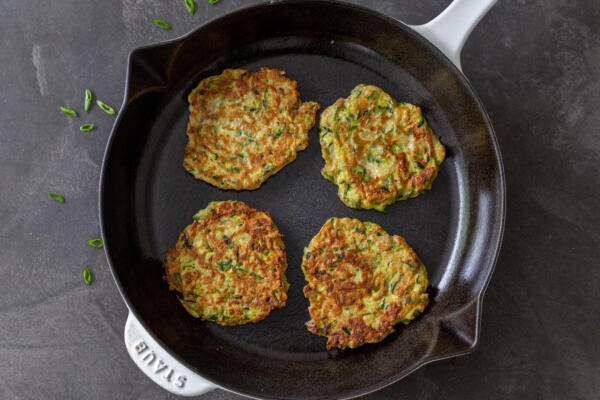 What Do You Eat With Fritters?
There are so many different ways you can enjoy your fritters. Use our garlic, dill and greek yogurt sauce for dipping, or make some tzatziki.
You could even top each fritter with a bit of cream cheese and a slice of smoked salmon for a fancy brunch. As always, you can't go wrong with a fried egg on the side. Make it an over-easy egg so you can dip your fritter in all that wonderful yolk. Yum…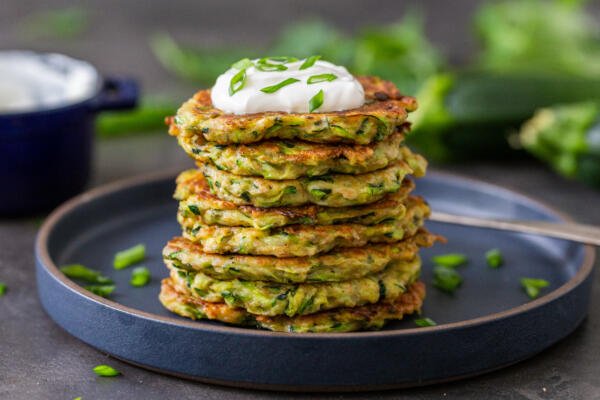 Can Zucchini Fritters Be Frozen?
Yes, Freeze Zucchini Fritters by mixing up your fritter batter and grab a baking sheet. Lined it with parchment paper. Place dollops of the batter 1-inch apart on the baking sheet and place directly into the freezer uncovered.
Once the raw fritter batter is completely frozen, remove it from the parchment paper and place pieces into a freezer-safe bag. When you are ready to cook them, place the frozen pieces directly into the fryer oil until each side is golden brown (about 3-4 minutes per side).
More Zucchini Recipes
Zucchini is one of the best parts of summer. Here are some more of our favorite zucchini-inspired recipes:
Recipe
Zucchini fritters are like veggie pancakes. Fried until golden brown, these are best served with a dollop of sour cream and some herbs.
Instructions
Nutrition Facts
Healthy Zucchini Fritters
Amount Per Serving
Calories 62
Calories from Fat 36
% Daily Value*
Fat 4g6%
Cholesterol 27mg9%
Sodium 206mg9%
Potassium 82mg2%
Carbohydrates 4g1%
Protein 2g4%
Vitamin A 81IU2%
Vitamin C 4mg5%
Calcium 9mg1%
Iron 1mg6%
* Percent Daily Values are based on a 2000 calorie diet.