Candy Cane Cookies are as festive as it gets. Hook these candy cane-shaped cookies on the side of a mug of cocoa or gobble them up with a big glass of milk.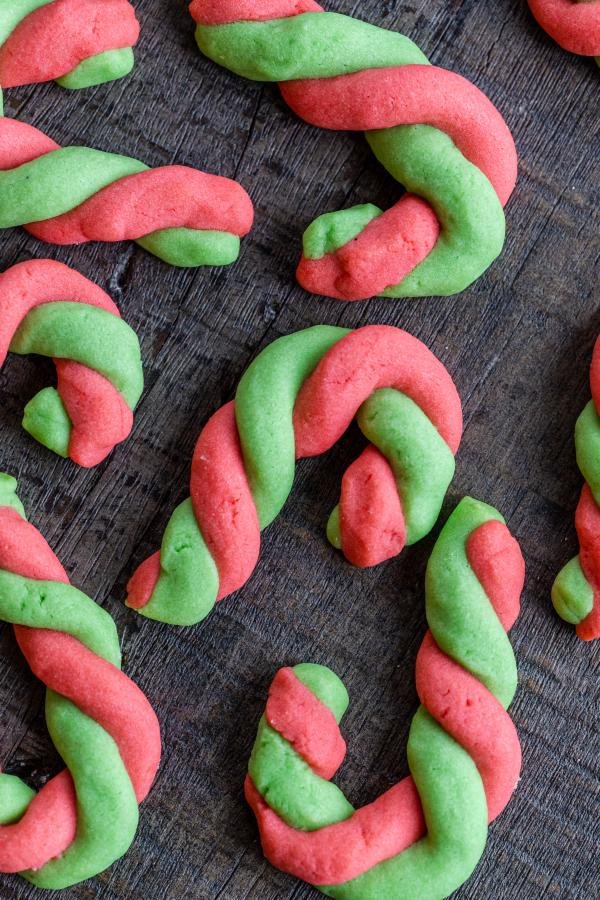 Candy Cane Cookies are the perfect buttery cookie made with simple ingredients. These cookies just melt in your mouth!
Candy Cane Cookies are sure to be one of the highlights of your Christmas this year and it's not just because they taste amazing. They are super fun to make with kids! The dough resembles the consistency of Play-Doh, which makes it easy for young ones to shape it into candy canes. My boys always have a blast making these cookies and, in my book, that is what the season is all about!
Like I said above, the cookie dough in this recipe is incredibly easy to work with. In fact, it is the same dough I use for my Shortbread Cookies. That's right, these decorative cookies aren't just pretty, they are buttery and moist just like a classic shortbread!
I know that a classic candy cane is red and white, but why limit yourself to that color combination? Feel free to use green and white, red and green or white and gold food coloring to switch things up. After all, it's the holiday season and life can use a fun pop of color!
How to Make Candy Cane Cookies
You might be looking at the signature shape of this cookie and wondering how to do it. Don't worry! It's so easy and kid-friendly. Follow these steps for "North Pole-worthy" cookies:
Measure about two tablespoons of each color of dough. Separately roll each into a 5-inch long rope.
Place the two colored ropes side-by-side.
Pinching the two ropes together at the top, gently twist them around one another.
Bend the top to form the candy cane.
Note: This dough is the easiest to work with when chilled! You will need to throw it in the refrigerator for at least an hour before you attempt to shape it (see directions below). If for some reason your dough cracks while you work with it, throw it back in the refrigerator for 15 minutes to let it set again.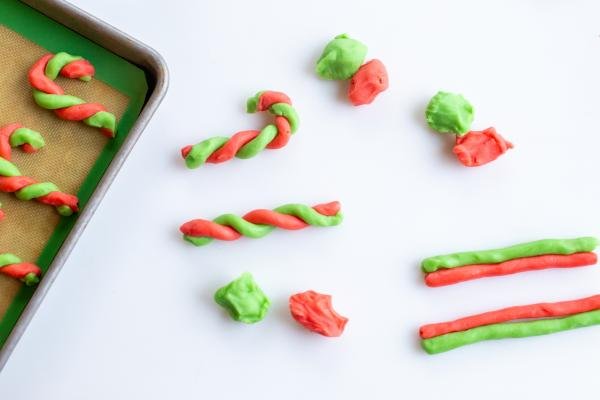 Decorating Candy Cane Cookies
Want to next level your cookies? Here are some fun decorating variations you can play with:
Sprinkle fresh-out-of-the-oven cookies with crushed candy canes for an extra pop of minty flavor.
Allow your cookies to cool completely. In a small bowl, microwave some baking chocolate. Dip half of your candy cane in the melted chocolate and allow it to set at room temperature on a baking sheet.
Dust fresh-out-of-the-oven cookies with decorative sugar. You can use white, gold, red, green or any other festive colors. It will add a nice little crunch with every bite. Plus, it's the holidays, so the sweeter the better, right?
Storing Candy Cane Cookies
These cookies are great stress minimizers. Why? Because you can bake them 2-3 days in advance and they will still taste awesome! For some reason, they are better the next day or so after baking. Here are all the tips and tricks for storing them: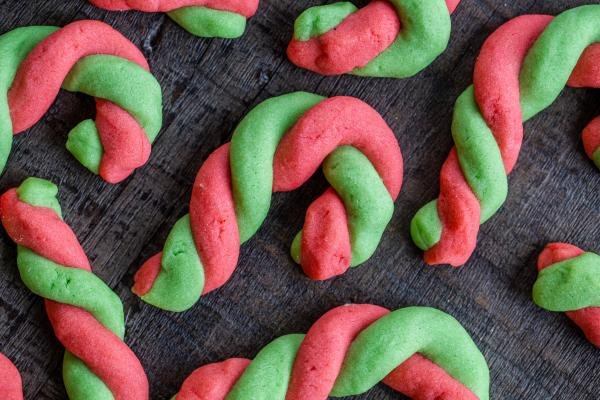 Refrigerating Cookie Dough
You can refrigerate your cookie dough for up to three days before you need to bake with it. Like I said before, it is best to work with this dough when it is chilled, so making it ahead of time means it will be ready to work with right when you pull it out of the refrigerator. Go you!
Room Temperature
There is no need to refrigerate your leftover cookies, so you can store them on your counter in an airtight container. They will stay good for up to two weeks!
Freezing Cookies
You can freeze your shortbread cookie dough for later use by wrapping it tightly in plastic wrap and storing it in a freezer-safe bag or airtight container. It will last up to three months. When you are ready to use it, allow it to thaw in the refrigerator overnight.
Other Holiday Cookies
Recipe
Candy Cane Cookies are as festive as it gets. Hook these candy cane-shaped cookies on the side of a mug of cocoa or gobble them up with a big glass of milk.
Nutrition Facts
The Best Candy Cane Cookies
Amount Per Serving
Calories 67
Calories from Fat 36
% Daily Value*
Fat 4g6%
Cholesterol 18mg6%
Sodium 7mg0%
Potassium 9mg0%
Carbohydrates 7g2%
Protein 1g2%
Vitamin A 124IU2%
Calcium 3mg0%
Iron 1mg6%
* Percent Daily Values are based on a 2000 calorie diet.