This braised cabbage with beef is melt-in-your-mouth tender and the definition of healthy comfort food. A Slavic staple that never gets old!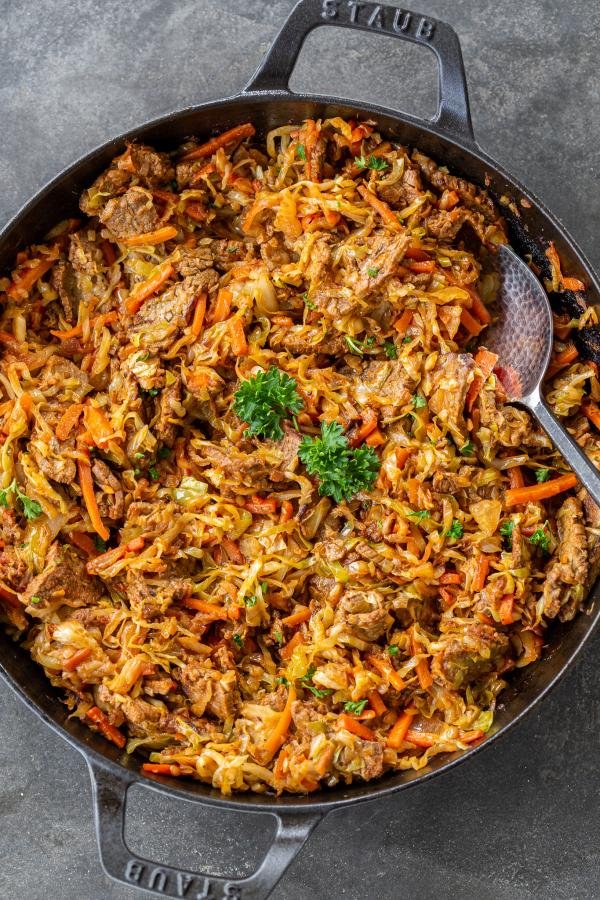 When it comes to getting a full serving of veggies (or more) in one sitting, there are few more delicious ways than eating a huge bowl of braised cabbage with beef. Ever since my boys could eat solid food, I've been making it for them when I know they need a good dose of produce. Get ready to fall in love!
What exactly is braising? Braising is a 2 part cooking method that starts with searing and is followed by slow cooking the ingredients in braising liquid (this can be the natural moisture released from the meat and veggies, or a small amount of liquid such as water, apple cider vinegar, chicken broth, etc.) until tender.
What is Braised Cabbage?
Braised cabbage features shredded cabbage that's cooked down until it's irresistibly tender. In Slavic culture, this dish is served for everything from quick weeknight dinners to family get-togethers. It's one of those timeless meals that just hits the spot. Below, find an overview of the flavor, texture, and time it takes to put together this braised cabbage with beef.
Flavor: The flavor of this braised cabbage with beef is best summed up in one word: savory.
Texture: The texture of this braised cabbage with beef is ultra-tender. Each bite will just melt in your mouth.
Time: From prep to table, this recipe takes an hour to make.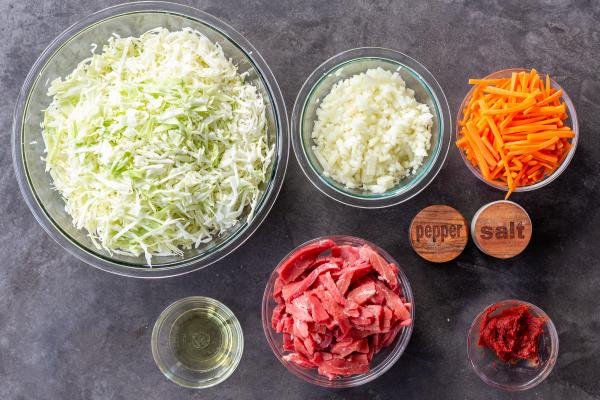 Preparing Braised Cabbage with Beef
Preparing this braised cabbage with beef requires less than 10 ingredients and only calls for a bit of simple prep. Below, you'll find a simplified rundown of the process before you get started.
Brown the Beef: Slice the beef into similar pieces and brown each piece over medium-high heat with oil.
Prep the Veggies: Grate or thinly slice the carrots and cabbage and dice the onions.
Sauté the Veggies: Add the onions to the pan and cook them until golden brown. Next, add in the carrots.
Switch the heat to low and add the shredded cabbage. Braise the mixture for 20 minutes.
Finish with Tomato Paste: Add the tomato paste or ketchup and stir to combine. Cook the mixture for 10-15 more minutes. Serve and enjoy!
More to braise: Braising is such an easy method of cooking, try these super tender braised lamb shanks!
3 Tips for Amazing Braised Cabbage
Here you'll find pro tips straight from our kitchen on how to make the most amazing braised cabbage with beef.
Braise the cabbage and beef in a Dutch oven. Dutch ovens are incredible for braising, as they hold an insane amount of moisture. This model from Staub will last you a lifetime. If you don't have a Dutch oven, use a large skillet.
Brown the beef and save the drippings. Browning the beef helps it keep a nice texture during braising, while also giving you amazing drippings to cook the veggies in. Whatever you do, don't move to a new pan or rinse the drippings out!
Use a veggie slicer. Making braised cabbage is that much easier when you use a veggie slicer. It makes cutting the cabbage and carrots so simple, while also bringing consistency in texture to the table. If you need a recommendation, I've been using this one for years.
What to Serve Braised Cabbage With
Serve your braised cabbage and beef as either a filling side dish or the main course. For a well-rounded meal, pair it with buckwheat, steamed white rice, or quinoa. Additionally, further elevate the flavor of this dish by topping it with a dollop of sour cream or a sprinkle of dried thyme or fresh parsley.
The Best Way to Store Your Braised Cabbage
To keep braised cabbage fresh for up to a week, store it in an airtight container in the fridge. What's better? This dish makes for wonderful leftovers, as it will continue to develop a depth of flavor as it marinates in the fridge.
Reheating Tip: To reheat the braised cabbage, zap it in the microwave for a couple of minutes until warmed through.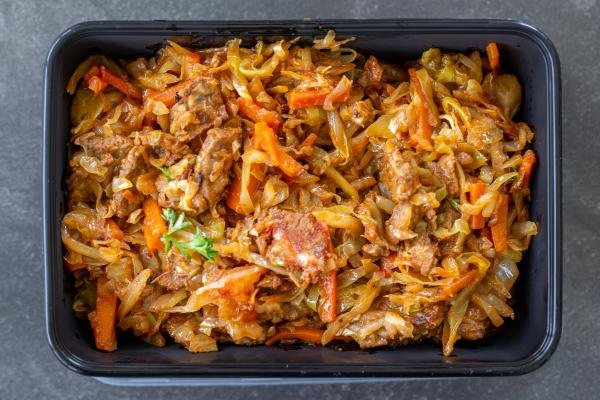 FAQ
Can you use red cabbage instead of green cabbage?
Yes, red cabbage can be used in this recipe. Since it's a bit more fibrous, it will take a bit longer to cook down. Additionally, it has a ton of red pigment that will be released as you braise it. This will slightly dye the dish, but will not affect the taste of the dish whatsoever.
Can you freeze braised cabbage?
You should not freeze this braised cabbage dish. In general, cooked veggies don't tend to thaw well and will turn to mush.
What cut of beef is best for this recipe?
Flank works best for this recipe. If you can't get your hands on it, use rump roast, short ribs, or brisket instead.
Can you use different meat besides beef for this recipe?
If beef isn't your preferred protein, swap it out for chicken or pork.
Is braised cabbage good for you?
This braised cabbage and beef dish is very good for you. It's packed with protein from beef and fiber and nutrients from all the veggies. It's also naturally low-carb.
Other Yummy Cabbage Recipes
Recipe
This braised cabbage with beef recipe features tender cabbage and melt-in-your-mouth tender beef. Healthy comfort food at its finest!
Ingredients
1

lb

beef

flank

1

medium cabbage head

(abour 2 lb)

4

large carrots

2

medium onion

2

tbsp

tomato paste

or ketchup

3

tbsp

oil

olive or avocado

1

tbsp

salt

adjust to taste

1/2

tbsp

ground black pepper

adjust to taste

1/2

cup

unsalted butter
Nutrition Facts
Braised Cabbage with Beef
Amount Per Serving
Calories 348
Calories from Fat 252
% Daily Value*
Fat 28g43%
Cholesterol 71mg24%
Sodium 986mg41%
Potassium 533mg15%
Carbohydrates 13g4%
Protein 12g24%
Vitamin A 5625IU113%
Vitamin C 46mg56%
Calcium 79mg8%
Iron 2mg11%
* Percent Daily Values are based on a 2000 calorie diet.