Quick Potato Piroshki are crispy on the outside and filled a creamy potato filling. They only take 30 minutes to prepare and even less to watch them disappear.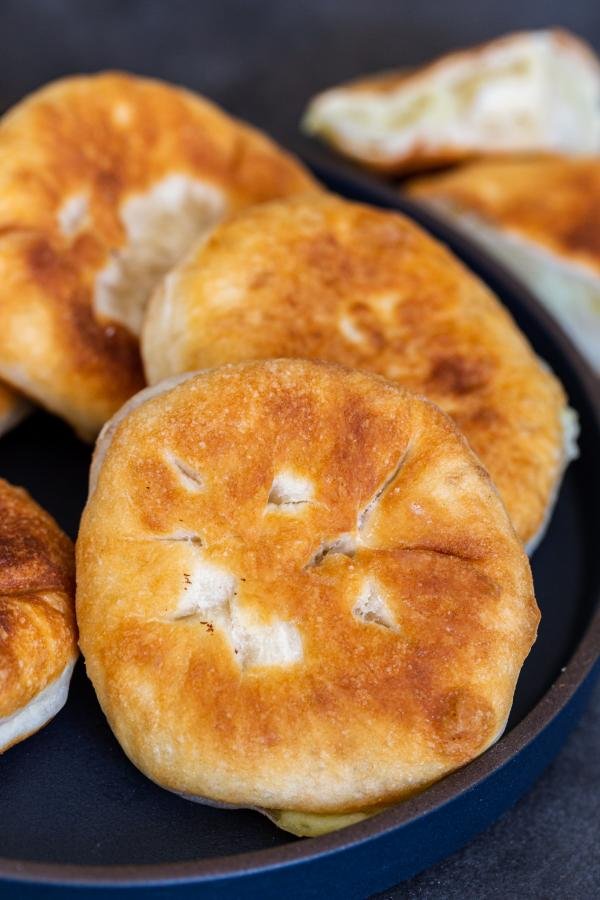 Quick Potato Piroshki are a great way to use up those leftover mashed potatoes you have hanging out in the fridge. All you have to do is prepare the dough and set aside some time to deep fry these tasty morsels up. If you're anything like me, you love getting two meals out of one dish!
Growing up in a Ukrainian household, my childhood was sprinkled with wonderful memories of eating piroshki, crepes and borscht. This particular piroshki recipe brings me right back to these warm moments. I hope you enjoy them as much as I do!
So, What are Piroshki?
A popular street and comfort food in Ukraine and Russia, piroshki are fried dough dumplings that are either baked or fried and stuffed with a myriad of sweet and savory fillings. If you have never had a piroshki before, they are very similar to American hand pies. From fruit compote to savory ground pork and onion, the possibilities are endless and delicious.
Over here in the Pacific Northwest, we have a beloved bakery we visit right in Pike's Place Market. Piroshky Piroshky is a must-visit if you are ever in Seattle. Their case is filled with every possible flavor combination you can dream of. Now I'm hungry just thinking about it…
How to Make Piroshki?
Follow these simple steps to homemade potato piroshki:
Prepare your dough.
Cut the dough into even pieces on a floured surface.
Roll the dough into balls and flatten them out with a rolling pin.
Place even scoops of mashed potatoes on each dough piece. Seal the edges.
Carefully roll out each piroshki with a rolling pin to flatten it.
Preheat a skillet over medium-heat. Fry each side until golden brown. Place each piroshki on a paper towel to remove any excess oil.
Baking Piroshki
Baking piroshki is another great way to make these dumplings without all the extra oil. Prepare the recipe the same way, but instead of frying piroshki, bake them in the oven at 350 ℉ for 25-30 minutes.
Freezing Piroshki
Freeze piroshki by separating layers of raw piroshki with parchment paper in an airtight container. They will last in the freezer for up to 3 months. When you are ready to cook them, pop the frozen dumplings right into hot oil and cook until golden brown on both sides. These are awesome to have on hand for those days you don't want to cook.
How to Reheat Piroshki
Reheat piroshki by popping them in the oven at 350 ℉ for 5-10 minutes. This will crisp them back up again! You could also zap them in the microwave for 45 seconds, but this can make them a touch soggy.
What Should I Serve Piroshki With?
Garnish your piroshki with a dollop of sour cream. Piroshki are great as appetizers or a stand-alone meal. Serve them alongside a garden salad or some roasted veggies for a well-rounded meal.
More Piroshki Recipes
Piroshki come in all different shapes, flavors and sizes. If you love this recipe, try these out:
Recipe
Quick Potato Piroshki are crispy on the outside and filled a creamy potato filling. They only take 30 minutes to prepare and even less to watch them disappear.
Nutrition Facts
Potato Piroshki Recipe
Amount Per Serving
Calories 171
Calories from Fat 9
% Daily Value*
Fat 1g2%
Cholesterol 2mg1%
Sodium 277mg12%
Potassium 317mg9%
Carbohydrates 35g12%
Protein 4g8%
Vitamin A 40IU1%
Vitamin C 14.6mg18%
Calcium 62mg6%
Iron 1.4mg8%
* Percent Daily Values are based on a 2000 calorie diet.