Easily customize this veggie quiche with your favorite veggies like tomatoes, kale, and zucchini. Make it a dish worth waking up to!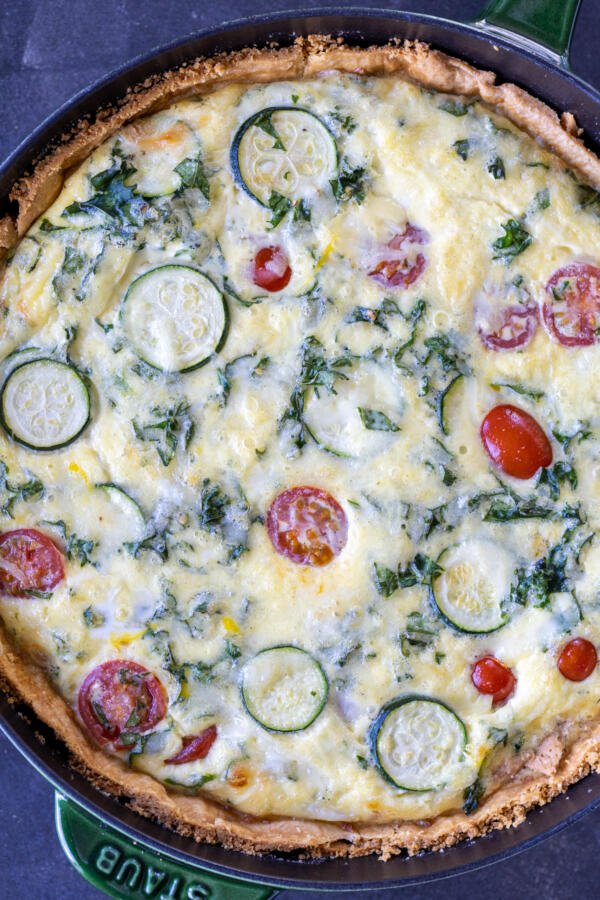 Prep Tip: You'll need a pie crust for this recipe. Make our easy 4-ingredient flakey pie crust for a fully homemade quiche.
What is a Veggie Quiche?
A quiche is a pie-like dish consisting of a pie or pastry shell filled with a custard made from eggs, cream, cheeses, vegetables, and/or meat. This savory French tart is easily customizable, making it easy to please a variety of palates. Plus, it can be served at any time of day, although it is most often considered a breakfast dish.
This veggie quiche is perfect for those who prefer to forego the meat option. Instead, it's made from eggs, cream, cheese, and loads of veggies. Simply perfect!
Veggie Quiche Video
How to Make a Veggie Quiche
Give yourself some slack in the morning by making this veggie quiche the night before. It'll taste even better!
Arrange the pie crust: Arrange an unbaked pie crust into a pie pan, then trim off the extra crust around the edge.
Bake the pie crust: Place parchment paper on the crust and weigh it down with weights (dried beans, peas, or pie weights work great). Bake at 375°F until the crust is golden-brown.
Fill the pie: Fill the baked crust with the veggies and cheeses.
Whisk egg mixture: In a separate large bowl, whisk the eggs and heavy whipping cream, then season with salt and pepper.
Bake the quiche: Pour the egg mixture into the pie, then bake at 400°F until the center is fully set. Slice and enjoy!
Additions & Substitutions
The best part of this veggie quiche is how easily customizable it is. Plus, it's hard to mess it up. Swap out the ingredients to make it your own.
Cheese: Add or replace the mozzarella or Gruyere cheeses with any other melty cheeses like goat, cheddar, swiss, Parmesan, or feta cheese.
Veggies: Any vegetable goes in this quiche! Use broccoli, bell peppers, mushrooms, or whatever other veggie in your refrigerator.
Seasoning: Add a spicy kick to the quiche with the addition of red pepper flakes. Or, elevate the flavor with onion powder, garlic powder, oregano, or paprika.
Herbs: Take your quiche to the next level by adding your favorite fresh herbs to the mix. We love dill, basil, or chives.
Cream: For a heavy cream substitute, use one cup milk or half and half. Keep in mind it may result in a less flavorful, less silky custard. Avoid using low fat or nonfat milk as these run a higher risk of curdling.
Tips from the Kitchen
Follow these tips for a quiche that is not only crazy easy, but is worthy of making every time you host breakfast or brunch.
Grill/sauté the veggies: For softer veggies, grill or sauté them. For more texture, simply add the veggies right in.
Cut veggies into small pieces: For even cooking, cut the zucchini into 1/4 inch slices and cherry tomatoes into halves.
Make veggies as dry as possible: If you add watery veggies, the egg custard may not set as it should. Make them less watery by sautéing or squeezing the liquid out. Avoid using frozen veggies as these have a high water content. Or, fully thaw and pat them dry with a paper towel.
Opt for high-quality cheese: The cheese plays a large part in the quiche's flavor, so opt for the good stuff. Blocks of cheese tend to have more flavor than pre-shredded packages.
Pre-bake the pie crust: Pre-bake the pie crust before adding the custard filling. Skipping this results in the crust becoming soggy when the custard filling is added.
Skip the crust (optional): If you're watching your carbs, skip the crust and bake the egg mixture in a well-oiled, non-stick baking dish.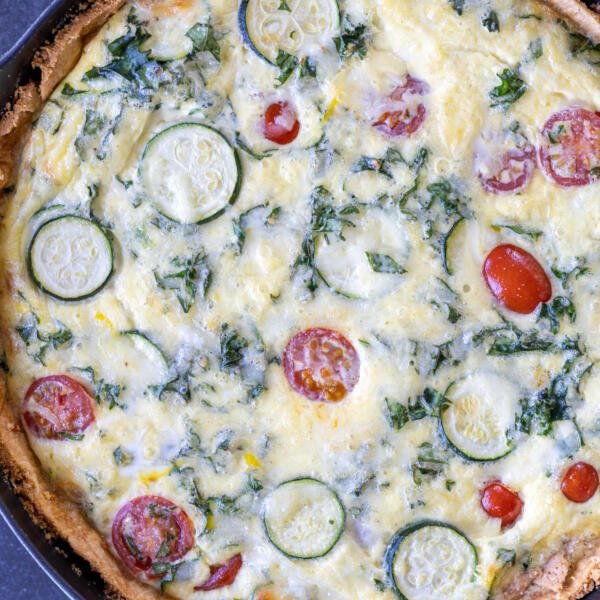 Serving the Quiche
Veggie quiche is most often served warm or hot, but it's also great when served cold! Better yet, step outside the breakfast realm, and serve it for lunch and dinner!
When serving breakfast, complete the meal with a savory choice like potato pancakes or pair it with sweet waffles topped with fresh fruit. Make it even fancier by serving the quiche as a vital part of a breakfast charcuterie board.
When serving for lunch or dinner, pair the quiche with beet and goat cheese arugula salad or berry spinach salad. To add more protein, serve the quiche with tuna cobb salad or add grilled chicken as a topping to any salad.
Storing & Reheating
This veggie quiche is great fresh, but also holds up well after refrigeration. Don't you wish more foods were like this?
Refrigerator: To keep the quiche for up to a week, store it in an airtight cake container or wrapped tightly with plastic wrap.
Reheating: To reheat an entire quiche, pop it into the oven at 350°F until heated through, about 10-15 minutes. Cover with aluminum foil to retain moisture. To reheat an individual slice quickly, place it in the microwave.
Hot Tip: Avoid freezing this veggie quiche as the veggies become watery and affect the consistency of the custard afterwards.
FAQ
What's the difference between a quiche and a frittata?
A quiche is made in a pie crust whereas a frittata is an egg pancake similar to an omelette.
Do the veggies need to be precooked before adding to the veggie quiche?
If you like the slightly crunchier texture of vegetables, add them to the quiche as-is. For less crunch and a more uniform texture, cook the vegetables prior to adding into the quiche.
Should I cover the quiche when baking?
There is no need to cover the quiche when it is baking. Instead, keep it uncovered so the top of the quiche develops a harder, more golden crust.
More Breakfast Ideas
Recipe
Easily customize this veggie quiche with your favorite veggies like tomatoes, kale, and zucchini. Make it a dish worth waking up to.
Ingredients
1/2

cup

cherry tomatoes

halved

1/2

cup

kale

chopped

1

medium zucchini

sliced 1/4 inch thick

1

cup

mozzarella cheese

grated

1/4

cup

Gruyere cheese

grated

3

large eggs

1

cup

heavy whipping cream

1/2

tsp

salt

1/3

tsp

ground black pepper
Nutrition Facts
Easy Veggie Quiche Recipe
Amount Per Serving
Calories 385
Calories from Fat 270
% Daily Value*
Fat 30g46%
Cholesterol 147mg49%
Sodium 515mg21%
Potassium 247mg7%
Carbohydrates 17g6%
Protein 12g24%
Vitamin A 1565IU31%
Vitamin C 14mg17%
Calcium 215mg22%
Iron 2mg11%
* Percent Daily Values are based on a 2000 calorie diet.