This crazy easy crustless quiche recipe features fluffy eggs baked with milk and a ton of cheese. Fully customizable and perfect for Sunday brunch parties!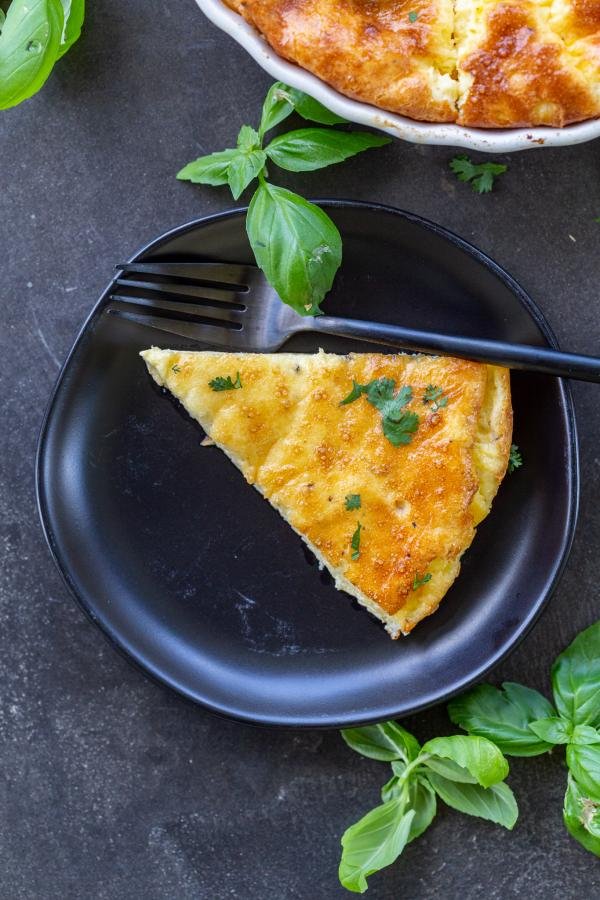 Much like our recipe for egg bites, this crustless quiche is the perfect make-ahead breakfast. It's perfect for reheating and can be tweaked with different add-ins to fit your specific tastebuds. What's better? It requires minimal prep time and is naturally low in carbs and full of protein to keep you satiated for hours.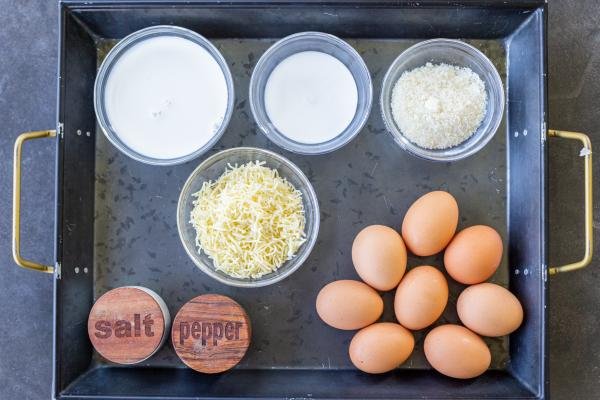 Preparing a Perfect Crustless Quiche
To prepare a crustless quiche, all you need to do is stir all of the ingredients together and pop them in the oven until baked through and golden brown on top.
Prepare the Oven: Firstly, preheat oven to 350°F.
Make the Egg Mixture: Meanwhile, crack the eggs into a large bowl, followed by the milk and half and half. Then, whisk to combine.
Season the Eggs: Then, add the shredded cheese (cheddar, mozzarella, or swiss cheese are our favorites), parmesan cheese, salt, and pepper and stir to combine together. Optionally, add in your favorite meats, veggies, and herbs.
Bake the Quiche: Finally, pour the eggs into an 9-inch pan buttered pan and pop it in the oven for about 45 minutes of cooking time. Slice and enjoy!
3 Tips & Tricks for Making a Crustless Quiche
Three simple tips and tricks will help you make crustless quiche a no-brainer part of your weekly meal rotation.
Make the quiche in a muffin tin instead. For easy grab-and-go breakfasts, make the quiche in a buttered muffin tin instead. Then, you can refrigerate or freeze the extras and simply reheat them in the microwave!
Add dijon for a pop of flavor. For a pop of tang, add in a spoonful of dijon mustard to the egg batter. You don't need a ton, but just enough to add extra depth of flavor!
Check the center before removing the quiche from the oven. When the center isn't jiggly anymore, you'll know that the quiche is fully cooked. Then, to check it use an oven mitt to gently shake the pan back and forth.
Need a solid pie pan? We love our 9-inch pie pan from Staub. It' so sturdy and also makes for the perfect presentation right out of the oven!
Optional Add-Ins
Customize this quiche with your favorite ingredients and make it your very own. Add 1 cup of as many of the following options your heart desires. Here's a couple of our favorites to inspire you…
Meats – Of course, the usual breakfast suspects like bacon, ham, and country sausage are all killer options. If you're feeling more adventurous, add in chorizo, prosciutto, or pancetta. Go crazy!
Cheeses – Typically, we like to pair parmesan with some kind of shredded cheese. If you aren't a fan of cheddar, swiss, or mozzarella, swap in feta, goat cheese, or gruyere cheese instead.
Spinach – You can use fresh or frozen spinach. Just make sure if you're using frozen that it's completely thawed and all the liquids have been properly squeezed out.
Mushrooms – Adding in sautéed mushrooms will give you the best flavor. We are obsessed with chanterelles when they are in season and usually have shiitakes in the fridge year round.
Broccoli – If you're going to add broccoli, make sure that it's diced up into bite-sized pieces. This yields the best texture and bite!
Tomatoes – There's nothing like a juicy roasted tomato baked into your quiche. We like to use halved cherry tomatoes or diced roma tomatoes with the juice drained.
Asparagus – Chop the asparagus into bite-sized pieces before adding them into the eggs. You can also sauté them for increased flavor.
Onion – Feel free to use purple, white, yellow, or green chopped into small pieces.
Herbs – Add in fresh parsley, basil, dill, or chives to the mix for a pop of flavor and color.
Serving Suggestions
Serve this crustless quiche alongside your favorite toast. We love whipping up sourdough or honey wheat bread, slicing it up, and slathering it with butter. You can also pair it with roasted potatoes or a potato mushroom breakfast casserole.
Storing & Reheating Tips
Crustless quiche is so perfect for meal-prep! To refrigerate the quiche, store it in an airtight container in the refrigerator for up to a week. You can do this whole or in individual slices – it really just depends on how grab-and-go you want the eggs to be.
Reheating: To reheat the quiche, nuke it in the microwave or pop it in the oven until warmed through.
FAQ
What is the difference between a crustless quiche and a frittata?
The main difference between a crustless quiche and a frittata is the amount of dairy used. Quiche tends to have more of a tart-like texture, leading it to be more custardy. On the other hand, frittatas are more similar to an omelet in texture.
How do you keep a crustless quiche from getting soggy?
To prevent a crustless quiche from becoming soggy, you have to make sure it's baked all the way through. If there's any jiggle, that means there is uncooked egg that will cause the quiche to become soggy and flimsy in texture.
What is the difference between a crustless quiche and an omelet?
The difference between a crustless quiche and an omelet is the level of cream and milk used used. Omelets tend to have a little splash of milk, which quiche are made with several cups of milk and half and half.
Can you freeze a crustless quiche?
To freeze the crustless quiche, you can do it whole or in slices. To do so, wrap it tightly in plastic wrap and stow it away for up to a month. To reheat it, you can bake it from frozen or allow it to thaw in the fridge for a couple of hours and finish it with a short reheat in the oven.
More Tasty Egg Dishes
Recipe
This tasty crustless quiche recipe is about to become your new favorite breakfast item. Baked with cheese and milk and filled with your favorite toppings!
Ingredients
8

large eggs

3/4

cup

whole milk

1/4

cup

half and half

1

tsp

salt

1/3

tsp

black pepper

2/3

cup

grated cheese

cheddar, swiss, or mozzarella

1/3

cup

parmesan cheese
Instructions
Nutrition Facts
Crustless Quiche (Crazy Quick & Easy)
Amount Per Serving
Calories 184
Calories from Fat 108
% Daily Value*
Fat 12g18%
Cholesterol 239mg80%
Sodium 772mg32%
Potassium 167mg5%
Carbohydrates 4g1%
Protein 14g28%
Vitamin A 542IU11%
Vitamin C 0.1mg0%
Calcium 246mg25%
Iron 1mg6%
* Percent Daily Values are based on a 2000 calorie diet.