This easy broccoli quiche recipe is full of cheesy goodness and tender, baked broccoli florets. A no-brainer for weekday meal prep or lazy weekend brunches.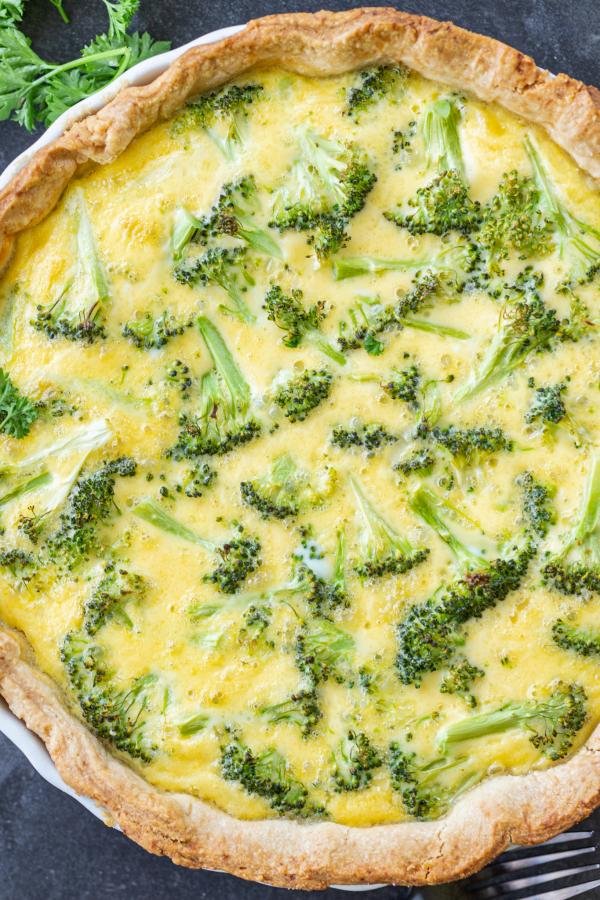 There's nothing like the smell of fresh quiche in the oven. If it's typically your go-to order when you're out for breakfast or brunch, it's due time you started to make it in the comfort of your own home. In this foolproof recipe for broccoli quiche, we'll show you everything you need to know to get perfectly fluffy eggs and a flakey crust each time.
Note: For this recipe, you'll need a pie crust. Snag one from the store (we love the one Trader Joe's carries and always have a couple in the freezer) or whip one up homemade using our recipe for flaky pie crust.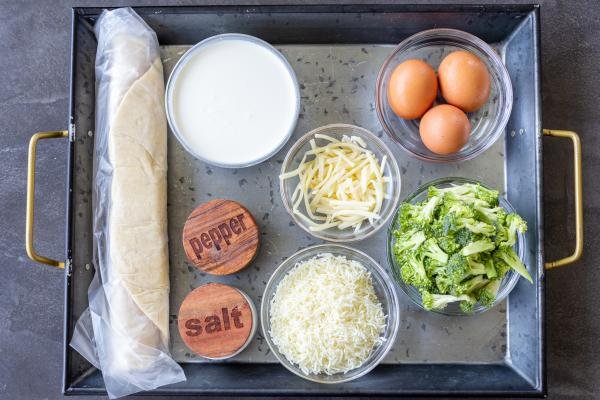 The Secret to Nailing a Perfect Quiche Each Time
The most important consideration to make when preparing quiche from scratch isn't the protein or other add-ins you're dreaming up, but it's nailing the proportion of eggs to heavy whipping cream. Getting this ratio right is what makes the quiche have that wonderful, custard-like fluffy filling. We typically use 1/3 cup of heavy cream for every egg. This guideline will help you if you are making several quiches at once or using a bigger or smaller pan than what we use in the recipe.
How to Prepare Broccoli Quiche from Scratch
After you get the egg to cream ratio on lock, the rest of the quiche-making process is centered around pre-baking your pie crust and adding in your favorite ingredients (in this case, broccoli and cheese).
Trim the Pie Crust: First, place pie crust into a pie pan and trim off the extra crust alongside the edges.
Pre-Bake the Pie Crust: Next, place parchment paper on top of the pie crust and weigh it down with peas, dried beans, or pie weights. Bake the crust at 375°F for 25-30 minutes or until it's golden brown.
Top with Add-Ins: Once the pie crust is pre-baked, fill it with broccoli and cheese.
Prepare the Egg Mixture: Then, in a separate bowl, whisk the eggs and heavy whipping cream together and season with salt and pepper.
Bake the Quiche: Lastly, pour the egg mixture into the quiche and bake it at 400°F for about 20-25 minutes. Slice and enjoy.
Our Favorite 9-inch Pie Plate: We love our Staub pie dish for making quiche. It's sturdy, has nice scalloped edges, and makes for such a nice presentation.
Tips for the Tastiest Broccoli Quiche
If you're a regular quiche-maker, these 5 pointers can follow you no matter what recipe you're using.
Watch the salt. Oftentimes the cheese you're using adds enough salty flavor all on its own. If you're sensitive to sodium or just watching your levels, feel free to leave it out completely.
Don't skip the crust pre-bake. To prevent the crust from turning soggy, the pre-bake is crucial. Don't skip this step or you'll risk the cardinal sin of quiche-making – a soggy bottomed crust.
Chop the veggies into equal-sized pieces. To ensure that the broccoli (or whatever veggie you use) cooks evenly, make sure to slice it into similar-sized pieces. This is especially important if you're tossing the broccoli in raw.
Sauté the broccoli first if you'd like. If you want to add more depth of flavor, sauté the broccoli in a bit of oil or butter before adding it to the quiche.
Swap out the cheeses as you please. Our favorite combination is mozzarella and gruyere, but feel free to use any two kinds of cheese you like best. Feta cheese, pepper jack, goat cheese, and cheddar cheese are some more great options.
Hot Tip: You'll know the quiche is fully-baked when the center no longer jiggles and is fully set.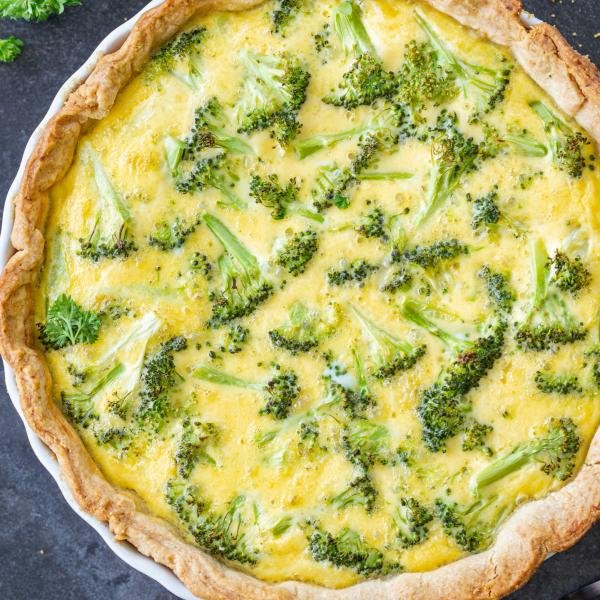 Serving Suggestions
If you're serving quiche for breakfast, pair it with new potatoes with bacon and herbs or 3-ingredient oven-roasted potatoes. If you're serving the quiche as part of a larger brunch spread, pair it with odds and ends like smoked salmon tea sandwiches, blueberry scones, potato mushroom breakfast, and sweet cheese blintzes. For lunch, pair a slice with a berry spinach salad.
Storing, Freezing & Reheating Guidelines
In general, quiche is a wonderful candidate for storing and freezing. Frozen and leftover quiche reheats so well and is great for meal prep or big parties.
Storing: To keep the quiche on hand for up to a week, store it in the fridge in an airtight container or wrapped tightly with plastic wrap. This will keep your crust from turning soggy and the eggs from drying out quickly.
Freezing: If you're prepping a couple of quiches to store in the freezer, bake them according to the recipe instructions and let them cool down completely. Wrap the quiche in plastic wrap and tuck it into a plastic storage bag for up to 3 months.
Reheating Tip: To reheat the quiche back to its crispy and flaky state, pop it in the oven at 350°F covered with aluminum foil for 10-15 mins or in the air fryer for a couple of minutes. If frozen, it will take 30-45 minutes in the oven.
FAQ
Is broccoli quiche healthy?
Aside from the buttery pie crust, broccoli quiche is pretty healthy for you. It's packed with wholesome ingredients and full of protein from the eggs.
Why is my broccoli quiche watery?
Your broccoli quiche likely turned out watery if it wasn't baked long enough or if you used frozen veggies that weren't completely thawed first. Since the egg mixture already has a high moisture content, you mustn't add frozen veggies to the mix or else it will turn soggy.
Should you sauté veggies before adding them to broccoli quiche?
Sautéing the veggies before adding them to the broccoli quiche is purely up to preference. You can do this if you prefer the texture or added smokiness, but it's also perfectly fine to add in the veggies from raw.
Why is my broccoli quiche not fluffy?
The main reason that your broccoli quiche likely didn't turn out fluffy is if you didn't get the correct proportion of eggs to milk or you over-baked the quiche. As a general rule of thumb, use about 1/3 cup of cream for each egg used and only bake the quiche until the center no longer jiggles.
Is heavy cream or milk better for broccoli quiche?
Heavy whipping cream is the best dairy you can use to make broccoli quiche. It makes the quiche so fluffy and custard-like. If you must, swap it out for full-fat milk instead.
More Tasty Egg Breakfast & Brunch Recipes
Recipe
This recipe for broccoli quiche is packed with gruyere, mozzarella, & speckles of tender broccoli. Simple, delicious, and great for big crowds or meal prep.
Ingredients
1 1/2

cups

broccoli

chopped

1

cup

mozzarella cheese

grated

1/4

cup

Gruyere cheese

grated

1

cup

heavy whipping cream

3

large eggs

1/2

tsp

salt

adjust to taste

1/3

tsp

ground black pepper

adjust to taste
Nutrition Facts
Broccoli Quiche Recipe (Foolproof Method)
Amount Per Serving
Calories 377
Calories from Fat 270
% Daily Value*
Fat 30g46%
Cholesterol 147mg49%
Sodium 511mg21%
Potassium 135mg4%
Carbohydrates 16g5%
Protein 12g24%
Vitamin A 1143IU23%
Vitamin C 2mg2%
Calcium 205mg21%
Iron 1mg6%
* Percent Daily Values are based on a 2000 calorie diet.