One-pot stewed buckwheat and beef is the epitome of comfort food. Bursting with tender beef and packed with veggies, it's a filling dish that requires minimal fuss.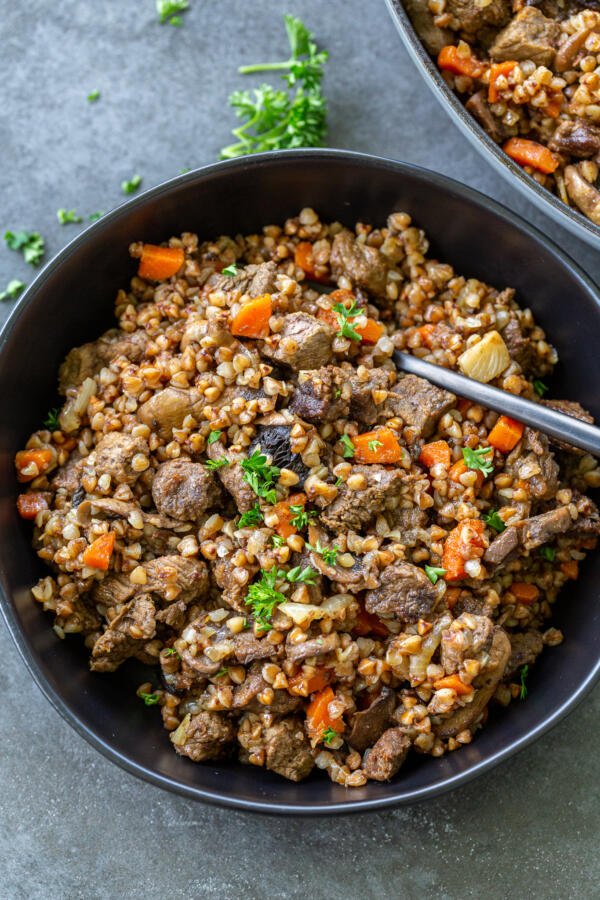 Stewed buckwheat with beef is a Ukrainian staple. A play on pilaf, it's an ultra-savory dish of buckwheat, veggies, and tender chucks of beef. Made in one-pot, it's an easy way to put a healthy dinner on the table on those days you don't feel like making an elaborate meal. Hello, easy kitchen clean up.
Growing up in Ukraine, my mom made buckwheat on a weekly basis. Throughout Eastern Europe, it's widely available, affordable, and packed with fiber and protein. Many Ukrainians can relate to taking it for granted when they were young, but growing to love buckwheat and craving it as adults.
Did you know? Buckwheat is 100% gluten-free. You can substitute it anywhere you would use rice, quinoa, or other grains for a more filling, protein-rich side dish.
How to Make Stewed Buckwheat and Beef
Making stewed buckwheat with beef is as simple as it gets. It's the ultimate "set it and forget it" kind of meal. Below, find a quick overview of the recipe.
Slice and brown beef: Slice your beef into 1-inch cubes. In a skillet with a lid (you could also use a deep Staub Pan), brown the beef on all sides. Remove from skillet and set aside.
Slice and sauté veggies: Sauté mushrooms. Set aside. Sauté carrots and onions in the same skillet. Return beef and mushrooms to the skillet. Season to taste with salt and pepper.
Cover and cook: Add buckwheat, Better than Bouillon Beef Base, and hot water to the skillet. Cover with lid and cook.
Never cooked with buckwheat before? Pick up an Eastern European brand if you can. They tend to be much more flavorful and come pre-toasted.
Tips for the Best Stewed Buckwheat and Beef
Below, find a collection of tips to help you make the absolute best stewed buckwheat and beef.
Choosing the best beef for your stew. Ribeye is the best cut your can use for stewed beef and buckwheat. But if you can't get your hands on it, any other fatty cut of beef will do. Other options include skirt steak, t-bone, New York strip, porterhouse, filet mignon, and flap steak.
Cut beef into similar-sized, small pieces. To yield the best bite and texture, make certain to slice your beef into similar sized cubes. The more uniform the pieces, the more even the cooking. There's nothing worse than biting into a rubbery, overcooked piece of beef that's hard to chew.
Cut beef against the grain. Cutting beef against the grain makes it much more tender and easier to chew. By cutting against the muscle grains instead of alongside them, you break up the tougher parts of the meat and get more uniform slices.
Use toasted buckwheat versus raw. Toasted buckwheat has a much nuttier, rich taste then raw. It also cooks much faster, isn't prone to getting mushy, and doesn't need to be soaked overnight.
Switch up the protein. If you're not a fan of beef, feel free to substitute chicken or pork. You could even go completely vegetarian by omitting the meat all together and using Better than Bouillon Vegetable Base.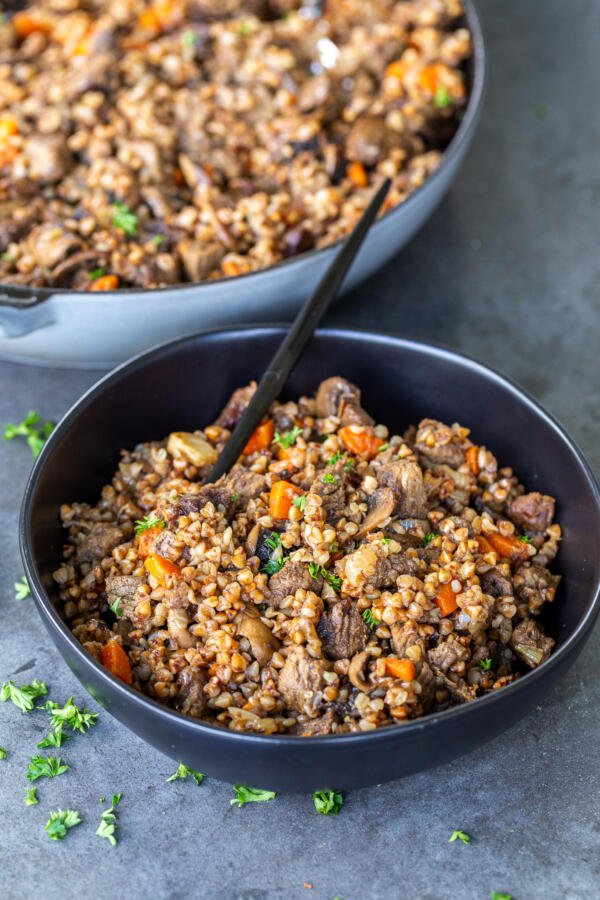 Serving Stewed Buckwheat and Beef
Stewed buckwheat and beef is a meal all on its own. However, if you want to round it out, pair it with a marinated beet salad. If you want to go the traditional route, whip up a batch of homemade pickles. Eastern Europeans love to cut the fatty, savory taste of beef with the acidity of pickled veggies. It's a flavor combination that never gets old…
Storing Stewed Buckwheat and Beef
Refrigerating: Store leftover stewed buckwheat and beef in an airtight container in the refrigerator. It should stay fresh for up to a week.
Freezing: Allow stewed buckwheat and beef to completely cool. Transfer it to a freezer safe bag and pop in the freezer. Frozen stewed buckwheat and beef will stay fresh for up to 3 months.
Reheating Tip: Reheat stewed buckwheat and beef in a skillet with a bit of butter. Pan fry it until it warms through. If it's a bit dry, rehydrate it with some broth.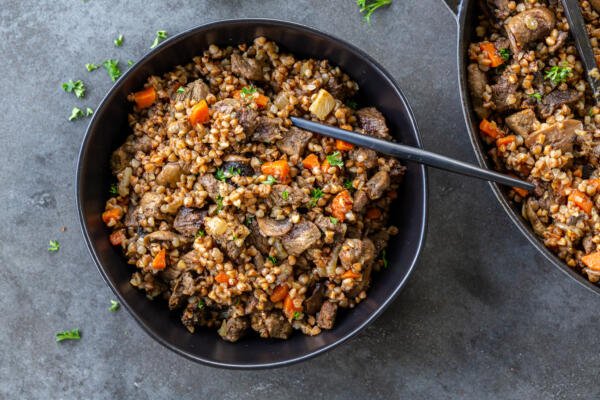 FAQ
How much water do I need to cook buckwheat?
You need one-and-a-half cups water for every cup of toasted buckwheat groats.
Do you need to soak toasted buckwheat?
You do not need to soak toasted buckwheat before cooking it. Unlike other dense grains, it cooks super fast and doesn't require any presoaking.
Is buckwheat healthier than rice?
Buckwheat is much healthier than white rice. Widely considered a "super food", it touts high levels of Vitamin B6, protein, and fiber.
Why is my buckwheat mushy?
Mushy buckwheat is often a result of too much water or the use of raw buckwheat. Always use toasted buckwheat and measuring cups to nail the water to grain ration (one-and-a-half cups of water for every cup of toasted buckwheat grouts).
More Buckwheat Recipes
Recipe
Bursting with tender beef and packed with veggies, this one-pot stewed buckwheat and beef is the epitome of comfort food.
Ingredients
2

lbs

beef

1

lbs

mushrooms

sliced

1

onion

chopped

2

carrots

half rings

1

tbsp

salt

to taste

1

tsp

ground black pepper

2

tbsp

oil

for frying

1

cup

buckwheat

1

tbsp

Better Than Bouillon Beef Broth Base

1 1/2

cup

hot water
Nutrition Facts
Stewed Buckwheat and Beef
Amount Per Serving
Calories 278
Calories from Fat 162
% Daily Value*
Fat 18g28%
Cholesterol 54mg18%
Sodium 643mg27%
Potassium 438mg13%
Carbohydrates 13g4%
Protein 16g32%
Vitamin A 1700IU34%
Vitamin C 2mg2%
Calcium 25mg3%
Iron 2mg11%
* Percent Daily Values are based on a 2000 calorie diet.