Consider this mushroom sandwich a grownup version of a classic grilled cheese sandwich. Stuffed with sautéed mushrooms and onions and ooey gooey goodness!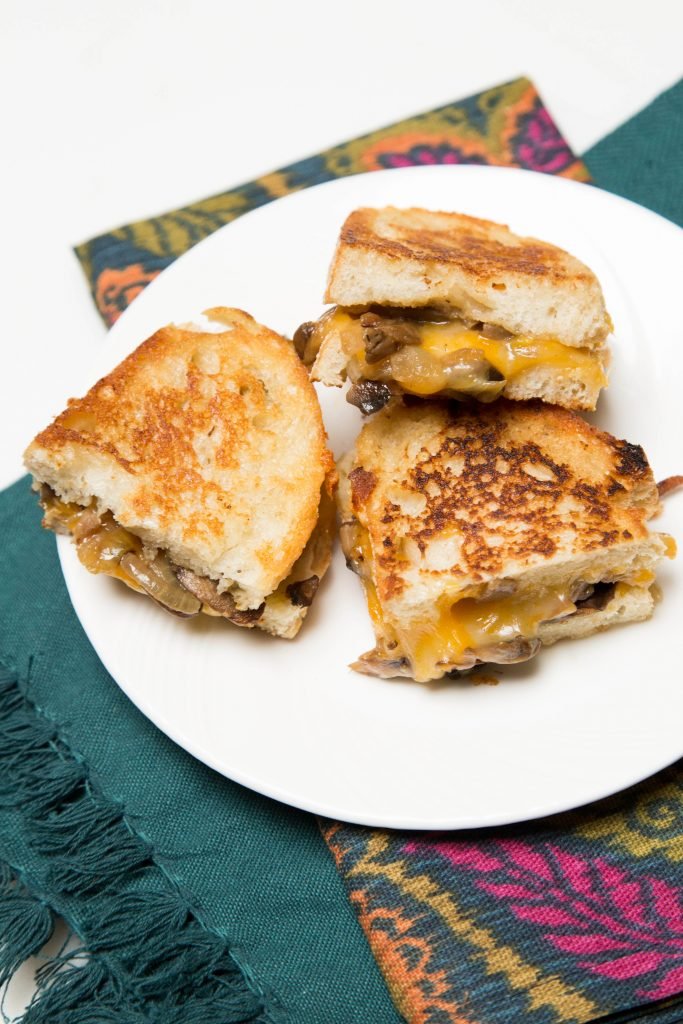 Okay, so this sandwich is a little bit more mature than typical grilled cheese sandwiches. That's a fact. But at the end of the day, kids love it too and it's a wonderful way to sneak a serving of veggies into their diets. In this recipe, you'll learn all you need to know to get the perfect grill and a couple of fun variations to play around with because, trust me, you're going to return to this sandwich time and time again.
Preparing a Quick & Cheesy Mushroom Sandwich
This simple mushroom sandwich requires under 10 ingredients and only one pan to make.
Sauté the Veggies: First, dice the mushrooms and sauté them in a pan with a bit of olive oil. Next, slice the onions into rings and sauté them until golden brown. Season the mushroom mixture with a little salt to taste and set it aside. Optionally, add in a couple cracks of black pepper too.
Assemble the Sandwiches: Spoon the sautéed veggies slice of bread onto a slice of bread, followed by a handful of cheese. Top with another slice of bread.
Grill the Sandwiches: Next, preheat a skillet over medium heat with butter. Place the sandwiches in the skillet and turn the heat low. Once one side browns, flip it over and grill the other side. Enjoy!
Tips for a Diner-Worthy Mushroom Sandwich
A couple quick tips will help you make the dreamiest cheesy mushroom sandwich.
Find your perfect cheese combination. Play around with different cheeses until you find your favorite combo. Gruyere, parmesan, cheddar, swiss, and mozzarella are all great options.
Grill the sandwich on low. To prevent the bread from cooking faster than the cheese (and even worse – burning!), cook the sandwich on low heat until golden brown on both sides.
Use the "lid trick" to help the cheese melt faster. If the cheese is being stubborn and doesn't want to melt, pop the lid on top of the skillet to create a steaming effect and speed up the process.
Love grill marks? Use a grill pan on your stovetop if you want those perfect grill marks.
Different Variations
This sandwich can be tweaked and altered to fit your specific mood. Here are a couple of fun variations to try out…
Summertime Tomato: Add in 1-2 thick slices of tomato. Colorful heirlooms work best!
California Style: Add in some sliced avocado and a couple of slices of crispy air fryer bacon. If you don't have an air fryer, check out this guide on how to make perfect baked bacon (less mess and just as much crisp).
Garlic Lover: Roast a head of garlic and spread a clove of the inside of each slice of bread.
What to Serve Alongside a Cheesy Mushroom Sandwich
It probably goes without saying, but a big bowl of tomato basil soup is always a welcome addition to a cheesy grilled sandwich. If you're serving the sandwich for kiddos, pair it with some air fryer french fries or a batch of crispy air fryer potato chips. You can also make a batch and slice them up in small bites for an appetizer tray.
How to Reheat a Leftover Mushroom Sando
While this mushroom sando is best served straight out of the skillet, you can bring your leftovers back to life. To do so, pop the sandwich back into the skillet with a little butter on super low heat until warmed through. Alternatively, pop the sandwich in the air fryer with a couple of toothpicks securing it together.
FAQ
What kind of bread should you use?
Sourdough or white bread works best. However, you can use a whole grain bread if you want to be extra healthy.
Do you need to add a little sugar to caramelized onions?
You can, but it's not completely necessary. It will add a slight sweetness to the veggies and also create that signature caramelized texture. If you do add it, a small sprinkle is more than enough.
What kind of mushrooms should you use?
Cremini mushrooms or white button mushrooms works best.
Can you make these sandwiches in the oven?
You can, but the outside won't get as crispy. If you do, bake them in a preheated oven set to 350°F with the outsides of the bread buttered. Bake for about 5-6 minutes on each side, or until the bread is golden brown and the cheese is melted.
Other Sandwiches to Try:
Recipe
This cheesy mushroom sandwich will take you back to your childhood, while still keeping it grown-up with all the veggies. It's crazy easy and so good!
Nutrition Facts
Mushroom and Cheese Sandwich Recipe
Amount Per Serving
Calories 257
Calories from Fat 189
% Daily Value*
Fat 21g32%
Cholesterol 50mg17%
Sodium 330mg14%
Potassium 306mg9%
Carbohydrates 7g2%
Protein 11g22%
Vitamin A 486IU10%
Vitamin C 3mg4%
Calcium 204mg20%
Iron 1mg6%
* Percent Daily Values are based on a 2000 calorie diet.