This birthday cake roll is made with moist sponge cake and slathered in cream cheese frosting. Swap in different decorations for different occasions!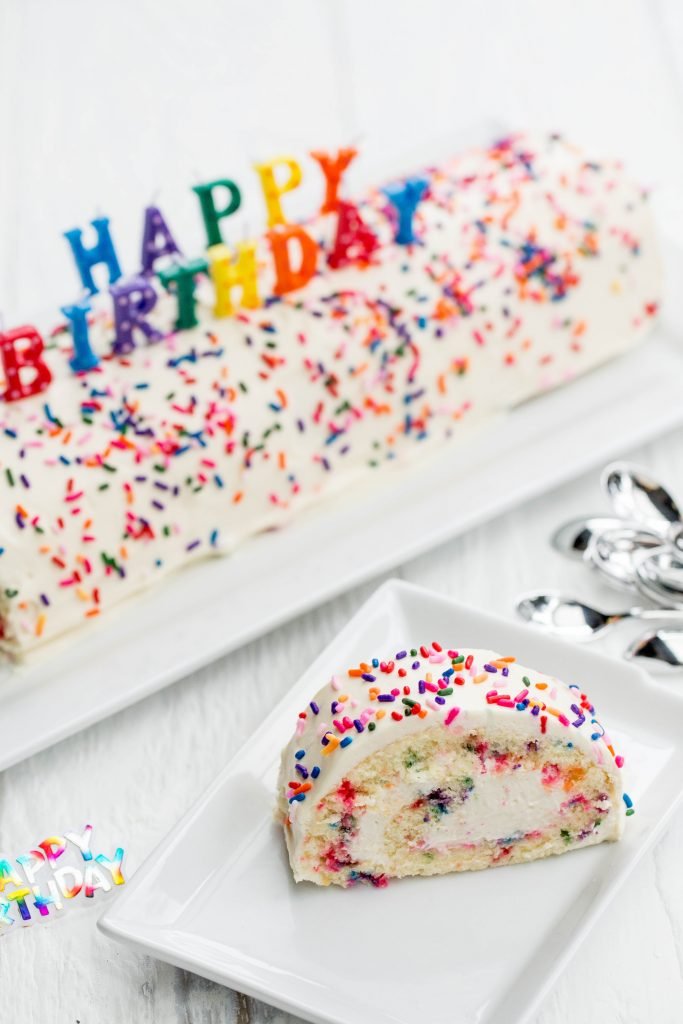 This birthday cake roll is the perfect way to celebrate another year on this planet. Like clockwork, at least one of my boys requests it for their special day every year. But to be honest, I lean on this cake recipe for many more occasions than just birthdays. From Christmas to Easter to potlucks, you can easily tweak the decorations and make the cake suitable for just about any celebration.
Note: If you're nervous about making a cake roll for the first time, don't fret. It's much easier than you think and there's absolutely no special cake roll pan required!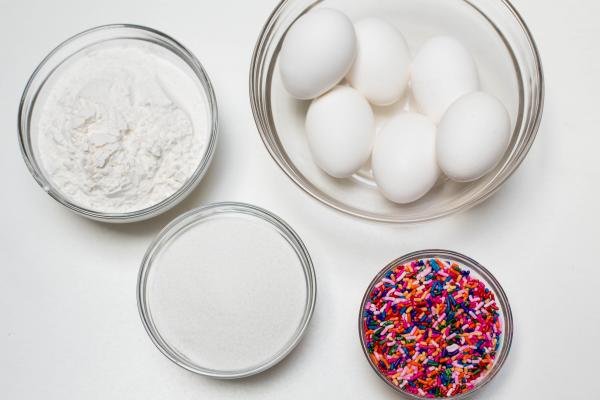 The Difference Between a Swiss Cake Roll and a Roulade
Although both cakes are rolled into a spiral shape, there are a couple of key differences between a Swiss cake roll and a roulade. By definition, Swiss cake rolls are always made with chocolate sponge cake and simple cake cream. On the other hand, roulades are made with a cake batter that incorporates meringue, or a beaten mixture of eggs and sugar. They can also come in all different kinds of styles and flavors.
Preparing a Perfect Birthday Cake Roll
Preparing a perfect birthday cake roll requires a bit of technique and a special trick to get that signature spiral shape. Below, find a quick overview of the process before you get to baking.
Make the Sponge Cake: Using a stand mixer or hand mixer, beat the eggs and sugar in a large bowl over medium speed until soft peaks form. With a spatula, fold the flour into the egg mixture in thirds, followed by the sprinkles. Spread the batter onto a baking sheet and bake it in the oven at 350°F for about 13-15 minutes.
Roll the Cake: Take the cake out of the oven and place a clean kitchen towel on top of it. Starting from either narrow end, carefully roll the cake up into a spiral shape. Set it aside to cool at room temperature.
Make the Cake Cream: Using an electric mixer, beat the cold heavy whipping cream at a high speed until you get soft peaks. Set aside. Next, beat the sweetened condensed milk, cream cheese, and vanilla extract together. Fold the cream cheese mixture into the whipped cream.
Assemble the Cake: Unravel the cake roll and remove the kitchen towel and peel off the parchment paper. Spread a generous layer of cream on the inside of the cake. Carefully roll it back up and place it on a serving platter. Using the remaining cake cream, frost the outside of the cake. Decorate it as you wish.
Refrigerate the Cake Roll: Refrigerate the cake roll for at least 3 hours before serving. Slice and enjoy!
Must-Know Tips for Making a Birthday Cake Roll
Here find all of our must-know tips to help you make the best perfect birthday cake roll.
Use extra cold heavy whipping cream. To get the fluffiest whipped cream, make sure your heavy cream is extra cold. Why? Cold dairy whips and emulsifies easier. If you have to, stick it in the freezer for 10 minutes before using it.
Allow the cream cheese to soften at room temperature. Softened cream cheese will be 10 times easier to incorporate into your cake cream. Save yourself the hassle and pull it out of the fridge 30 minutes before you start baking.
Allow the cake to cool completely before you attempt to unravel it. If you try to unravel the cake too early, you run a high risk of cracking the dough. Allow it to cool completely at room temperature to sidestep this common mistake.
Follow all the steps and the cake roll still cracked? Don't panic! This recipe yields so much frosting, you'll be able to hide any small cracks or breaks.
Decorating Your Cake Roll for Any Occassion
While this recipe is called a birthday cake roll, it can truly be tweaked and served as dessert for just about any special occasion. Below, find a handful of ideas to keep you inspired all year long.
Fall – Swap in orange and brown sprinkles and mix orange and brown food coloring into the cake cream
Christmas – Use red and green sprinkles or keep the cake snow white and add glossy white sprinkles, edible snowflakes, and a dusting of powdered sugar
Easter – Decorate the cake with pastel sprinkles and tiny chocolate covered eggs
Valentine's Day – Add fresh strawberries into the cake cream and decorate the top with mini chocolate chips and a dusting of cocoa powder
Unicorn – Go crazy with rainbow sprinkles and die the cake cream pink (perfect for a little girl's birthday!)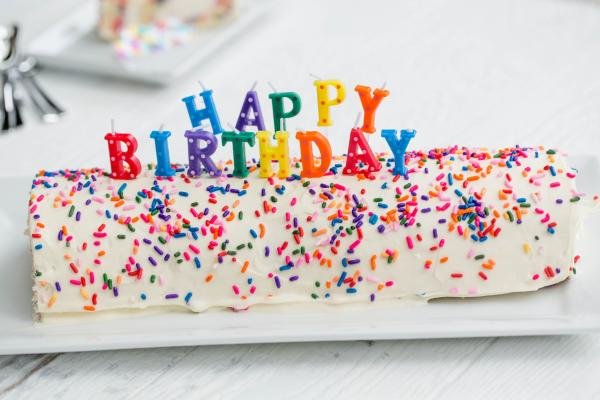 The Best Ways to Store a Birthday Cake Roll
Whether you have a couple of slices to spare, are prepping the cake a couple of days in advance, or freezing it, find all the best storage tips below.
Refrigerator: To keep a couple of slices or an entire birthday cake roll fresh, store it in an airtight container to prevent it from turning stale and absorbing any lingering smells in your fridge. If you have one, use an airtight cake roll container to prevent it from getting damaged.
Freezer: If you'd like to freeze the birthday cake roll for up to a month, assemble it on a baking sheet lined with parchment paper. Next, pop the entire baking sheet in the fridge uncovered. Once the cake is completely frozen, wrap it tightly in plastic wrap. To thaw, place it in the fridge overnight and decorate it as you wish.
FAQ
How do bakeries make their cake rolls so moist?
Bakeries keep their cake rolls super moist by ensuring they are refrigerated. If they are left at room temperature for too long, they run the risk of drying out.
Should you roll the cake up when it's hot or cold?
You should always roll the cake up while it's still hot and fresh out of the oven. It's much more malleable while it's still warm, ensuring that the signature spiral shape sticks as it cools down at room temperature.
How do you keep the cake from sticking to the baking sheet?
Keep the cake from sticking to the baking sheet by lining the baking sheet with parchment paper.
What happens if you overmix the cake batter?
If you overmix the sponge cake batter, you run the risk of it turning out flat and dense. To avoid this, only mix the flour in just until it's fully incorporated.
Do you need a jelly roll pan for this recipe?
There's no need to invest in a jelly roll pan to make this recipe. By using the kitchen towel trick, you'll get a perfect spiral without having to add another pan to your cupboard.
Other Delicious Cake Rolls
Recipe
This birthday cake roll is festive and tasty. Made with sponge cake and cream cheese frosting, it can be easily tweaked for any occasion!
Ingredients
Birthday Cake Cream Ingredients
2

cup

heavy whipping cream

extra cold

10

oz

sweetened condensed milk

8

oz

cream cheese

softened

2

tsp

vanilla extract
Nutrition Facts
Easy Birthday Cake Roulade Recipe
Amount Per Serving
Calories 412
Calories from Fat 225
% Daily Value*
Fat 25g38%
Cholesterol 154mg51%
Sodium 132mg6%
Potassium 193mg6%
Carbohydrates 40g13%
Protein 8g16%
Vitamin A 1019IU20%
Vitamin C 1mg1%
Calcium 126mg13%
Iron 1mg6%
* Percent Daily Values are based on a 2000 calorie diet.