This easy ribeye steak in the oven is perfect for a large group. All you have to do is sear the steaks on the stovetop & finish them off with a broil!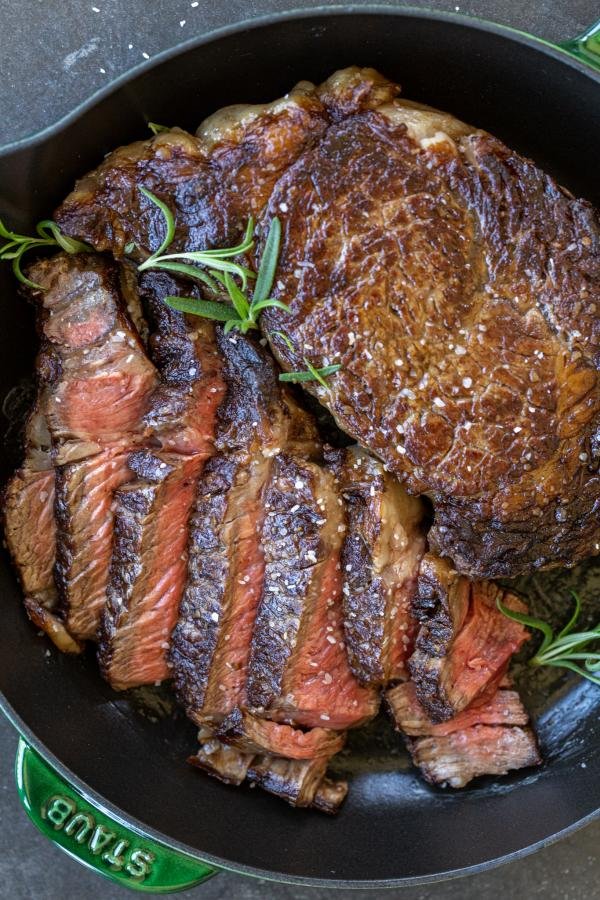 There's nothing like a juicy ribeye steak. When it comes to tenderness, no other cut provides the same quality-to-cost ratio. While it can be a touch pricey, it's always worth it for the perfect marbling and butter-like texture. In this recipe, you'll learn everything you need to know to make ribeye steak in the oven like a pro.
Note: If ribeye steak isn't your thing, you can use this same technique for different cuts of steak like filet mignon, flank, t-bone, or top sirloin.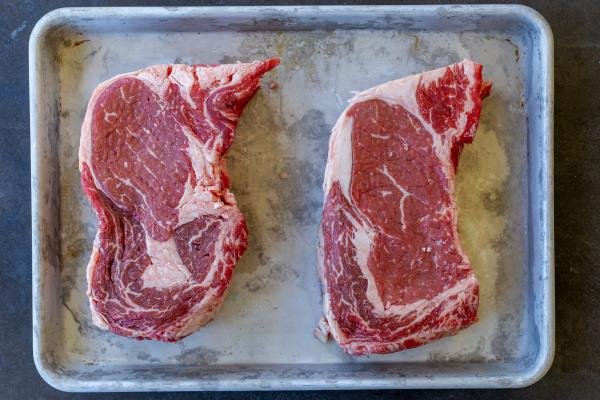 How to Prepare Ribeye Steak in the Oven
Preparing this simple ribeye steak in the oven requires a quick sear on the stovetop and a finish under a broil.
Prepare the Oven: Turn your oven to high broil (500°F) and place a cast-iron skillet inside for at least 20 minutes.
Season the Steak: Pat the ribeye steaks dry and season them generously on all sides with salt and coat them with olive oil.
Sear the Steaks: Move your skillet from the oven to a stovetop, turn it to high, and brown the steaks on all sides for about a minute.
Broil the Steaks: Move the skillet with the steak back to the oven and broil for about 2 minutes. Flip the steaks over with tongs and broil them for 2 minutes on the other side.
Allow the Ribeye to Rest: Remove ribeye from the pan and let the cooked steak rest for at least 7 minutes before cutting into it. Bon appetit!
5 Tips for a Perfect Ribeye Steak in the Oven
To get the most out of your ribeye steak, follow these 5 simple pointers.
Bring the steak to room temperature first. To promote even cooking, remove the steak from the fridge for about 20 minutes before searing it. This will prevent you from shocking an ultra-cold steak in the high heat of the oven.
Don't overcomplicate the seasoning. Kosher salt is the best and only seasoning you need for good flavor. Ribeye has so much natural flavor itself and doesn't need to be tampered with too much.
Use a solid cast-iron skillet. Our favorite cast-iron pan for cooking steak is this one. It's so affordable and works amazingly. If you are looking for something fancier, I would suggest going with a cast-iron skillet from Staub.
Adjust the cooking time as needed. Depending on the thickness of the ribeye, you may need to cook it for less or more.
Give the steak time to rest. Giving your steak time to rest is a must. Allow it to sit for at least 7-10 minutes before slicing into it to lock in the juices. If you skip the rest, your steak will surely turn out dry.
Hot Tip: Finish the steaks with homemade garlic butter. Combine softened butter with black pepper, sea salt, roasted garlic, and fresh parsley, and slather onto the steak after it comes out of the oven.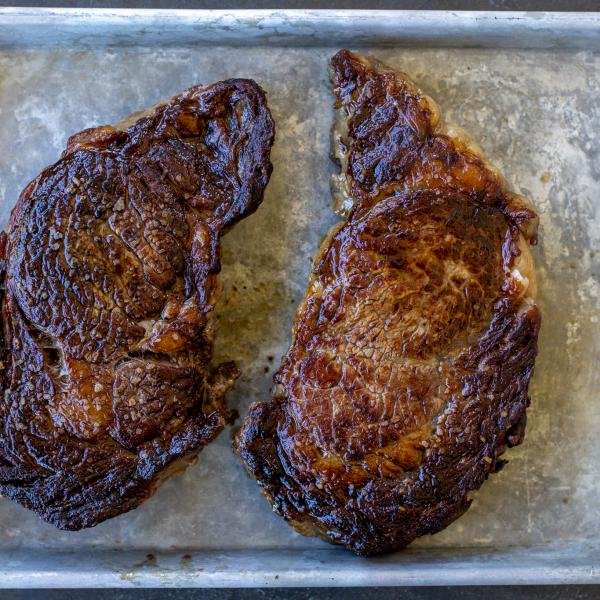 Doneness & Cooking Times for Ribeye Steak in the Oven
Everyone has a preference for how they like their steak. Below, find the preferred doneness levels and coordinating broil time to help you get the perfect bite.
Rare (120°F) – Broil the steak for 2 minutes per side
Medium Rare (130°F) – Broil the steak for 3 minutes per side
Medium (145°F) – Broil the steak for 4 minutes per side
Medium Well (150°F) – Broil the steak for 5 minutes per side
Well Done (155°F) – Broil the steak for 6 minutes per side
Instant Read Thermometer: To gauge internal temperature and take the guesswork out of nailing your preferred level of doneness, invest in an instant-read meat thermometer.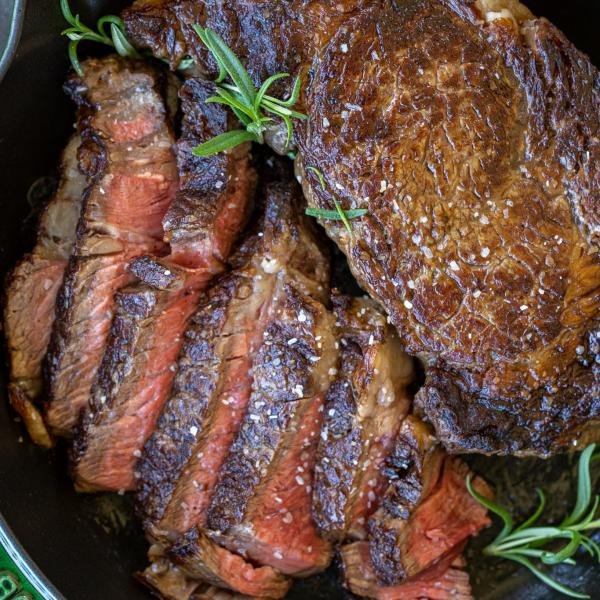 Serving Suggestions
There are a million and one different ways you can serve your ribeye steak. If you like it on top of salads, slice it into thin strips and serve it on a spinach berry salad or a homemade caesar salad. For a more well-rounded meal, pair it with hearty side dishes like creamy mashed potatoes or scalloped potatoes and air fryer asparagus.
Storing & Reheating Leftovers
To keep your leftover steak on hand for up to a week, store it in an airtight container in the fridge. This will lock in the juices and prevent the steak from drying out in the cold temperature. To reheat the steak, wrap it in aluminum foil or place it in a baking dish covered with aluminum foil and reheat it in the oven at 350°F until warmed through.
FAQ
How long does it take to cook ribeye steak in the oven?
After a quick sear on the stovetop, it only takes a couple of minutes per side to cook a ribeye steak in the oven. Depending on the thickness and the desired doneness you prefer, the cooking time will alter in either direction.
Should you wrap your ribeye steak in foil in the oven?
No, you should not wrap your ribeye steak in foil before popping it in the oven. After searing it on the stovetop, simply throw the steaks into the oven uncovered and cook them to your preferred level of doneness.
Can you cook a ribeye steak in the oven without searing it?
You must cook a ribeye steak in the oven after searing it first. This is what creates that perfect crust you would get from cooking it on the stovetop or grill. Consider the oven the last and final step to cook it all the way through.
Do you cook ribeye steak in the oven covered or uncovered?
You should never cook a ribeye steak in the oven covered unless you are reheating it. This will prevent the heat of the oven from reaching the steak and cooking it through in a timely manner.
More Tasty Steak Recipes to Try
Recipe
Want to make juicy steaks for a group? This recipe for easy ribeye steak in the oven is great for hosting or whipping up a fast family dinner. So juicy!
Ingredients
2

lbs

ribeye steak

3

tbsp

oil

olive or avocado

2

tbsp

kosher salt

adjust to taste
Nutrition Facts
The Perfect Ribeye Steak in Oven
Amount Per Serving
Calories 565
Calories from Fat 387
% Daily Value*
Fat 43g66%
Cholesterol 138mg46%
Sodium 3606mg150%
Potassium 609mg17%
Protein 46g92%
Vitamin A 34IU1%
Calcium 18mg2%
Iron 4mg22%
* Percent Daily Values are based on a 2000 calorie diet.