This cilantro lime rice goes toe-to-toe with Chipotle's. Made with basmati rice, fresh limes, and cilantro, it's a refreshing spin on your typical bowl of white rice and your new favorite side dish.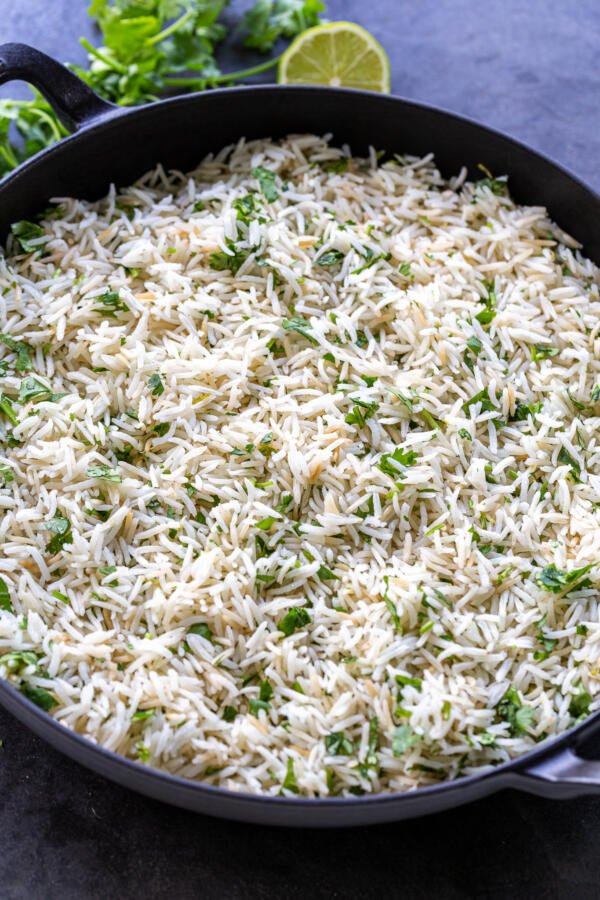 This cilantro lime rice recipe was inspired by none other than Chipotle. Whether we're on a road trip or just looking to order in, this fast-service Mexican food staple is always a dependable option for a quick meal. I, for one, am a huge fan of their burrito bowls. I can't exactly remember the first time I tried their cilantro lime rice, but I can remember always being obsessed with it…
Our copycat recipe is made with aromatic basmati rice, lime juice, lime zest, and fresh cilantro. It's the perfect complement to Mexican or Indian food, but can also be served alongside most grilled meats. Even if you've never tried Chipotle's beloved version, you're going to fall in love with the fresh and tangy goodness.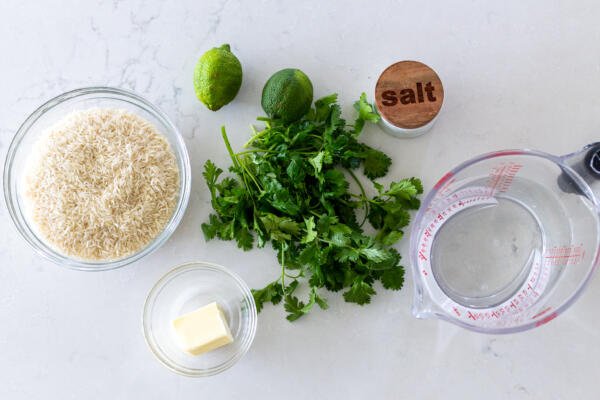 What is Cilantro Lime Rice?
Cilantro lime rice is an elevated long-grain rice dish made with lime and cilantro. Although Chipotle made this dish world-famous, it has always been a huge part of authentic Mexican and Tex Mex cuisine. Below, find an overview of the flavor, texture, and cooking time.
Flavor: The flavor of cilantro lime rice is a perfect balance of toasty basmati rice, tangy lime, and earthy cilantro. Although unique, it is mild enough to be served with a variety of different entrees.
Texture: The ideal texture of cilantro lime rice is fluffy with a nice bite. You'll want to avoid overcooking the basmati so the dish doesn't turn to mush.
Time: This cilantro lime rice only takes 35 minutes from prep to table.
How to Make Cilantro Lime Rice
To make cilantro lime rice you only need a deep skillet and a handful of wholesome ingredients. Below, find a brief rundown of the recipe.
Toast the Rice: Preheat a deep cast iron pan or skillet over medium-high heat with butter. Toast the basmati rice until it turns golden brown.
Add Water, Lime Zest, and Salt: Add water, lime zest, and salt to the pan and stir to combine.
Bring the Rice to a Boil: Bring the cilantro lime rice to a boil and then turn the heat down to low. Cover and cook for 15 minutes.
Fluff and Serve: Using a fork, fluff the rice. Squeeze fresh lime juice on top and gently mix in the fresh cilantro. Serve and enjoy!
How do I clean rice properly? Before you dive into cooking, you'll want to clean your rice. Place it in a fine, mesh colander and run cool water over it in the sink. Use a swirling motion with your hand while rinsing the rice to free it from excess starch. Drain it periodically, repeating the process until the water turns from cloudy to clear.
Tips for the Best Cilantro Lime Rice
Below, find a couple of tips and tricks to get the best cilantro lime rice on the planet. Sorry, Chipotle!
Add lime juice and cilantro right before serving. For the freshest flavor, add lime juice and cilantro only right before you plan to serve the rice. This will also prevent the cilantro from wilting.
Always thoroughly rinse your rice. Packaged rice tends to come with a good amount of surface starch. It's important you rinse it thoroughly to prevent it from turning gummy during the cooking process. A nice rinse also allows the individual grains to cook better, resulting in less sticking.
Use fresh cilantro, not dried. Nothing compares to fresh cilantro in this dish. Dried just doesn't cut it.
Don't skip the toasting step. Toasting your basmati release the aromatics of the rice and also helps the individual grains cook better. You won't regret the smell that is about to fill your kitchen, either!
Making Cilantro Lime Rice with a Rice Cooker or Instant Pot
If you want to make your cilantro lime rice with a rice cooker or Instant Pot, no problem! Below, find a set of instructions for both.
Rice Cooker: Toast basmati rice in a skillet. Add rice, lime zest, water, and salt to the rice cooker and turn it on. Once finished, allow the rice to sit for 10 minutes with the lid off. Fluff it with a fork and add fresh lime juice and cilantro.
Instant Pot: Set the Instant Pot to the sauté setting. Toast the rice. Once golden brown, add the water, lime zest, and salt. Seal the Instant Pot and turn on the rice setting. Once finished, quick release the rice and allow it to rest uncovered for 10 minutes. Fluff with a fork and squeeze on fresh lime and gently fold in the cilantro.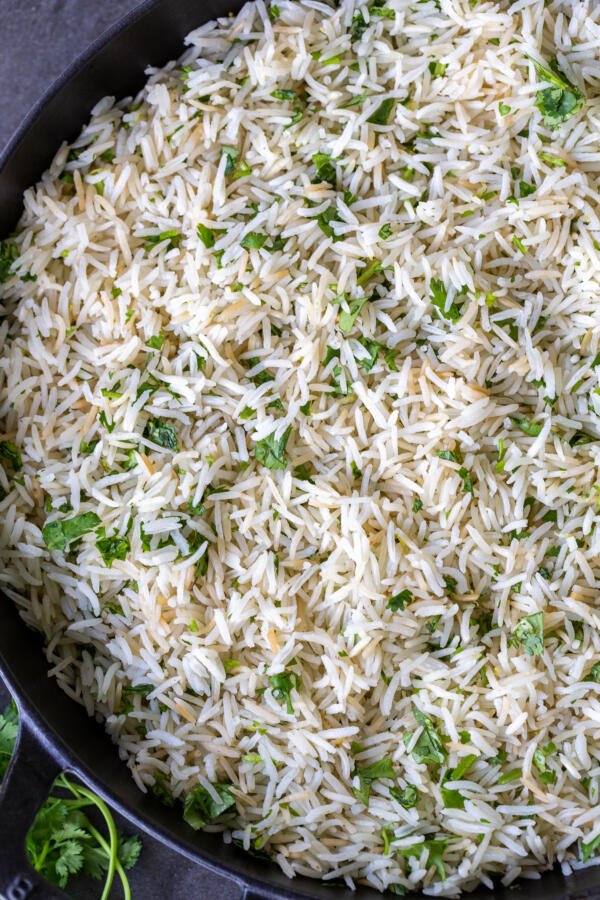 Serving Cilantro Lime Rice
Cilantro lime rice is can be served with just about any Mexican or Indian cuisine. Pair it with some carne asada or Mexican Crock Pot chicken, stuff it into a burrito, or pop it on top of a tostada salad. If you're firing up the grill, whip up a batch and serve it alongside chicken or lamb kabobs.
Storing Cilantro Lime Rice
Refrigerating: Store leftover cilantro rice in an airtight container in the refrigerator. It will keep fresh for up to a week.
Freezing: Freeze leftover cilantro rice by spreading it in a single layer on a baking sheet lined with parchment paper. Pop the baking sheet into the freezer. Once the rice is frozen, transfer it to a freezer-safe plastic bag. It will keep fresh for up to three months.
Reheating Tip: There are two ways to reheat your rice: in a skillet or in the microwave. If you're using a skillet, add a bit of butter and water to rehydrate the grains. Sauté until warmed through. If you're using the microwave, place the rice in a bowl with a couple of tablespoons of water. Cover it with a wet paper towel and microwave in 30-second intervals until warmed through, stirring between each round.
FAQ
What happens if I don't rinse the rice?
If you don't rinse the rice, it will turn out mushy and the taste will be a bit muted.
What herb can I substitute for cilantro?
You can substitute parsley or basil for cilantro.
Can I use the cilantro stems?
You can absolutely use cilantro stems! They pack a ton of flavor.
More Mexican Inspired Recipes
Recipe
Made with basmati rice, fresh limes, and cilantro, it's a refreshing spin on your typical bowl of white rice and your new favorite side dish.
Ingredients
3

tbsp

unsalted butter

2

cups

basmati rice

3

cups

water

1

tsp

salt

1

tbsp

lime zest

3

tbsp

lime juice

1

cup

fresh cilantro

chopped
Nutrition Facts
Cilantro Lime Rice (Chipotle's Copycat)
Amount Per Serving
Calories 209
Calories from Fat 45
% Daily Value*
Fat 5g8%
Cholesterol 11mg4%
Sodium 299mg12%
Potassium 72mg2%
Carbohydrates 38g13%
Protein 3g6%
Vitamin A 269IU5%
Vitamin C 2mg2%
Calcium 19mg2%
Iron 1mg6%
* Percent Daily Values are based on a 2000 calorie diet.