Juicy chicken thighs, colorful veggies, and a sweet ginger sauce — this stir fry has it all. It's an easy, quick dinner with SO much flavor… is your mouth watering yet?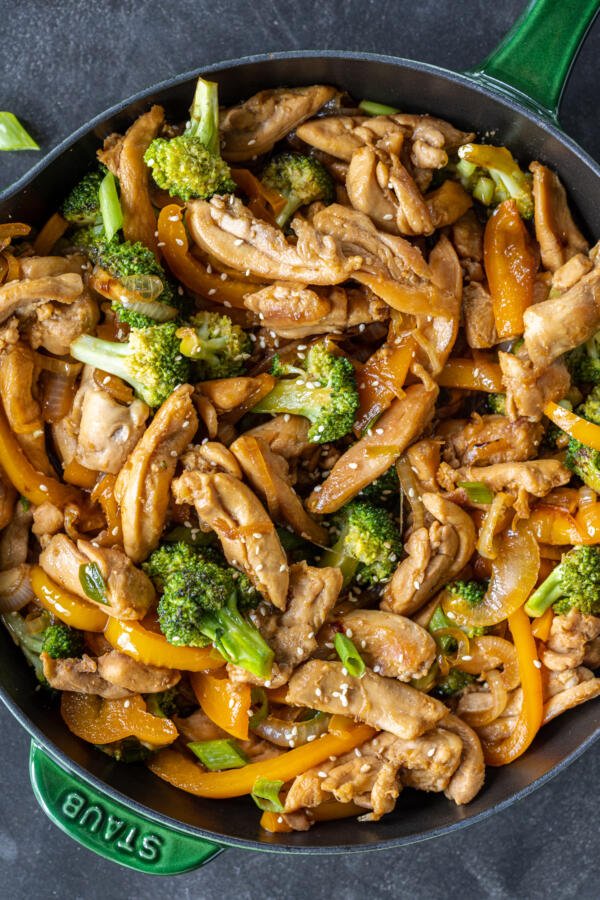 What Is a Stir Fry?
A stir fry is an assortment of vegetables and proteins cooked using the Chinese technique of stir frying. The ingredients are cut into small pieces, then fried in a small amount of oil over high heat while constantly being stirred. Stir frying is usually done in a wok, a deep pan with sloped sides.
Chicken Stir Fry Video
How to Make Chicken Stir Fry
This chicken stir fry comes together in 30 short minutes — preheat your wok, make the sauce, and cook the veggies and chicken. Let's get stir frying!
Preheat the wok: Preheat a wok or large deep-frying pan over medium-high heat.
Make the sauce: Mix together the soy sauce, sesame oil, brown sugar, corn starch and ginger.
Cut up the veggies and chicken: Slice the broccoli and bell pepper into equal pieces. Slice the onion into half rings, and chop the green onion. Cut the chicken thighs into bite-sized chunks.
Stir fry the veggies and chicken: Add the oil to the pan, then cook all the veggies (except green onions) until tender. Remove the veggies and set aside. Add the chicken to the same pan and stir fry until it is cooked through and golden.
Combine everything together: Add the cooked veggies, green onions, and sauce to the pan with the chicken. Toss together and cook for 2-4 minutes or until the sauce thickens.
Serve the stir fry: Serve with your favorite sides and enjoy!
Hot tip: Make a double portion of the sauce if you prefer an extra-saucy meal!
Upgrade Your Chicken Stir Fry
One of the best things about a stir fry is the broad range of ingredient options. Experiment with your favorites to take your stir fry to the next level!
Chicken: We love boneless skinless chicken thighs because they have a rich, fatty flavor. If you're looking for a leaner cut of meat, use chicken breasts.
Veggies: Add carrots, mushrooms, asparagus, green beans, zucchini, baby corn, or snow peas for even more flavor and nutritional goodness.
Noodles: For a chewy addition, try cooked soba noodles, rice noodles, or lo mein noodles in your stir fry.
Nuts/Seeds: Mix in cashews, peanuts, or water chestnuts when stir frying the veggies, then garnish with sesame seeds for a toasty crunch.
Sauce: Opt for low sodium soy sauce or tamari if you prefer less salt. For added sweetness, stir in a tablespoon of honey to the sauce. Sneak in red pepper flakes or chili oil for a spicy kick.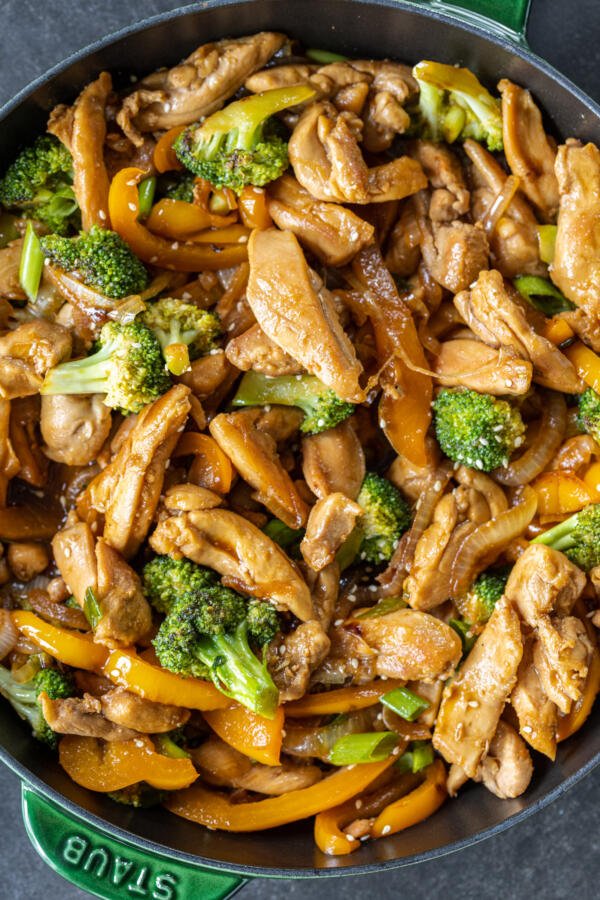 Secrets to the Best Stir Fry
Have you ever wondered how to make a restaurant-quality stir fry? We've compiled a list of all our favorite chef's tips to help you create an unforgettable chicken stir fry.
Season your wok. A seasoned pan adds a unique depth of flavor to food and prevents the ingredients from sticking.
Use the "mise en place" technique. "Mise en place" is a French term that means "putting in place." Prepare all of your ingredients in advance and keep them close to the stove. Stir frying is a very quick process, so it's important to have everything ready to go.
Cut your ingredients evenly. Equally sized pieces of veggies and meat cook at the same rate. It may be tedious, but cutting your ingredients with care and consistency prevents crunchy veggies and undercooked meat.
Add cold oil to the preheated wok. Avoid preheating the oil, as this breaks down its compounds and gives the stir fry an unpleasant burnt flavor.
Stir fry over high heat. The short burst of intense heat brings out the flavor of the ingredients without compromising their texture. The veggies and meat get a caramelized sear, yet they stay juicy.
Keep tossing and stirring. The high cooking temperature of stir fry means that you run the risk of burning ingredients. Use a spatula to move the ingredients around frequently so they cook evenly.
Ways To Serve
Chicken stir fry is the perfect dinner for those lazy weeknights. Serve it with cool and refreshing Asian cucumber salad, smoked salmon spring rolls, or sautéed asparagus for complementary side options. Are you ready to add some carbs to the table? Chicken stir fry tastes amazing with rice, gyoza, and spicy chili noodles.
Storing & Reheating
Mmm… you just finished your plate of the juiciest chicken stir fry, and you're already dreaming about the next time you'll get to eat it. Follow these instructions for proper storage and reheating of your leftovers.
Refrigerator: To store for up to three days, transfer the leftover chicken stir fry to an airtight container and refrigerate.
Freezer: To store for up to two months, freeze the leftover stir fry in a freezer-safe container or bag.
Reheating: Reheat your leftover stir fry in the microwave or on the stove, and enjoy!
FAQ
How long does it take to stir fry chicken?
It only takes 3-5 minutes to stir fry bite-sized pieces of chicken. The smaller the pieces are, the faster they cook. Always cook chicken to an internal temperature of 165°F.
What makes a stir fry taste better?
Fresh ingredients, bright flavors, and generous seasoning make a stir fry taste the best. Capitalize on flavor by adding aromatics (ginger, garlic, etc.) and umami (soy sauce, fish sauce, mushrooms, etc.).
How do you avoid overcooking chicken in a stir fry?
The best ways to avoid overcooking chicken in a stir fry are by cutting it into bite-sized pieces and removing it from the wok on time. Small pieces of chicken cook quickly, so be vigilant and transfer the chicken to another dish as soon as it is golden and cooked through.
Other Stir Fry Recipes
Recipe
Juicy chicken thighs, colorful veggies, and a sweet ginger sauce — this stir fry has it all. It's an easy, quick dinner with SO much flavor… is your mouth watering yet?
Ingredients
2

lbs

chicken thighs

1

bell pepper

red, yellow, or orange

8

oz

broccoli florets

1

medium onion

1/2

bunch

green onions

2

tbsp

oil

olive or avocado
Nutrition Facts
30-Minute Chicken Stir Fry
Amount Per Serving
Calories 496
Calories from Fat 333
% Daily Value*
Fat 37g57%
Cholesterol 148mg49%
Sodium 1473mg61%
Potassium 565mg16%
Carbohydrates 13g4%
Protein 29g58%
Vitamin A 995IU20%
Vitamin C 61mg74%
Calcium 45mg5%
Iron 2mg11%
* Percent Daily Values are based on a 2000 calorie diet.