This shrimp stir-fry features colorful bell peppers, peas, and onions mixed with juicy shrimp. Toss it in sweet & savory stir-fry sauce, and you have yourself the perfect dinner.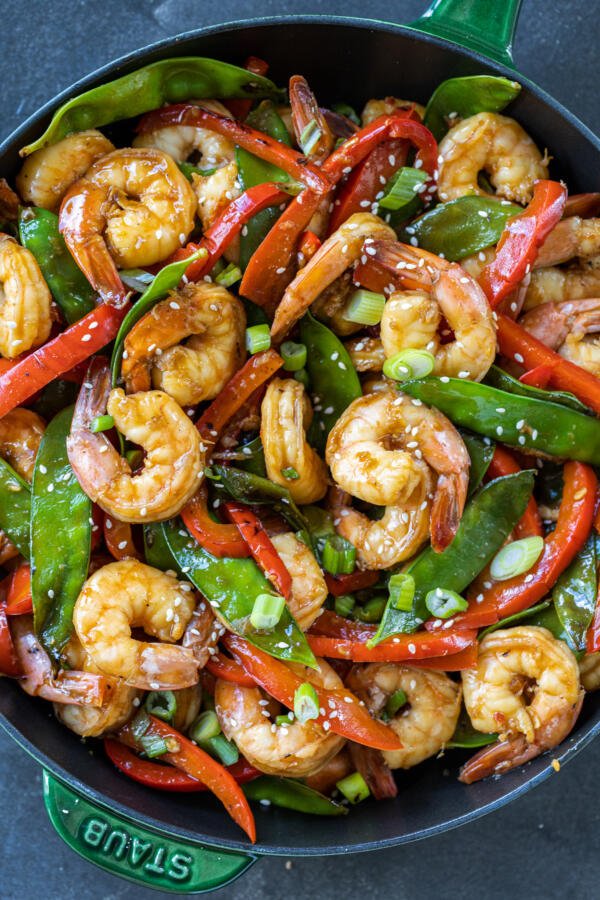 What is Shrimp Stir Fry?
Stir fry is an Asian-inspired dish consisting of four components: a protein, vegetables, aromatics, and a sauce. In this easy shrimp stir fry recipe, we use juicy large shrimp, bell peppers, peas, and onions. These ingredients are fried in a wok over medium high heat, then mixed in a savory stir fry sauce made from soy sauce, garlic, ginger, cornstarch, and brown sugar. Every bite bursts with flavor.
Shrimp Stir Fry Video
How to Make Shrimp Stir Fry
Stir fry is easier to make than it looks. It's a simple process of creating the sauce, frying the shrimp and vegetables, and finally, mixing it all together.
Whisk the sauce: Create the stir fry sauce by whisking all the sauce ingredients together in a small bowl.
Saute the veggies: Preheat a wok or large skillet over medium high heat. Saute the bell peppers and snow peas until golden brown. Remove and set aside.
Cook the shrimp: In the same pan, cook the shrimp until pink and opaque, about four minutes.
Combine it all together: Return veggies to the pan, then pour stir-fry sauce over everything. Cook for a few more minutes.
Enjoy: Remove from the heat and enjoy!
Shrimp Stir Fry Variations
One of the best aspects of stir fry is how easily customizable it is. Substitutions or additions of other ingredients are very welcome and often elevate and make the dish even tastier.
Make it spicy: Add a kick to the stir fry with sliced jalapeno peppers or red pepper flakes.
Change or add veggies: Use up the veggies you have in the fridge. Carrots, mushrooms, zucchini, cabbage, bok choy, and asparagus are great options.
Nuts: For more crunch, add roasted peanuts or cashews.
Garnish: Top the stir fry with a sprinkle of sesame seeds, herbs like cilantro, or sliced green onions for a restaurant-worthy look.
Tips from the Kitchen
This recipe is loved for its mix of savory flavor and abundance of veggies. Follow these pointers for a quality entree every time.
Purchase large tail-on shrimp: It is best to use large tail-on shrimp as the tail adds flavor. Make sure to devein and peel the shrimp prior to adding into the stir fry.
Prepare all ingredients first: For the best success, have all the ingredients ready to go before turning on the heat. Stir fry is meant to be cooked fast and hot.
Use olive or avocado oil: Stir fry is best when cooked over high heat, so a high-smoke point oil like olive or avocado oil is vital. Check out our ultimate oil guide for more oil-y tips.
Saute on high heat: For the best texture and flavor, saute on high heat. However, avoid overcooking the shrimp or veggies. Overcooked shrimp becomes rubbery and overcooked veggies become mushy.
Cook until brown: When sauteeing, watch for the veggies and shrimp to start to brown. This browning, or caramelizing, adds flavor.
Adjust amount of sauce: If you add more vegetables, make more sauce to adjust for the added ingredients. Otherwise, the dish may turn out more bland and less saucy than desired.
Garnish: For extra visual appeal, top the dish with toasted sesame seeds.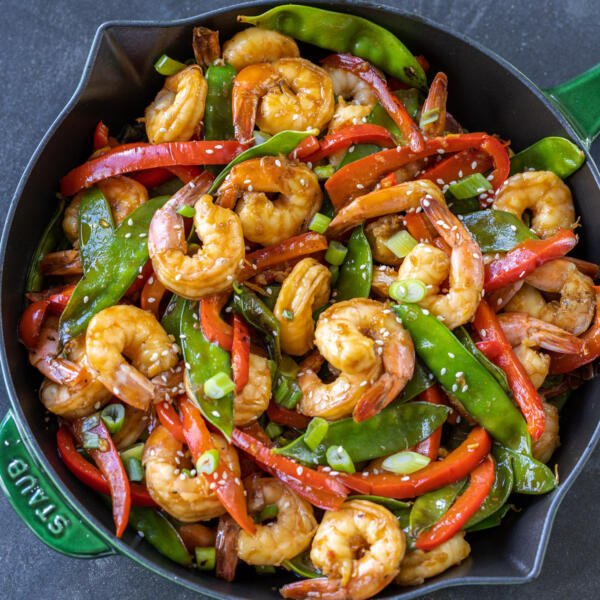 Ways to Serve
Shrimp stir fry includes the meat and veggies that are vital for a well rounded meal. However, to go above and beyond, pair the shrimp stir fry with classic basmati white rice. Or, if you prefer noodles, veggie lo mein is the way to go.
For a multi-course Asian-inspired meal, serve wonton soup as the first course, then shrimp stir fry as the second course. As an appetizer or as a side dish, make fresh spring rolls and gyoza.
Storage Tips + Reheating
There is no such thing as making too much of this shrimp stir fry. If you make more than is consumed in one meal, store and reheat it for lunch or dinner the next day.
Refrigerator: To keep for up to four days, store leftovers in an airtight container in the fridge.
Reheating: To easily reheat from the fridge, microwave the stir fry until warmed through. Or, reheat in a pan on the stovetop.
Hot tip: Avoid freezing cooked shrimp stir fry. Cooked veggies don't thaw well and turn into mush.
FAQ
What kind of pan should I use for stir fry?
The best pan for stir fry is a wok or a large stainless steel pan. Avoid using a nonstick pan as they are not meant to handle the high temperature necessary for a good stir fry.
Is shrimp stir fry healthy?
The main ingredients of shrimp stir fry are meat and veggies, which are important for a healthy diet. To cut down on fat, salt, or sugar to make it even healthier, reduce the amount of these ingredients in the stir fry sauce. Keep in mind, this will alter the flavor.
What vegetables are bad to put into stir fry?
Wet vegetables, or those with a lot of moisture are not the best to use in stir fry. They will braise rather than fry and will be more mushy than desired.

Similar Asian-Inspired Recipes
Recipe
This shrimp stir-fry features colorful bell peppers, peas, and onions mixed with juicy shrimp. Toss it in sweet & savory stir-fry sauce, and you have yourself the perfect dinner.
Ingredients
Stir Fry Sauce
2

garlic cloves

minced

1

tbsp

fresh ginger

grated

1/3

cup

soy sauce

low sodium

2

tbsp

brown sugar

1

tbsp

corn starch
Shrimp Stir Fry
1

tbsp

oil

avocado or olive

1

large red bell pepper

cut into strips

1

cup

snow peas

2

lbs

raw large shrimp

tail on, peeled and deveined

1/4

cup

green onions

sliced
Nutrition Facts
Shrimp Stir Fry Recipe (One Pan)
Amount Per Serving
Calories 172
Calories from Fat 36
% Daily Value*
Fat 4g6%
Cholesterol 191mg64%
Sodium 1579mg66%
Potassium 298mg9%
Carbohydrates 11g4%
Protein 23g46%
Vitamin A 1112IU22%
Vitamin C 36mg44%
Calcium 101mg10%
Iron 1mg6%
* Percent Daily Values are based on a 2000 calorie diet.