This recipe for easy sautéed zucchini couldn't be any more simple. Using only garlic parsley salt, zucchini, and avocado oil, you'll get an awesome side dish for virtually any entree on the planet.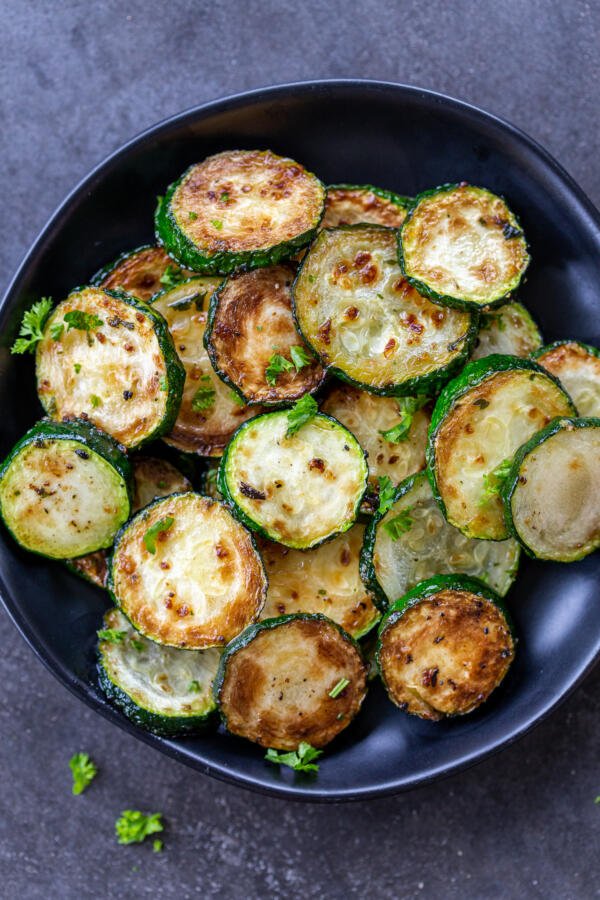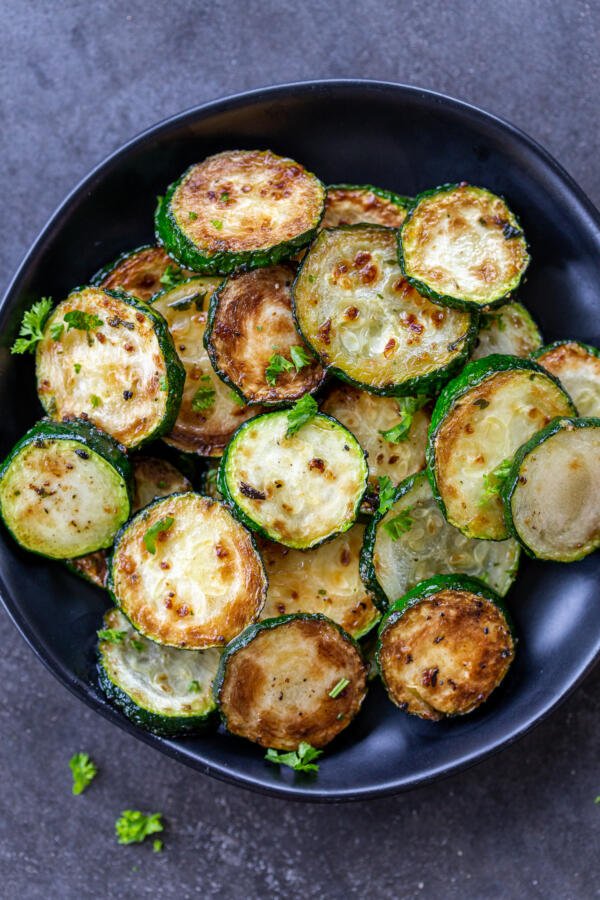 Sautéed zucchini is one of those recipes that all home cooks should have in their back pocket. Why? It's a simple, healthy side dish that goes with just about everything! What's not to love about this versatile veggie?
This quick and easy recipe will show you all you need to know about whipping up the juiciest, most crispy sautéed zucchini on the planet. With just 3 ingredients, it's an absolute no-brainer and will soon become a staple on your dinner table.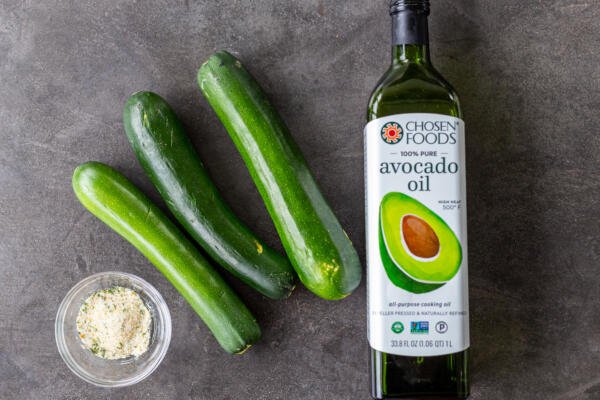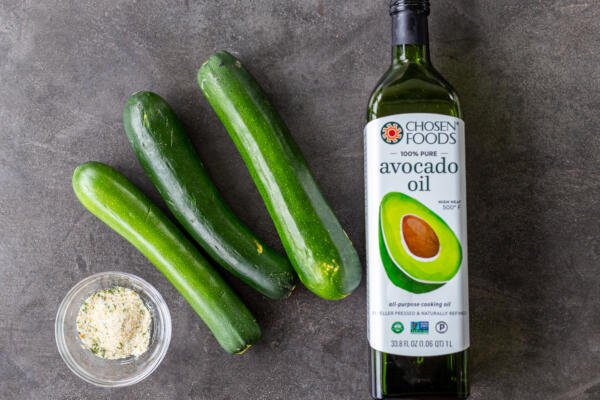 How to Make Sautéed Zucchini
Making sautéed zucchini only requires three, simple ingredients and a couple of steps. Below, find an overview of the recipe before you dive in.
Prep the Zucchini: Wash each zucchini under cool water and pat dry of any excess moisture. Using a sharp knife, slice the zucchini into rings.
Season the Zucchini: Place sliced zucchini in a medium-sized bowl. Coat zucchini with cooking spray and season with garlic parsley salt. Toss until each ring is evenly coated.
Sauté the Zucchini: In a preheated frying pan, add the zucchini slices in a single layer. Cook the zucchini until each side is golden brown. Enjoy alongside your entree of choice!
Tips for the Best Sautéed Zucchini
Below, find some tips to help you make the best sautéed zucchini on the planet.
Slice zucchini into similar-sized rings. Slicing your zucchini into similar-sized rings promotes even cooking.
Don't crowd the pan. Place zucchini in a single layer with a little space in between each. This will allow each slice to form a nice, crispy crust.
Sauté zucchini over medium-high heat. Medium-high heat is key to creating that golden, outer crust.
Get creative with your seasoning. If garlic parsley salt isn't your thing or you have a favorite seasoning salt, feel free to use it! This recipe is super versatile and you can tweak it any which way you like.
Use avocado or olive oil cooking spray. Instead of leaning on canola oil, opt for a more flavorful cooking spray like avocado or olive oil. The extra bit of flavor will be a welcome addition to this simple side dish!
I love sautéing zucchini in my Staub Cast Iron Braiser because it makes them sooooo irresistibly crispy. This wonder dish NEVER leaves my stovetop.
Serving Sautéed Zucchini
You can serve sautéed zucchini anywhere you would serve baked zucchini. It's honestly the perfect side dish to almost anything. Pair it with a grilled ribeye steak for a healthy, low-carb dinner or serve it alongside a heaping bowl of bolognese (for some reason zucchini and pasta go so darn well together!). You could even cool the zucchini down in the refrigerator, toss it with vinaigrette dressing, and serve it as a cold salad. Yum!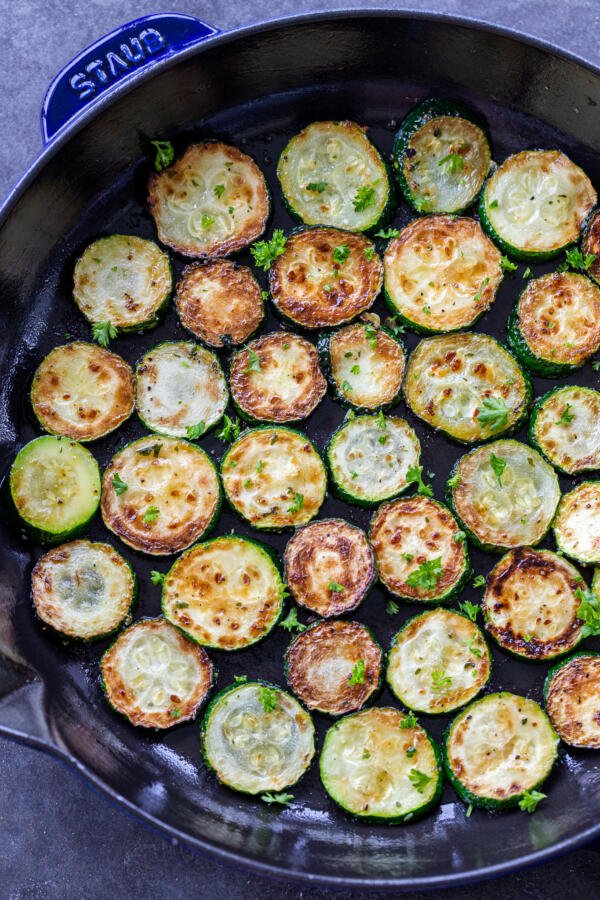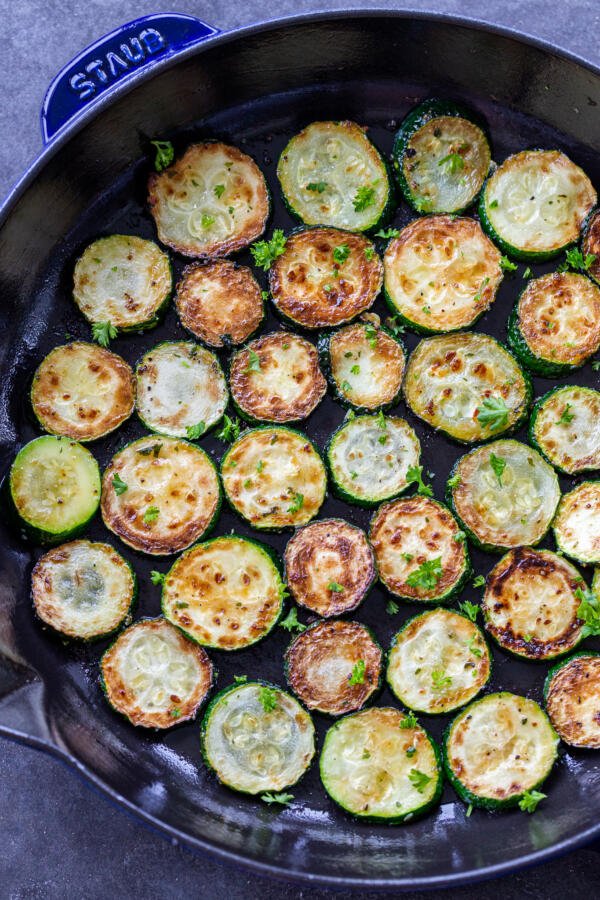 Storing Sautéed Zucchini
Refrigerating: Store leftover zucchini in an airtight container in the refrigerator. It will keep for up to five days.
Freezing: Avoid storing Zucchini in a freezer. Frozen zucchini never thaws well and almost always turns out mushy.
Reheating Tip: Reheat sautéed zucchini by popping it in the oven or air fryer. This will help it return to its original, crispy state!
FAQ
How do you cook zucchini without it getting soggy?
Prevent zucchini from becoming soggy by sautéing it in a single layer. This will allow it to get crispy on each side and really form that signature crust. Additionally, make sure you pat your zucchini dry after cleaning and rinsing it under cool water.
What is the healthiest way to eat zucchini?
So long as you're not deep frying the zucchini, almost any way you prepare it is the healthiest! Since this recipe only uses a touch of cooking spray, it's certainly a healthy preparation method.
How do I prevent overcooking my zucchini?
Prevent overcooking your zucchini by taking it off the heat once it turns golden brown on each side. If it starts to turn mushy, you've cooked it too long!
Do you have to peel zucchini?
You absolutely do not have to peel zucchini. In fact, the skin is full of fiber and nutrients and softens nicely as it cooks.
More Zucchini Recipes
Recipe
This sautéed zucchini makes a perfect side dish with just 3 simple ingredients – garlic parsley salt, zucchini, and avocado oil.
Nutrition Facts
Easy Sautéed Zucchini (Only 3 Ingredients)
Amount Per Serving
Calories 116
Calories from Fat 90
% Daily Value*
Fat 10g15%
Sodium 791mg33%
Potassium 512mg15%
Carbohydrates 6g2%
Protein 2g4%
Vitamin A 392IU8%
Vitamin C 35mg42%
Calcium 32mg3%
Iron 1mg6%
* Percent Daily Values are based on a 2000 calorie diet.