This zucchini alfredo bake features crispy zucchini and sautéed mushrooms baked in a creamy white sauce. Perfect as a side dish or mixed into pasta!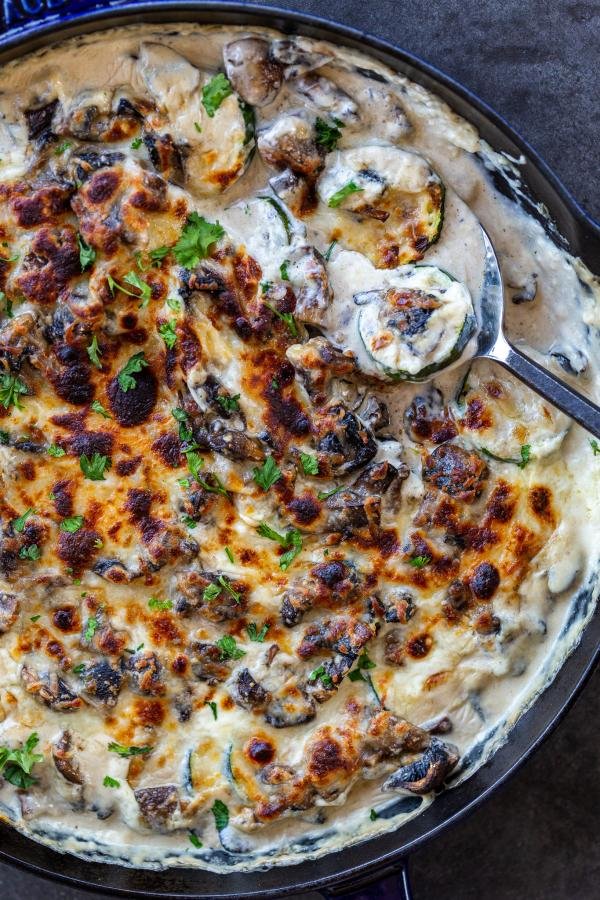 This zucchini alfredo bake is one of my all-time favorite veggie dishes. When it's the peak season for zucchini and my garden is producing more squash than I can handle, I know I can count on this bake to use up my harvest and be a total crowdpleaser (yes – even kids enjoy it!). What's better? It's crazy easy to make and only requires a bit of simple prep. Get ready to fall in love!
Note: This recipe calls for either homemade or store-bought alfredo sauce. Try your hand at making our alfredo sauce from scratch. It only requires 5 minutes and 5 simple ingredients – parmesan cheese, heavy cream, butter, garlic, and garlic parsley salt – to make!
What is a Zucchini Alfredo Bake?
This zucchini alfredo bake features crispy zucchini and sautéed mushrooms topped with rich alfredo sauce and a heaping amount of bubbly mozzarella cheese. Below, find a brief overview of the flavor, texture, and time it takes to make this knock-out casserole.
Flavor: The earthy flavors of the zucchini and mushrooms are complemented by the savory alfredo sauce and mozzarella cheese.
Texture: Each forkful of this bake is the perfect balance of gooey sauce and slightly crispy veggies.
Time: From prep to table, this bake takes about 45 minutes to make.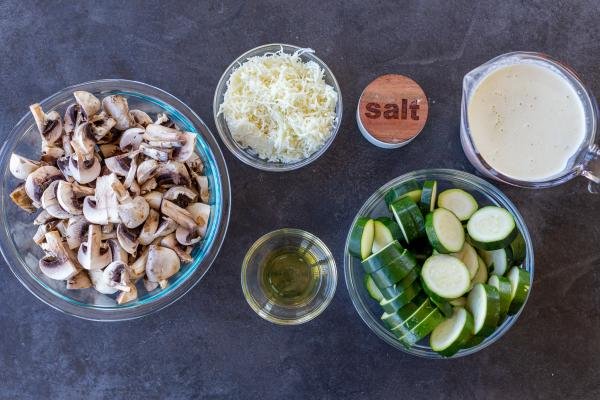 The Rundown on Making this Zucchini Alfredo Bake
With just a 6 ingredient list, making this zucchini alfredo bake couldn't get any simpler. Below, find a rundown on the process before you dive in.
Bake or Grill the Zucchini: Slice the zucchini into rings and either broil it until crispy or grill it.
Sauté the Mushrooms: Slice the mushrooms and cook them in a large skillet over medium-high heat with olive oil. Season them to taste with salt.
Assemble the Casserole: Top the zucchini with the sautéed mushrooms in a baking dish. Next, pour the alfredo sauce on top, followed by a heaping amount of mozzarella cheese.
Bake the Casserole: Bake at 350°F for about 15 minutes or until the top is golden brown. Serve immediately and enjoy!
Hot Tip: Add some Instant Pot shredded chicken into the bake if you're a fan of classic chicken alfredo and would like a little more protein.
3 Tips for Making this Zucchini Alfredo Bake
Here you'll find 3 pro tips to help you make the most out of this zucchini alfredo bake recipe.
Slice the veggies as evenly as possible. To promote even cooking, slice the zucchini into similar-sized rings and slice the mushrooms into similar-sized pieces.
Cook the veggies until golden for an extra smokey flavor. Baking/grilling the zucchini and sautéing the mushrooms until golden brown will add such a nice spark of flavor to your bake. It's worth the extra couple of steps!
Serve the zucchini alfredo bake immediately out of the oven. This bake is best served right out of the oven when the cheese is melty and the sauce is bubbly.
Hot Tip: Garnish your zucchini bake with herbs to elevate the flavor of the dish that much more. Some fresh parsley or basil works great!
Ideas for Serving Your Bake
Serve this zucchini alfredo bake as a tasty veggie side dish to just about any protein. It goes great with air fryer chicken breast, air fryer shrimp, or a cast-iron ribeye. Or, boil your favorite pasta until al dente and toss it directly into the bake. If you're feeling ambitious, make our easy homemade pasta!
Low-Carb/Keto Dinner Hack: Watching your carbohydrates? Instead of slicing the zucchini into rings, use a spiralizer to make zucchini noodles, aka "zoodles", or a mandolin slicer to make zucchini ribbons to have yourself a guilt-free zucchini-style ziti!
How to Store Your Zucchini Alfredo Bake
Whether you have a couple of servings leftover to store in the fridge or an entire bake you'd like to freeze, find all the best storage tips right here.
Refrigerator: To keep your zucchini alfredo bake leftovers on hand for up to 5 days, store them in an airtight container in the fridge. This will keep the bake from turning soggy faster.
Freezer: It's not recommended to freeze this bake, as the cooked veggies don't thaw particularly well. The same goes for the alfredo sauce – upon reheating, the cream will separate.
FAQ
What other veggies go great in this alfredo bake besides mushrooms?
If you're not a fan of mushrooms, swap them out for sautéed broccoli or cauliflower.
How long does it take to broil or grill the zucchini?
There's no exact science to how long it takes to broil or grill the zucchini. Once they turn golden brown, remove them from heat. Typically, this takes a couple of minutes on each side.
Can I use a different cheese besides mozzarella?
There are so many different cheeses that would work great in this recipe. Shredded parmesan, herbed goat cheese, cream cheese, and even crumbled feta are all wonderful options.
How do you ensure the zucchini doesn't turn soggy?
Grilling or broiling the zucchini until golden brown prevents it from turning super soggy in the oven.
How can you add a bit of heat to this zucchini alfredo bake?
Add a couple of dashes of red pepper flakes or hot sauce to the bake to turn the heat level up.
Other Zucchini Recipes to Try
Recipe
This zucchini alfredo bake is the answer to your prayers. Made with rich alfredo sauce and a heaping amount of mozzarella cheese!
Nutrition Facts
Zucchini Alfredo Bake Recipe
Amount Per Serving
Calories 183
Calories from Fat 126
% Daily Value*
Fat 14g22%
Cholesterol 52mg17%
Sodium 804mg34%
Potassium 383mg11%
Carbohydrates 6g2%
Protein 8g16%
Vitamin A 242IU5%
Vitamin C 14mg17%
Calcium 84mg8%
Iron 1mg6%
* Percent Daily Values are based on a 2000 calorie diet.