These stuffed zucchini boats are filled with savory ground beef, topped with a heap of mozzarella cheese, and baked until bubbly. A low-carb meal that will leave you wondering why you ever missed pasta!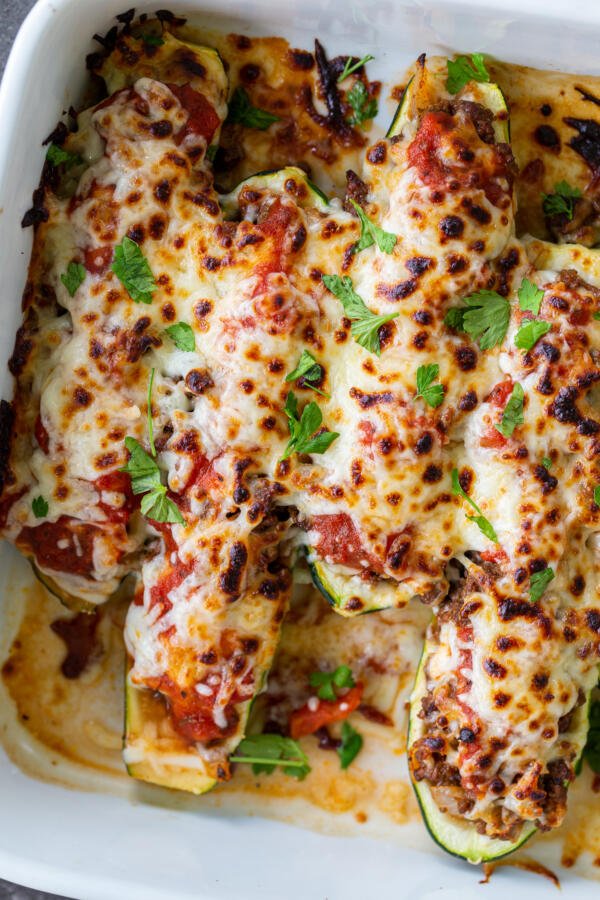 Zucchini boats are perfect for those looking to add a bit of spunk to a low-carb diet!
If you've been reading Momsdish for a while, you know we have a wide range of zucchini recipes. This versatile veggie has so much potential! Case in point with these delicious, low-carb stuffed zucchini boats.
Whether you're watching your carbs or just looking for a meal with a hefty serving of veggies, these boats are a fun meal the whole family will enjoy and a sneaky way to get some product into a picky eater's diet. What's better? They are super simple to make and perfect for a busy weeknight meal.
What is a Stuffed Zucchini Boat?
Stuffed zucchini boats consist of zucchini shells stuffed with a savory meat mixture and topped with marinara and cheese. Below, find an overview of the flavor, texture, and cooking time for this unique, low-carb meal.
Flavor: Rich, savory marinara meat sauce balances out the fresh flavor of the zucchini and the saltiness of the cheese for one decadent, yet guilt-free, meal.
Texture: The zucchini boats will be tender, but not mushy, and brimming with chunky meat sauce and gooey cheese.
Time: From prep to table, this recipe takes 45 minutes to make.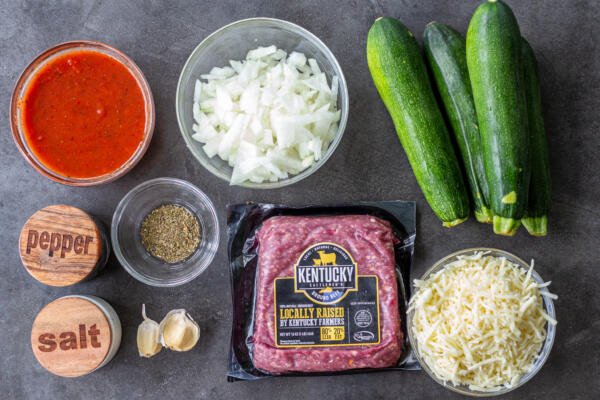 How to Make Stuffed Zucchini Boats
Stuffed zucchini only require a handful of wholesome ingredients and a few simple steps to make. Below, find a brief overview of the recipe before you dive in!
Preheat the Oven & Prep the Zucchini: Get the oven cranking to 400°F. While it's heating up, slice the zucchini lengthwise and scoop out the center. Set aside.
Prep the Meat Mixture: Brown the ground beef and season with Italian seasoning, salt, pepper, and garlic. Stir in 1 cup of marinara sauce. Remove from heat.
Stuff the Boats: Fill each zucchini boat with the meat mixture and line the boats within the baking dish. Pour what's left of the marinara and sprinkle boats with cheese.
Bake & Enjoy: Bake the boats for 25 minutes, or until the cheese is bubbly and the zucchini is easily pierced with a fork. Enjoy!
Tips for the Best Stuffed Zucchini Boats
Find a collection of tips and tricks below to help you make these zucchinis – best.
Don't waste the scooped out zucchini. Use the soft inner flesh and seeds to make ikra, a savory Ukrainian spread that goes wonderfully on toasted bread. If that's not your style, use it to make some banana zucchini bread.
Adjust the seasoning based on the marinara sauce. Some store-bought brands of marinara are blander than overs. Taste test your meat sauce as you go to gauge whether or not you need to add more Italian seasoning, salt, and pepper.
Play around with the cheese. Mozzarella is wonderful, but feel free to experiment with different cheese combinations. You can use goat cheese (garlic & herb would be phenomenal), parmesan, or even gruyere.
Line up the boats flush with one another. To prevent your boats from toppling over while baking, secure them in the casserole dish by lining them up flush with one another.
Add some spice. If you like it spicy, add some crushed red pepper flakes.
Homemade Marinara: Feeling ambitious? Skip the store-bought marinara and make your own in just 5 minutes.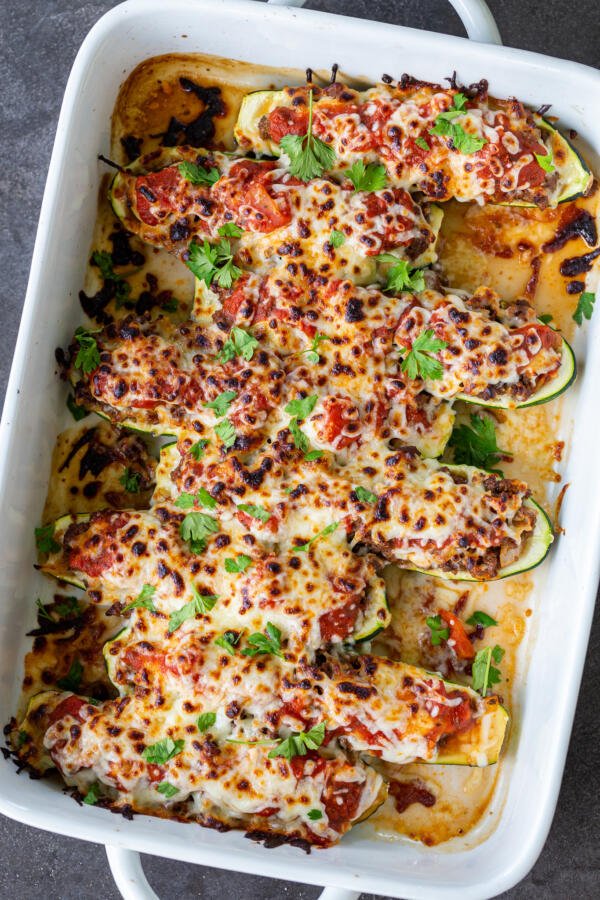 Serving Stuffed Zucchini Boats
You can serve zucchini boats all on their own – they are super filling! However, if you're looking to make a more elaborate spread, they go wonderfully alongside a caesar salad. Also, if you're not watching your carbs too closely, you can whip up some garlic bread using a homemade baguette. There's nothing like sopping up that meat sauce with a hunk of bread!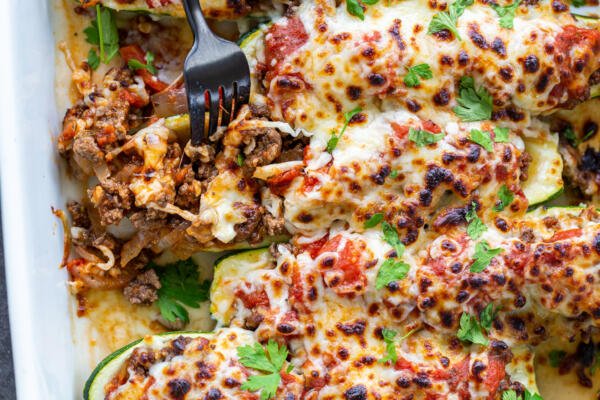 Storing Stuffed Zucchini Boats
Refrigerator: Store leftover stuffed zucchini boats in an airtight container in the refrigerator. They will keep for up to 5 days.
Freezer: Not recommended. Zucchini holds a lot of moisture and doesn't thaw very well, resulting in soggy boats.
Reheating Tip: Reheat the zucchini by placing it in the oven or air fryer until the cheese bubbles and the beef mixture is warmed through. Microwaving is not recommended.
FAQ
What are the health benefits of zucchini?
Zucchini tout many health benefits. They are not only high in nutrients, they contain a lot of fiber and are one of the most filling veggies.
How do I ensure my baked zucchini doesn't turn soggy?
Prevent your zucchini from turning soggy in this recipe by making sure you pat it dry of any excess moisture before baking it. Additionally, removing the seeds and soft flesh before stuffing your boats will also yield a sturdier texture.
Can I peel the zucchini?
Peeling the zucchini in this recipe is not recommended. The skin helps the boats stay sturdy and will soften in the oven as they bake. Plus, the skin carries a good amount of nutrients and fiber!
More Zucchini Recipes
Recipe
These stuffed zucchini boats are filled with savory ground beef, topped with a heap of mozzarella cheese, and baked until bubbly.
Nutrition Facts
Stuffed Zucchini Boats Recipe (Italian Flare)
Amount Per Serving
Calories 546
Calories from Fat 360
% Daily Value*
Fat 40g62%
Cholesterol 125mg42%
Sodium 765mg32%
Potassium 1105mg32%
Carbohydrates 13g4%
Protein 35g70%
Vitamin A 1057IU21%
Vitamin C 41mg50%
Calcium 368mg37%
Iron 4mg22%
* Percent Daily Values are based on a 2000 calorie diet.