Air Fryer Zucchini Chips are the perfect healthy side or snack. With no breading required, these chips pack all the flavor with minimal calories. They can be easily customized by adding a dash of your favorite seasoning. The possibilities are truly endless!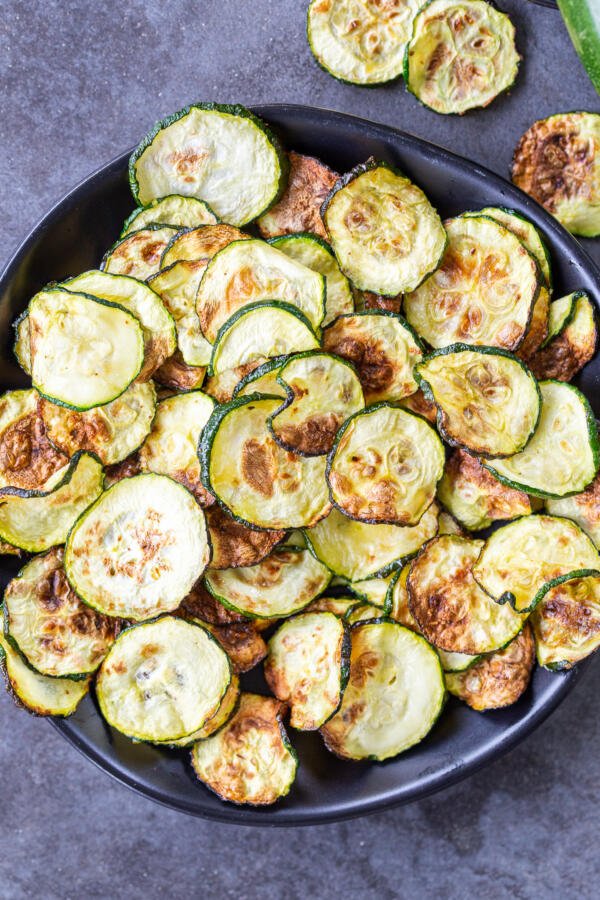 Find yourself noshing on a bag of greasy potato chips more often than you like to admit? Us too. We have been obsessed with our air fryer potato chips as a healthier substitute, so we thought we would experiment with making veggies chips to mix things up even more. After much trial-and-error, we found that zucchini works the best and has the most amazing flavor profile.
Dip Air Fryer Chips into a big bowl of hummus, salsa, queso, ranch dressing, or any other of your favorites dips or spreads. The best part? You'll get a huge serving of veggies without feeling like you're eating veggies. These chips have become the perfect way to sneak veggies into our kids' diets.
Air Fryer Zucchini Chips
Air Fryer Zucchini Chips are actually not "chips" at all. Instead of being deep-fried, you'll tap the powers of the all mighty air fryer to get a perfect crisp with a fraction of the calories or oil. That's a win-win.
Seasoning: We love to use a simple seasoning of garlic and salt. But you can get as creative as you want here! Use your favorite seasoning salt blend. You can't go wrong. We've also added parmesan cheese before, which is an awesome way to up level the flavor.
Texture: The key to great Air Fryer Zucchini Chips is to get them as crispy as possible. To achieve the perfect texture, make sure you remove excess moisture from the zucchini by blotting them with a paper towel. Don't skip this step! It truly makes all the difference.
Time: Typically, these chips take about 8 minutes on the first side and 5 minutes on the other. However, depending on your air fryer and how much you crowd the chips, the cooking time can vary in either direction. Since the chips are delicate, keep a close eye on them to ensure they don't burn.
How to Make Air Fryer Zucchini Chips
Making Air Fryer Zucchini Chips is as easy as 1-2-3! Literally. Follow the three simple steps below, and you'll be well on your way to snacking heaven.
Cut: Using a mandolin, slice zucchini into thin pieces. If you don't have a mandolin, use a sharp knife and cut the pieces as thin as possible. Just be aware that the cooking time will increase the thicker your slices get!
Season: Remove excess moisture from zucchini chips and allow them to air dry for 5 minutes. Give your chips a liberal and generous seasoning with your spices of choice. Spray with cooking spray or a drizzle of olive oil and toss to coat evenly.
Air Fry: Pop them into the air fryer in a single layer, flip, and snack!
Hot Tip: Make zucchini chips in small batches. This will yield crispier chips and ensure even cooking.
Tips For the Best Air Fryer Zucchuni Chips
Cut into same-sized pieces. This will yield even cooking and prevent you from chomping down into a semi-raw chip.
Season with a bit of salt. When seasoning your chips, don't skimp on the salt. Let the chips sit for 5 minutes so the salt absorbs any remaining excess moisture.
Use a touch of oil. A bit of cooking spray is all you need to achieve ultimate crispiness.
Avoid Burning by keeping a watchful eye. All air fryers are different, so keep an eye on your chips as they cook the first time you make them. You may need to adjust the timing to suit your specific model.
Ways to Serve Air Fryer Zucchini Chips
Air Fryer Zucchini Chips are a snack all on their own, but feel free to pair them with your favorite dip or spread. You can also serve them as a side dish to about any entrée. We love to serve them with our Avocado Spread, Canned Salmon Dip, or our Avocado Hummus.
Looking to have an ultra-healthy dinner? Pair the chips with Turkey Lettuce Wraps or a batch of Air Fryer Chicken Thighs. Low carb and delicious!
FAQ
Why are my zucchini chips soggy?
If your chips turn out soggy, it means you didn't remove enough of the excess liquid. Really blot and pat the zucchini until your paper towel doesn't absorb anymore liquid.
How to avoid burning air fryer zucchini chips?
We find 8 minutes on the first side and 5 minutes on the other is the perfect cooking time. However, take a peek at around 3 minutes to ensure your chips aren't burning.
How thick do I cut zucchini chips?
1/8-inch thickness yields the crispiest chips. Any thicker and you'll risk the middle being a bit raw.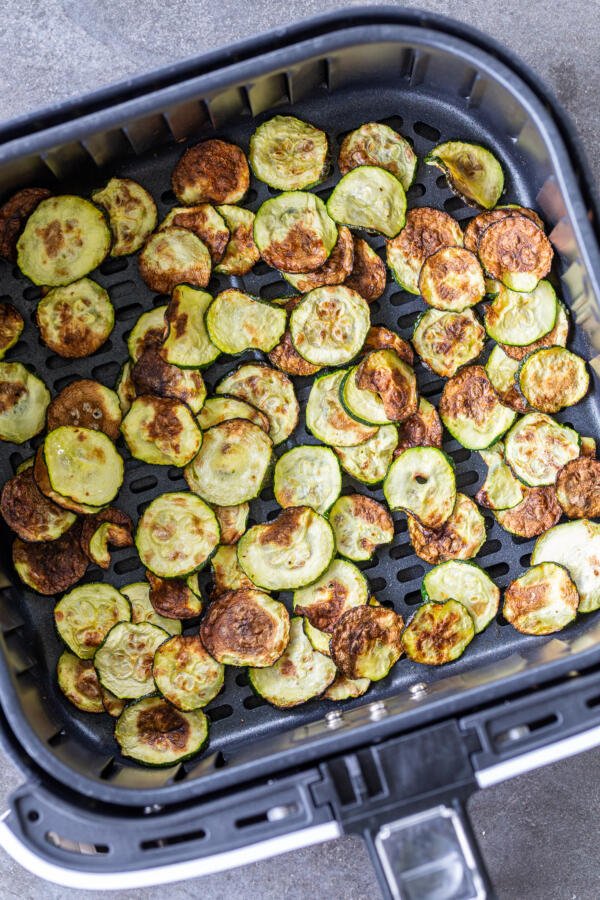 More Air Fryer Recipes
It's an air fryer party! You already have it out, so you might as well make another fun dish, right? Here are a couple of our favorites:
Recipe
Air Fryer Zucchini Chips are the perfect healthy side or snack. With no breading required, these chips pack all the flavor!
Ingredients
4

medium zucchini

1

tbsp

salt

adjust to taste

1

tsp

garlic powder

1

tsp

cooking spray oil
Nutrition Facts
Air Fryer Zucchini Chips (No Breading)
Amount Per Serving
Calories 36
Calories from Fat 9
% Daily Value*
Fat 1g2%
Sodium 1760mg73%
Potassium 521mg15%
Carbohydrates 7g2%
Protein 2g4%
Vitamin A 392IU8%
Vitamin C 35mg42%
Calcium 33mg3%
Iron 1mg6%
* Percent Daily Values are based on a 2000 calorie diet.