This foolproof recipe for grilled potatoes in foil features baby potatoes tossed in a simple seasoning of oil and salt. Grilled to crispy perfection!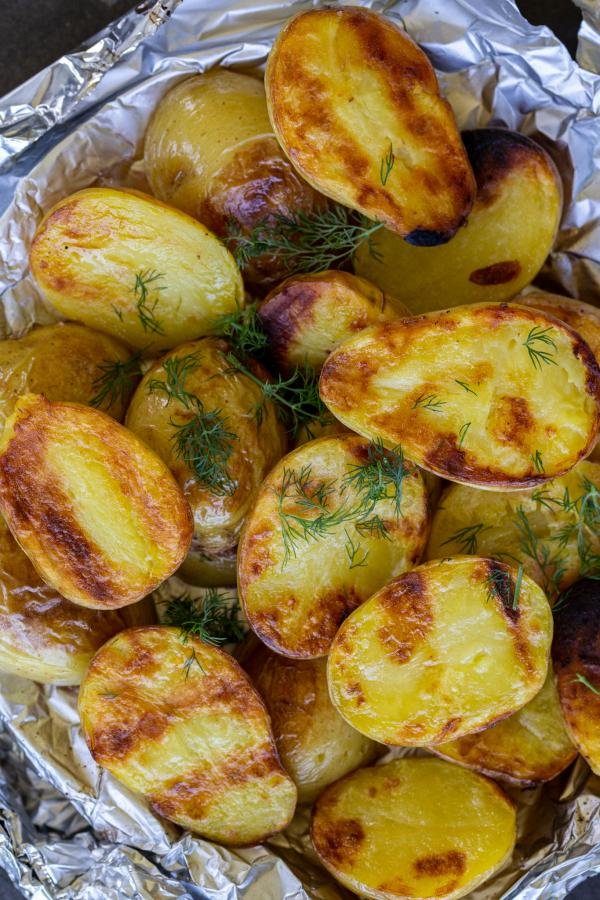 Whether you're a huge fan of backyard BBQ, someone who loves to go camping, or just a spud addict, grilled potatoes in foil is a killer method for getting perfectly tender and crispy potatoes. Easily customizable and always a crowd-pleaser, you'll find this recipe nestled comfortably in your weekly dinner rotation.
How to Prepare Perfect Grilled Potatoes in Foil
Whipping up foil-pack potatoes is as simple as slicing, seasoning, and packing them in foil before you pop them on the grill.
Prepare the Potatoes: First, wash the baby potatoes and pat them dry with a paper towel. Slice them into halves.
Season the Potatoes: In a large bowl, drizzle the potatoes with oil (you can also swap out the oil for butter pats instead), then salt and toss them until evenly coated.
Pack the Potatoes: On a large piece of heavy-duty aluminum foil, assemble the seasoned potatoes in a single layer. Top them with another piece of foil. Fold and seal the edges to create a pocket.
Grill the Potatoes: Next, bring an electric or charcoal grill to about 400°F. Place the potatoes on the grill grates and cook them for 15 minutes. Open up the foil and flip the potatoes. Grill them on the other side for 10 minutes. Dig in and enjoy!
Hot Tip: If you can't find baby potatoes, feel free to use Yukon gold potatoes instead. They have a naturally sweet and buttery flavor and are wonderful for grilling!
3 Tips for Making Grilled Potatoes in Foil
If you're more accustomed to preparing potatoes in the oven or on the stovetop, these tips will help you nail spuds on the grill.
Slice the potatoes into evenly sized pieces. To ensure the potatoes cook evenly, make sure they are sliced into even-sized pieces. If they are mismatched, some will turn out raw and others will be perfectly cooked!
Don't overstuff the foil packet. Make sure to assemble the potatoes in a single layer in the foil packet. If they can't all fit, simply separate them into 2-3 packets instead.
Make sure the foil packet is completely closed. To prevent oil from seeping out of the aluminum foil, make sure the sides are completely sealed up before popping the packet on the grill.
Different Seasoning Combinations
Consider these potatoes a blank canvas for you to tweak and season with spices as you wish. Here are a couple of combinations to inspire you.
Zesty-Style: To give the potatoes a pop of zesty flavor, toss them with a ranch seasoning packet.
Herb Overload: If you love fresh herbs, go crazy! Toss in some thyme, rosemary, chives, or whichever else herb you love best after the potatoes come off the grill.
Slavic-Style: Top the potatoes with fresh dill and a dollop of sour cream after you take them off the grill.
Italian Style: Toss the potatoes in Italian seasoning and a little lemon juice.
Garlic Lover: Add in a tablespoon of garlic powder or marinated minced garlic. Top with parmesan cheese and dig in!
Spicy Potatoes: Add some freshly cracked black pepper or some cayenne pepper for a kick of heat.
Proteins & Sides to Pair with Grilled Potatoes
The simple seasoning on these grilled potatoes makes them the perfect side dish for just about any protein. Here are a couple of our on and off-the-grill favorites.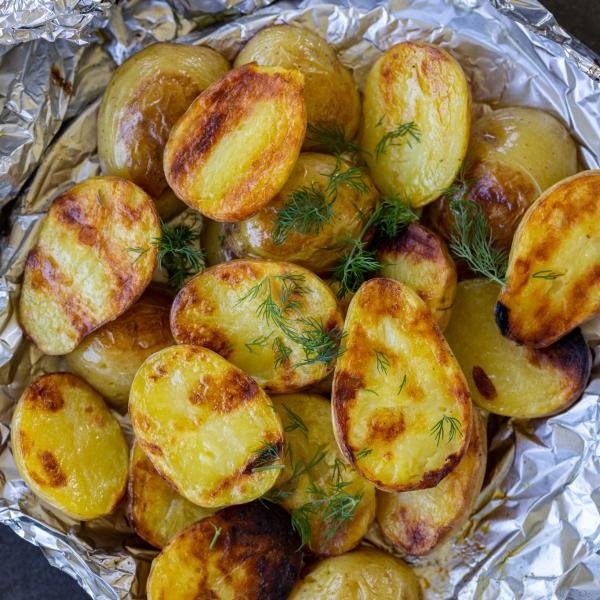 Storing & Reheating Best Practices
To keep your potatoes fresh for up to a week, store them in an airtight container in the fridge. This will prevent them from drying out and turning gummy in texture. To reheat them, pop them in a skillet with a little oil and saute them until crispy. You can also reheat them in the oven or an air fryer.
FAQ
How do you keep potatoes from sticking to foil on the grill?
You keep potatoes from sticking to the foil by dressing them in enough olive oil before popping them on the grill. That said, a little sticking is OK and natural.
Do you need to boil potatoes before grilling them?
There's no need to boil potatoes before grilling them, as they will soften by the steam created by the foil pack. If you boil them first, you run the risk of them not being able to crisp up whatsoever.
Should you soak potatoes in water before grilling them?
Some people soak their potatoes before grilling them to get rid of excess starch and help them crisp up nicely. That said, it's not necessary and foil-packed potatoes will crisp up without any help.
How do you prevent potatoes from burning on the grill?
The best way to prevent potatoes from burning on the grill is by wrapping them in foil. This allows them to cook evenly without the intensity of the direct heat of the flames.
What temperature should you grill foil-packed potatoes at?
Foil-packed potatoes should be grilled at 400°F. This temperature is hot enough to both cook them through and provide a nice crisp on the skin.
More Tasty Potato Recipes
Recipe
If you're looking for an easy grilled potatoes in foil recipe, look no further. This method is so foolproof and perfect for your next outdoor BBQ party!
Ingredients
Nutrition Facts
Crispy Grilled Potatoes in Foil (Only 3 Ingredients)
Amount Per Serving
Calories 178
Calories from Fat 63
% Daily Value*
Fat 7g11%
Sodium 1172mg49%
Potassium 637mg18%
Carbohydrates 26g9%
Protein 3g6%
Vitamin A 3IU0%
Vitamin C 30mg36%
Calcium 19mg2%
Iron 1mg6%
* Percent Daily Values are based on a 2000 calorie diet.