If you're on the hunt for a one-pan dinner, these sheet pan chicken thighs have your name on them. Made with bone-in chicken & the veggie of your choice!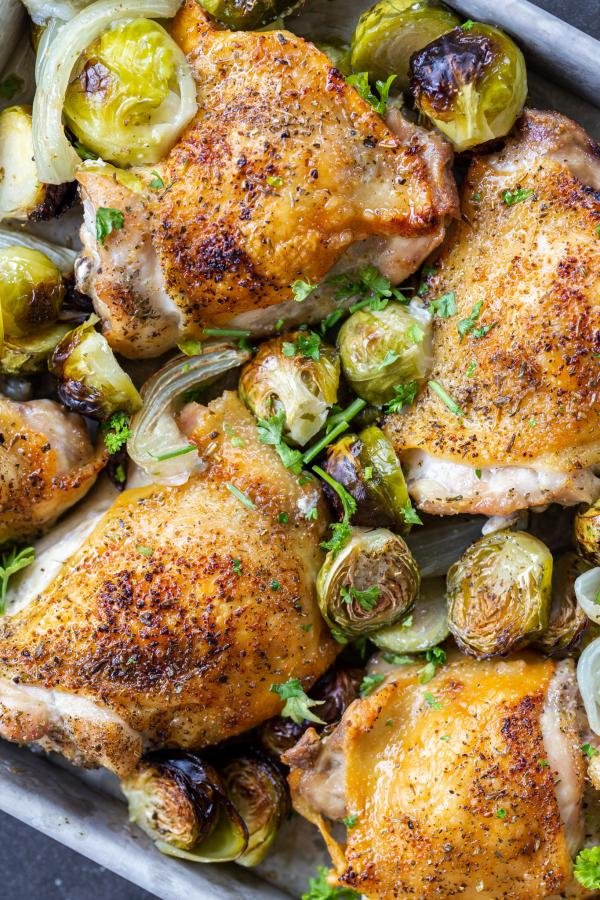 There's nothing like whipping up no-fail, super easy sheet pan dinners on those crazy weeknights. Not only does this recipe create a minimal mess, but it also is so flavorful. The juice of the chicken thighs seeps into the brussels sprouts as they bake, making for one comforting, wholesome meal. You can also use this recipe as a foundation for any combo of chicken or veggies that speaks to you – feel free to experiment!
Hot Tip: Line the baking sheet with aluminum foil for extra, extra easy cleanup.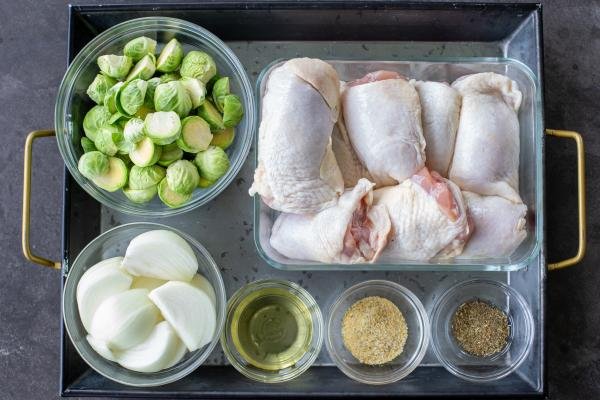 How to Prepare Sheet Pan Chicken Thighs
Putting together this simple meal only requires you to toss everything onto a baking sheet and let the oven work its magic. Hello, clean eating.
Prep the Veggies: Slice the brussels sprouts into halves and cut the onion into thick chunks. Place all the veggies on the baking sheet.
Assemble the Chicken Thighs: Scatter the chicken thighs across the baking sheet.
Season the Chicken & Veggies: Season the chicken and veggies with garlic parsley salt, & Italian seasoning. Drizzle on the olive oil (or avocado oil) and toss until well combined.
Bake the Chicken & Veggies: Roast at 425°F for 45 minutes. Broil the chicken for a couple of minutes to turn the chicken skin golden brown. Enjoy!
Did you know? The safe internal temperature of chicken is 165°F. If you're unsure if your chicken is fully cooked, use an instant-read meat thermometer to take the guesswork out.
3 Tips for the Tastiest Sheet Pan Chicken Thighs
To get the most out of this sheet pan dinner, follow these simple tips and tricks to help you along the way.
Swap in your favorite veggies. Switch out the brussels sprouts for carrots (tri-color carrots add such a fun pop of vibrancy), golden potatoes, sweet potatoes, butternut squash, or beets. If you're wanting to add quicker cooking vegetables like broccoli, cabbage, cherry tomatoes, or asparagus, only pop them on the sheet pan with 10 minutes of cooking time left, or else they will get overcooked.
Slice the veggies into equal-sized pieces. To promote even cooking, slice the veggies into as even-sized pieces as possible. This will ensure some of the pieces aren't undercooked while others are overcooked!
Opt for skin-on, bone-in chicken thighs over skinless chicken thighs. Skin-on, bone-in chicken thighs have the most flavor because all the tasty marrow cooks out of the bone. You also get a nice dose of flavor from the skin with all its rich fats. Not to mention, crispy chicken skin! Stay away from using chicken breasts, as they are prone to drying out.
Hot Tip: Elevate this sheet pan dinner by sprinkling your favorite fresh herbs on top before serving. Dill, green onion, and chives are our favorites.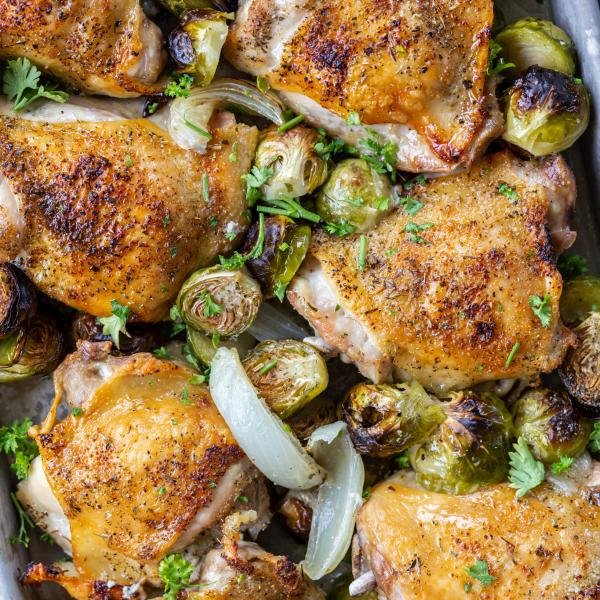 Different Seasoning Blends
Consider this recipe a blank slate for you to tweak to your specific tastebuds with your favorite ingredients. If you want to do some experimenting with different seasonings, check out these ideas to inspire you.
Slavic-Style: Smoked paprika, garlic parsley salt, & sunflower oil.
Lemon Pepper: Garlic powder, freshly cracked black pepper, salt, & lemon juice.
Cajun-Style: Cajun-style seasoning & fresh lemon juice.
Greek-Style: Dried marjoram, oregano, basil, dill, thyme, salt, pepper, & olives. You can even toss the roasted veggies with a bite of cubed feta cheese.
Honey Mustard: Whisk equal parts honey and whole grain mustard together in a small bowl. Brush the tops of the chicken thighs with the mixture and season the veggies with a simple combination of salt, pepper, and garlic powder.
Serving Suggestions
While this sheet pan meal is a meal all on its own, you can pair it with a simple green salad if you'd like. Some of our favorites include a berry spinach salad (who doesn't like a mix of sweet and salty) or an ultimate garden salad with feta, sliced red onions, and avocado.
Storage Best Practices
This recipe for sheet pan chicken thighs is awesome for meal prep and leftovers the next day. To keep the dish on hand for up to a week, store it in an airtight container in the fridge. It's best to separate the veggies and the chicken to keep them equally fresh.
Reheating Tip: To reheat the chicken & veggies, pop them back in a baking dish covered with aluminum foil at 350°F until warmed through. Be extra careful to not over-bake the chicken and dry it out!
FAQ
How long should you cook sheet pan chicken thighs?
Generally speaking, sheet pan chicken thighs take about 45 minutes at 400°F. However, this timing can vary, as chicken thighs come in all shapes and sizes. To air on the safe side, invest in a meat thermometer to gauge if the internal temperature has reached 165°F.
Is it better to bake sheet pan chicken thighs covered or uncovered?
It's best to bake sheet pan chicken thighs in the oven uncovered unless you're reheating them as leftovers. This will help the chicken cook quicker, while also crisping up the chicken skin.
Can you cook sheet pan chicken thighs on a baking sheet?
Yes, you can cook sheet pan chicken thighs on a standard baking sheet. If you can, use a baking sheet that has a higher lip to prevent spillage, as there will be a bit of juice that forms at the bottom.
Do chicken thighs look a little pink when cooked?
Yes, it's perfectly normal for chicken thighs to be a little pink when they are fully cooked. To air on the safe side, always check that the internal temperature has reached 165°F.
More Tasty Protein Recipes to Try
Recipe
This recipe for sheet pan chicken thighs features juicy, bone-in chicken baked alongside brussels sprouts (or whatever veggies you like). A one-pan wonder!
Nutrition Facts
Sheet Pan Chicken Thighs with Veggies
Amount Per Serving
Calories 443
Calories from Fat 288
% Daily Value*
Fat 32g49%
Cholesterol 167mg56%
Sodium 1019mg42%
Potassium 627mg18%
Carbohydrates 9g3%
Protein 30g60%
Vitamin A 565IU11%
Vitamin C 51mg62%
Calcium 51mg5%
Iron 2mg11%
* Percent Daily Values are based on a 2000 calorie diet.