These pan-seared chicken thighs are juicy, golden brown, & finished in a garlicky sauce. Whip them up on the stove top in just 30 minutes!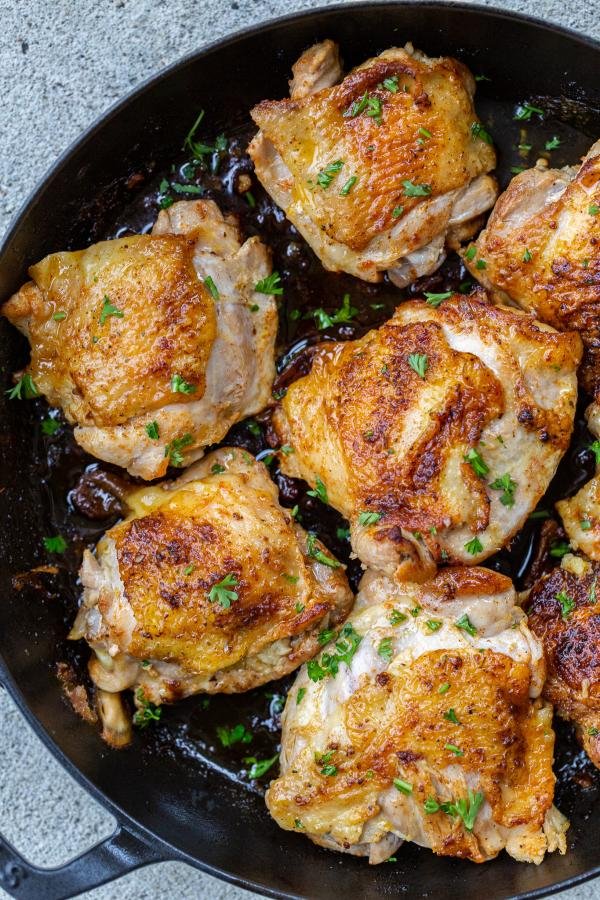 I'm always on the hunt for quick and easy weeknight dinner recipes. As a busy mom, I have 30 minutes at the most to prepare a dinner. If you're the same way, this pan-seared chicken is about to be your new go-to.
The Perks of Searing Chicken
If you're a fan of grilled or baked chicken, you might be wondering why you would go the extra mile to sear. Here's a couple of the perks:
Crispy Crust – Searing gives chicken a crispier crust than any other method. This adds such a nice layer of texture that you're going to LOVE!
More Moisture – A nice sear also helps to lock moisture into the chicken thighs.
Hot Tip: Use a cast-iron skillet if you have one. It is one of the best (affordable) for searing!
Step-by-Step on Preparing Pan-Seared Chicken Thighs
The first step is to preheat a skillet over high heat. You want it to be hot, hot, hot!
Season the Chicken: Next, pat the chicken thighs dry with paper towels. Season them liberally with garlic parsley salt and paprika.
Sear the Chicken: Place the chicken in the skillet and sear it for 2-4 minutes, or until golden brown. Flip it over and do the same on the other side.
Simmer the Chicken: Take the heat down to medium-low and add the chicken broth and pressed garlic. Allow the chicken to simmer until it's fully cooked.
Garnish the Chicken: Finally, take the chicken off heat and garnish it with parsley. Enjoy!
Hot Tip: After you add the broth, make sure to scrape up the brown bits that formed at the bottom of the pan from searing. Don't let those precious drippings go to waste – they have so much flavor​!
3 Pro Tips for the Most Flavorful Pan-Seared Chicken Thighs
Follow these pro tips and you'll be golden.
Use bone-in chicken thighs. Opt for bone in with skin chicken thighs over skin-on. They work best for this recipe!
Use a meat thermometer to check doneness. Use a meat thermometer to take the guesswork out of gauging doneness. You'll know the chicken thighs are done when the internal temperature reaches 165°F.
Don't overcrowd the pan. You'll get a much better sear if you don't overload the pan. You will need a a 10-12 inch pan for this recipe.
Ideas for Serving Your Chicken Thighs
The delicious sauce that forms from the broth and drippings is perfect over your favorite starchy side dishes. Spoon the sauce over steamed white rice or creamy mashed potatoes (our favorites) and lay the chicken right on top. If you're keto or gluten-free, they also go great with cauliflower steaks.
All You Need to Know About Storing, Freezing, & Reheating
This chicken thighs recipe is great for meal prep. Below, find best practices for storing and reheating.
Storing: To keep the chicken on hand for up to a week, store it in airtight containers in the fridge.
Freezing: Freeze the chicken thighs for up to a month by storing them in freezer-safe bags or airtight containers.
Reheating: To reheat, pop the chicken back into a skillet with a bit of extra broth if necessary. Allow it to simmer until warmed through.
FAQ
Should you sear chicken first or last?
No matter what you're cooking, you should always sear protein before you cook it through in a skillet or oven.
Is it OK if chicken thighs are a little pink?
Yes! So long as the internal temperature has reached 165°F, it's perfectly safe to eat. Chicken thighs are often slightly pink even when fully cooked.
How do you sear chicken without drying it out?
The key to searing chicken without drying it out is to sear it on high heat quickly. It should only take 1-2 minutes tops.
Can you use any other cut of chicken besides thighs?
While thighs work best, you could also use chicken breasts for this recipe. Just make sure to turn the heat down low while you simmer, as chicken breasts have a tendency to dry out quicker.
More Quick & Easy Chicken Recipes
Recipe
These delicious pan-seared chicken thighs are perfect for you next quick and easy weeknight dinner. So juicy and versatile!
Nutrition Facts
Pan-Seared Chicken Thighs (30 Minutes!)
Amount Per Serving
Calories 376
Calories from Fat 270
% Daily Value*
Fat 30g46%
Cholesterol 148mg49%
Sodium 1352mg56%
Potassium 341mg10%
Carbohydrates 1g0%
Protein 25g50%
Vitamin A 339IU7%
Vitamin C 3mg4%
Calcium 17mg2%
Iron 1mg6%
* Percent Daily Values are based on a 2000 calorie diet.