This grilled chicken wings recipe features a tangy and simple marinade of ranch dressing and garlic parsley salt. Perfect for summer BBQs and quick dinners!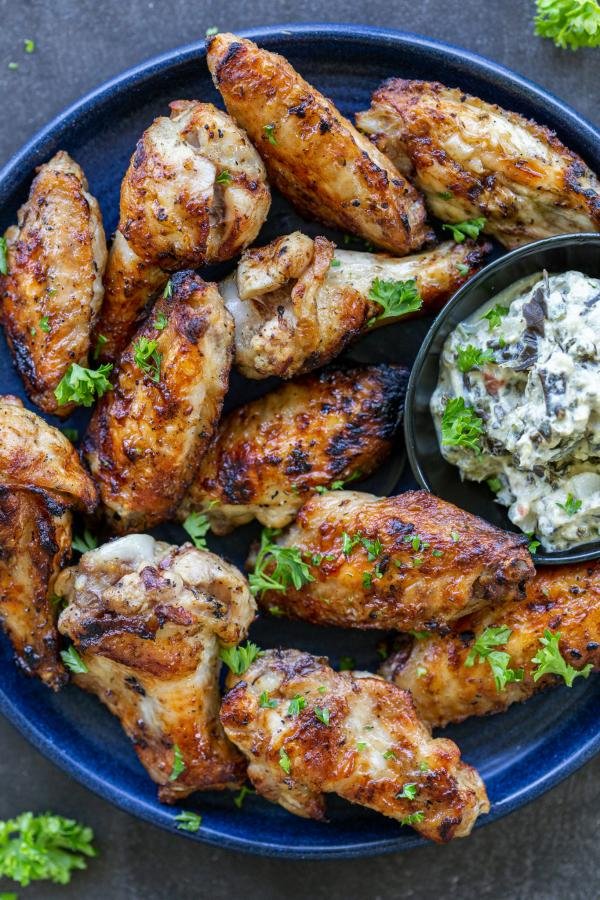 Imagine that you can make the juiciest, most perfectly crispy chicken wings with just 3 ingredients. Wake up, because this is real life! This grilled chicken wings recipe is crazy easy and doesn't require you to spend a ton of time in the kitchen during grilling season.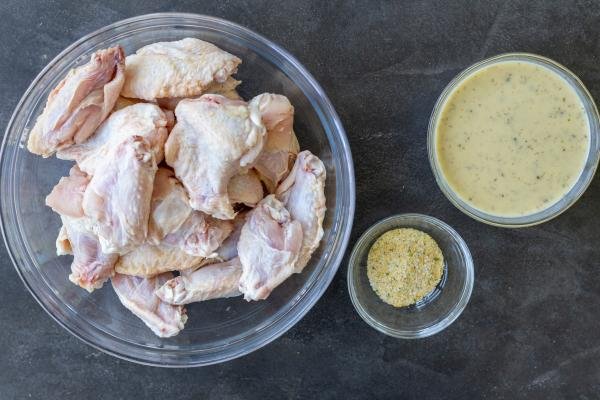 Making this Juicy Grilled Chicken Wings Recipe
Whipping up these chicken wings only requires 3 ingredients and at least a 6-hour marinade (you can take this up to overnight if need be!).
Prepare the Chicken Wings: First, pat the wings dry with a paper towel and place them into a large bowl.
Season the Chicken Wings: Next, add in the ranch dressing and garlic parsley salt, and toss the wings until well-coated. Cover the bowl with a lid or plastic wrap and allow the wings to marinate for at least 6 hours and up to overnight.
Grill the Chicken Wings: Bring the grill to 400°F and assemble the wings on the grill grates. Cook them on each side for 7-10 minutes. Serve alongside your favorite dipping sauce and dig in!
Hot Tip: Unsure if your chicken wings are fully-cooked? Use a meat thermometer to ensure the internal temperature has reached 165°F.
Tips for Perfecting this Grilled Chicken Wings Recipe
The more you grill chicken wings, the more you'll gain intuition about how they should look and when they're done. These 3 tips will help fine-tune your skills in front of the grill.
Pat the chicken wings dry before marinating. To help the seasoning "stick" better, pat the chicken wings dry with paper towels before marinating them.
Pay attention to the size of the wings. Wings come in different shapes and sizes so make sure to remove the thinner and smaller pieces first so they don't overcook.
Lower the temperature if necessary. If the wings start to burn on the outside, lower the grill temperature and cook them for a little longer. Remember, every grill is a little different so it's important to pay close attention to how yours operates!
Hot Tip: Watch the grill closely – as the fats that drip off chicken wings the flame can flare up and make them catch on fire!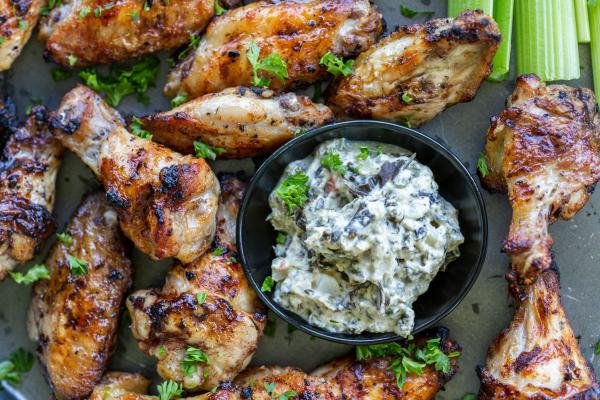 Different Dipping Sauces to Pair Your Wings With
Perhaps the best part of chowing down on wings is pairing them with an assortment of tasty dipping sauces. Here you'll find a couple of our favorites.
Homemade BBQ Sauce – Add a little cayenne pepper to our BBQ sauce recipe depending on how spicy you like it.
Buffalo Sauce – Whip up a quick buffalo sauce by combining 1 cup of Frank's Red Hot hot sauce with 1/2 cup of melted butter and a little garlic powder to taste.
Blue Cheese Dressing – Combine 1/2 cup of mayo with 1/2 cup of sour cream. Season the mixture with a little fresh lemon juice, fresh blue cheese crumbles (add as much or as little as you like), salt, and pepper.
Ranch Dressing – Our recipe is packed with fresh herbs and parsley – so perfect for cooling down the savory grilled wings!
Hot Sauce – If you wanna keep it simple, pair the wings with your favorite bottle of hot sauce.
Ideas for Serving
For a classic wing feast, serve them alongside air fryer french fries or air fryer potato wedges. Don't forget to slice up some carrot and celery sticks while you're at it! If you're serving the wings as an appetizer, pop them on a tray alongside potato skins and pigs in a blanket.
Storing & Reheating Best Practices
To keep the wings fresh for up to 5 days, store them in an airtight container in the refrigerator. This will keep them from drying out too quickly. To reheat them, pop them in the oven until crispy, or reheat them in an air fryer if you have one.
FAQ
How long does it take to grill chicken wings?
It takes anywhere from 15 to 20 minutes to make chicken wings on the grill. The timing can vary depending on how big your wings are and if you're using full wings or broken down pieces.
Is it better to boil chicken wings before grilling them?
There's no need to boil chicken wings before grilling them. This causes them to dry out and will almost always result in overcooked wings. For best results, grill them straight from raw!
How do you keep chicken wings from drying out on the grill?
The key to keeping chicken wings from drying out on the grill is to cook them quickly and on high heat. The less time they spend on the grill grates, the less likely they are to dry out.
Do you dry rub chicken wings with seasoning before or after cooking?
You should rub the chicken wings with seasoning before you grill them – preferably giving them a 6-hour to overnight marinade. This helps the seasoning lock into the wings and makes them much more flavorful.
Should you brush chicken with oil before grilling them?
If the wings are well marinated, there's no need to brush them with oil before grilling them. The marinade itself should prevent them from sticking to the grates.
More Tasty Chicken Recipes to Try
Recipe
Looking for a solid grilled chicken wings recipe you can keep returning to? This simple version only requires ranch dressing & garlic parsley salt. So good!
Nutrition Facts
Grilled Chicken Wings Recipe (Just 3 Ingredients)
Amount Per Serving
Calories 444
Calories from Fat 333
% Daily Value*
Fat 37g57%
Cholesterol 105mg35%
Sodium 1613mg67%
Potassium 217mg6%
Carbohydrates 2g1%
Protein 23g46%
Vitamin A 195IU4%
Vitamin C 1mg1%
Calcium 27mg3%
Iron 1mg6%
* Percent Daily Values are based on a 2000 calorie diet.