Bursting with juicy shrimp, creamy avocado, and crisp fresh vegetables, these spring rolls are an easy and healthy dish to serve at home or take on the go!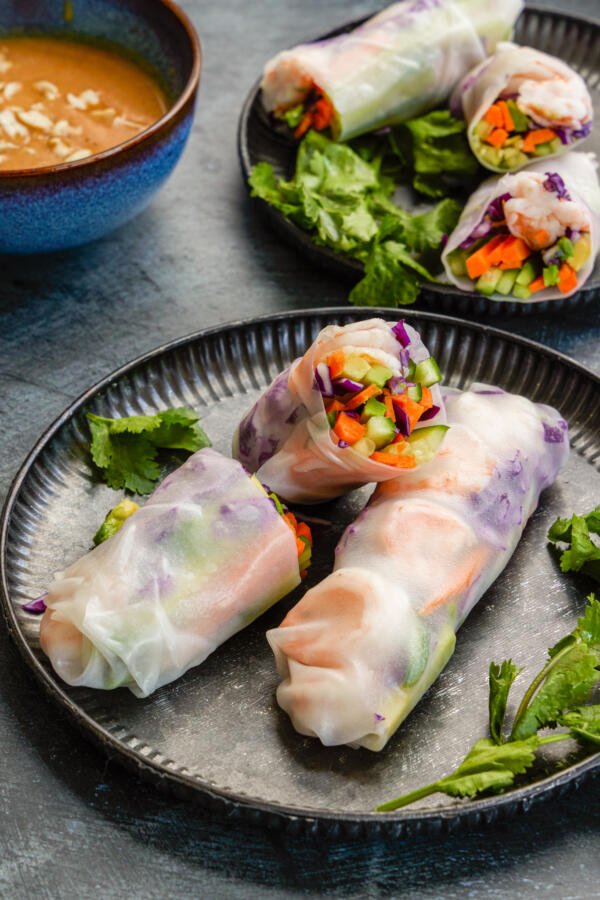 What are Spring Rolls?
Spring rolls are a popular Southeast-Asian appetizer, consisting of a filling of assorted vegetables and proteins wrapped in rice paper. Spring rolls are completely customizable, making them one of the most versatile finger foods. These appetizers are usually served cold and require minimal prep time.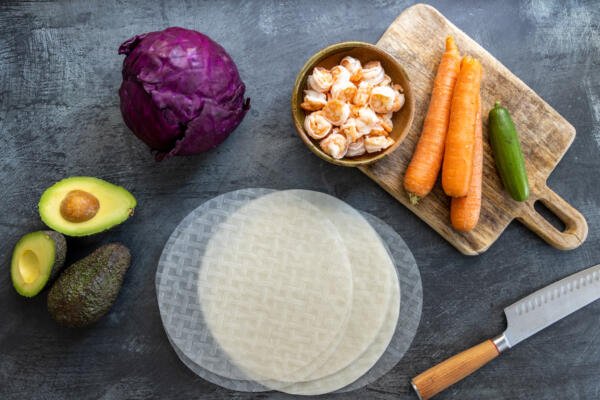 How to Prepare Shrimp Spring Rolls
Cut, Soak, and Roll. This is all you need to know to make the perfect spring rolls in just 30 minutes.
Cut up the veggies: Slice the cucumber and avocados into long, thin strips.
Soak the wrappers: Dip the rice paper sheets, one at a time, in warm water. Lay them flat on a clean surface.
Roll up the filling: Place an equal portion of all the filling ingredients on the bottom half of the rice paper. Fold over both sides and roll it up, then repeat the process with each sheet.
Serve the rolls: Place the spring rolls in a single layer on a plate and serve!
Ingredient Options
This recipe is wonderfully customizable. Make any of these ingredient changes to better suit your tastes.
Noodles: Use vermicelli rice noodles for added texture in the filling.
Fruit: Experiment with mango or pineapple to add a bit of sweetness.
Veggies: Try bell peppers, lettuce, beets, or jalapeños for a spicy kick.
Fresh herbs: Mix in mint, cilantro, or Thai basil for a refreshing lift.
Spring Rolls vs. Egg Rolls
The biggest differences between spring rolls and egg rolls are the types of wrappers used and how the rolls are prepared. Spring rolls, aka summer rolls, are of Vietnamese origin and are made with a thin rice paper wrapper dipped in water and served cold. On the other hand, egg rolls are of Chinese origin and consist of a thicker wrapper dipped in egg and fried.
Tips from the Kitchen
Want to make your spring rolls perfect? Let's break down a list of our favorite hacks.
Make sure the rice paper sheets are intact. A pile of broken wrappers is useless.
Keep the size of the sliced veggies consistent. Evenly sized veggies are easier to line up and roll neatly. Use a sharp knife to get clean, even cuts.
Soak one sheet of rice paper at a time. If soaking all at the same time, the delicate wrappers may stick together.
Hold the filling in place while you roll. Keep a firm grip on the filling ingredients with one hand while the other rolls. This helps achieve a tighter roll and neater appearance.
Separate the assembled spring rolls. Avoid the common problem of spring rolls sticking together by leaving space between each roll when storing and serving.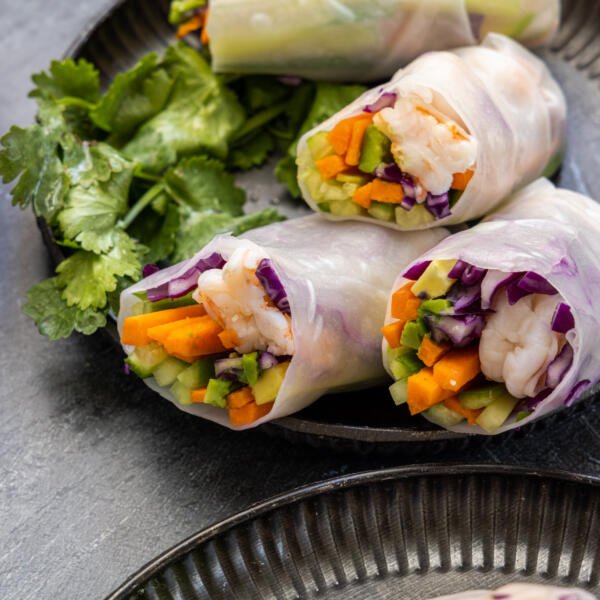 Serving Ideas
Spring rolls are a tasty accompaniment to any Asian-inspired main dish. Serve them alongside spicy chili noodles, shrimp lo mein, or wonton soup. If you want more protein in your dinner line-up, try these spring rolls with brown sugar glazed salmon or sweet and sour chicken. Alternatively, serve with Young Chow fried rice or Mongolian beef.
Make Shrimp Spring Rolls Ahead of Time
Hosting a dinner party or meal prepping lunch? Let's look at a few ways to prepare shrimp spring rolls ahead of time.
Prepare the veggies: Cut up the veggies in advance. Keep the bags of shredded carrots and cabbage refrigerated and unopened to preserve freshness. Cover the sliced cucumber with cold water in an airtight container, and refrigerate it for up to a week to keep it crisp (that's a hack for you!). Avocado is best used or consumed fresh, but it can be stored up to three days in an airtight container in the fridge. Toss the sliced avocado in lemon juice to prevent discoloration.
Thaw the shrimp: Save yourself time by thawing shrimp in advance, as most pre-cooked shrimp comes frozen. Safely defrost the shrimp in the fridge and use it within 48 hours.
Make a sauce: A good dipping sauce is a must when it comes to spring rolls. Our peanut dipping sauce is perfect for these rolls and comes together in five minutes. It also stores well in the fridge for up to five days. Let the sauce come to room temperature about 30 minutes before serving.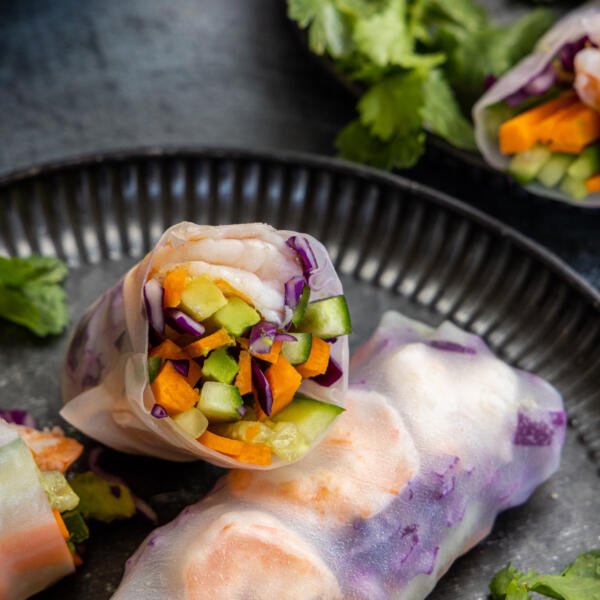 Storing For Later
Shrimp spring rolls are best eaten on the day of assembly, but they can be stored for later. Once assembled, wrap each individual roll in plastic wrap and place into an airtight container in the refrigerator for two to three days. Long term storage is not recommended, as it compromises the freshness and texture of the spring rolls. The wrapper becomes tough and chewy, while the vegetables become soggy.
FAQ
Are shrimp spring rolls healthy?
Shrimp rolls contain plenty of fresh veggies, which offer vitamins, antioxidants, and other nutrients that are important for a healthy lifestyle. Shrimp is also an amazing source of protein and vitamin B12.
Can you heat up shrimp spring rolls?
It is not recommended to heat up pre-assembled shrimp spring rolls, as the filling becomes soggy and discolored. However, prepare the ingredients ahead of time and throw it all together when you are craving a quick, fresh crunch!
Is it hard to make shrimp spring rolls?
It's actually quite simple to make shrimp spring rolls. All it takes is a little ingredient prep, two folds, and a roll. Follow the instructions, and you will catch right on after the first try.
Are shrimp spring rolls raw or cooked?
These shrimp spring rolls contain raw veggies and cooked shrimp. They are usually assembled and eaten cold, as opposed to the popular deep-fried egg roll.
Similar Recipes to Make
Recipe
Bursting with juicy shrimp, creamy avocado, and crisp fresh vegetables, these spring rolls are an easy and healthy dish to serve at home or take on the go!
Ingredients
24

round rice paper sheets

1

English cucumber

2

avocados

1

cup

carrots

shredded

2

cups

purple cabbage

shredded

1

lb

cooked shrimp

deveined and peeled
Nutrition Facts
Shrimp Spring Rolls Recipe
Amount Per Serving
Calories 306
Calories from Fat 81
% Daily Value*
Fat 9g14%
Cholesterol 77mg26%
Sodium 668mg28%
Potassium 515mg15%
Carbohydrates 42g14%
Protein 15g30%
Vitamin A 3144IU63%
Vitamin C 20mg24%
Calcium 85mg9%
Iron 3mg17%
* Percent Daily Values are based on a 2000 calorie diet.