This egg roll in-a-bowl is a mix of ground beef, cabbage, carrots, and asian sauces and spices. It's a classic egg roll made even easier!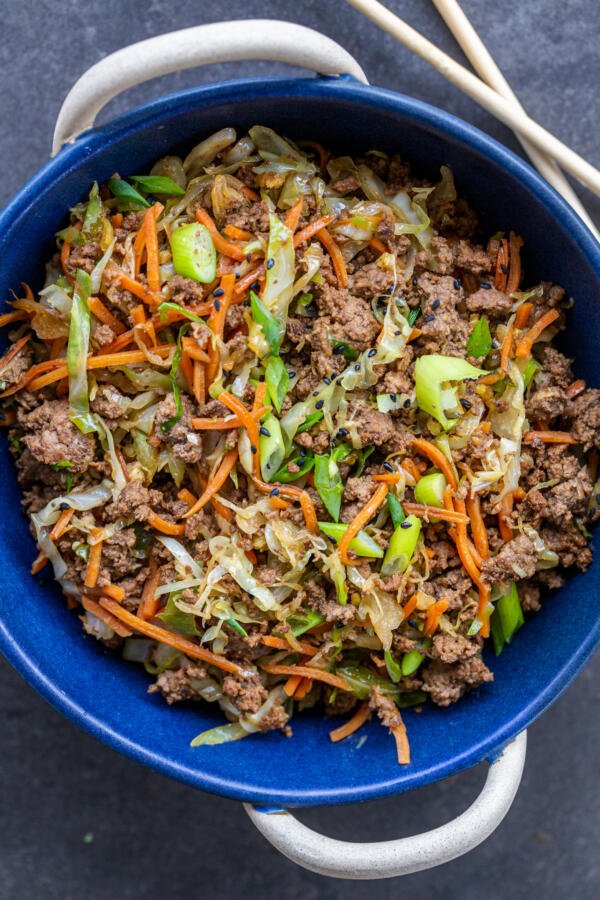 What is an Egg Roll in a Bowl?
Egg roll in a bowl is a deconstructed egg roll made with a protein (ground beef) and the classic cabbage, carrot, and asian flavors. Unlike a traditional egg roll, this version is neither wrapped nor fried. It is made in under 30 minutes using only one pan/wok. If you're craving egg rolls but are low on time and energy (and want a non-fried version), egg rolls in a bowl are perfect.
Egg Roll in a Bowl Video
How to Make Egg Roll in a Bowl
While egg rolls require good wrapping skills to ensure the ingredients don't escape the wrap, egg rolls in a bowl don't need any of that! Simply cook and toss the ingredients together and voila – you're done!
Cook the meat: In a large skillet or wok, cook the ground beef on medium-high heat until the small pieces of meat are golden brown.
Add the veggies: Add in the cabbage and carrots and cook until soften, about 3-5 minutes.
Pour in liquid ingredients: Pour in the soy sauce and sesame oil, then stir it all together.
Toss in the aromatics: Add ginger and garlic and cook for a few minutes. Garnish with green onions and enjoy.
Time-saver Tip: Use coleslaw mix to make this recipe go even quicker! Most coleslaw mixes are made of cabbage and carrots and are perfect for egg rolls.
Tips from the Kitchen
These egg rolls in a bowl are guaranteed to taste delicious. Follow these tips to make them even better.
Cook in a wok: If you own a wok, use it instead of a skillet in this recipe. The wok allows for quick and even cooking, plus easy mixing of ingredients.
Adjust the saltiness: When using low-sodium soy sauce, add salt to taste. Alternatively, reduce salt when using regular soy sauce.
Use a low-sodium salt: We prefer low-sodium salt instead of table salt as it doesn't overpower the other flavors of the dish. However, table salt is absolutely acceptable when no alternative is available.
Choose lean ground beef: For less fat in the egg rolls, use 85% or leaner ground beef.
Soy Sauce Substitutions: Substitute soy sauce with liquid aminos or coconut aminos. They are typically less salty, lighter in color, and slightly sweeter.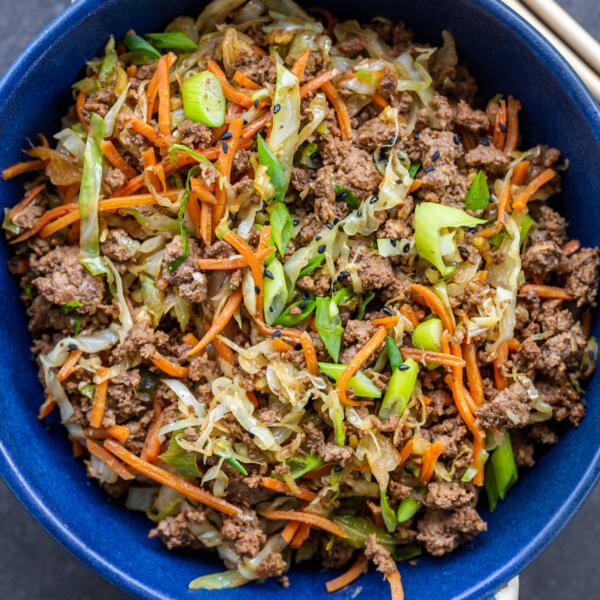 Egg Roll Variations
If you're feeling adventurous, change up your egg rolls with these flavorful variations.
Make it spicy: Serve the rolls with a splash of sriracha or a sprinkle of red pepper flakes.
Add bell peppers: Add red, green, or yellow bell peppers to increase your veggie intake. Slice peppers into strips and cook along with the cabbage.
Substitute the protein: Swap out the beef with ground chicken, ground pork, or ground turkey.
Change up the sauce: For a different flavor, add or swap out the sesame oil/soy sauce with other popular asian sauces like rice vinegar, sweet and sour sauce, sweet chili sauce, or hoisin sauce.
Serving the Egg Roll
Egg roll in a bowl is great as an appetizer or as a whole meal by itself. It has the protein and the veggies necessary for a well-rounded meal. Serve with your favorite asian sauces such as soy sauce, sweet and sour sauce, or hoisin sauce. To make the rolls even more filling, serve them over a bowl of quinoa or rice.
Storage and Reheating Tips
This recipe stores and reheats wonderfully, making it great for a quick dinner and leftover lunch for the next day. Follow these tips for the best way to enjoy your leftovers.
Refrigerator: To store for up to five days, transfer leftovers into an airtight container and place into the fridge.
Reheating: To reheat a small portion of egg rolls, simply transfer to a bowl and heat in the microwave. For a larger portion, reheat in a pan or skillet over medium heat, stirring often.
Hot tip: Egg roll in a bowl is a great meal prep meal to enjoy during the week. Make it up to five days in advance and store in the fridge.
FAQ
Is egg roll in a bowl healthier than a traditional egg roll?
Egg roll in a bowl is a healthier version than a traditional egg roll because traditional egg rolls are deep fried whereas an egg roll in a bowl is not deep fried.
Does egg roll in a bowl contain eggs?
Funnily enough, egg rolls in a bowl (and many traditional egg rolls) do not actually contain any eggs.
What's the difference between an egg roll and a spring roll?
An egg roll consists of cooked fillings wrapped in a thick dough that is then fried, whereas a spring roll is usually made with fresh cold vegetables wrapped in a see-through shell and served fresh.
More Asian-Inspired Dishes
Recipe
This egg roll in-a-bowl is a mix of ground beef, cabbage, carrots, and asian sauces and spices. It's a classic egg roll made even easier!
Ingredients
1

lb

ground beef

4

cups

cabbage

shredded

1

large carrot

shredded

1/3

cup

soy sauce

low sodium

1

tbsp

sesame oil

1

tbsp

ginger

2

garlic cloves

minced

1/4

cup

green onion

diced
Nutrition Facts
Egg Roll in a Bowl
Amount Per Serving
Calories 360
Calories from Fat 234
% Daily Value*
Fat 26g40%
Cholesterol 81mg27%
Sodium 1181mg49%
Potassium 545mg16%
Carbohydrates 8g3%
Protein 23g46%
Vitamin A 2679IU54%
Vitamin C 28mg34%
Calcium 65mg7%
Iron 3mg17%
* Percent Daily Values are based on a 2000 calorie diet.