Young Chow fried rice is a fried rice dish packed with shrimp, ham, eggs, and vegetables. The colorful blend of textures and flavors will make your taste buds sing!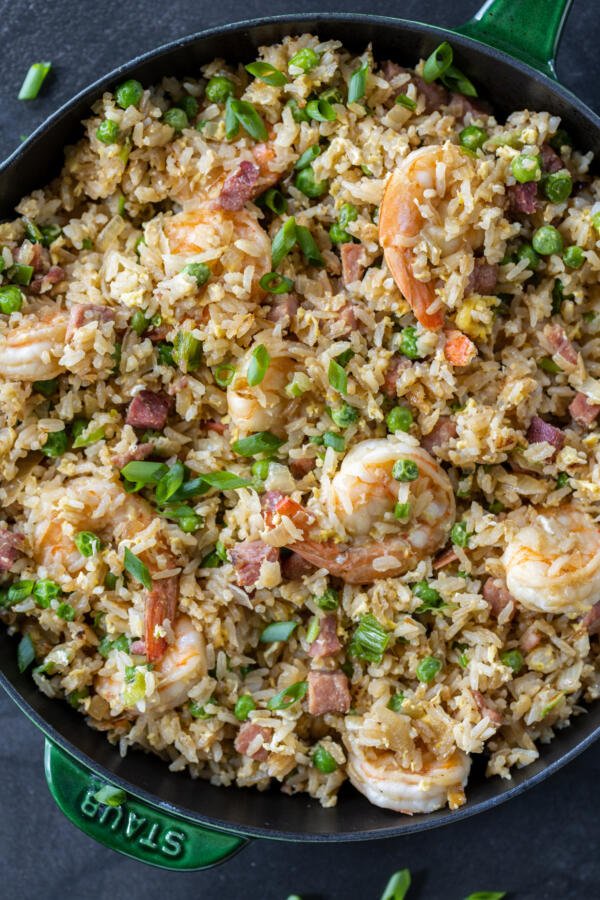 What Is Young Chow Fried Rice?
Young Chow is a fried rice dish made with a choice of various proteins and vegetables flavored with soy sauce. Proteins such as eggs, sausage or ham, and shrimp are paired with vegetables like onions, peas, and then garnished with scallions. The variety of flavors and textures complement each other, creating a balanced, aromatic dish.
Traditionally, a dry-cured Chinese sausage known as Lap Cheong or Lap Chong is used in Young Chow fried rice. Lap Chong has a slightly chewy texture and sweet-salty flavor and is commonly found in specialty or Asian food stores. For an easier-to-find alternative, we use ham instead of Lap Cheong.
Young Chow fried rice has stood the test of time. It is thought to have originated in the 1700s in Yangzhou, a city in the Jiangsu province of China, and spread to other regions of China. You may find this dish also called Yangzhou fried rice, Yung Chow, Yang Chow, or Yeung Chow fried rice. All names are associated with the dishes' city of origin — Yangzhou.
Young Chow Fried Rice vs Fried Rice
Young Chow fried rice is a version of fried rice. They both are fried rice dishes with eggs, veggies, and protein. However, fried rice typically has only one type of protein aside from the egg or none at all. Fried rice is often made with chicken or shrimp. In contrast, Young Chow fried rice always has multiple protein options. Commonly, shrimp, ham, or sausage are used in this dish.
How To Make Young Chow Fried Rice
For the best Young Chow fried rice, cook it in a wok. The large round shape is ideal for tossing and stirring all the ingredients together. Remember to preheat the wok before getting started!
Cook the onion: In an oiled and preheated wok, sauté the chopped onion until soft and translucent.
Add sausage or ham: Cook the sausage or ham with the onion for about three minutes or until heated.
Toss in the shrimp and peas: Fry the shrimp until it turns pink. Mix in the green peas and toss together for about two minutes. Remove from the pan and set aside.
Fry the rice: In the same wok, add one tablespoon of oil. Spread the cold rice evenly on the bottom of the wok. Cook on high heat for a few minutes until it crisps up.
Mix in the protein and veggie mixture: Add the shrimp and veggie mixture to the rice, along with soy sauce and green onions. Toss it all together.
Pour in the eggs: Spread the rice mixture to the sides of the wok to create an open center in the middle. Add the beaten eggs and break them lightly with a spatula into pieces as they cook. Mix evenly into the rice mixture.
Season to taste: Add salt and pepper to taste and enjoy!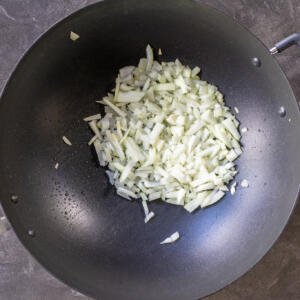 Tips for the Perfect Flavor and Texture
Young Chow fried rice cooks quickly, so here are a few tips to keep everything smooth sailing and flavorful!
Use day-old rice: Leftover cold rice is best for this recipe. It is firmer in texture and less likely to clump together.
Avoid using mushy rice: Using mushy rice results in sticky fried rice instead of the ideal light and fluffy texture. Avoid using rice with too much moisture.
Prep the ingredients: Chop, cut, and prep all the ingredients before heating the wok. The recipe moves quickly, so having the ingredients ready to go at a moment's notice is key. We love using these prep bowls.
Preheat the wok with oil: Preheating the wok with oil is crucial in preventing the food from sticking. Swirl the oil around to cover all of the surface areas of the wok.
Add salt to taste: Depending on the amount of salt in the soy sauce, additional salt may not be necessary. Add salt to taste.
Cook the ingredients separately: To ensure optimal texture and flavor, cook the ingredients individually instead of all at once. Combine them at the end.
Hot tip: If you don't have leftover rice, make fresh rice and cool in the fridge for a few hours before making this dish.
Serving Young Chow Fried Rice
Young Chow fried rice is a meal in itself. Enjoy it with a simple drizzle of sriracha for a bit of heat or Yum Yum sauce for extra flavor. For a refreshing side, add a light salad such as green cabbage cucumber salad or a simple green salad tossed with china coast salad dressing. If you want added crunch, then pair with this Asian cucumber salad, or this flavorful ramen noodle salad. Additional Asian-inspired sides that pair well include gyoza (Japanese dumplings), crab puffs and wonton soup.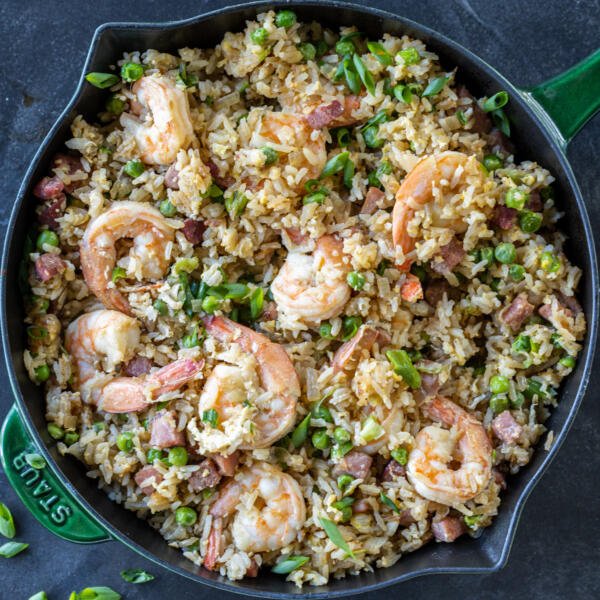 Storage & Reheating
Fried rice tastes great reheated, so make a double portion to meal prep. Use these airtight containers for storing the rice once it has fully cooled.
Short-term storage: To store for up to three days, place the fried rice in an airtight container and refrigerate.
Long-term storage: To keep for up to two months, freeze the fried rice. Be sure to store it in a freezer-friendly container.
Reheating: Reheat the frozen or refrigerated fried rice on a skillet over medium heat. Or, microwave at minute intervals until heated through.
FAQ
Where did Young Chow fried rice come from?
Young Chow fried rice originated in Yangzhou, a city in the Jiangsu province of China.
Why is it called Young Chow fried rice?
Young Chow fried rice is named after the city it originated in — Yangzhou. Different dialects spell and pronounce it differently. Young Chow is a common translation.
More Recipes to Pair With Rice
Recipe
Young Chow fried rice is a fried rice dish packed with shrimp, ham, eggs, and vegetables. The colorful blend of textures and flavors will make your taste buds sing!
Nutrition Facts
Young Chow Fried Rice (Yang Chow Fried Rice)
Amount Per Serving
Calories 373
Calories from Fat 153
% Daily Value*
Fat 17g26%
Cholesterol 109mg36%
Sodium 1165mg49%
Potassium 231mg7%
Carbohydrates 40g13%
Protein 13g26%
Vitamin A 203IU4%
Vitamin C 3mg4%
Calcium 39mg4%
Iron 1mg6%
* Percent Daily Values are based on a 2000 calorie diet.