This sourdough focaccia is crispy, airy, and soft. One of the tastiest ways to use your sourdough starter and is perfect with salads, soups, and pasta!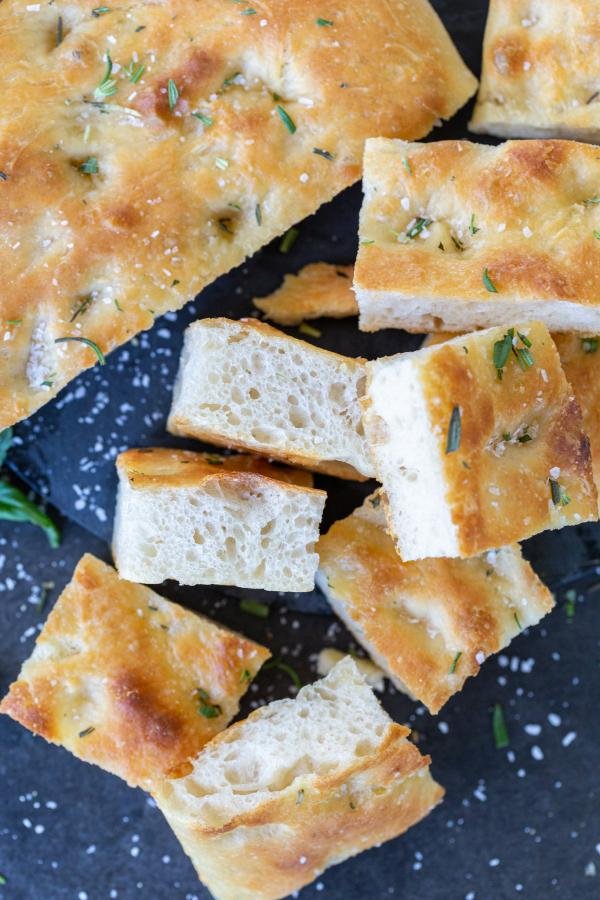 This simple sourdough focaccia recipe is about to become one our your favorite ways to put your sourdough starter to use. If you don't already have a starter, you can purchase one on Amazon that's already active and ready to use. For additional tips, read this guide on how to feed and maintain your starter. Get ready for the chewy goodness that's headed your way!
How to Make Sourdough Focaccia Bread
Preparing this super simple sourdough focaccia from scratch requires some patience for the resting times and some fun stretching by hand. Best of all, there's no need to bust out your stand mixer or dough hook attachment!
Hot Tip: Line the baking dish with some parchment paper to prevent the bread from sticking to the pan.
3 Tips for the Tastiest Sourdough Focaccia
If this is your first time making homemade sourdough focaccia, follow these 3 tips to help you along the way.
Different Toppings for Sourdough Focaccia
While this sourdough focaccia is delicious plain, there are several different ways you can up-level it with fun topping combinations. Here are a few ideas to inspire you.
Serving Suggestions
Consider this sourdough focaccia the perfect base for any and all of your fancy focaccia creations. Use it to make a sandwich or serve it alongside your favorite soups, salads, and entrees. We love to pair it with a caesar salad and a piping hot bowl of minestrone. If you're serving it for dinner, pair it with spatchcock chicken and creamy mashed potatoes.
Storing Best Practices
Whether you want to keep your focaccia on the counter or freeze some for a rainy day, here's all you need to know.
Reheating Tip: This focaccia bread has the best flavor when it's served warm, so it's always a good idea to warm it up before serving. To do so, place the focaccia on a baking sheet and throw it in the oven at 350°F for 5 minutes or until warmed through.
FAQ
How is sourdough focaccia different from focaccia bread?
Sourdough focaccia is different from typical focaccia bread because it's made with an active sourdough starter. This gives the bread a slight tang and a depth of flavor that's slightly different than typical focaccia bread.
Why is your sourdough focaccia dense?
There are two main reasons that your sourdough focaccia turned out dense. The first is that you didn't add enough water to the dough, causing it to be dense and dry. The next reason is that it hasn't been proofed long enough.
How do you make sourdough focaccia airier?
You can make sourdough focaccia even airier by mixing baking soda into the dough during the shaping stage and right after the bulk fermentation. Because baking soda is an alkaline it reacts with the acidity of the sourdough starter and makes for a lighter, airier texture overall.
When does sourdough starter go bad?
If you feed and take care of your sourdough starter properly, you'll never have to throw it away. It continues to grow and develop better flavors with time. Some starters are even up to 100 years old when they are fed regularly!
More Tasty Sourdough Recipes to Try
Recipe
On the hunt for new and exciting ways to use your extra sourdough starter? Look no further than this delicious, pillow soft sourdough focaccia. Crazy easy!
Nutrition Facts
Easiest Sourdough Focaccia Recipe (No Knead)
Amount Per Serving
Calories 193
Calories from Fat 36
% Daily Value*
Fat 4g6%
Sodium 196mg8%
Potassium 46mg1%
Carbohydrates 34g11%
Protein 4g8%
Vitamin C 0.01mg0%
Calcium 7mg1%
Iron 2mg11%
* Percent Daily Values are based on a 2000 calorie diet.