These flakey, melt-in-your-mouth sourdough biscuits are great for everything from breakfast sandwiches to Southern-inspired dinners. Crazy easy & so soft!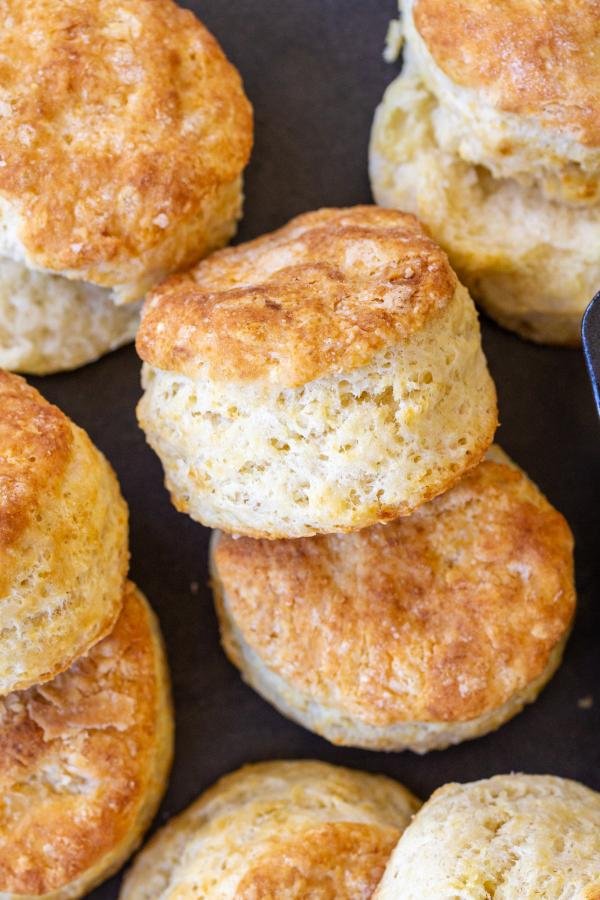 Love buttermilk biscuits? Love sourdough bread? Well, you can have the best of both worlds with these incredibly flaky sourdough biscuits. Made with sourdough discard, they have a wonderful sourdough tang to them. Get ready to fall in love!
Need Sourdough Starter?! You can order an active sourdough starter from Amazon. We've heard amazing feedback about this one.
How to Make this Sourdough Biscuit Recipe from Scratch
Making these sourdough starter discard biscuits is pretty much identical to making traditional biscuits. Here's an overview of the process.
Hot Tip: Bake the biscuits on a sheet of parchment paper or a silicone baking mat. This will help them get that perfect, golden brown bottom, while also preventing them from sticking.
3 Tips for the Perfect Sourdough Biscuit
To make sure your biscuits turn out perfectly fluffy and soft, follow these 3 cardinal rules and you'll be golden.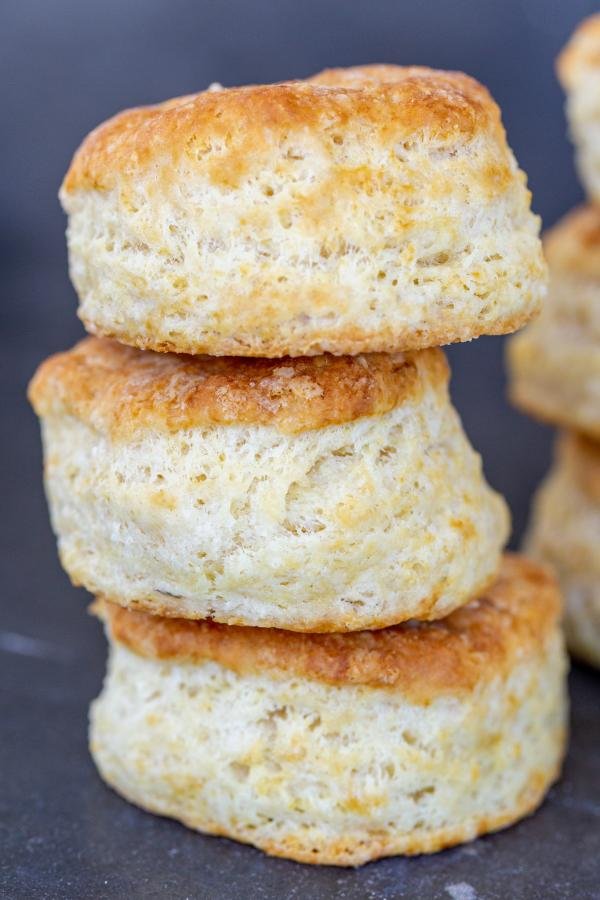 Ideas for Serving
Now that your piping hot biscuits have come out of the oven, it's time to put them to good use. Here are a couple of our favorite ways to serve them…
Storage Best Practices
You can keep freshly baked biscuits at room temperature for 1-2 days in an airtight container or a plastic storage bag. If you want them to last longer, store them in the fridge for up to a week. You'll know they are past their prime when they appear dry or you see mold.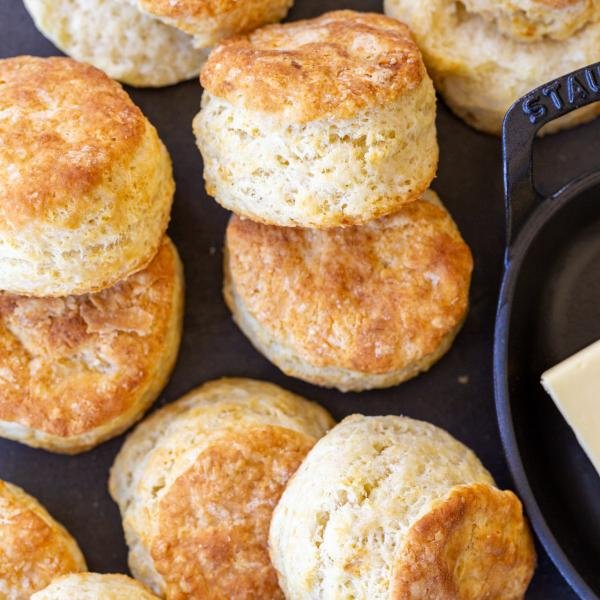 FAQ
Can you refrigerate sourdough biscuit dough?
Yes, you can refrigerate sourdough biscuit dough for up to 3 days before you need to bake it. To store it, place the pre-portioned biscuit dough in an airtight container alternated with layers of parchment paper.
Can you freeze sourdough biscuits?
Yes, you can freeze sourdough biscuits if you'd like. That said, they won't be as fluffy and airy when you thaw them. Some things are best eaten fresh out of the oven and biscuits are one of those things!
Does sourdough starter go bad?
If you feed and take care of your sourdough starter properly, you'll never have to throw it away. It continues to grow and develop better flavors with time. Some starters are even up to 100 years old when they are fed regularly!
Can you add anything to homemade sourdough biscuits?
If you'd like, you can add some fun mix-ins to the sourdough biscuit dough. A couple of tasty combinations include jalapenos and shredded cheddar cheese, garlic and cheddar cheese, or maple bacon and cheddar cheese.
Can you use a different dairy than buttermilk for sourdough biscuits?
It's highly recommended that you use buttermilk for biscuits and not any other dairy. What makes buttermilk different is that it's full of acid, making the biscuits super tender and flaky. If you use whole milk or heavy cream, you simply will not get the same results.
More Tasty Sourdough Recipes to Try
Recipe
Craving a flakey, buttery biscuit? Not only are these sourdough biscuits a great way to use your starter, but they are also ridiculously soft & tasty.
Nutrition Facts
Sourdough Biscuits (Extra Flaky)
Amount Per Serving
Calories 207
Calories from Fat 90
% Daily Value*
Fat 10g15%
Cholesterol 26mg9%
Sodium 304mg13%
Potassium 288mg8%
Carbohydrates 26g9%
Protein 4g8%
Vitamin A 303IU6%
Calcium 124mg12%
Iron 1mg6%
* Percent Daily Values are based on a 2000 calorie diet.