Making your own homemade sourdough crackers has never been easier. With just sourdough starter, flour, butter and salt, they come together in a pinch.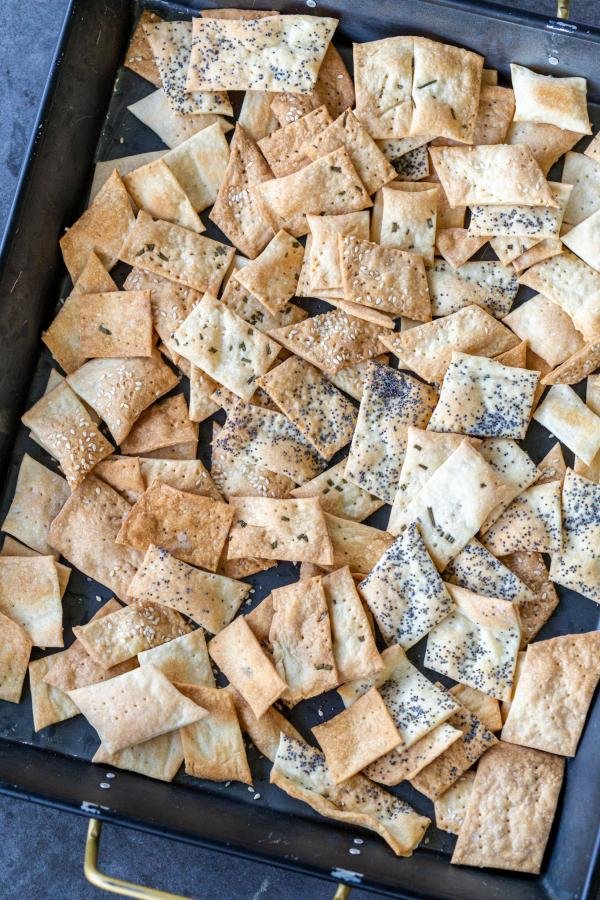 If you're a sourdough bread fanatic, you've landed in the right corner of the internet. These 4-ingredient, extra buttery sourdough crackers are the perfect way to put your sourdough starter discard to good use and reduce food waste. So simple to put together, you can customize the crackers with your favorite toppings and dip and top them to your heart's desire.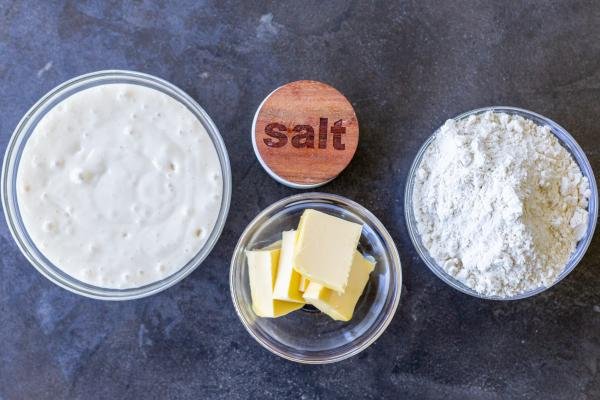 How to Make Homemade Sourdough Crackers
To make homemade sourdough discard crackers, all you need to do is make a simple dough with your sourdough starter and account for a quick 30-minute rest in the fridge.
Make the Dough: In a medium bowl, combine the starter, all-purpose flour, butter, and salt until smooth. Break the dough into two pieces, wrap them in plastic wrap, and pop them in the fridge for 30 minutes.
Roll the Dough Out: Flour your work surface and roll the dough out thin with a rolling pin. If you'd like, add on the toppings of your choice and press them into the dough.
Poke the Cracker Dough: Place the dough on a piece of parchment paper and poke it all over with a fork. Slice the dough into small squares with a sharp knife or pizza cutter.
Bake the Crackers: Bake at 350°F in the oven for about 25 minutes or until golden brown. Halfway through, move the crackers around the baking sheet to promote even cooking.
Cool the Crackers: Remove the crackers from the baking sheet and transfer them to a wire rack. Allow them to cool to room temperature and serve!
3 Tips for the Crunchiest Sourdough Crackers
If this is your first time making a homemade cracker recipe, it's not as complicated as you think. These 3 pointers will help you make crackers that rival any variety that comes out of a box.
Roll the dough out on a floured surface. To ensure the dough is easy to work with, make sure to handle it on a well-floured surface. It's not super sticky, but you don't want to get caught up in a mess.
Prick the dough with a fork to prevent bubbles. Don't skip the step of poking the dough with the tins of a fork. This will help aerate it so it doesn't bubble up during the baking process.
Cool the crackers on a wire rack to crisp them up. Before serving the crackers, let them cool to room temperature on a wire rack. This will help them get super crunchy, light, and flakey.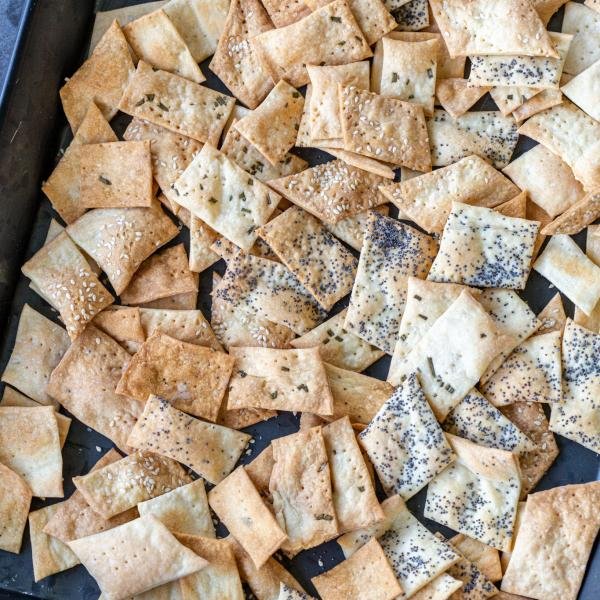 Different Toppings for Sourdough Crackers
While these crackers have so much flavor as-is, you can get as creative as you want with the toppings. To do so, roll out the dough, generously sprinkle it with your toppings, and rollover them again to press the toppings into the dough.
Dried Herbs – Rosemary, fennel, oregano, basil, thyme, or parsley are all great options. Use one or a couple of different kinds! Avoid using fresh herbs, as they will burn in the oven.
Parmesan Cheese & Garlic Powder – Sprinkle on finely grated parmesan cheese for a nutty crunch and a couple of tablespoons of garlic powder.
Olive Oil, Coarse Sea Salt & Black Pepper – Keep it simple and sprinkle some coarse, high-quality sea salt and freshly cracked black pepper onto the dough. Next, drizzle on a very slight amount of extra virgin olive oil.
Seeds – Sesame seeds or poppy seeds are our favorites. You can even add roasted sunflower seeds for a higher protein cracker.
Seasoning Blends – Italian seasoning, everything bagel seasoning, zaatar, or your favorite spice blend of choice are welcome additions.
Dips to Serve with Crackers
You can't go wrong with whatever dip you decide to pair these crackers with. They are neutral enough to go with just about anything. Some of our favorites include canned salmon dip, avocado hummus, spinach artichoke dip, and tzatziki sauce. For a refreshing and light dip, try our whipped feta dip!
How to Store Sourdough Crackers
Skip relying on boxed crackers 100% of the time and whip up a big batch of sourdough crackers to have on hand for easy snacking. To keep them in the cupboard for several months, store them in a sealed, airtight container. You'll know they aren't good anymore when they turn stale in texture.
FAQ
Can sourdough discard be frozen?
Sourdough starter can be stored in the freezer for up to one year when stored in an airtight container. To thaw it, simply place it in the refrigerator for 24 hours before you use it. Avoid refreezing it, as the yeast can typically only survive one freeze. For further tips on maintaining your starter review this helpful guide .
Are sourdough crackers healthy?
Yes, sourdough crackers are healthy for you. They are made with simple, wholesome ingredients. That said, they are still carbohydrates, so they should be eaten sparingly.
Are sourdough crackers gluten-free?
Sourdough crackers are not gluten-free. Both the starter and the dough contain all-purpose flour, which is primarily made of gluten.
Can you freeze sourdough crackers?
It's not a good idea to freeze sourdough crackers. They don't tend to thaw well after being frozen and lose all their crispy, crunch. That said, they do have a long shelf life and can stay fresh for up to several months when stored in an airtight container in the pantry.
What else can you use sourdough crackers for?
Aside from pairing sourdough crackers with your favorite dips and spreads, you can crush them up and use them as a salad topper in place of croutons. They are also delicious as a topper for tomato basil soup or salmon clam chowder. You can also use them as a crispy topping for homemade mac and cheese.
Other Tasty Sourdough Recipes to Try
Recipe
This recipe for sourdough crackers is a great way to use up your sourdough discard. Buttery, light and flakey, these are the perfect everyday crackers!
Nutrition Facts
Easy Sourdough Crackers (Only 4 Ingredients)
Amount Per Serving
Calories 16
Calories from Fat 9
% Daily Value*
Fat 1g2%
Polyunsaturated Fat 0.03g
Cholesterol 2mg1%
Sodium 12mg1%
Potassium 2mg0%
Carbohydrates 2g1%
Protein 0.3g1%
Vitamin A 21IU0%
Calcium 0.5mg0%
Iron 0.1mg1%
* Percent Daily Values are based on a 2000 calorie diet.