Upgrade your classic buttermilk pancakes by baking them in a sheet pan. Let the oven do all the work and enjoy this no-fuss, personalized pancake breakfast.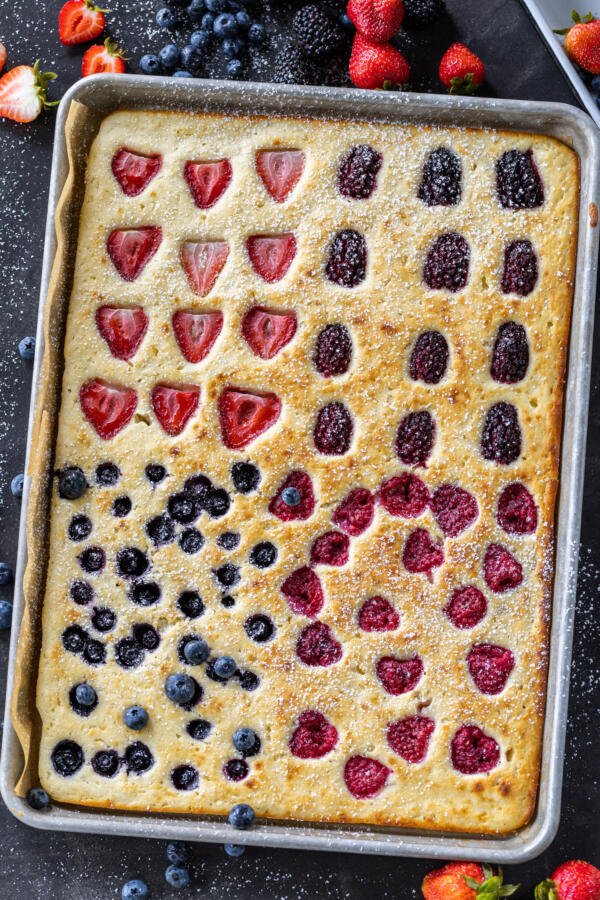 What Are Sheet Pan Pancakes?
Sheet pan pancakes are like regular pancakes, but baked on a tray instead of fried in a pan. They're so quick to make, delicious as leftovers, and widely customizable. Although the name is plural, this dish is actually one large rectangular pancake that is later cut into individual portions. Buttermilk and baking powder are the main agents responsible for this fluffy pancake. Eggs and flour add structure, while sugar and butter add flavor.
One of the most unique aspects of sheet pan pancakes is their customizability. You have the opportunity to mix in additional ingredients to portions of the pancake before baking. One batter, one giant pancake, and a variety of mix-ins and toppings — this is a recipe sure to please everyone in the family.
How to Make Sheet Pan Pancakes
There's nothing easier than making a fresh, steaming stack of sheet pan pancakes. All it takes is 10 minutes to whip up this batter and 15 minutes to bake!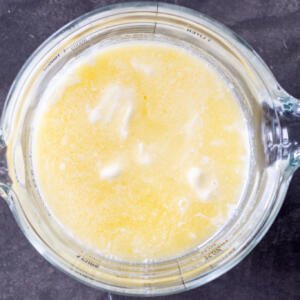 Ingredient Mix-ins
One of the best perks of sheet pan pancakes is the opportunity for personalization. Add everyone's favorite mix-ins into different areas of the sheet pancake to make everyone happy! Here are a few ideas to get you started.
Tips for the Best Sheet Pan Pancakes
Do you want an impressive, low-maintenance breakfast? Follow these tips to make fluffy sheet pan pancakes and go about your morning stress-free.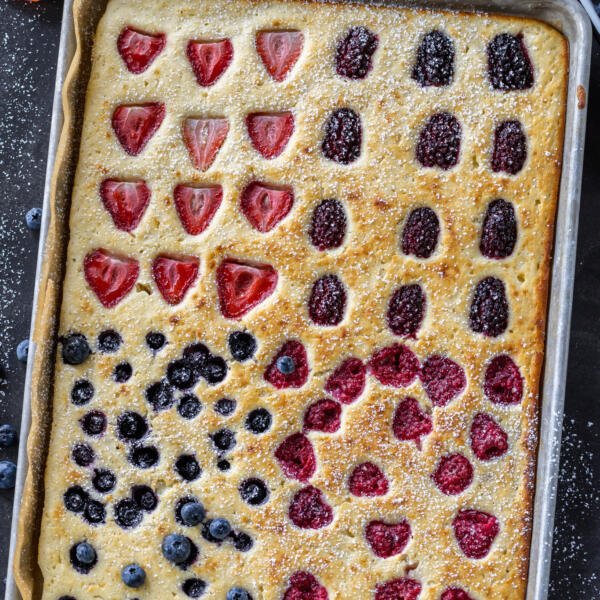 Ways to Serve
Sheet pan pancakes are a wonderful breakfast or brunch option. Go classic and serve them with butter and a drizzle of maple syrup. If you love extra flavor and texture, save a portion of the mix-ins and use them as toppings. Chocolate ganache, fresh fruit, strawberry jam, and whipped cream are especially delicious toppings. For a heartier breakfast, serve sheet pan pancakes with air fryer bacon, hard boiled eggs, and smoked salmon toast.
Storing & Reheating
Sheet pan pancakes are an excellent make-ahead breakfast, especially for parents with kids. Prepare the batter and bake as instructed, then store the pancakes until you are ready to eat. We've got you covered with the best storage tips to help you enjoy the leftovers again later.
Storage tip: Skip fresh berry mix-ins if you plan on freezing the pancakes. Berries run the risk of becoming mushy when thawed.
FAQ
Why did my pancakes stick to the sheet pan?
It is crucial to grease or line the sheet pan properly to prevent sheet pan pancakes from sticking. Use plenty of butter or oil, or line the pan with parchment paper for easy removal.
Should I use oil or butter to grease the pan?
Use softened or melted butter to grease the pan. Butter infuses rich flavor into the sheet pan pancakes as they bake. For a milder flavor, grease the pan with neutral oil or use cooking spray.
Why are my pancakes smoking?
Pancakes smoke when the heat is too high, causing them to burn. The benefit of making sheet pan pancakes is they bake in the oven, which keeps the heat consistent and prevents them from burning (make sure to keep an eye on the time!).
More Pancake Recipes
Recipe
Upgrade your classic buttermilk pancakes by baking them in a sheet pan. Let the oven do all the work and enjoy this no-fuss, personalized pancake breakfast.
Nutrition Facts
Easy Sheet Pan Pancakes
Amount Per Serving
Calories 437
Calories from Fat 189
% Daily Value*
Fat 21g32%
Cholesterol 106mg35%
Sodium 209mg9%
Potassium 593mg17%
Carbohydrates 54g18%
Protein 10g20%
Vitamin A 704IU14%
Calcium 286mg29%
Iron 3mg17%
* Percent Daily Values are based on a 2000 calorie diet.