This 4-ingredient roasted okra requires minimal prep and uses simple seasonings to create a crispy and healthy side dish or snack. Who said superfoods can't be tasty?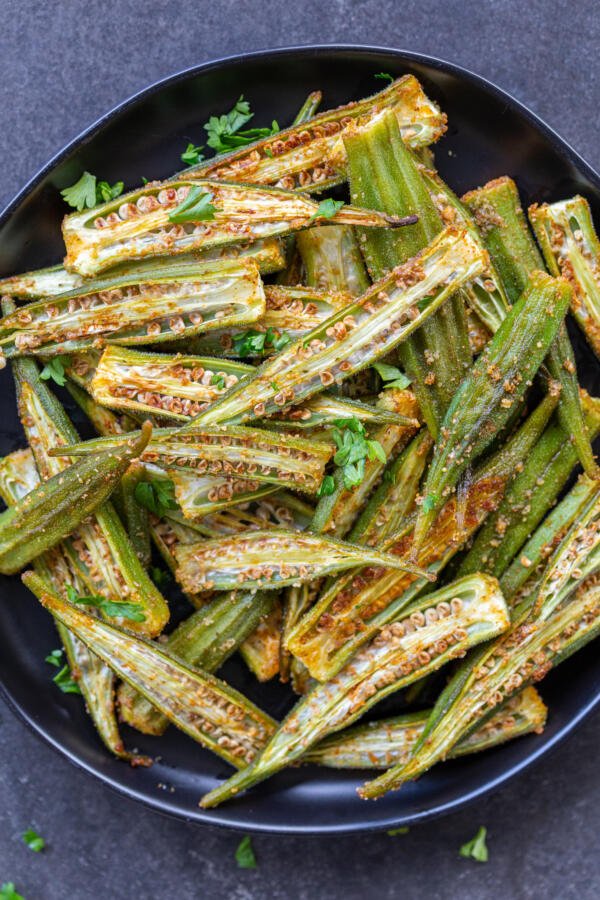 Okra may first scare you off because of its sometimes slimy texture and strong taste. However, roasted okra takes the undesirable and makes it absolutely scrumptious. It has so much flavor and makes for the perfect side dish. And last but certainly not least, it's extremely good for you!
What is Roasted Okra?
Okra grows like a pod and resembles a star shape when cut. It is considered a superfood as it is full of nutrients including protein, fiber, magnesium, vitamin C, and more! These fuzzy green veggies are also known as "gumbo" or "lady's fingers". Fresh okra has a sweet, grassy flavor and is often used in soups, canning, frying, roasting, or boiling.
As is, okra has a slimy texture due to mucilage (a gel-like substance found naturally in some vegetables) but baked or roasted okra takes the slime and turns it into a delightful crisp with tons of flavor.
Taste: Roasted okra retains its natural sweet, grassy flavor, but is elevated with the addition of savory flavors from the seasonings.
Texture: Roasted okra becomes tender on the inside, but perfectly crispy and crunchy on the outside.
Time: With only four ingredients, roasted okra takes only five minutes of prep and fifteen minutes to roast.
4 Steps to Make Roasted Okra
Roasted okra takes only four simple steps, five minutes of prep time, and fifteen to roast to perfection. You'll be making this on repeat!
Slice the okra: After rinsing the okra, slice each piece into long halves or into rings. Place in a large bowl.
Season with spices: Season the okra with avocado or olive oil, garlic parsley salt, and paprika. This provides the savory flavor profile.
Arrange on a baking sheet: Place okra in a single layer onto a sheet pan. Leave room between each piece for even roasting.
Roast: Roast in the oven until okra is golden brown. Serve and enjoy!
Hot tip: Make fried okra by air-frying at 400°F for 15 minutes, keeping a close eye after 10 minutes to avoid burning. Rotate the trays halfway through cooking for evenly crispy and golden-brown okra.
How to Prepare and Cut Okra
When choosing your okra, choose okra pods that are small and crisp. Large pods often have rougher skin and tougher seeds. Avoid pods that are browning or are beginning to show signs of shriveling. To prep okra, wash right before it's ready to cook, then cut off the stems.
Roasted okra is cut in one of four ways — pick your preferred method or change it up if you like! All methods are great for roasting and produce delicious results. There's no need to remove the seeds from the okra, either!
Enjoy whole: Enjoy the roasted okra in whole pods; however, okra will be the most slimy when roasted this way. Make sure to rotate halfway through roasting so all sides are evenly roasted.
Cut into rings: To cut okra into rings, simply chop into 1/4 inch pieces.
Slice diagonally: Cut the okra at a 45° angle, all the way from the stem end to the tip.
Slice lengthwise: Cut the okra lengthwise, starting from the stem end and continuing to the very tip. Okra cut this way will produce bigger individual serving sizes.
Hot tip: Soak the okra in vinegar for half an hour before cooking it to further reduce the chance of slimy okra. Rinse and pat dry before cooking.
Follow These 3 Quick Tips When Making Roasted Okra
We've rounded up three quick tips that will help yield the best roasted okra you've ever tried. With these tips, even the most skeptical okra-eater will turn into a fan.
Cut evenly: Slice the okra into even pieces to ensure each piece roasts evenly.
Add seasoning: For an extra kick, add red pepper flakes or cayenne pepper to the seasoning mix. Alternatively, garlic powder and onion powder are two other wonderful seasonings for roasted okra.
Use a good oven-safe pan: We love using this braiser, as it retains temperature very well for an evenly cooked/roasted okra. A regular baking sheet will work well, too!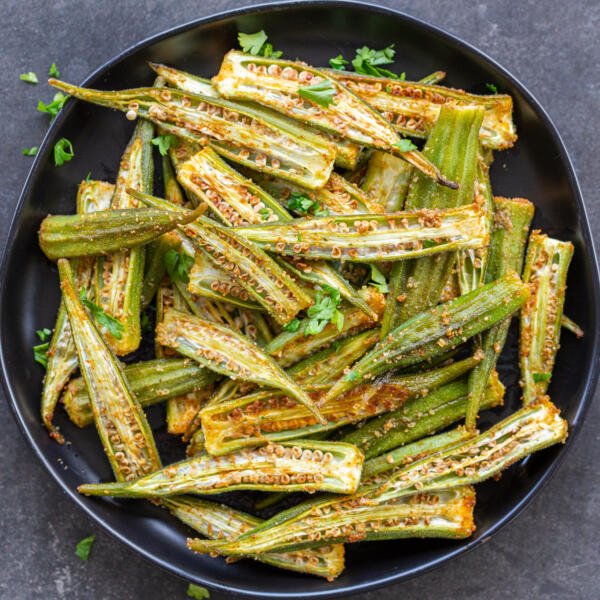 Our Favorite Serving Ideas
Roasted okra is a perfect side, as it can be paired with virtually anything! Make it a full meal by pairing the roasted okra with a main protein dish like our Instant Pot ribs, lamb loin chops or baked chicken legs. Serve it on the side with a pasta dish such as beef stroganoff or a potato dish like our baked potatoes. The possibilities are endless, and you won't go wrong!
Best Way to Store and Reheat Roasted Okra
Roasted okra will be the most flavorful and crispy enjoyed right away. As roasted okra sits, the crispiness diminishes and texture changes. For any leftovers, follow these tips for best results.
To refrigerate: To keep up to 3-4 days, place roasted okra in an airtight container in the fridge.
To reheat: To reheat from the fridge, gently reheat in the microwave on 50% power. Alternatively, drizzle with a little bit of oil and reheat in the oven at 425°F to regain some crisp.
Hot Tip: Don't freeze your roasted okra. The moisture will cause the okra to turn to a slimy mush when thawed and reheated.
FAQ
Is fresh or cooked okra healthier?
Okra is considered a superfood and is healthy any way it is prepared. In general, most vegetables including okra are higher in nutrients when fresh, but cooked or roasted seasoned okra has more flavor.
Why is okra good in gumbo and stews?
Okra has a gel-like substance called mucilage in it that comes from sugar residue. This mucilage is the substance that helps thicken gumbo and stews.
How long does fresh okra last in the fridge?
Okra stays fresh in the refrigerator for 2-3 days. For best results, refrigerate unwashed, dry pods, as wet pods quickly become slimy and spoil.
More Crazy Easy Vegetable Recipes
Recipe
This 4-ingredient roasted okra requires minimal prep and uses simple seasonings to create a crispy and healthy side dish or snack. Who said superfoods can't be tasty?
Instructions
Nutrition Facts
Roasted Okra (Only 4 Ingredients)
Amount Per Serving
Calories 100
Calories from Fat 63
% Daily Value*
Fat 7g11%
Sodium 1752mg73%
Potassium 345mg10%
Carbohydrates 9g3%
Protein 2g4%
Vitamin A 935IU19%
Vitamin C 26mg32%
Calcium 95mg10%
Iron 1mg6%
* Percent Daily Values are based on a 2000 calorie diet.