This roasted broccolini is crazy easy to make. All it takes is a little bit of seasoning, roasting, and voila — the perfect veggie side dish.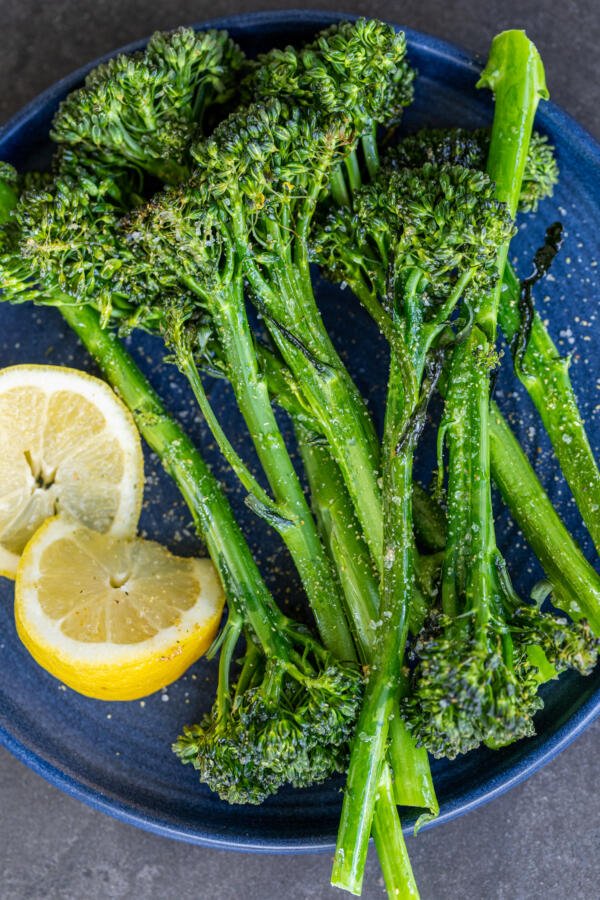 Looking for Roasted Asparagus? Try this recipe for the same great taste with a different vegetable.
What is Roasted Broccolini?
Broccolini, or "baby broccoli", is a green vegetable similar to broccoli but smaller. Broccolini have smaller florets and longer, thinner stalks. They are a hybrid of broccoli and Chinese broccoli called "gai lan". Flavor-wise, broccoli tends to have a bitter flavor, while broccolini tastes more mild and sweet, with notes of both broccoli and asparagus.
In this roasted broccolini recipe, the broccolini florets are seasoned with garlic parsley salt and oil, then roasted briefly in the oven until crispy and golden brown. They're a great addition to any meal!
How to Make Roasted Broccolini
Few things in life are as simple as making these roasted broccolini. It takes only five minutes of prep time and ten minutes of hands-off roasting.
Preheat the oven: Preheat the oven to 425°F. Spread broccolini on a baking sheet.
Season the broccolini: Season the broccolini with avocado or olive oil and garlic parsley salt.
Bake: Place into the oven and roast until broccolini is lightly golden and crisp-tender.
Hot tip: Line the baking sheet with parchment paper or a silicone mat for easy cleanup!
Roasted Broccolini Variations
This three-ingredient broccolini is fantastic as-is, but if you like to up the dish, try these variations.
Parmesan – Sprinkle parmesan cheese on top of the broccolini before roasting. It will add a lovely salty, crispy flavor.
Citrus – Add a bit of tang with a drizzle of fresh lemon juice and a teaspoon of lemon zest.
Spice – Spice it up with a sprinkle of red pepper flakes and black pepper.
Nuts – Mix the broccolini with nuts for a richer flavor. Pine nuts and sliced almonds are our favorite.
Umami – For a more savory flavor, add a splash of soy sauce or sweet chili sauce.
Tips for the Best Broccolini
Make the most of your roasted broccolini by following these easy tips.
Pick fresh broccolini: The freshest broccolini have firm stems and fresh bases. Avoid broccolini with dried bases/stems and flowering on the ends.
Prep the broccolini: Rinse the broccolini, dry, then chop two inches off the ends and cut any thick stalks in half lengthwise. The ends can be tough, so it is best to do this before cooking.
Cut into the same size pieces: Ensure all broccolini are about the same size so they cook evenly.
Arrange broccolini in one layer: Avoid double-layering the broccolini on the baking sheet. When they are too tightly arranged, they may steam more than roast.
Avoid overcooking: Avoid overcooking broccolini as it becomes dry and tough when cooked too long. They cook fast!
Broil for an extra crisp: For extra crispy broccolini, turn on the broiler for a minute or two. Keep a watchful eye to avoid burning!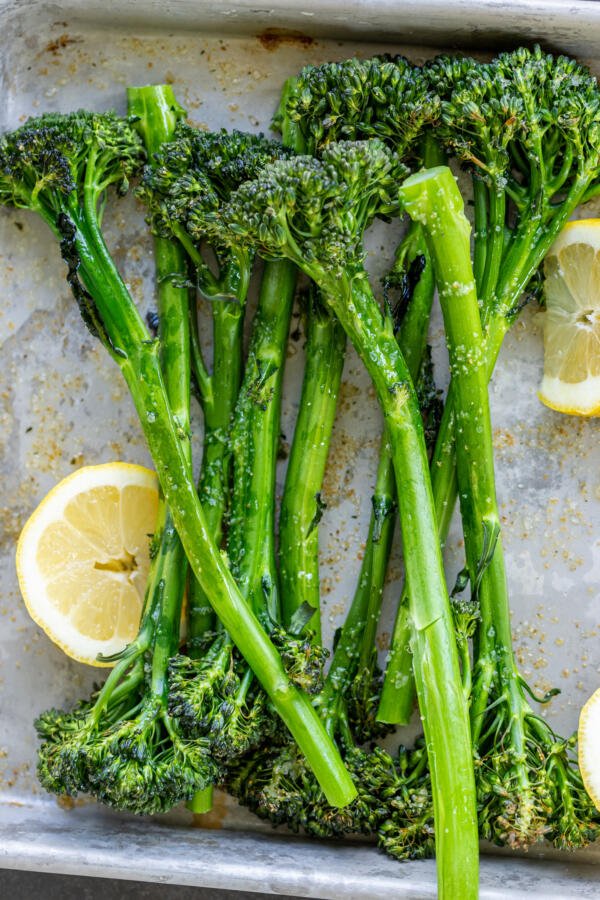 How to Serve Roasted Broccolini
Roasted broccolini pairs with all sorts of dishes — it's impossible to mess it up with any pairing you choose.
Making in Advance & Storage
Roasted broccoli is best enjoyed fresh, when it is still warm and crispy on the outside. However, this doesn't mean you can't prepare it in advance. Prep it by seasoning the veggie and placing on the sheet pan. Then, roast just before serving for the best flavor and texture.
If you have leftovers, store them for up to four days in the refrigerator. Place the broccolini in an airtight container into the fridge. Keep in mind the stalks and florets may become more soft and soggy after storing compared to when freshly roasted.
FAQ
Do broccolini need to be cut or peeled before cooking?
For the best taste and texture, it is best to cut off the tips of the stalks and slice the stalk in half when they are too thick. There is no need to peel this veggie.
Do I need to blanch broccolini before roasting?
Some cooks like to blanch broccoli or broccolini before cooking, but it is not necessary. Broccolini are ready to roast in the oven straight from the bag.
Why is my roasted broccolini mushy?
The broccolini may be mushy if the individual pieces were not spread out in a single layer when roasting. Refrigerated broccolini also tends to become soggy.
More Easy Roasted Veggies
Recipe
This roasted broccolini is crazy easy to make. All it takes is a little bit of seasoning, roasting, and voila — the perfect veggie side dish.
Instructions
Nutrition Facts
Easy Roasted Broccolini Recipe
Amount Per Serving
Calories 78
Calories from Fat 36
% Daily Value*
Fat 4g6%
Sodium 615mg26%
Potassium 0.1mg0%
Carbohydrates 8g3%
Protein 4g8%
Vitamin A 2001IU40%
Vitamin C 104mg126%
Calcium 80mg8%
Iron 1mg6%
* Percent Daily Values are based on a 2000 calorie diet.