Oven roasted broccoli is a simple veggie dish that can be adjusted to satisfy anyone's palate. Simply add a few of our favorite special variations and you have an appetizer, snack, or side dish guaranteed to please everyone.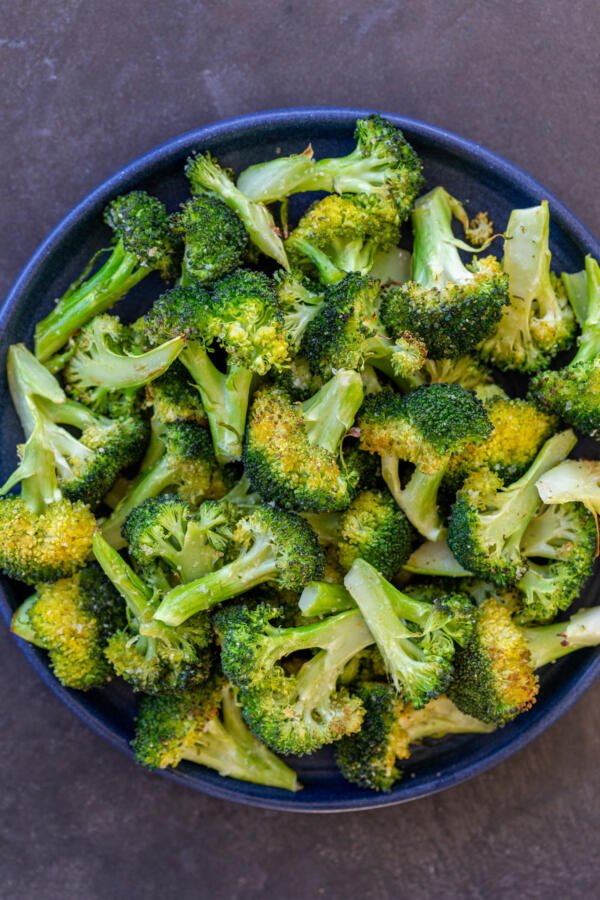 How to Make Oven-Roasted Broccoli in 3 Steps
Preheat your oven to 425°F and follow these easy steps to roast the broccoli.
Cut the broccoli: Cut the broccoli florets into equal sized pieces and place them on a baking sheet.
Season the broccoli: Using clean hands, toss the broccoli with garlic parsley salt and oil. Coat each piece thoroughly and spread into one layer.
Bake: Place broccoli into the oven, preheated at 425°F. Bake for 8 minutes, then toss and further roast until desired doneness.
Time Saving Hack: For easy clean-up, line your baking pan with parchment paper.
Roasted Broccoli Variations
It's vital to be able to alter a recipe to fit you and your family best. Here are some of our favorite ingredient variations to align this roasted broccoli with your preferences.
Lemon juice: Add a small squeeze of lemon juice and/or lemon zest on top of the broccoli right before serving. This will give the broccoli a fresh, citrusy tang.
Sesame oil: Drizzle a half teaspoon of sesame oil for a more nutty, asian flavor. Then, add a sprinkle of sesame seeds for visual flair.
Balsamic: A tablespoon of balsamic vinegar or balsamic glaze will add a taste of rich sweetness with notes of fig, molasses, and/or cherry.
Red pepper flakes: For a spicy kick, drizzle red pepper flakes to the florets before roasting.
Parmesan: A sprinkle of parmesan cheese right before serving will add a bold taste and nutty cheesiness.
Other seasonings: Branch out from just the garlic parsley salt and use any of your favorite seasonings. Cumin and Italian seasoning are two popular choices.
Tips (aka Words of Wisdom)
Make sure the texture and flavors of your roasted broccoli come out perfect by following these simple tips.
Cut broccoli florets equally: For evenly roasted florets, cut them into equal bite size pieces.
Leave space on baking sheet: Spread out the florets evenly in one layer across the baking pan. This will ensure each floret bakes at the same rate and roasts evenly.
Season evenly: After adding the seasoning and olive oil, toss the broccoli to evenly coat. If the seasoning is not evenly dispersed, some pieces of broccoli may taste overly garlicky and salty while others will be bland.
Add garlic: For more caramelized, nutty, and sweet flavor, add a few minced garlic cloves to roast with the broccoli. The garlic parsley salt already has garlic, but if you want more, this is the way to go.
Use a bowl to season broccoli: If you prefer to keep your hands clean, instead of mixing the broccoli and seasoning in the sheet pan with your hands, use a bowl. This method helps to evenly mix the broccoli in the oil and seasonings, coating all the florets without getting your hands dirty.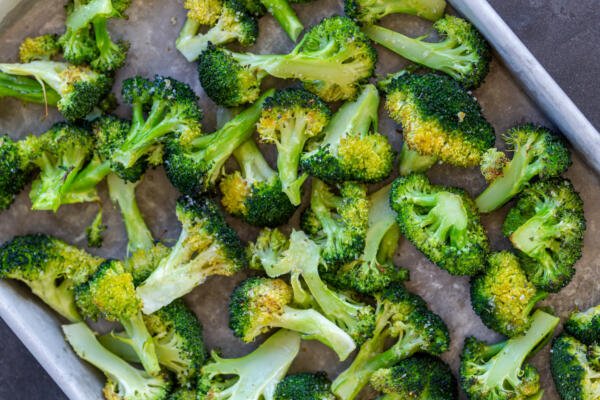 Serving Oven Roasted Broccoli
Oven roasted broccoli can be served at any time, with or without a full-course meal. Simply make sure to serve it fresh so you enjoy its crispy texture.
Eat the broccoli as a healthy snack instead of chips. Your body will thank you! Or, add the broccoli as a side dish to your favorite one-pan meatball pasta or a protein dish like beer bratwurst and parmesan crusted chicken. If you prefer to mix the broccoli into a dish, combine it with creamy veggie pasta or use as an alternative to raw broccoli in creamy broccoli crab salad.
How to Best Store and Reheat Roasted Broccoli
Oven roasted broccoli tastes the best when enjoyed freshly crisped out of the oven. However, if you do have leftovers, don't toss the broccoli. Instead, use these tips to enjoy it again later.
Refrigerate: To refrigerate up to seven days, store the roasted broccoli in an airtight container in the fridge. It may lose some of the crispy texture, but it's still perfect to use in mixed dishes like broccoli mushroom alfredo pasta.
Reheat: To reheat roasted broccoli, place it in the oven for a couple minutes to regain some crisp. Or, reheat it in the airfryer like air fryer broccoli. For a quick reheat, use the microwave.
Hot tip: Avoid freezing broccoli as it tends to turn into mush when thawed and reheated from frozen.
FAQ
Is it better to steam or roast broccoli?
Steamed and roasted broccoli both retain a great amount of nutrients, so it is nearly impossible to say which is better. The best type of cooked broccoli is the type that you prefer to eat.
Can I steam/boil, then roast my broccoli?
Although not necessary, you can steam or boil broccoli before you roast it in the oven. It may be a good option for those who are short on time or prefer a more tender broccoli.
Can I roast broccoli stems too?
Yes, you can roast any part of the broccoli. Broccoli florets, leaves, and stems are all edible, and can be roasted.
Are broccoli florets or stems more nutritious?
Both broccoli florets and stems are known to be highly nutritious and full of various vitamins, fiber, and potassium. Eat one, or eat them both – you will be eating healthy either way!
More Roasted Vegetables
Recipe
This 3 ingredient broccoli is roasted in the oven to perfection, creating a crispy, bite-sized appetizer. Say goodbye to junk food!
Instructions
Preheat oven to 425°F. Cut broccoli florets into equal size pieces. Place broccoli on a baking sheet.

Season with garlic parsley salt and oil. Toss or use hands to spread the seasoning evenly, then spread broccoli into one layer on a baking sheet.
Nutrition Facts
Oven-Roasted Broccoli (3 Ingredients)
Amount Per Serving
Calories 93
Calories from Fat 45
% Daily Value*
Fat 5g8%
Sodium 1213mg51%
Potassium 478mg14%
Carbohydrates 10g3%
Protein 4g8%
Vitamin A 942IU19%
Vitamin C 135mg164%
Calcium 72mg7%
Iron 1mg6%
* Percent Daily Values are based on a 2000 calorie diet.