This delicious pork roulade is stuffed with sautéed mushrooms and onions & baked to tender perfection. Great for your next dinner party or family get-together!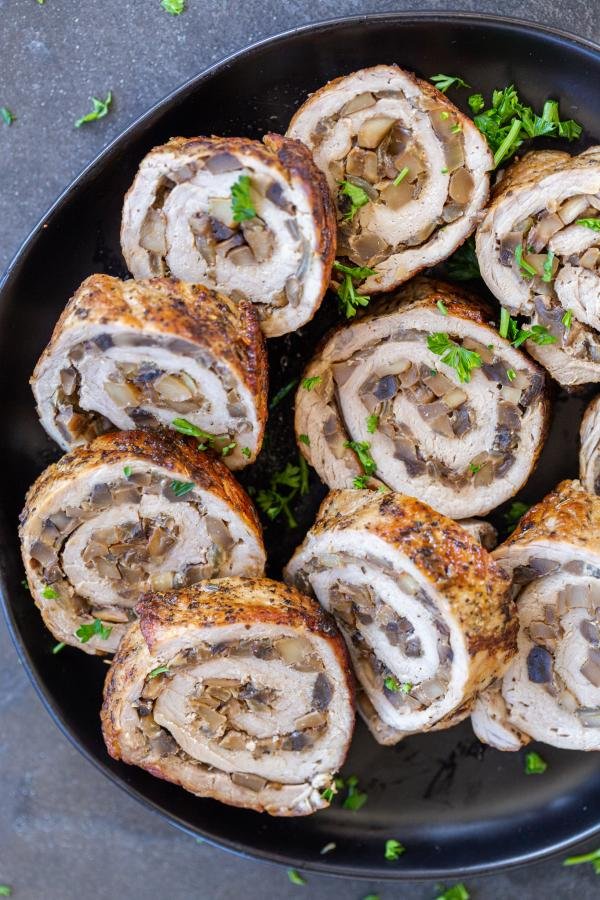 Are you the kind of person who can't leave the supermarket without snagging a meaty roulade from the deli case? While they look super technical to make, they're actually quite simple. In this recipe for a mushroom pork roulade, you'll learn how to stuff and bake your very own meaty pinwheel.
What is a Roulade?
A roulade is a baked dish of filled rolled meat, pastry, or cake that you'll find commonly served all across Europe. That's right – a roulade can be either sweet or savory. That said, the word "roulade" is more of a reference to the style of the dish than the dish itself. From birthday cake rolls to this pork roulade, the possibilities are truly endless.
Making a Perfect Mushroom Pork Roulade
Making a pork roulade requires you to enlist the help of a meat tenderizer to pound out the pork until super thin before stuffing and rolling it up.
Make the Pork Rub: In a small bowl, stir the salt, black pepper, and Italian seasoning together. Set the rub aside.
Sauté the Veggies: Next, clean and dice the mushrooms and onion. Preheat a skillet with olive oil and sauté the diced veggies. Season to taste with salt and pepper and set aside.
Butterfly & Tenderize the Pork: Using a sharp knife, slice along the length of the pork without cutting all the way through. Next, open the pork like a book and pound it out until thin with a meat tenderizer.
Stuff the Roulade: Spread the sautéed mushroom and onion mixture over the pounded pork. Roll it up tight and seal the roulade with a toothpick or butcher string.
Brown the Roulade: Next, sear each side of the roll over high heat in a large skillet until golden brown. Season the outside with the salt, black pepper, and parsley seasoning rub.
Bake the Roulade: Finally, pop the roulade in the oven on the center rack for 30 minutes at 380°F. Enjoy!
3 Tips for Making Homemade Pork Roulade
A couple tips will help you whip up a pork roulade that will blow the deli counter version you love away.
Make sure the pork is pounded into one, consistent layer. To promote even-cooking, you'll want to make sure to tenderize the pork into the same thickness across the board. If some parts are thicker than others, they will turn out more rare.
Check doneness with a meat thermometer. If you're unsure if your pork roulade is fully-cooked, stick a meat thermometer into the thickest part of the roll to ensure that the internal temperature reaches 165°F before you dig in.
Add in different fillings and ingredients. Get as creative as you want with the filling and swap in whatever vegetables, fruits, and fillings you like best. Garlic, spinach, celery, apples, dried cranberries, and pears are all great options. Or, if you are a pork-lover, add in some crispy bacon bits. Sometimes, people even add a layer of cream cheese!
Herb Overload: Feel free to stuff the inside with fresh herbs if you'd like. Rosemary and thyme are both great options.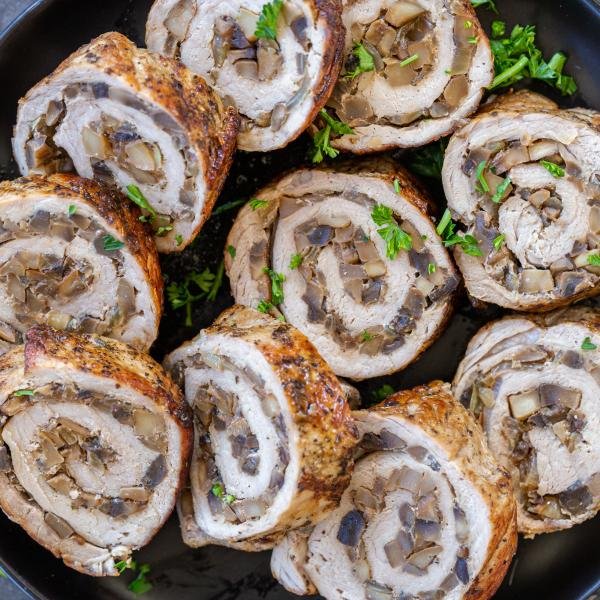 What to Serve Alongside Pork Roulade
For a well-rounded meal, serve the pork roulade alongside new potatoes with bacon and herbs or some oven-roasted potatoes. For the veggies, pair the roulade with air fryer asparagus or a cheesy zucchini and squash casserole. Alternatively, you can keep things fresh and serve the roulade alongside a peach and burrata salad.
Storing and Reheating Tips
If you're lucky enough to have leftovers to stow away, store the roulade in an airtight container in the fridge for up to a week to prevent it from drying out. To reheat, pop a slice in the microwave for a few minutes or place it in a roasting pan in the oven covered with foil until warmed through.
FAQ
What cut of pork is best for pork roulade?
The best cut of pork for pork roulade would be pork tenderloin, as it's the meatiest and the easiest to butterfly. Next up, you could you use pork loin roast.
What's the best way to secure a pork roulade before baking it?
There 's two different ways you can secure a pork roulade before baking it: 1) using several toothpicks or 2) using butcher string or kitchen twine that's been soaked in water (this will prevent the string from burning in the oven). Either method works great, so it's completely up to you!
Can you use chicken instead for a pork roulade?
Yes! You can use pounded chicken breast instead of pork for a roulade. You would butterfly them just the same and pound them out as thin as possible so you have plenty of surface area to work with.
Can you freeze a pork roulade?
Yes, you can freeze an entire baked pork roulade for up to 3 months. To do so, let it cool down completely at room temperature. Next, wrap it tightly in plastic wrap and store it in a plastic storage bag. To thaw, place it in the fridge overnight and rewarm it in the oven in a baking dish covered in foil.
More Tasty Pork Recipes
Recipe
This delicious pork roulade is stuffed with sautéed mushrooms & onions and baked to tender perfection. Great for your next dinner party or family get-together!
Nutrition Facts
Mushroom Pork Roulade
Amount Per Serving
Calories 368
Calories from Fat 126
% Daily Value*
Fat 14g22%
Cholesterol 143mg48%
Sodium 1279mg53%
Potassium 1133mg32%
Carbohydrates 5g2%
Protein 53g106%
Vitamin A 12IU0%
Vitamin C 3mg4%
Calcium 28mg3%
Iron 2mg11%
* Percent Daily Values are based on a 2000 calorie diet.