This roundup of pork recipes will make you fall in love with "the other white meat" all over again. Juicy pork chops, a Cuban pulled pork sando, & so much more!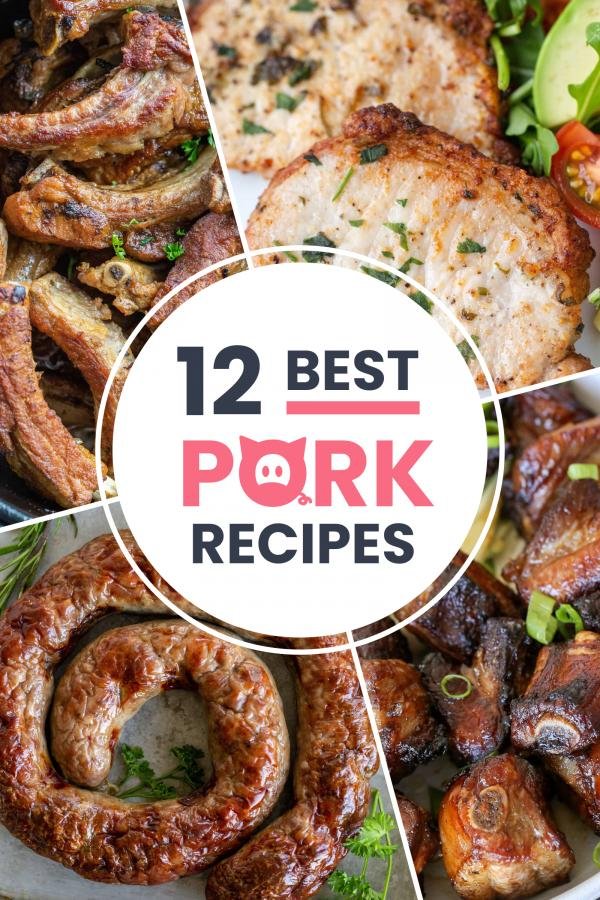 If you're on the hunt for delicious recipes and easy dinners that use pork, you've landed in the right corner of the internet. In this definitive list of our best pork recipes, you'll find a recipe for every single palette and craving.
Different Cuts of Pork & What They're Good For
Salty, savory, and so darn good, pork is probably one of the most versatile proteins out there. Here, find a high-level overview of the different cuts out there and what kinds of recipes they are typically used in.
Odds & Ends
Bacon – Fatty, rich, and super salty, bacon comes from the belly of the pig. It can be used to spruce up veggie dishes, sauces, pastas, and so much more. For perfect, mess-free bacon, check out our guides on oven baked bacon and air fryer bacon!
Ground Pork – Ground pork typically features many different cuts of pork. It's affordable and versatile, used in everything from meatballs, burgers, and sausage-making.
Ham – Ham comes from the hind leg of a pig. It's well-marbled and super flavorful. You'll find it served whole during the holidays or made into delicacies like prosciutto.
Pork Belly – Pork belly comes from just that – the pig's belly! It has taken off in recent years, showing up on menus all over the country. It's salty, super fatty, and so decadent you can typically only have 2-3 pieces.
Pork Ribs – Pork ribs also come from the rib area of the pig. This cut is perfect for BBQing and slathering in homemade BBQ sauce. It's also a great cut to slow cook in soup.
Steaks & Chops
Pork Chops – Pork chops come from the loin of the pig, which runs from the pig's hip to its shoulder. Pork chops are great for pan-frying and serving alongside your favorite sides. They are also awesome to slow cook in soups.
Pork Steak – Pork steaks are thinly sliced cuts that come from the shoulder of the pig. They are very versatile and can be cooked via sautéing, grilling or braising. They are prone to drying out, so it's crucial you don't overcook them.
Roasts & Larger Cuts
Pork Tenderloin – Pork tenderloin is super lean and tender – making it another pricey cut. It's long, narrow, boneless cut of meat that comes from the muscle that runs along the backbone. It's typically roasted whole and sliced.
Pork Shoulder – Pork shoulder is a cut that comes from the area just above the front shoulder of the pig. It is best braised, used for stews, or to make ground pork.
Pork Rib Roast – Pork rib roast cut comes from the rib area of the loin, making it super fatty and flavorful. This cut is perfect for roasting whole during the holidays.
Pork Loin Roast – Pork loin roast is an anomaly in that it's both super lean and tender. This makes it a bit pricier and perfect for roasting whole for special occasions.
Helpful Kitchen Tools for Pork Recipes
From slow cooking to pan-frying, here are our top kitchen tools for our favorite pork recipes.
Tips for All Pork Recipes
When dealing with pork in the kitchen, there are a few cardinal rules you'll want to follow.
Avoid overcooking pork at all costs. Once the internal temperature of your pork reaches 145°F, it's safe to eat. You'll want to avoid overcooking the pork at all costs so it doesn't dry out and turn rubbery.
Pat your cut of pork dry before trimming it. To prevent any slipping with your knife, always pat pork cuts dry with a paper towel before you attempt to trim them of excess fat or gristle.
Allow large cuts of pork, pork steaks, & pork chops to rest for 10-15 minutes before slicing in. Much like beef, it's crucial that you allow certain cuts of pork to rest before you trim them to lock in the juices and flavor. This is true for large roasts, steaks, and chops.
FAQ
What are three common methods of cooking pork?
The three most common methods for cooking pork include pan-frying, roasting, and braising. However, there are many more ways you can cook pork beyond the big three. BBQing, smoking, and deep-frying are also common methods.
How do you cook pork safely?
To cook pork safely, you'll want to ensure that the internal temperature has reached 145°F. You can gauge this most accurately by sticking a meat thermometer into the thickest part of the cut.
What's the leanest cut of pork?
Pork tenderloin is the leanest cut of pork. It comes in a long, thin roast and is typically on the pricier side at the butcher. It's best prepared roasted in the oven with a sweet and salty marinade.
What goes well with pork?
Much like chicken, pork is super versatile and can be paired with just about any side dish. Many people like to pair pork with sides that contain apples or pears because of how much the fruit complements the flavor of the protein.
12 of Our Best Pork Recipes
These tasty boneless pork chops are made with a simple seasoning of garlic, parsley, and black pepper. Perfect for easy weeknight dinners and low-carb meal plans. You'll love how juicy and tender they come out each and every time!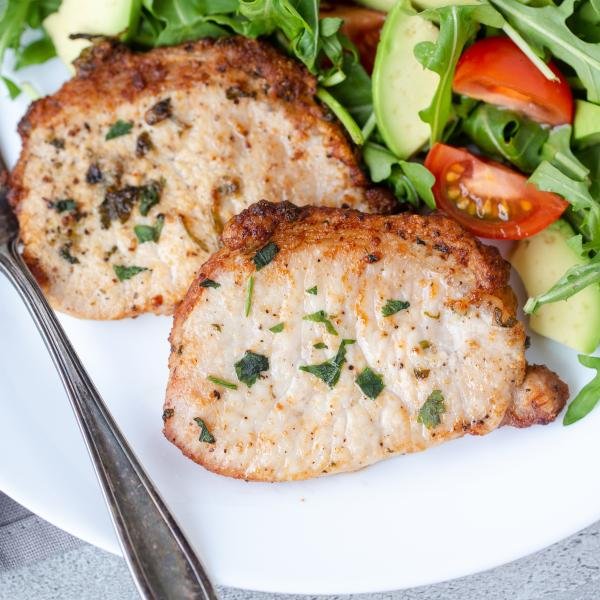 Shashlik is a Slavic-style kabob that's marinated in mayonnaise and a ton of garlic. Whip them up for your next BBQ and watch your guests lick their skewers clean. They are THAT good!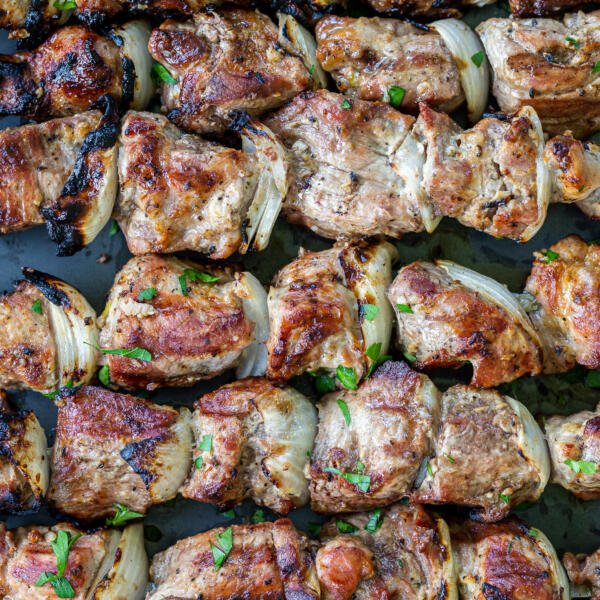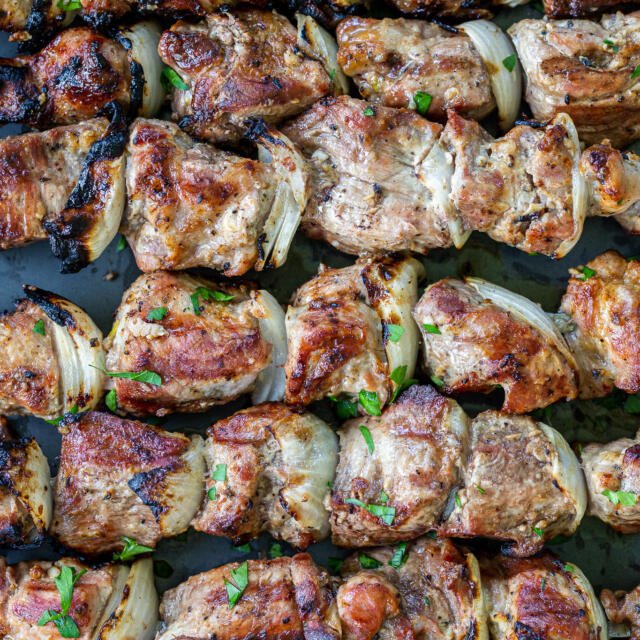 If you've never tried making your own sausage before, this recipe is a foolproof guide. With the help of a sausage stuffer attachment and stand mixer the process is so easy. Make a day of it and prep several batches and freeze them for a rainy day!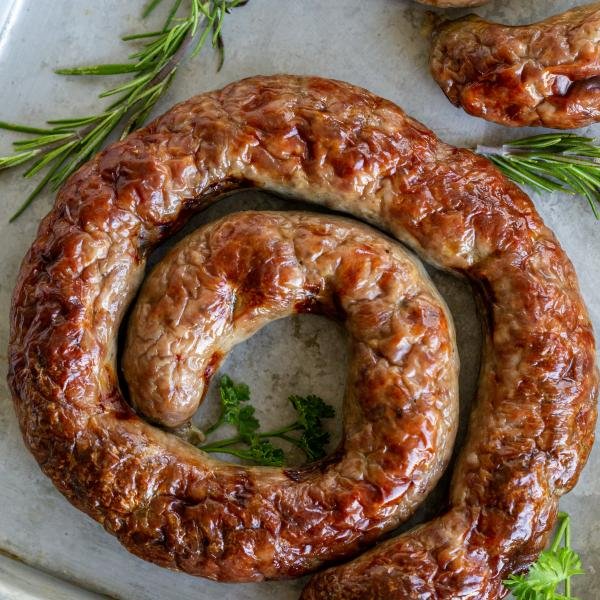 This is one of our favorite pork recipes for a hectic weeknight. All you have to do is sear the pork chops and toss everything into the pressure cooker and let it work its magic. Best served on top of a pile of creamy mashed potatoes!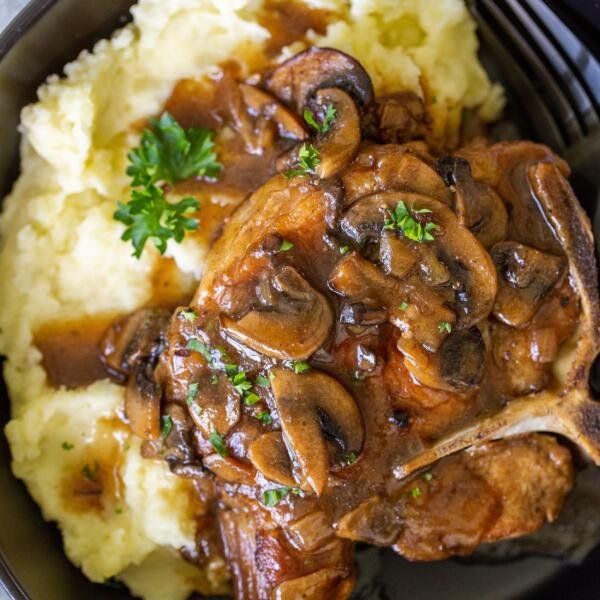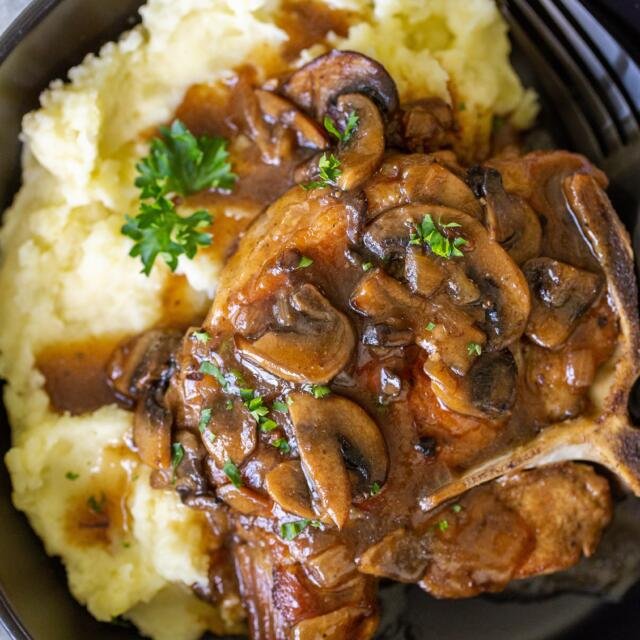 If you're looking for a bowl of soup to warm your soul, this protein-packed lentil and pork chops soup is the pork recipe with your name on it. The silky, savory broth is best sopped up with a fresh piece of buttery sourdough bread.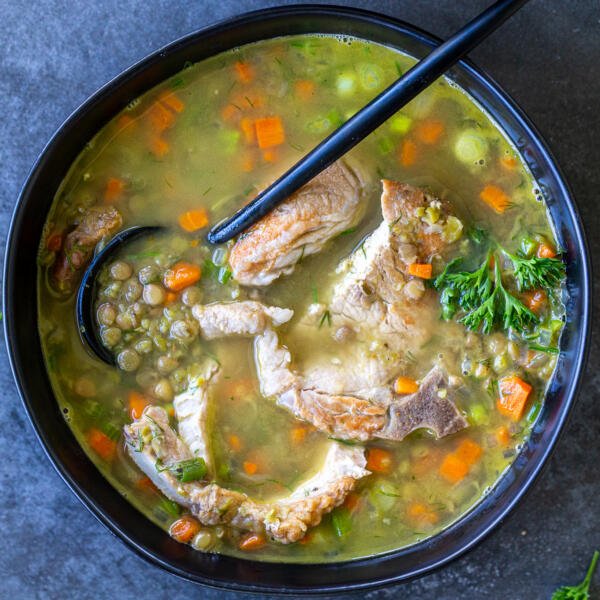 This recipe comes straight out of my grandma's cookbook. When we were kids, she would make a huge pot that we could go back to for second and thirds until we were sufficiently stuffed. You'll love how rich the pork makes the broth!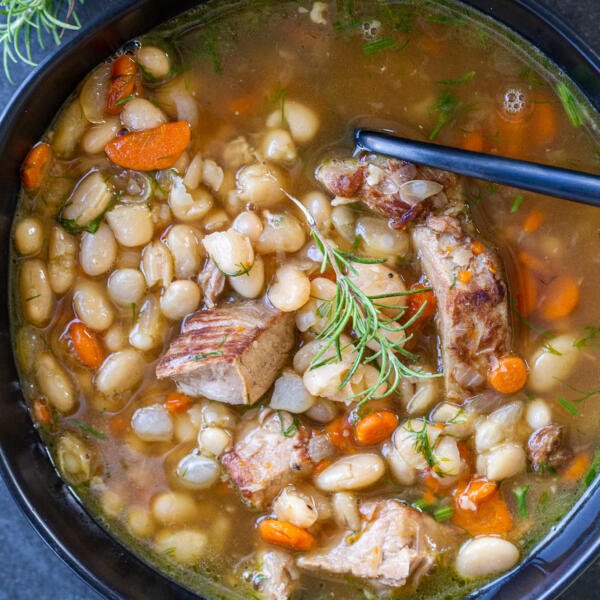 If you're craving ribs but don't have the energy to fire up the grill, you've just landed on the pork recipe for you. Made the old-fashioned way with a can of Coke, they get ridiculously tender and fall right off the bone.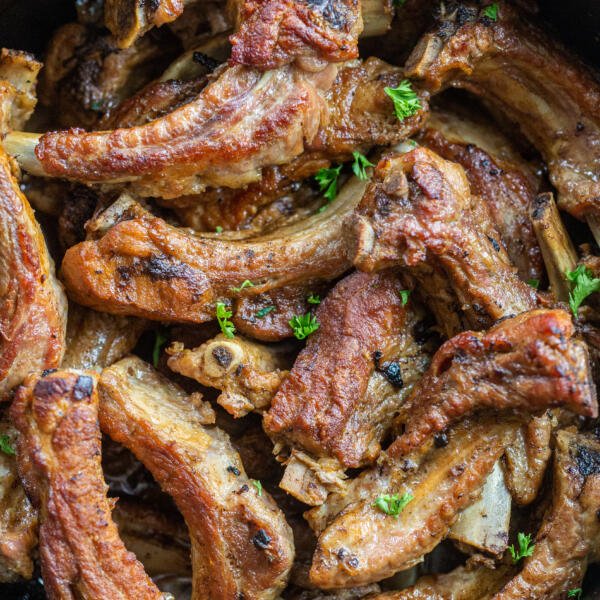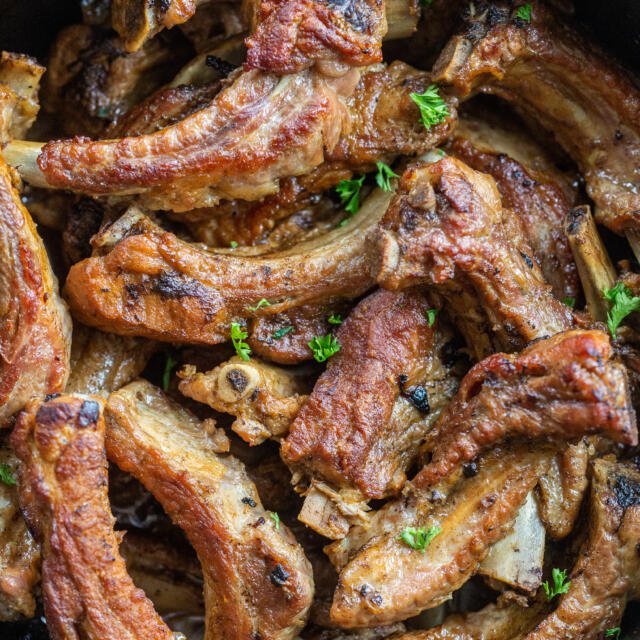 If you've never had a roulade before, you're in for a treat. This recipe features a pounded out piece of pork stuffed with sautéed onions and mushrooms, rolled into a spiral, and baked to perfection.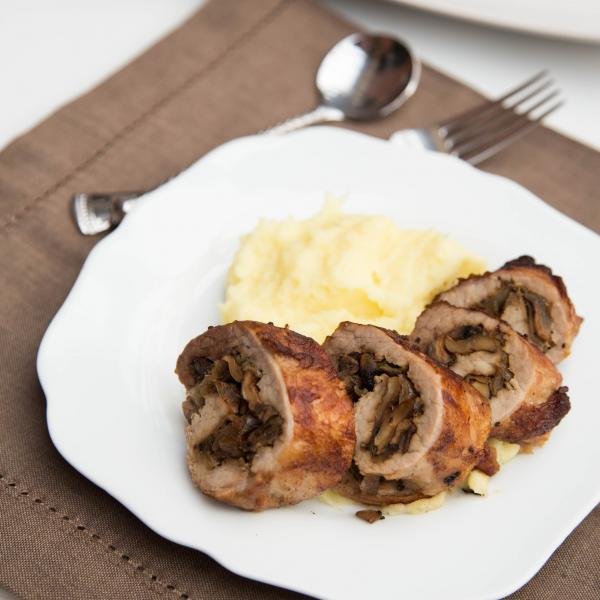 These sweet and salty pork ribs are going to steal your heart. The marinade of soy sauce, brown sugar, garlic, and sesame oil gets nice and caramelized in the air fryer, making each bite a joy ride for your taste buds. Best paired with air fryer broccoli and steamed white rice!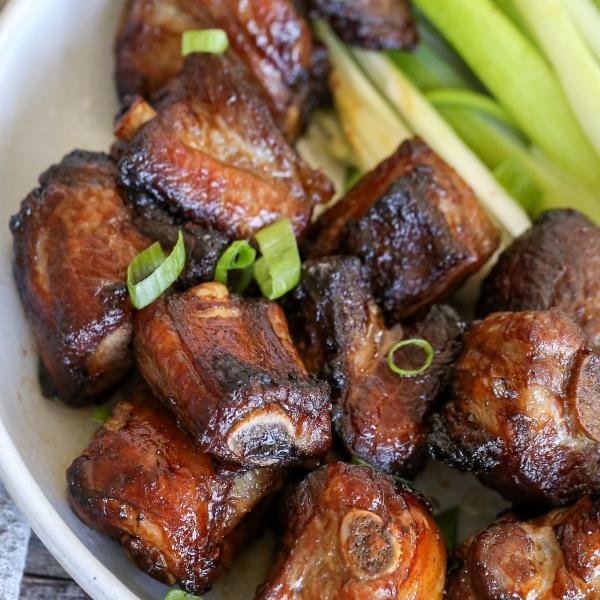 If you're on the hunt for an all-American, classic BBQ ribs recipe, strap in. These ribs literally fall off the bone and are so addicting. If you want to go the extra mile, try your hand at making your own BBQ sauce for them – you won't be disappointed.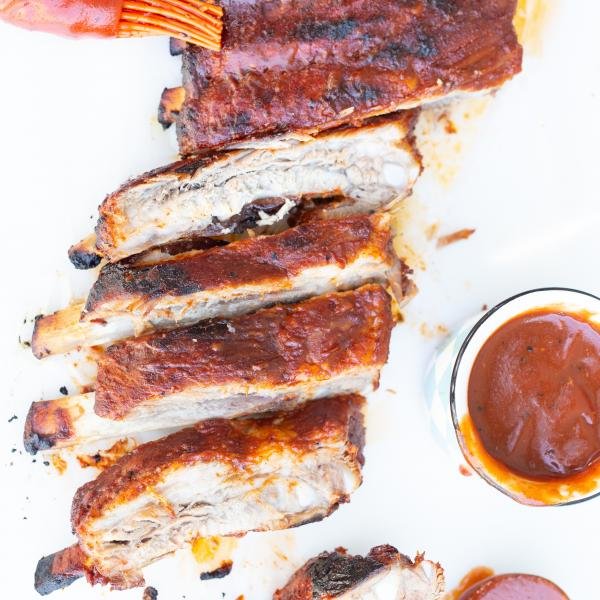 This Cuban pork sandwich is made with Swiss cheese, pepperoncinis and slow-cooked, citrus-infused pork. Get ready for an insanely good smell to fill your kitchen and for a gut bomb. To be extra authentic, serve the sandwich with a side of pickles.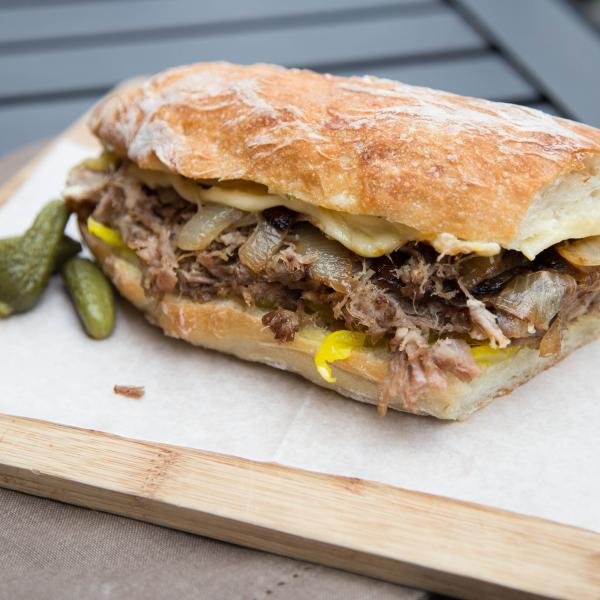 Pork belly in the air fryer is such a game changer. This recipe only requires 3 simple ingredients and always comes out so perfect each and every time. Serve it as an appetizer or alongside vegetables for a low-carb meal!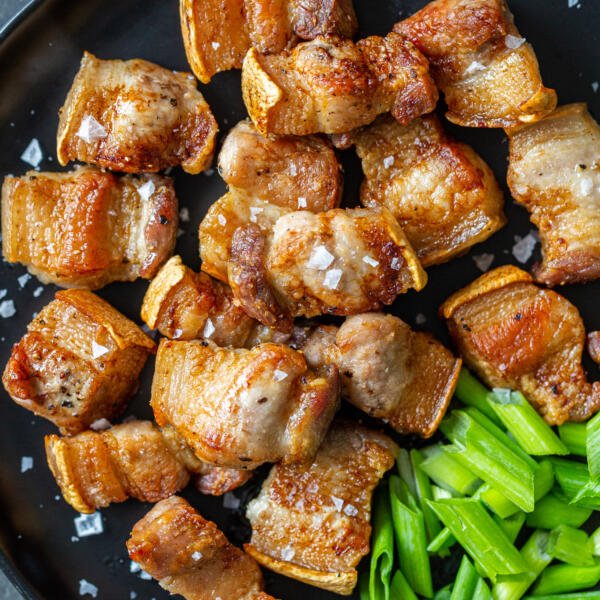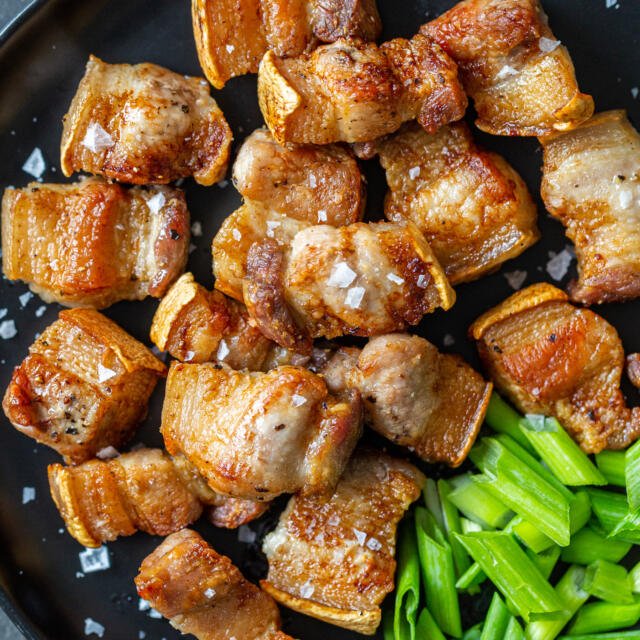 More Tasty Pork Recipes to Try